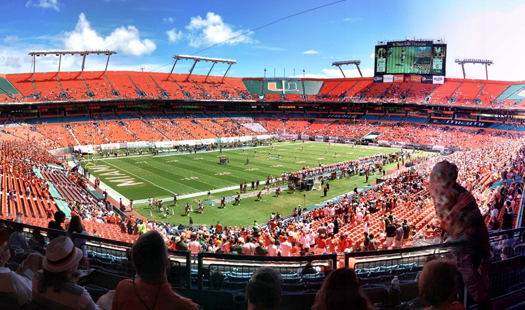 It gets tiring writing this type of piece over and over, but when the outsiders choose to pile on "The U", someone in-the-know needs to speak up for this program, setting the record straight.
Yahoo! Sports continued their obsession with all things University of Miami-related this past weekend, dedicating a story, headline and front-page real estate to a piece on the sparse crowd that showed up to see the Hurricanes in the season opener against Bethune-Cookman.
The "article" was just shy of 150 words, took cheap shots and in the end, like anything you'd find on TMZ.com, said absolutely nothing. Sensationalism has taken over college football. Lovely.
As a Miami native and supporter of the program, you hate to see this on every level, but in the same breath have come to terms with pledging your allegiance to a unique program like UM. Some things just come with the territory.
To an outsider, this is a story, but to long-time fans, it's nothing new – despite how Yahoo! or anyone else tries to spin it. Blame the Kansas State loss. Put it on the overall recent decline of the program. Shake a fist about missing the confines of the ghetto-cozy Orange Bowl. Rant and rave about an off-campus stadium so far away it's literally on the county line. Unfortunately none of that has anything to do with poor attendance for UM games.
This is the way it is, the way it has been and the way it always will be. When Miami lines up against a much lesser opponent – for a noon kickoff, no less – this will be the expected result.
Still need proof? Grab a media guide or pop in a VHS tape from November 3rd, 2001.
Best In The Land Team STILL Couldn't Draw A Crowd
The Miami Hurricanes were the top-ranked team in the polls.. The record sat at 6-0. It was homecoming weekend, the game was at the beloved Orange Bowl and Temple was on the other sideline.
Announced crowd – 31,128.
Three games prior. Mid-October. Sitting at 3-0 and back at home, number one Miami welcomes Troy to the Orange Bowl.
Announced crowd – 36,617.
First home game of the year in 2001? A top the rankings and coming off a 33-7 win at Penn State, 39,804 tickets were sold (or given away) for a 61-0 beat down of Rutgers – again, at the Orange Bowl fans so desperately miss.
One game that fans did get up for that season? A home showdown against No. 12 Washington in November.
The Huskies lacked star power and weren't a marquee program or a conference / state rival. No, they were simply a team that derailed Miami's chances at a championship game berth the previous season, so it instantly went on the calendar, marked in red as a 'revenge' game – which gets juices flowing and chests puffed out in South Florida. (Think Notre Dame visiting the OB in '89, the year after the phantom Cleveland Gary fumble and Irish national title.)
78,114 were on hand to witness the 65-7 massacre and unlike when top-ranked Florida State visited the previous year –  80,905 were in attendance – the Canes-Huskies crowd was all Miami, whereas Canes-Noles always features a hefty does of FSU faithful.
A few years prior Miami welcomed No. 2 UCLA to the Orange Bowl on the heels of a 66-13 loss at Syracuse the week prior. The Canes lost a shot at the Big East title and despite the opportunity to derail the undefeated Bruins and their title dream, only a reported 46,819 were on hand to witness a true "turning point" game for the program.
This past weekend a 1-1 Miami team welcomed lowly Bethune-Cookman and the 'announced' crowd was 39,435. It obviously was much, much less – but in the same breath, such was probably the case for those attendance numbers against Rutgers, Temple and Troy in 2001, as well.
This season hasn't (yet) been a nightmare, outside those four quarters at Kansas State and winding up on the wrong end of a 52-13 whooping week two. Still, the frustration is more than just one game-fueled as UM has seemingly been beaten down as a program for years.
No conference title since 2003, winning the Big East one last time before defecting to the ACC. No BCS game in equally as long. The Canes haven't even sniffed a three-loss season since 2005 — going an embarrassing 43-36, to date, since.
"The U" : Nowhere Near As Big As Its Image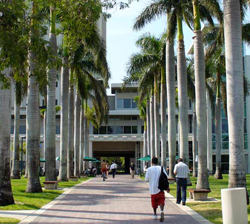 Poll a random number of college football enthusiasts and you'll be surprised by how many have no idea that the University of Miami is a private school. Tell them "The U" has just over 10,000 undergraduates and watch the jaws drop.
"I always thought Miami was huge — 30,000 or 40,000 undergrads like other big schools?"
Nope. Not even close.
Beyond that, the University of Miami is in … Miami. Over 2.5M residents. A major metropolitan city full of transplants. A place with so, so much more going on than just a world revolving around college football.
The majority of Canes fans didn't attend UM, which is viewed as some type of scarlet letter amongst fans and alumni of typical rah-rah programs – cities where there's absolutely nothing to do except sell your soul to college football and the lone hometown team.
My first year of college was spent at the University of Alabama and after hopping around, I closed out my the final years of my formal education at the University of Florida. Three combined years spent in Tuscaloosa and Gainesville, both the heart of SEC country, I've seen people that drank the Kool-Aid and know nothing outside of twelve Saturdays in fall.
Born and raised in Miami, seeing four Hurricanes national championships between fourth grade and my senior year of high school and spending my Saturdays at the Orange Bowl, mowing down arepas, celebrating wins and hearing cries of 'no blockie' upon arrival and house lights shut out when returning to the family car six rows deep – to me, THAT was college football.
It was an era when the Dolphins were down, both the Panthers and Marlins were not-yet-existent and the Heat only showed up when the Canes were two titles in, an upstart franchise with little virtually no star power.
In a word, your Miami Hurricanes were truly the only show in town — and they were winning big, winning often and winning with style, which is the only way you keep anyone's attention in the 3-0-5.
UM was doing it with attitude, too – thumbing a nose at the establishment, which earned the Canes some street cred and bonus points with proud, local fans.
Magic City : Never Been A College Town, Never Will Be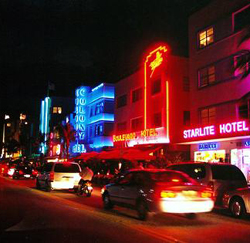 What the University of Miami never has – and never will – benefit from, is true support from a large, football-minded alumni base with deep pockets and a win-at-all-costs mentality – and that difference between a true alum who bleeds for the program, as opposed to casual local fan? The 'fan' can shut down when times get tough as there's no true allegiance or reason to be true to one's school.
The 'fan' can check out when the going gets tough. The 'fan' can spend their entertainment dollar elsewhere, be it South Beach and a rowdy nightlife, or seats at American Airlines Arena to watch LeBron James and Dwyane Wade bringing home hardware.
That lack of true star-power in 80s-era South Florida? No mas. Miami sizzles with big name athletes and celebrities. Countless reality programs showcase the glitz and glam of the city.
It's a vibrant town, full of energy and there's always something going on, which explains locals coming down with selective A.D.D. during football season, as well as fans turning their noses up at 12pm kickoffs in the dead of September – especially against an FCS-caliber opponent.
Deep South? The complete opposite.
My dorm at Mary Burke East was two blocks from Bryant-Denny Stadium in Tuscaloosa and come Wednesday mornings I didn't need an alarm close as the sound of RVs rolling into the parking lot was enough to wake any hungover college student.
Wednesdays. Games were Saturdays.
Cars, trucks and Winnebagos decked out in crimson and white, packed full of fans tailgating for days.
Home games that season were Vanderbilt, South Carolina and Ole Miss (other 'home' games were at Legion Field in Birmingham) and the crowds were 70,123 for the Commodores, 70,123 for the Gamecocks and 70,123 or the Rebels — all the same number because all were a packed house, despite being pitted against unranked nobodies.
In Tuscaloosa it's football … and nothing else.
During my time in Tuscaloosa there were a few bars on the main drag, a mall that supposedly was supposedly blown up when Burt Reynolds filmed "Hooper" back in '78, a bigger-and-fancier mall forty-five minutes away and college freshmen Friday nights were usually spent drinking beers in the dark, on bridges where the Civil War was fought, according the bullet-ridden historical signs affixed to them.
During the day we'd cliff-jump into a murky lake, would mow down ribs at Dreamland BBQ or would pay $2 to visit the Bryant Museum, just to get out of the heat.
The entertainment dollar? Not too many other ways to spend outside of football in real-deal college towns.
As for Gainesville, a metropolis compared to Tuscaloosa, but for a Miamian, still slow-paced and one-dimensional.
Come Saturdays in fall, its the Gator football or you were in solitude.
Head to toe orange and blue. Pandemonium up and down University Avenue at the frat houses and bars near the stadium. Same for any restaurant with a TV over on Archer Road. If Florida won, Gainesville's downtown became a mini Mardi Gras for the night. A loss and it was a ghost town.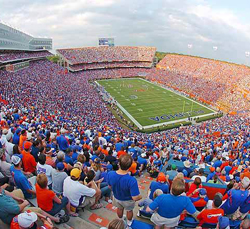 The Gators won their first football title in January 1997. When I graduated in summer 1998, there were still car and apartment windows with "52-20" done up with faded white shoe polish – the score of the national championship game where Florida demolished Florida State in the Sugar.
The next time the two teams met, almost a year later, the Gators outlasted the top-ranked Noles, 32-29 in The Swamp.
My then-barber Jimmy at "Gator Cuts" had the next morning's Gainesville Sun taped to the mirror in front of his chair, partly for the win over a rival, but more so because he was features in the page-sized image – a police officer's boot in the back of his neck as he was face down and cuffed on the grass for rushing the field post-game.
To some, an embarrassing moment. To the ultimate fan, a true badge of honor.
What Other College Program Has So Much In-City Competition?
Every fan base has their diehards versus their bandwagoners, but it's truly about the bigger picture and the overall sports culture in a town. A large metropolitan city like Miami has the Hurricanes, but the program will always play second-fiddle to the Dolphins as the NFL franchise remains the fair-haired team, despite the lack of success the past four decades.
The Heat remains the toast of the town, and will as long as the James / Wade show continues taking the franchise deep into the playoffs, and while the Marlins and Panthers appear to be afterthoughts, both have a core fan base and remain competition for UM athletics, on some level.
College towns simply don't deal with four professional sports franchises and a world-class night life – South Beach, a playground from folks all over the globe, is Miami's backyard. Further south, The Keys and when looking east, nothing blue the crystal blue Atlantic.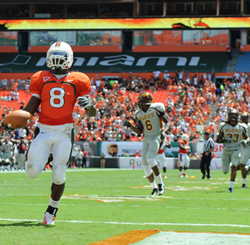 Does that forgive the awful showing against Bethune-Cookman on Saturday? Absolutely not.
Out of 2.5M residents, you'd think there were enough Hurricane fans in town to pack two-thirds of that stadium simply to see freshman phenom Duke Johnson in his first home game – where he would up dazzling and scoring four touchdowns.
There weren't. Not at 1-1. Not after getting thumped by Kansas State a week ago. Not when this program has struggled for half a decade and not when one beloved off-campus stadium was bulldozed in favor of a loathed concrete jungle twice as far away from Coral Gables.
For UM, a program with a fan base made up predominantly of locals with no allegiance, in a city with way-too-many distractions, it's going to take fielding an exciting product and a winner-with-attitude again. Even then, the crowds will remain paltry for lesser foes – see 2001 for proof – but the overall mindset towards the program and game day attitude will be much more positive.
Everyone knows this. Even second-year head coach Al Golden.
"I don't worry about the crowd," Golden said post-game.
"I understand. I understand the market we're in, and there's going to be a day when we're delivering. There's going to be a day when we're delivering and they're going to come out and see guys like Duke Johnson and Malcolm Lewis, and those guys. And we're going to grow up together. I promise you this team is going to grow up together."
As a long-time enthusiast, you know he's right and you long for the day it finally arrives and his prediction comes true.
You just shudder at the time frame as you want it both here and now, with showings like last Saturday's a thing of the distant past.
And so "The Process" goes.
Christian Bello has been covering Miami Hurricanes athletics since the mid-1990s. After spending almost a decade as a columnist for CanesTime, he launched allCanesBlog.com. – the official blog for allCanes.com : The #1 Canes Shop Since 1959. Bello has joined up with XOFan.com and will be a guest columnist at CaneInsider.com this fall. Follow him on Twitter @ChristianRBello.
Comments
comments