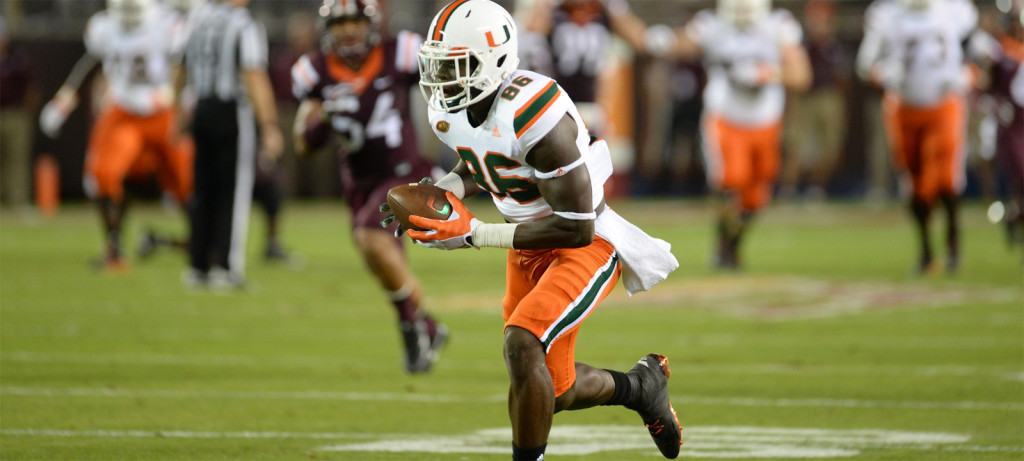 It was like walking into a buzzsaw from the get-go. A spirited Thursday night in Blacksburg—coming off back-to-back losses, a four-day turnaround and the already-stretched-thin, defensive casualties piling up. The Canes' sideline looked more like a M*A*S*H unit than an in-repair team looking for a road win to get back on track. This wasn't going to end well.
Four hours later, Miami's showdown at Virginia Tech pretty much followed the script; incompetence on both sides early on before the Hokies began making some plays. As has been the case in weeks' past, the Canes had a glimmer of hope late—but as always something went awry, killing any hope of a much-needed comeback.
As a result, the bloated and padded 4-0 start has quickly turned into a nightmarish three-game losing streak set to define the season. Even worse, there's truly no quick-fix to stop the bleeding. Miami must shift into overachiever-mode before things fully unravel.
First-year leader Mark Richt did all those post-game things head coaches try to do when making sense of a loss, but it was a wasted exercise. Taking blame for not having his quarterback ready, not doing enough to protect said guy under center and questioning his overall failed offensive strategy. Richt checked off all coach-speech boxes in the bowels of Lane Stadium—but how will that rhetoric translate in regards to having the Canes game-ready the next five weeks?
The answer to that lies in what Richt is saying behind closed doors, or when assessing the program with his coaches. One has to wonder where his head is truly at almost a year into this career change. Does the former Georgia leader feel his alma mater is in need of a full-blown overhaul, or will he stick with his process and core values, running the Canes like he did the Bulldogs and hoping for success in a weaker conference than the mighty SEC?
For the sake of this piece here, reliving and recapping last week's 37-16 loss seems a fruitless exercise. What good will come from a dissecting a third consecutive match-up where the Canes proved they're not a four quarter team capable of consistent success. It started with the late-game fade against a beatable Florida State squad, followed by a took-too-long-to-get-rolling showdown against North Carolina, where the Canes ran out of time.
Five days later, a shot at conference redemption as a win in Blacksburg would've provided a 'hard reset' that would've made it easy to chalk up back-to-back losses as a bump in the road. Instead, Miami's offense was completely exposed by Virginia Tech—blitz-happy on crucial third downs, beating up quarterback Brad Kaaya all night and shutting down the running game, while the raucous environment rattled Hurricanes in position to make a difference, resulting in untimely mental errors.
A worst-case scenario situation that will unfortunately serve as a blueprint for opposing coaches to completely negate Miami's offense. The Canes best be on guard.
CANES NOT AS GOOD AS EARLY HYPE; NOT AS INCOMPETENT AS LOSING STREAK
That four-game win-streak, ascension into the Top 10 and favorable defensive stats—judged accordingly by most, based on the level competition. The only ones overblowing the start; a lazy, hype-driven media that spouts a lot of gibberish when attempting to fill four hours of coverage. It's everywhere these days. Miami is hardly immune to the practice.
Opening weekend the Longhorns outlasted the Fighting Irish in overtime; the game-winning score punctuated with a, "Texas is back!" soundbite. In the weeks since, the Horns have dropped four of their past five, with head coach Charlie Strong firmly planted on the hot seat. Next to him, Notre Dame leader Brian Kelly—whose Irish have lost five of seven after starting the season in the Top 10 and expected to make some noise.
Several preseason faves quickly found themselves shitting the bed. Stanford and Oklahoma two others preseason Top 10's that have fallen way off. Houston showed promise and unraveled, while solid Top 25 teams like Oregon and Southern Cal have been jumped in the Pac-12; the Ducks winless in conference while Washington, Utah, Washington State and Colorado are the new frontrunners.
The storylines remain a work-in-progress on a weekly basis; yet it doesn't stop the media for hyping teams and pulling choice information to build a case—yet when a team falls, they're called "overhyped" by the same media who put them on the pedestal to begin with. Nice process.
An entirely separate piece could be dedicated to irresponsible journalism and a lack of depth, insight and talent by way of changes in today's industry—but that's for another time. The point of this rant is to honestly asses the current "State of Miami", question how these Canes will respond regarding a season that tanked quickly and determine what it will take for a measurable step forward next spring.
That starts with a pull-no-punches approach in discussing these present day Miami Hurricanes; a transparency most covering this team will not offer up as they're too close to the program; reliant upon players and coaches for quotes and in need of credentials that get them in the building.
Part of the machine and forced to play the game, it results in a watered-down message or standard distraction-tactics—hyping current recruits and next year's class (putting the focus on a promising future instead of frustrating present), practice reports (guys getting chippy as they're tired of losing' always a go-to after a few losses) or quotes from coaches about getting back to basics and Hurricanes-style football (evoking memories of yesteryear when Miami was truly "The U".)
It's pointless and instead of setting realistic expectations, winds up creating false hope that leads to frustration.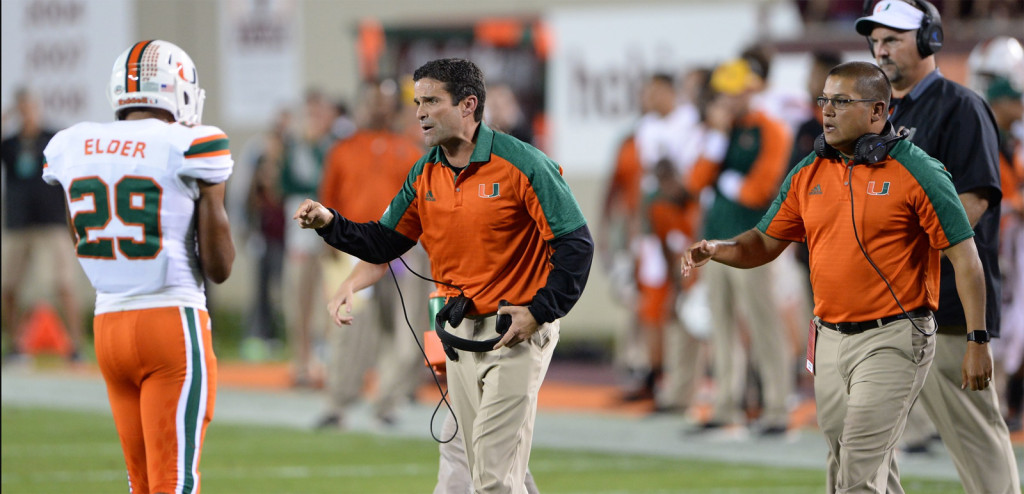 HONEST ASSESSMENT, TOUGH LOVE FOR STRUGGLING CANES
All of that noise; it's to avoid admitting what is painfully obvious—that Miami in its current state is not a good football team and that these Canes remain a far ways off from championship-level style of play. The Hurricanes have essentially been irrelevant for a dozen years now and its going to take some time to flush out the broken culture and negative impact the past few regimes have pushed into the DNA of this program. Three bad-fit coaches over a ten-year span; it gonna take some time to scrub that dirt off.
No doubt the Canes have some standout players and difference-makers—but not enough across the board (or depth-wise) to play the type of consistent football necessary to win divisions and conferences. 0-for-12-and-counting in regards to ACC Championships; it speaks for itself—all these facts making years of irrelevancy easier to comprehend.
Look at other programs across the nation. You know what teams pass the eye test and which ones don't. Coaching, chemistry, game-planning and execution also required for success—but it's not a fluke that the nation's best squads are all loaded with top-flight talent and depth.
Alabama. Clemson. Michigan. Ohio State. Even newer or non-traditional powers like Washington, Louisville and Baylor have the talent to hang with the best. Same to be said for an arch-rival up north; having started their rebuild a decade ago—with a current roster that looks more SEC than ACC.
It's easy to point to Miami's one-point loss to Florida State weeks back as a step in the right direction—but it's the seven-game losing streak the Canes have to the Noles that more indicative of the separation between these two. One program finds ways to win; the other invents ways to lose.
Still not buying it? Make yourself sit through an episode of "A Season With Florida State Football" on Showtime. Not a subscriber? Lucky you, there's a free episode online. Spoiler alert; the Noles pass the eye test.
Four division crowns, three ACC titles and one national championship the past six seasons under Jimbo Fisher—with a handful of almost-Canes that have been Miami-killers amidst this latest streak. Superior talent, winning out—and when combined with experience and depth, makes you a champion.
Can't be said for the Canes right now—and so be it. It's been a shitty decade. Lots of purging in this comeback process. Miami went off course and is finding its way; led for the first time by a former player who at least understands how the program is hard-wired. Long way to go, regardless.
WHERE DO 'U' GO FROM HERE…
The first step is admitting you have a problem. Richt has done that. Now figure out a way to get things back on course.
Miami coaches seem aware of what they're working with and what they want to do; it's simply been a lack of execution. The Canes had a lot of shots the past three weeks. Instead, a nightmare scenario—three losses in 13 days; a fan base holding its breath to see if another all-too-familiar late season collapse is on deck for November.
The offensive line is a hot mess; struggling in run blocking and and letting Kaaya get killed—though often the result of poorly called, long developing plays destined to fail.
The Canes have to run the football to survive the next five games. There's no other option and something has to give with this offense. Mark Walton and Joe Yearby are going to have to tough out some more yards and jumpstart this thing.
Kaaya has to then get on board and lead—with receivers holding on to the rock. Too many drops; adding to issues with untimely penalties and lapses in judgement on both sides of the ball. Whatever the issue with this undisciplined style of play; it starts with mental effort and a stronger mind. Like anything of importance with high stakes; it takes tremendous focus.
Smarter football down the stretch; the best way to negate depth issues and any other related roster holes.
Notre Dame is beatable; on the ropes even more so than Miami—2-5 on the season and job security-related stress for a coaching staff four years removed from a title game appearance. What was once a heavyweight title fight and marquee match-up; reduced to a slump-buster —a win providing much-needed, late-season motivation. For the loser; please try again next year.
Two bonus days to plan after playing last Thursday night. Players with extra down time to heal up. Coaches able to dial in and focus on a strategy that will give Miami's offense the best chance to succeed; while relying on a feast-or-famine defense to make a few big plays, a la Georgia Tech.
Human nature is to fix the problem all at once; and when truly assessing University of Miami football—that simply isn't an option. It's going to take time, patience, strategy and three recruiting classes before these Canes resemble anything close to what "The U" was in its heyday; and that's barring Richt uses the next few years wisely and gets it right. Last two guys had nine years combined and still failed.
Knowing that to be true, set the focus on this week and then worry about the next and the next and the next.
Come with a game plan to beat the Irish. Execute. Buy this program a week of feeling good—and bragging rights over the game's biggest bunch of elitists. From there, get ready for Pittsburgh. Then Virginia. Then North Carolina State. Then Duke. Then the bowl game. Then closing strong on National Signing Day. Then spring ball. You get the drill.
For four hours on Saturday, may it all come together, Miami. It's doable—so do it.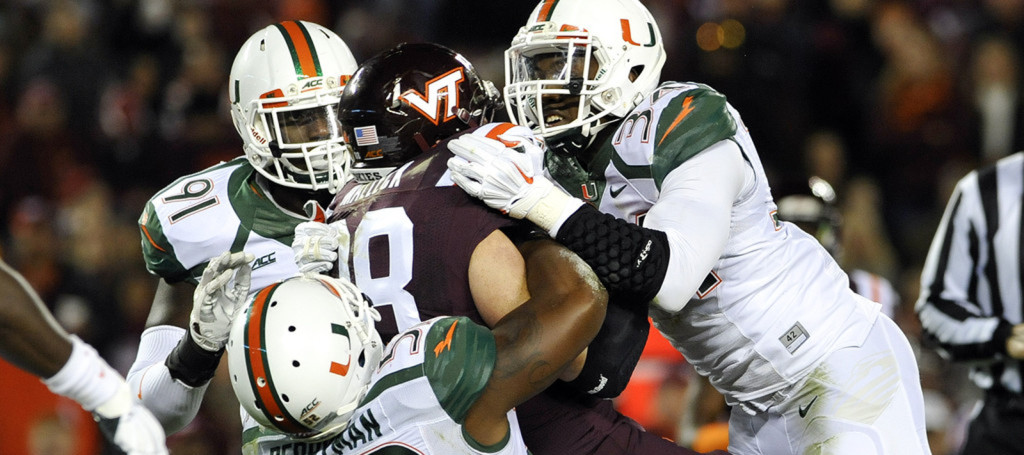 No use in complaining as it's how the game is played. Plus, who would listen, anyways?
The Miami Hurricanes are back in action—on the road five days after a second-consective heartbreaking loss—taking on Virginia Tech in at Lane Stadium. The Canes' offense is struggling and even worse, defensive injuries are piling up. Miami will be without a few key defensive lineman (Gerald Willis, Demetrius Jackson and most-likely Chad Thomas) on Thursday night, while defensive back Sheldrick Redwine didn't make the trek to Blacksburg.
A unit that's been hanging tough halfway through the season—holding both the Seminoles and Tar Heels to 20 points apiece—will now be relying on youth an inexperience everywhere; not just at linebacker. Even scarier; the Canes' will arguably need their offensive performance of the season to top the Hokies and avoid a third-consecutive ACC loss.
Narrative-wise, Coastal Division-related chatter continues—some having already stuck a fork in Miami, while others are again beating the drum about winning out and building cases as to how and why remaining foes are beatable. However it plays out, two conference losses down—the Canes will again be in a position of rooting for upsets and praying rivals fail, while needing some mistake-free, inspired football in the process.
CANES & HOKIES ARE THE SAME, BUT DIFFERENT
October 20th was circled on the calendar when this one was announced; two former Big East rivals who jumped to the Atlantic Coast Conference a dozen years back—having notched some great games in the storied rivalry; many taking place on a Thursday night.
There was also immediate intrigue regarding coaching changes at both programs; Mark Richt taking over at his alma mater, the Canes on their fourth coach in an 11-year span, while Justin Fuente took over a Virginia Tech opening that hadn't been vacant since Frank Beamer arrived back in 1987.
Both teams enter Thursday's showdown with identical 4-2 records, though different paths were taken to get from early September to late October. Like the Canes, the Hokies smacked around their fair share of nobodies early on—Liberty, Boston College and East Carolina. Tennessee got the better of Virginia Tech in Blacksburg, 45-24—but it was Fuente's second game and an out of conference match-up, making it easy enough to dismiss.
Also like Miami's season, the past two weeks proved rather definitive. Where the Canes lost two winnable games to the Seminoles and Tar Heels, Virginia Tech wrecked North Carolina, 34-3 in Chapel Hill, looking tough and somewhat invincible. A week later, an unexpected loss at Syracuse, 31-17.
The Orange racked up 561 total yards—405 through the air—pulling away late with two fourth quarter touchdowns after the Hokies tied things 17-17 with 13:53 remaining. Even more uncharacteristic of the former Beamer-led program; untimely turnovers and some spotty special teams play—a fumble, interception and missed field goal in the loss at 'Cuse.
The "normal" thing to do for the football enthusiast and passionate fan; dissecting an opponent's stats and schedule, in effort to come up with a potentially winning formula. Regarding Miami this Thursday night on the road, it seems pretty cut and dry—the offense needs to wake from its slumber and control this game.
Syracuse proved that Virginia Tech is vulnerable; especially in regards to passing defense—meaning it's time for Canes' quarterback Brad Kaaya to deliver; as well as Miami's offensive coaching staff—namely its first-year head coach.
PRESSURE ON RICHT TO GET PLAYCALLING UP TO PAR
Richt is no longer playing the role of CEO—as he did his final several years in Athens—and has assumed play-calling duties at UM. In time that could turn into something special, but as the past two weeks have proven—the veteran coach needs to shake off some rust and dust, proving conservative at times, while just plain boneheaded at others.
Too many third-and-long runs up the gut with the Canes' smaller running backs proved disastrous the past few weeks. One week, not enough rushing to establish a ground attack. A week later, too much running and no chances taken downfield—despite speedy receivers and a quarterback who can get it there.
Equally as frustrating; an inability to solve inefficiencies with a depth-challenged offensive line. Miami certainly can't do much about that in-season—but the play-calling can be tailored to get the ball out of Kaaya's hands quicker; less reliant on long-developing plays that allow for big hits—like the one that caused a late fumble against North Carolina, ending the comeback and sealing their win.
One could dive into match-ups here and a bunch of nonsense keys-to-victory. Kaaya and his Hokies' counterpart Jarod Evans need to protect the football, a next-man-in mindset has to be in place for both squads, limit the big plays—blah, blah, blah.
For the Canes, it's less about math and more about emotion, followed by execution.
Inexplicably, Miami didn't show up for North Carolina last week. Mental mistakes out the gate. No fire, passion or urgency—the Canes limped through the first half, held in there in the third quarter and attempted to rally late, falling short.
Any hopeful Coastal chatter aside, Miami is in must-win territory simply to turn its season around and to get back on track in regards to the rebuild and making year on in the Richt era a success. Notre Dame looms in South Bend next weekend, while November is chock-full of those pitfall-type games that bite the Canes in the ass; Pittsburgh and Duke at home, as well as Virginia and North Carolina State on the road.
A familiar Thursday night showdown at Blacksburg; it's an opportunity to circle the wagons and potentially turn a season around—while a third loss in as many tries could send this team into a tailspin.
THURSDAY NIGHT IN BLACKSBURG WILL MAKE OR BREAK THESE CANES
Last fall Miami rolled into Durham after a hellish week; their head coach fired after a 58-0 loss to Clemson, the unexpected death of a player's mother (Dana Smith; mother of former cornerback Artie Burns), Kaaya out with an injury and and interim coach handed the keys to the entire shit-show, being told, "Go figure it out."
It came down to a bogus late touchdown for Duke, followed by a lateral-fueled kickoff return for Miami—but it was a turning point-type moment for the Canes. A better North Carolina team still prevailed a few weeks later, but wins against Virginia, Georgia Tech and Pittsburgh propelled the Larry Scott-led squad to a 4-2 finish and 8-4 regular season.
Tonight marks this year's Duke-type moment for Miami. Must-win territory—not in regards to any Coastal Division nonsense; but simply for the sake of the first-year Richt buy-in and setting a tone for this season's remaining games.
For Miami faithful, lots of hope and hype surrounding the kickoff to this latest college football season. Much of it was rooted in addition-by-subtraction; a maligned, in-over-their-heads coaching staff sent packing, while a seemingly better-suited one was assembled. Exit, Al Golden and his buffoons—enter Mark Richt and an all-around better fit.
Lost in the exciting shuffle for many; the fact that the Hurricanes were still going to trot out essentially the same group that went 8-5 last year and 6-7 the year prior—upperclassmen tainted by years of sub-par coaching, while last year's freshest faces dealt with a mid-season turmoil and new staff by year's end.
A lot is being made about the Seminoles hangover effect; the Canes going in the tank on the heels of losses to their arch-rival. A blown lead in 2014 led to a three-game losing streak, while a late-game comeback attempt last season paved the way to Clemson collapse, leading to Golden's dismissal.
There's no denying that Miami showed up flat, lethargic and mentally checked-out of this weekend's 20-13 loss to North Carolina; but pinning all that on Florida State isn't logical. It's also a disservice to what the Tar Heels have grown into this past decade.
Hard as it may be for some to accept; North Carolina looked more like "Miami" than Miami.
'U' HISTORY: 101—A FEW MOVES THAT SENT CANES DOWN THIS PATH
Rewind to mid-November 2006. The Canes were reeling, but to what degree no one was ready to admit. Five years removed from its last national title, four years it's last championship appearance and three years since ending a streak of four consecutive BCS games—everyone wanted to believe it was simply a down year and bump in the road.
Early losses to Florida State and Louisville were followed by bland wins over Houston and North Carolina, followed by the battle royal against Florida International and almost-loss at Duke, courtesy of a dozen player suspended.
The Canes then dropped back-to-back games against Georgia Tech and Virginia Tech. Defensive end Bryan Pata was gunned down in cold blood. Road losses to Maryland and Virginia ensued. Between setbacks against the Terrapins and Cavaliers, North Carolina quietly hired former Miami head coach Butch Davis—a few years on the shelf after his short NFL stint flamed out.
Two weeks later, Larry Coker was out at Miami—an ugly 7-6 season where the wheels came off in disastrous fashion. From there, a crushing nine-year run for the Hurricanes—mistake after mistake made, crippling the program and paving the way for yet another rebuild underway today.
Ten days separate Davis' hiring in Chapel Hill and the end of Coker's run in Coral Gables—changing the course of both programs over the next decade.
This is the point where this article could go one of several different paths, leading to countless moot results—so let's keep things on track. Davis was eventually dismissed by North Carolina prior to the 2011 season; caught up in an academic scandal that reached the highest levels and UNC. That said, it's neither here nor there for the sake of this write-up.
The focus here is how Davis assembled a football program at a basketball school; bringing in blue chip talent and future first rounders, while building a winner and changing a culture.
While Davis built-up the Tar Heels, the inept Randy Shannon piled on Coker's mess with the Hurricanes. Four program-defining years in Chapel Hill, versus four setback years in South Florida. A bonus for the Canes; Nevin Shapiro and his shit-bag ways mucking things up and bringing immediate distraction and chaos to the Golden years.
North Carolina hit reset post-Davis and went the interim route, promoting defensive coordinator Everett Withers for a throwaway season as the program regrouped. Miami chose Golden from a talentless pool that included Marc Trestman and Randy Edsall; and ultimate lesser of a few evils situation.
Withers' run was over as soon as it began and the Tar Heels hired Southern Miss head coach and up-and-comer Larry Fedora to take over. Year one Fedora took a Davis' built squad to 8-4; winning the ACC's Coastal Division on paper, but banned from all postseason play due to violations from the 2010 season.
7-6 and 6-7 followed—as did a coaching change as Fedora brought on former national champion head coach Gene Chizik to run the Tar Heels' defense. The result; an 11-3 season and 8-0 regular season run in the ACC.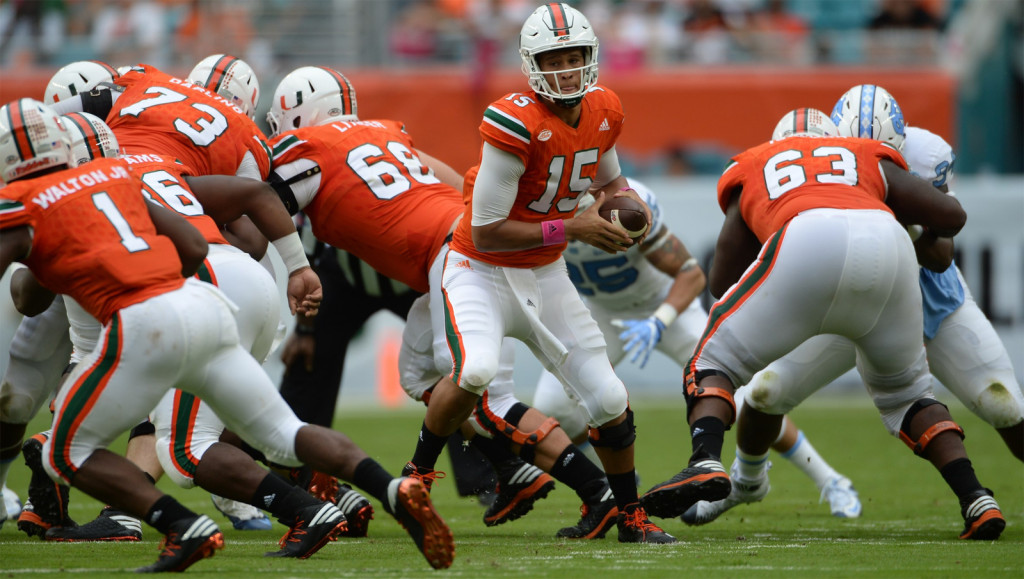 As North Carolina turned a corner in 2015 with the Fedora/Chizik combo, Miami dumped a bad stock and sent Golden packing by late October. Interim head coach Larry Scott took over, went 4-2 down the stretch and Richt was the new guy in charge by December.
RICHT FEEL-GOOD STORYLINE WON'T TRUMP RIVALS' HEAD STARTS
Looking at the timelines between the two programs, it shouldn't come as a surprise that North Carolina looks the part this fall, while Miami still comes across makeshift, inconsistent and shoddy.
The Tar Heels benefitted greatly from eight years with Davis and Fedora at the helm, while the Canes had eight-plus with Shannon and Golden leading the the charge. Meanwhile, Richt is six games into a bigger mess than he probably accounted for—fired by Georgia on a Sunday and hired by Miami the following Wednesday.
A 15-year career coming to an end and embarking on a new one 96 hours later doesn't give one much time for deep thinking or critical analyzation.
Assessing the long-term, the Canes are right to be excited about Richt's potential. The Miami alum was hired to rebuild the program proper; laying a solid foundation and doing away with a broken culture that started on Coker's watch.
A proven recruiter, a man of faith—giving players Bibles (with no expectations), improving community relations, et al—this will all pay off in due time, win over parents and further build-up Richt as one of the best in the business, allowing "The U" to rebuild properly, in some ways starting from scratch.
What it won't do; fix a decade-long problem overnight.
After falling to North Carolina—Miami dropping to 1-2 in conference play—Richt admitted some rustiness in his play calling; something he got away from at Georgia when taking on more of a CEO-type role.
Any notion or belief that Richt would just waltz back into the role of offensive guru after a multi-year hiatus; absolutely foolish. While Richt was managing things in Athens, guys like Fedora were climbing the coaching ladder—making a name for themselves as the game's next great offensive minds.
None of that is to say Richt can't or won't refind his groove; but expecting next-level play year one while trying to clean-up a culture the last few guys broke? Wishful thinking.
CANES' MYSTIQUE WON'T WIN ACC; NEED SMARTER PLAY & BETTER PLAYERS
Rough as the last two losses have been to accept, it's time for a hard reset on expectation for year one in the Richt era. Any entitlement in regards to winning the Coastal Division and reaching the ACC title game for the first time in a dozen tries; stop it. Should this squad pull it off, great—but any blah-blah-blah about talent, match-ups and how the Canes are "better" than divisional opponents on paper; it's all noise.
Miami hasn't earned the right to have any conference expectations. All talk of winning the Coastal must be shelved until this program proves it can bounce back from tough losses, while showing up against beatable opponents—dropping games to four-win squads like Virginia a few years back and what not.
Show up for whoever is on the schedule that week. Bring it. Do away with the mental mistakes—moronic penalties, inexplicable drops, sub-par execution and flaws in coaching strategies—as each step and accomplishment takes you closer to the ultimate goal.
This shift in thinking is crucial as it's flat-out embarrassing to watch in-season bargaining taking place—crossing fingers that divisional rivals are upset down the stretch, allowing Miami to back into the title game (something yet to happen to date.)
Six regular season games remain; five in conference. A few things to focus on down the stretch:
— Better protection for quarterback Brad Kaaya, who is taking an absolute beating by way of a shoddy, depth-challenged offensive line. In a perfect world, there are more bodies and a deeper pool of talent to work with. Right now, there isn't—so you work with what you have and plan a strategy accordingly.
The Miami Dolphins are a hot mess, but found a way this past weekend to get their line working together and protected their guy under center en route to an upset of the Pittsburgh Steelers. Improvise. What's the worst that happens, another loss?
— Accept the fact that this Hurricanes' squad is void of a capable bigger-bodied running back; so quick trying to ground-and-pound with smaller guys like Mark Walton and Joe Yearby, as it's not working. Makes you wonder if Richt is having Georgia flashbacks and thinks he has a few of those tough Bulldogs runners he's had in years passed.
Miami was 4-of-15 on third-down conversions against North Carolina; a handful of those the result of a Walton or Yearby called upon to rush up the middle—smaller backs behind a weak-ass line and a predictable play snuffed out.
Walton and Yearby are most dangerous when given some space and the ability to make a move. Nothing is happening when handed the ball three yards behind the line of scrimmage when opposing defenses are in the backfield soon as the ball is snapped.
— Put the best players out there and let them do their thing. All due respect to fifth-year senior Malcolm Lewis and all he's been through, but fielding a kickoff and running out of bounds on the three-yard line to start the game; a bench-worthy offense.
Special teams as a whole has been deplorable for the Canes this season and that is something that needs constant tweaking and personnel changes until the right mix is found.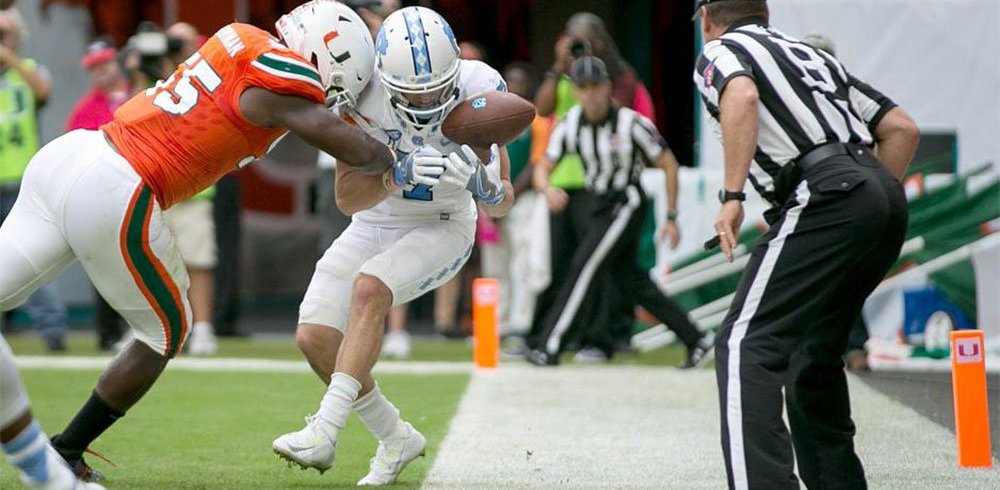 — Lastly, the mental breakdowns and emotional lapses in judgment have to come to an end. Miami was only dinged for four penalties against North Carolina—compared to a disastrous 10 for 110 yards versus Florida State—but in both cases, game changing and ultimately detrimental.
ACC officiating has been lopsided and piss-poor the past few weeks; a bogus holding call negating a Walton touchdown against the Seminoles, while a bobbled haul-in was called a touchdown this past weekend; the right call likely setting up a field goal on 4th-and-Goal from the five-yard line.
Both shit calls impacted the tone of the game, as well as the final outcome—but neither have anything to do with the mistakes the Canes are making top to bottom, which are having a greater impact on the course of the game.
MODERN-DAY MIAMI; WHERE DOES IT GO FROM HERE?
Time will tell if the short week and road trip to Virginia Tech proves to be a blessing or a curse, but Miami is in must-win territory.
Coastal dreams aside, a third-consecutive loss would send this season into a full-blown downward spiral—early wins deemed meaningless, while ten months worth of Richt hype would go right down the drain until another hopeful step forward next fall.
Even worse, the schedule isn't necessarily forgiving.
Bad as Notre Dame has looked, no doubt the Irish will bring their A-game and South Bend will be rocking the final Saturday of October. From there, a tough home game against a gritty Pittsburgh squad.
Charlottesville is always tough on Miami and the Canes follow up that annual showdown with the Cavaliers by heading to Raleigh to face a North Carolina State squad that took Clemson to overtime in Death Valley. Last up, a home game against Duke—who is on the mend and will be revenge-minded after last year's game in Durham.
Time to respond quickly, adjust on the fly and work with that the Canes got as anything less will result in another disastrous close-out amidst yet another rebuilding year.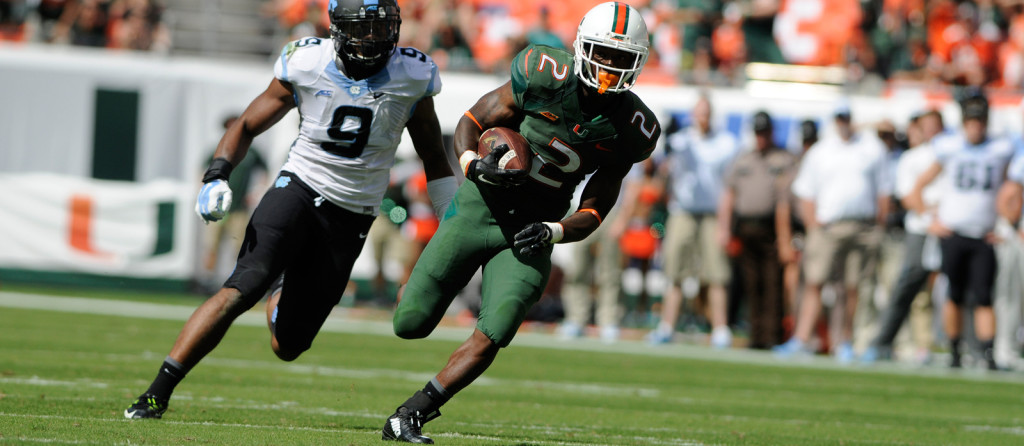 Another big stage moment ended with the Miami Hurricanes coming up short last weekend with rival Florida State in the house. The blocked extra point served as the final nail in the coffin of a 20-19 loss, though the would've, could've, should've moments were plenty leading up to that point.
Conservative play-calling on offense. A crucial end-zone interception. A bogus holding call negating a would-be score. Broken defensive plays allowing the bad guys to get back in the game. All were equally as brutal and played their part in another big game collapse—and with that, all must be flushed as there's a ton of important football left to be played this season.
Look no further than recent Canes' losses to the Seminoles for a blueprint of how not to react in the face of adversity.
That 23-7 first half lead that evaporated back in a 30-26 loss in 2014? Paled in comparison over the lifeless 30-13 loss days later in Charlottesville to a four-win Virginia team. Back home the following week, a five-win Pittsburgh squad rushed for 226 yards and topped Miami by a dozen. Insult to injury came in the bowl game when a six-win South Carolina squad played second half chess while the Canes played checkers, ekeing out the three-point win.
From 6-3 to 6-7, just like that.
MIAMI UNABLE TO RESPOND IN THE FACE OF ADVERSITY AS OF LATE
Last year was no better—falling to a garbage Cincinnati team on Thursday night, before giving one away in Tallahassee against a beatable Florida State squad not firing on all cylinders. The Canes responded with a home win over an eventual six-loss Virginia Tech squad before Clemson rolled in and obliterated the home team, 58-0.
Then-head coach Al Golden was fired 24 hours later, tight ends coach Larry Scott took over in an interim roll and Miami rah-rahed its way to a miracle win at Duke and ugly home win against Virginia before North Carolina went apeshit on the Canes in Chapel Hill.
The Tar Heels put up 487 yards, while quarterback Marquise Williams threw and ran for a combined 210 yards and two touchdowns—throwing down "U" hands as a sign of disrespect to the Canes; something wide receiver Ryan Switzer echoed when returning a punt 78 yards for a score.
North Carolina led 31-0 at the half. Halfway through the third it was 52-7 before Miami got a few late garbage scores. A beat down quite possibly more embarrassing than the one second-ranked Clemson delivered as the Tigers at least reached the College Football Playoffs and took out the Tar Heels in the ACC Championship.
Clemson wasn't 58 points better than Miami, but as a true power last season it's almost easier to process. Zero excuse for such a lopsided performance at North Carolina.
Fast-foward a year and where do these two conference rivals stand? The Canes brought on Mark Richt and an entirely new staff—as well as a 4-3 defensive scheme more conducive to Miami-style play, while it's business as usual for the Tar Heels. Larry Fedora still runs the show while former Auburn national champion head coach Gene Chizik continues revamping a defense seemingly backsliding this year.
Both programs have lost some talent, while adding some new role players, as well.
SEASON-DEFINING MOMENT FOR BOTH THE CANES & TAR HEELS
Miami's narrative this season is pretty cut and dry; beat up on some nobodies out the gate, relied on a few defensive turnovers to take out Georgia Tech and came up a few plays short when hosting Florida State. North Carolina's storyline is a bit more confusing.
After falling to Georgia in the opener the Tar Heels knocked off Illinois and James Madison—while giving up 23 and 28 points, respectively. North Carolina topped Pittsburgh on the game's final drive and went on to upset Florida State the following week, by way of a 54-yard field goal as the clock hit zero.
The four-game win-streak came to a crashing halt last weekend in a rain-soaked affair against Virginia Tech; the Hokies dominating time of possession and holding the Heels to 131 total yards. North Carolina also coughed up two fumbles while the usually solid Mitch Trubisky was a disaster under center. The quarterback threw two picks, going 13-of-33 for 58 yards.
Almost makes you wish another monster storm was on the radar this weekend.
Miami is an 8.5-favorite going into Saturday's showdown, but that's little solace for those who have watched this rivalry over the years since the Canes joined the Atlantic Coast Conference. In good times and bad, the Tar Heels have always had a strange edge in this quirky series.
Besides the obvious—year one in the ACC when third-ranked Miami fell, 31-28 to a garbage North Carolina squad—there have been crazy comebacks on both sides; the Canes usually falling short while the Tar Heels miraculously pulled some magic out their asses.
Some of that may have been the Butch Davis effect; the former Canes' head coach spending four seasons in Chapel Hill and going 3-1 against then-UM leader Randy Shannon—Shannon playing under Davis at "The U" in the 1980's and three years as a defensive assistant in the late 1990's.
Down 27-0 at the half in 2007, the Canes rallied for 20 in the third quarter, only to choke late in a 33-27 road loss. The following year, an early 24-14 four quarter lead blown in a 28-24 loss. 2009 was another gut-punch; the Canes down 23-7 mid-third, pulling to within six, driving and coughing up a fumble that went the other way for a score.
Things somewhat leveled out once the Davis-Shannon dynamic was no more, but things remained unorthodox—two-point conversion attempts changing the strategy in an 18-14 loss for Miami in 2012, yet a miracle comeback in Chapel Hill the following year, overcoming a late 23-13 deficit while relying on back-up role players.
SATURDAY'S LOSER CAN ALL BUT KISS COASTAL DREAMS GOODBYE
All of that history is somewhat moot as these two face off on Saturday at Hard Rock Stadium—a must-win Coastal Division showdown both both squads. Miami and North Carolina are each coming off of losses and need a bounce-back win as much as the other.
For Miami, the strategy itself could almost be cut and pasted from last week's blueprint. Disrupt the quarterback—in this case, Trubisky—as he'll pick you apart with too much time. When rattled, the junior is a mistake-prone mess. When comfortable back there, damn-near a Heisman candidate.
From there, the Canes' secondary needs to crank things up a few notches. Switzer is Trubisky's go-to—and he's hurt Miami in the past. Set the tone early and let the speedy, undersized senior know he's in for a long afternoon.
The x-factor on Saturday; Tar Heels' running back Elijah Hood—questionable after missing last weekend's game against the Hokies. Theoretically it's always about the highest-level of competition and going against the best—but as the Canes look to rebound from the Noles', loss—no issues with Hood being out our limited, making the UNC offense a bit more one-dimensional.
Offensively for Miami, it's all about balance—as well as not letting up. The Canes' first half last weekend was a bit more aggressive, while things seemingly got conservative in the second half against the Seminoles.
Knowing the Tar Heels' defense has been a bit spotty; a great opportunity to take more downfield shots with Kaaya and to open things up a bit. Fact remains the Canes lack a power rushing attack; fielding a pair of number two-type guys in Mark Walton and Joe Yearby, while lacking a bigger-bodied bruiser who can move the chains.
Both Walton and Yearby are threats, but the key is avoiding more up-the-middle runs—relying on a shoddy offensive line to deliver—and getting two speedy backs the ball in space, allowing them to work some magic.
The tight end was also somewhat non-existent last week. Would like to see more touches for guys like David Njoku and Chris Herndon.
All that armchair-quarterback strategizing aside, it's all about finding a way to win—at all costs. Pretty, ugly, lucky or a perfect strategy—Miami simply has to deliver and forge ahead.
Lots of chatter about the Coastal Division and how the Canes should win it—the sentiment based more on emotion than logic, as well as impatience as this marks Miami's thirteenth season in the ACC without repping the division or sniffing a conference championship.
The margin for error down the stretch is damn near zero—especially when factoring in Virginia Tech's weak-ass Atlantic Division foes; Syracuse on Saturday, but no Florida State, Louisville or Clemson on the schedule. Meanwhile Miami already lost to Florida State and has a road game against a good North Carolina State squad late November.
A loss this weekend and the Canes can all but be counted out of the Coastal race—resulting in a must-win situation in Blacksburg on Thursday night and then relying on Virginia Tech to drop one of four remaining ACC games, with Miami forced to win-out.
All of that to be filed under getting-ahead-of-oneself as it's all about responding against a good North Carolina team this weekend—one that embarrassed the shit out of the Canes, last fall.
The blueprint for success is there; it's simply a matter of Miami showing up, executing and knocking out a North Carolina team seemingly on the ropes and struggling defensively.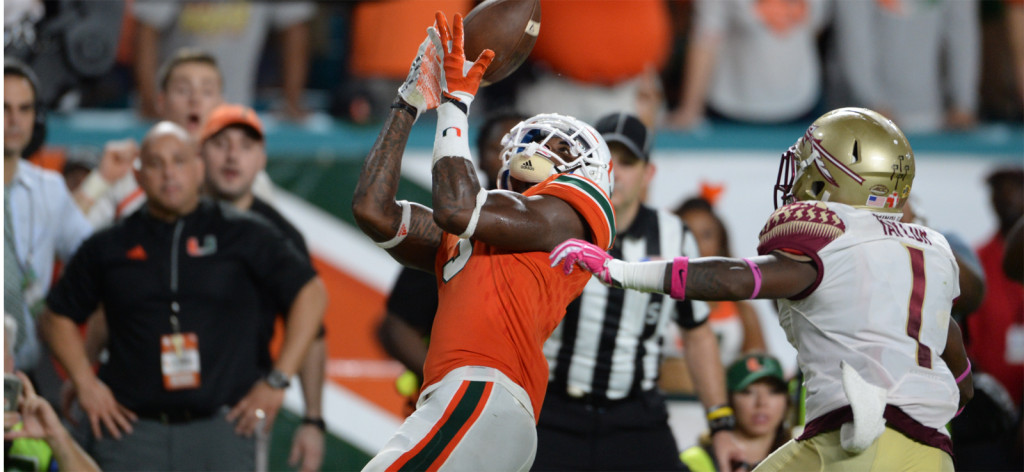 It had all the makings of something special. The hard-rocking stadium. The throwback uniforms. The pre-game skirmish. An undefeated start to the season and a rival having already absorbed a few losses.
The Miami Hurricanes jumped out to another home lead against Florida State, but it was the Seminoles who again closed strong, much like they have the last two times these foes got after it, prevailing, 20-19—the foot of a kicker again defining another big moment in this rivalry.
In the end, a seventh-straight loss and the harsh reality that despite the gap closing between the Canes and Noles, the boys from up north are still a few paces ahead of the five time national championship Miami program. Doesn't matter how or why—FSU's "rebuild" starting back in 2010, while UM's just got underway last December; the result continues to be the same.
The Canes are on the right track, but lack the depth, across-the-board talent and big-win experience that championship teams possess.
There are no moral victories and silver linings the morning after are impossible to appreciate. Saturday's heartbreaker will be forever remembered by a muffed snap and batted-down extra point; The Block at The Rock. Convenient for narrative-sake in a rivalry that has been defined by missed kicks by the guys in garnet and gold—but Miami lost the game well before DeMarcus Walker swatted down a Michael Badgley point-after attempt; the junior kicker automatic in his career up to that moment.
No, this one was surrendered from the get-go when Miami's supposedly-high octane offense sputtered and punted its first two drives, while settling for a field goal on its third—wasting some big time defensive stops; including a fourth-down stuff of the Noles that kept early points off the board.
A DOZEN OTHER "LOST GAME" MOMENTS TRUMP MISSED POINT-AFTER
Miami's swarming defense sent quarterback Deondre Francois to the sideline after a vicious takedown by Kendrick Norton. Jaquan Johnson made the Noles pay, intercepting back-up Sean Maguire on a tipped pass and the Canes turned it into seven by way of a highlight-reel touchdown grab by Stacy Coley on 3rd-and-19—giving Miami the 10-0 lead early in the second quarter.
Still, the where-it-was-lost moments were all over the place; again settling for three when another offensive possession stalled out.
Francois back under center, the Canes' defense held the Noles to 18 yards on six plays, forcing a punt. Brad Kaaya immediately went to freshman Ahmmon Richards for a 38-yard pick-up. A sure-fire pass interference call on Florida State looked to be drive-defining, but was negated when the intended receiver Braxton Berrios was hit with a facemask call—boneheaded-as-hell and taking the steam out of the Canes.
Incomplete pass to Coley. Four-yard pick-up by tight end David Njoku. Four-yard run by Mark Walton. 51-yard field goal by Badgley and valuable points again left on the field against a squad known for second-half comebacks.
The Noles responded with nine-play, 62-yard drive—including a 3rd-and-12 conversion, though eventually settling for three and cutting the deficit to 10 points at halftime, with Florida State getting the ball to start the second half.
Miami's defense forced the three-and-out and was primed again to take control, face planted and had yet another where-it-was-lost moment, unable to close on a would-be, game-defining drive.
Kaaya-to-Richards for 12 yards on 2nd-and-7 had Miami midfield and 15 more yards were picked up when Matthew Thomas was ejected for targeting. 1st-and-10 from the FSU 34, Walton picked up three before Kaaya found Coley for 18. Another first down; the Canes in business at the 13-yard line.
False start, Coley. Momentum killer. Incomplete pass to Richards on 1st-and-15, another setback. Then the dagger—a forced pass on 2nd-and-15 with Kaaya went to Richards again; Tarvarus McFadden stepping in front for the end zone interception.
Six plays later, a defense breakdown and Dalvin Cook—the most-dangerous guy on the field, inexplicably wide open— hauling in a 59-yard touchdown reception. What could've been 20-3, or at worst 16-3, was now 13-10 in just over three minutes—the energy in the stadium shifting as momentum was slipping away.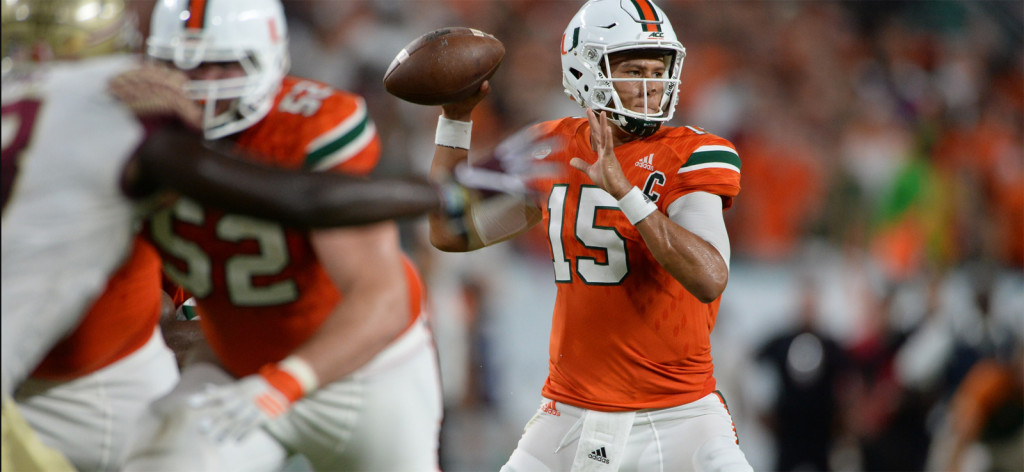 KAAYA COMES UP SHORT IN ANOTHER RAISED-STAKES SITUATION
Incompletion, three-yard run, incompletion, punt. The type of unraveling that defined the past half decade of Miami football was rearing its ugly head again—and no one on either side of the ball could stop the bleeding.
A comeback was underway and everyone in the building felt it. The Canes weren't done, but the lead was set to evaporate and Miami was on its heels. Seven plays and 60 yards later, Francois found Kermit Whitfield for a 20-yard touchdown on 1st-and-10—a brilliant read on a would-be run play, changed when Johnson blitzed for the Canes with three Florida State receivers lined up trips to the left.
17-13, Noles late third quarter—Miami trailing for the first time all season. Here we go again.
Walton, nine-yard run and six more the following play. Tack on a 15-yard personal foul and the Canes were already at the FSU 45 in just under a minute. 1st-and-10, Walton takes it 45 yards to the house. To be filed under, you-can't-make-this-shit-up; holding on Tyree St. Louis—his "mistake" doing zero to spring Walton loose. (Translation; horse-shit call by the zebras.)
Drive destroyed, next-level dagger and a snatching-defeat-from-the-jaws-of-victory type moment that Miami simply can't purge itself of. From taking back the lead to 1st-and-20 and deflated—just like that.
Two runs by Joseph Yearby went nowhere before Kaaya's attempt on 3rd-and-15 was incomplete.
Miami's defense held Florida State to a field goal after stopping Cook cold on 3rd-and-2—leaving the Canes yet another final drive-type chance like the past two years, down seven with nine minutes remaining.
Coley for 17 yards on 3rd-and-8. Another pass interference fortunate break, putting the Canes across midfield. First down run with Walton loses one, Kaaya sack loses six and another takedown on 3rd-and-17—Miami's offense unable to do anything.
The Canes' defense rises up, sacking Francois on third-and-long—putting the ball back in Miami's hands for one final go-around with 3:02 remaining after a brilliant 43-yard return from Berrios.
Walton runs back-to-back, netting seven yards, but gets stuffed on 3rd-and-3. 4th-and-5 from the FSU 11, Kaaya hits Coley on a rope for the score—followed by the unthinkable. Muffed hold, blocked kick, ball game.
Even with the extra point, does Miami's defense stop Florida State's offense with 1:38 remaining in a 20-20 ball game? Doesn't matter. The Canes had already been gutted and exposed—a not-yet good enough squad able to seize big moments and close.
YEAR IS ONLY A FAILURE IF MIAMI ALLOWS FLORIDA STATE LOSS TO BREAK THEM (AGAIN)
Bad as Florida State looked at Louisville, or somewhat exposed in a home loss to North Carolina—when the money was on the table and the Canes were across the field, the Noles were able to rely on muscle memory, earning the type of comeback win that can jumpstart a season.
While Miami toiled in misery these past six seasons—firing Randy Shannon, hiring Al Golden, dealing with ponzi-schemer Nevin Shapiro and fighting with the NCAA—Jimbo Fisher was building his powerhouse; taking over a program in much better shape than the Canes, in the process.
Over that span, four Atlantic Division titles, three ACC crowns and one national championship—while Miami stumbled to 43-33, fought off a two-year investigation, absorbed three years probation and saw three different head coaches at the helm. None of that even addressed the negative recruiting that sent quality local kids packing or forced "The U" to miss out on some key players.
Cook and Whitfield killed Miami last night; two kids who at one point looked to be future Canes. Same for the ejected Thomas and suspiciously-quiet Travis Rudolph last night. Losing out on players of that nature each of the past several years—it shouldn't necessarily define moments like these, but it can't be ignored. Keep the best talent home, recruit strong and develop good players into great ones. It's a tried and true formula, but simply hasn't happened in Coral Gables for well over a decade now.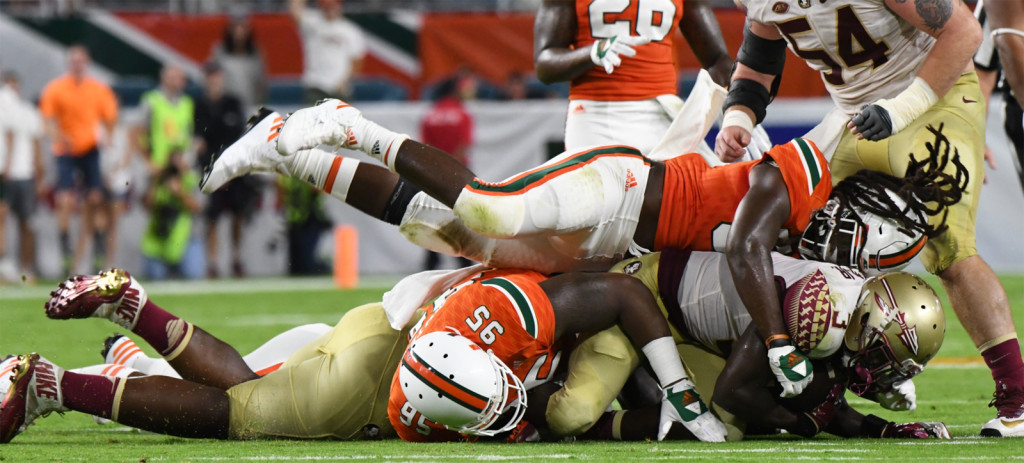 Under all those circumstances, the fact the Canes have actually hung with the Noles the past three years is a mini-miracle unto itself—though it's no solace when surrendering late leads and losing 10 of the past 12 to an arch-rival.
However this edition's script was written, it's over. Another loss in the books and another learning experience to be taken. Some other morning-after thoughts about these Canes as seven games remain. In no particular order:
— Defensive breakdowns at Georgia Tech last week were brushed off by way of a few exciting sack, strip, scoop and score moments which were the difference in a 14-point victory. Exciting plays, but flukes that arguably aren't going to occur on a weekly basis or against top-flight talent. Miami had a few blown plays defensively that were indicative of the past half decade of UM football and served as a reminder that the talent and personnel simply isn't where it needs to be on that side of the ball.
A lot of tipped passes and balls-out play from guys like Corn Elder, Kendrick Norton and Chad Thomas—as well as the trio of freshmen linebackers—but not enough depth or difference-makers over there, yet.
— Exciting as Walton and Yearby have been over their careers, the Canes' ground attack is suffering from not having a bigger-bodied, Cook-type back who can run hard, get the tough yards and carry a struggling offense on their backs. Gus Edwards hasn't panned out and Mike James was truly the last slightly bigger, hard-hitting running back the Canes have boasted.
Two guys who are "lighting" aren't the answer. The rushing attack needs some "thunder", as well. The Canes lost out on Cook a few years back, but need to ensure that they find a back like him on the recruiting trail each of the next few years.
— For every spectacular grab a receiver has, seems there are a few drops, miscues or setbacks to go along with the good. Painful as the ground game has been, the inconsistencies in the passing game are added pressure for an offense seeking and identity.
— Lastly, with almost two and a half seasons under his belt as a starter, it's time to assess who No. 15 is and who he isn't. Kaaya was thrown into the fire as a freshman, has learned on the job and has put up some rather impressive numbers as Miami's starting quarterback. He's pegged to be a Top 10 pick in next spring's NFL Draft, as the 6-foot-4, 215-pounder with the solid head and strong arm checks off most boxes that assure success at the next level.
What Kaaya hasn't shown yet; the "it" factor and overall leadership great collegiate quarterbacks on championship-caliber teams possess.
Come-up-short moments against a Nebraska, Georgia Tech or Florida State as a freshman are forgivable—but that expected step forward wasn't taken as a sophomore. Cincinnati and Florida State were would-be, hero-type moments where Kaaya could've put the Canes on his back and made a difference.
Even the bowl game against Washington State; an interception on a potential game-winning drive.
This recent showdown with the Seminoles was a growing-up opportunity. Kaaya took a beating behind a suspect offensive line, got his ass kicked and still threw two NFL-worthy touchdown passes to Coley. That said, the second down interception in the end zone was brutal and truly unforgivable based on the moment, the opponent and overall state of the program.
Florida State is suiting up a freshman in Francois, who opened his career with a comeback victory against Ole Miss, had a solid outing in the loss to North Carolina and took everything Miami's defense threw at him, yet kept making plays and getting the job done.
Time is running out on the Kaaya era. Will this fan base ever see that next-level, clutch-type performance he's capable of? Tar Heels, Hokies, Fighting Irish and Panthers on deck.
IT'S NOT HOW YOU START; IT'S HOW YOU FINISH—CLOSE STRONG
Two years ago, a blown 23-7 lead against Florida State broke Miami's spirit and the Canes lost their final three games. A year ago, a loss in Tallahassee was followed by a a home win over Virginia Tech before Clemson came south and delivered the type of ass-kicking that gets a fifth-year head coach fired before he sits down with a coffee and his Sunday paper.
What is this year's narrative—Miami now 4-1 with first-year head coach Mark Richt; an even-keel guy celebrated for not getting to high after a win or too low after a loss? Golden—always the disheveled, excuse-making post-game mess—proved unable to get his Canes to respond. Can Richt erase five year's of Golden's hold on this program five games into his tenure? He better and the hits are coming hard and fast.
North Carolina heads south next weekend—the same squad who took down Florida State in Tallahassee weeks back on a game-winning 54-yard field goal that ended a 22-home game win-streak.
Good news; the Tar Heels were demoralized after falling to Virginia Tech at home, 34-3 yesterday. Bad news; the Hokies are up next for the Canes, traveling to Blacksburg for a Thursday night showdown against the new Coastal Division favorites.
Negotiate that rugged terrain and a road trip to Notre Dame follows; the Irish unraveling, though South Bend ready to come alive when boys from Miami show up.
Losses to Florida State have defined Miami's season the past few years and if there's any takeaway from this year's setback—let it be just that; forget about the Noles until next time around, learn from the mistakes and focus on the remaining seven games.
This was never a championship season for the Canes. At absolute best, a Coastal Division title was in the cards—Miami the preseason number two behind North Carolina. Another loss to Florida State hurts; but it's only as detrimental as the Canes allow it to be.
Let the next few weeks define this season—not a few setbacks in a would-be step-foward moment in primetime this past weekend.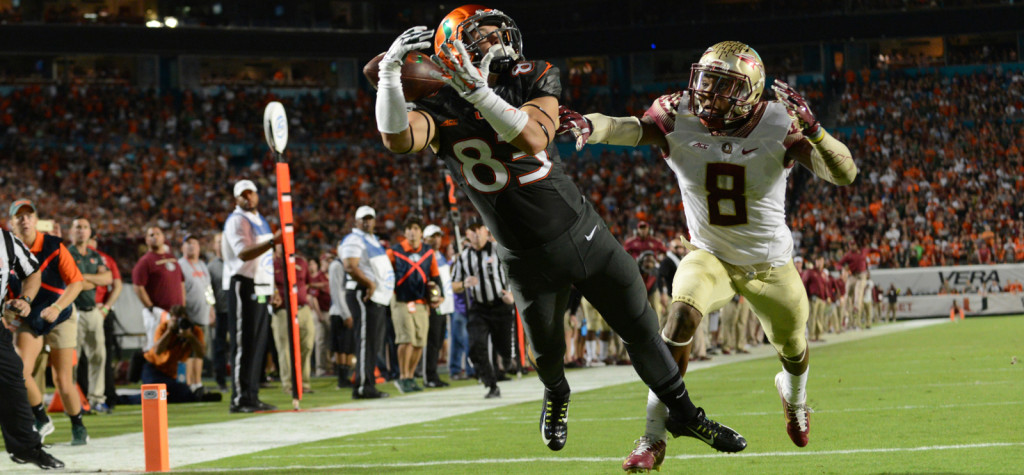 Miami and Florida State, set to throw down yet again. Primetime, as usual, with the nation paying attention. The two have often met as top five programs gunning for national titles, but truth be told, even lesser stakes have been know to result in an Instant Classic.
At the turn of the century, the Canes took the power back—beating the Noles six-straight on the heels of an unthinkable five game losing streak, made possible by sanctions and probation in the mid-to-late nineties.
From there, the unthinkable happened—Miami and Florida State simultaneous backslid and became average. A couple of basic-bitches limping their way to 7-6 seasons; Bobby Bowden in the twilight of a lengthy career, while the Canes had a revolving door of not-up-for-the task head coaches in Larry Coker, Randy Shannon and Al Golden.
Jimbo Fisher took the reigns in Tallahassee in 2010—getting a jumpstart on the Noles' makeover, quickly whipping the one-time power back into shape. The past six seasons; four Atlantic Division titles, three ACC crowns and a national championship, while Miami limp-dicked it with Golden before pulling the plug halfway through last season.
Out of nowhere for the Canes; a perfect storm—Golden's epic face-plant against Clemson leading to a swift dismissal, coupled with a fat apparel check from adidas and Georgia dumping long-time head coach Mark Richt after a 9-3 regular season. Without any of the three, 2016 isn't a proper rebuilding year for Miami and the surrounding optimism isn't at this level.
The result; a 4-0 start—against a few patsies and two good-not-great teams—setting up another annual are-the-Canes-back moment and season-defining showdown. An added bonus; the $400M renovation to the newly-dubbed Hard Rock Stadium, which should look spectacular on ABC under those primetime lights.
THE FIRST STEP BACK TO PROMINENCE; WIN RIVALRY GAMES
Beat Florida State for the first time since 2009 and a ripple effect will be felt throughout college football. The type of moment where today's recruits and tomorrow's superstars will remember precisely how it happened and the emotions felt.
Lost in the shuffle of Miami's comeback narrative; the fact that a solid, talent-heavy and experienced Seminoles squad has been reduced to "spoiler" and underdog, after being the second-ranked team in the nation weeks back.
A monster second-half comeback was needed against Ole Miss in the opener before smacking around Charleston Southern at home.
A week later, Louisville dismantled Florida State. A victory over South Florida ensued, though the Seminoles were definitely lacking an "it" factor. Last weekend, a 54-yard game-winning field goal off the foot of a spirited North Carolina kicker sent the boys from Tallahassee to 3-2 on the year and winless in conference play.
The setback almost dropped Florida State out of the Top 25, while Miami rose to No. 10 and is now a slight favorite entering Saturday's showdown. All that said, it should also be noted that the Canes have played the 112th toughest schedule-to-date this season, while the Noles have played the third. Would "The U" be undefeated had it taken on Ole Miss and Louisville in September? Hell no.
Still, a much different scenario than anyone pictured a month ago and definitely uncharted territory for the Hurricanes—who have been a perennial underdog in this rivalry for longer than anyone in the orange and green cares to remember.
Lesser Miami teams have managed to do more; the Canes jumping all over the defending national champions in 2014, leading 23-7 late in the first half before falling, 30-26 and dropping three more to close the season, never emotionally bouncing back from the collapse.
BOYS FROM TALLAHASSEE MUCH BETTER THAN THEIR RECORD
Last year, a series of miscues on the Seminoles' part kept the Canes in the game late—Miami even taking a one-point lead, but unable to stop Dalvin Cook down the stretch. The local product rattled off back-to-back 23-yard runs; the latter proving to be the game-winning score.
Cook smoked Miami for 222 yards and two scores last season. The year prior, only 92 yards on seven carries—41 coming on the Noles' game-winning drive, Cook punching it in from 26 yards out for Florida State's first lead of the night.
Cook started his junior season slow, but has picked up steam since—going for 267 yards and two touchdowns against the Bulls and 140 yards with three scores in the loss to the Tar Heels. Back home for his final crack at the Canes just up the way from Miami Central High School; Cook will again come to play.
Difference this time around—a 4-3 defense and more aggressive scheme from first-year coordinator Manny Diaz, opposed to the passive 3-4 approach favor by the former staff. Will that be enough? In short, no.
The key for Miami as Florida State enters this weekend; to prove it's grown up as a program and it's ready for the main stage. Even with a win, the Canes aren't "back"—as that won't be the case until Coastal Division titles are won, Miami reels in a few more quality classes and actually starts a season in the hunt.
THESE CANES NEED TO ADD A CHAPTER IN THEIR LEGACIES
Undefeated is sure better than two losses by early October, but lest not forget Miami rose to No. 7 three years back—a Top 10 team by default, beating on nobodies—before getting dismantled by top-ranked Florida State, 41-14, en route to the Noles' winning the national title.
The Canes need to take the next logical step forward; playing to their potential, rising up and overachieving in the moment—opposed to wilting, unraveling and letting in-game setbacks kill their belief in self.
Miami is good enough to take out Florida State this weekend; the Noles a talented, albeit dysfunctional bunch right now seeming to lack leadership and focus. The Canes don't have to be "better"—they simply need to be better prepared on Saturday night and close.
Year three underway, it's time for Brad Kaaya to get his signature game. The stats have been there and the junior quarterback has the size, arm strength, character and potential NFL teams will be all over next spring, or the following year—but the California native hasn't won a big one or led a career-defining comeback-type drive for the highlight reel. It's time.
On the ground, the Canes lack the bigger-bodied, Cook-type back—but have two hard runners in Mark Walton and Joseph Yearby who have to get those tough yards, move the chains and break off the type of runs that made No. 4 on the other side a legend in this series.
Defensively, more of what Miami has shown the past few weeks—playing above their talent level and finding a way to overcome a depleted secondary, youth at linebacker and a defensive line in need of more playmakers in line with the greats who have suited up for the Canes when the program was a force.
Every journey begins with that first step. The Canes can take a world-class leap on Saturday night by finally getting this Seminoles' monkey off their back. It's all there for the taking. It's simply a matter of Miami finally being ready to take it.
They say big time players step up in big games. Who's ready to be big time this Saturday night?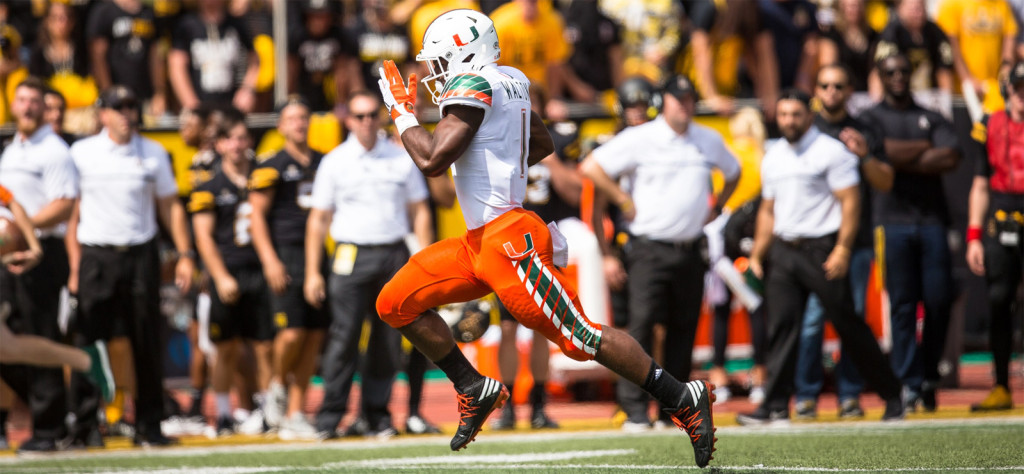 The Miami Hurricanes weren't given much credit for recent, expected throttlings of Florida A&M and Florida Atlantic in recent weeks. Completely understandable as smacking around patsies early September is hardly noteworthy.
The critics pointed to Appalachian State and a road trip to Boone as a mini-measuring stick for "The U"—also understandable as the Mountaineers are a quality lower-tier program. Not to mention, the Canes an unfathomable 5-12 on the road the past seventeen attempts, so this one had "trap game" written all over it.
Had this match-up taken place at any point over the past five seasons; spoiler alert—Miami would've shit the bed in Shakespearean tragedy-type fashion.
Instead the Canes played a dream scenario-type game, jumping on the Mountaineers early, silencing the amped-up crowd, weathering an early third quarter storm and closing strong in a 45-10 rout.
The result, a 3-0 start and ten-spot jump in the AP poll to No.15 before an off week, followed by a road trip to Georgia Tech to kickoff ACC play.
The alternate would've been a straight-up disaster—as proven a year ago when Miami stumbled into Cincinnati for a Thursday night showdown and got worked by a Bearcats team who finished 7-6 with losses to Temple, South Florida and San Diego State.
Unranked, 2-1 going into an off-week, local sports talk radio blowing up—and an epic fail regarding the new adidas rollout of their "Legends of The U" throwback jerseys, had things gone south at Kidd Brewer Stadium.
The only thing missing would've been a disheveled, hot mess of a coach, loosening his tie and rambling about getting beat in all three phases of the game and how it was all on him to get that right before shuffling off dejected yet again.
It's cathartic to relive the Al Golden experience—forcing oneself to imagine what could've been this year if change hadn't been made last fall. (Miami faithful should put Clemson head coach Dabo Swinney on this year's holiday card list as that 58-0 pasting proved to the be the final straw.)
Instead, a still depth-starved Canes squad is playing above its overall talent level—new head coach Mark Richt injecting life into his players, staff and the Miami fan base. It's finally safe to drop the "cautiously" and simply be optimistic about the future at "The U".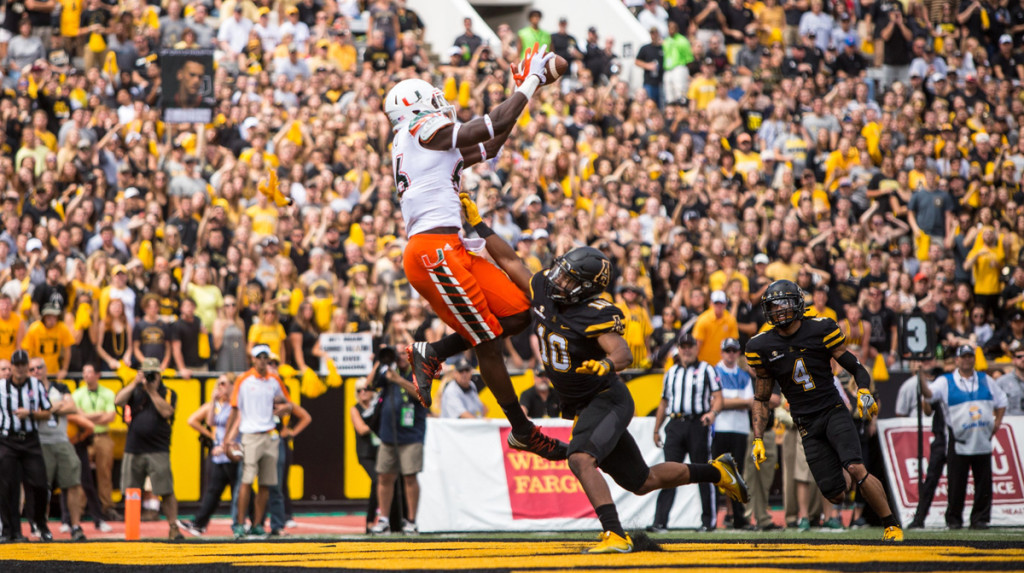 Cynics—or those simply too damaged by the Canes' recent Decade of Disaster—will write off the rout at Appalachian State, looking at name only and not taking into consideration the program's body of work.
11-2 last season in their move to D-I football, the Mountaineers won three consecutive national championships less than a decade ago. Three weeks back, ASU rolled into Knoxville and had ninth-ranked Tennessee on the ropes.
A missed extra point came back to haunt the road underdogs, with the Volunteers rallying in overtime, but that hardly diminished the feat. Appalachian State proved they're a player and Miami going to their house for the biggest home game in program history wasn't something to be taken lightly.
RICHT GAMEPLAN & CANES EXECUTION UNITED IN FIRST ROAD WIN
For any Canes enthusiast asked to rattle off three keys to the game, nothing would've been bigger than the need for a quick start. Silence the crowd, take control of the game and force a solid running team to play catch-up by throwing the football.
Miami did just that, holding the home team to 18 yards on six plays before forcing a punt and then scoring on the first play from scrimmage—Mark Walton bursting up the middle for an 80-yard touchdown.
Another quick defensive stop put the Canes' offense back on the field and Brad Kaaya immediately got busy. Dayall Harris hauled in three grabs for 26 yards, Ahmmon Richards caught two for 24 and David Njoku reeled in a score on 3rd-and-5, extending Miami's lead to 14.
The next go-around featured a 55-yard hook up between Kaaya and Stacy Coley on 3rd-and-9 for a 21-0 score late in the first and an eventual 24-3 halftime lead.
Miami looked primed to pour it on first drive of the third quarter, going 71 yards in just over three minutes before Kaaya threw a goal line pick on fourth down from the one-yard line. Njoku ran down John Law after the 60-yard return, but six plays and a few busted coverage moments later, all the Canes' early dominance was reduced to a 14-point lead and the home crowd was feeling it.
It's precisely in this moment that the last incarnation of the Miami Hurricanes would've begun to unravel. A few conservative runs would've set up a third-and-long, an incomplete pass and a punt—giving the opponent field position, momentum and purpose.
Instead, Miami came out firing—Richt knowing that Kaaya wanted to make up for his blunder. The Canes still faced that third-and-long, but threw incomplete on first down before Joe Yearby was stuffed on second.
Come third, time to let shit rip—Kaaya going deep, hitting Richards for a 54-yard completion and visibly animated as the quarterback ran downfield to finish the drive. A delay of game could've been a minor setback, but even that didn't matter as Yearby rolled 12 yards for the score, putting the Canes back up by 21.
From there it was merely piling-on as the defense continued to clamp down and the offense chipped away. Kaaya went back to Richards on the ensuing drive for a 62-yard gain and found Coley on 3rd-and-Goal for the eight-yard score—with Walton adding one more for good measure early in the fourth, extending the lead to 35 and quieting the "upset special" crowd.
MIAMI'S DEFENSIVE IMPROVEMENT MEASURABLE BEYOND STATS
While it's tough to get jacked up on overall stats when the two previous opponents with the Rattlers and Owls, the Canes held the Mountaineers to just 2.6 yards-per-carry and 2-of-13 on third down.
For those keeping score, Appalachian State rolled for 184 yards on the ground at Tennessee and looked much more dominant—a credit to a once-maligned Miami defense.
Regarding the Canes sitting at No. 3 in the nation with fewest yards-per-carry at 1.57 after three games—it's where they were last season that make the improvement so impressive; jumping up 112 spots from No. 115 at 5.26 yards-per-carry.
Furthermore, the Canes' defense is doing it with three true freshmen linebackers—Shaq Quarterman, Michael Pinckney and Zach McCloud—and defensive end Chad Thomas, whose job got harder when Al-Quadin Muhammad was dismissed days before the season opener.
Credit to first-year defensive line coach Craig Kuligowski, who is getting all that and more out of the 5-star end who didn't live up to the freshman hype.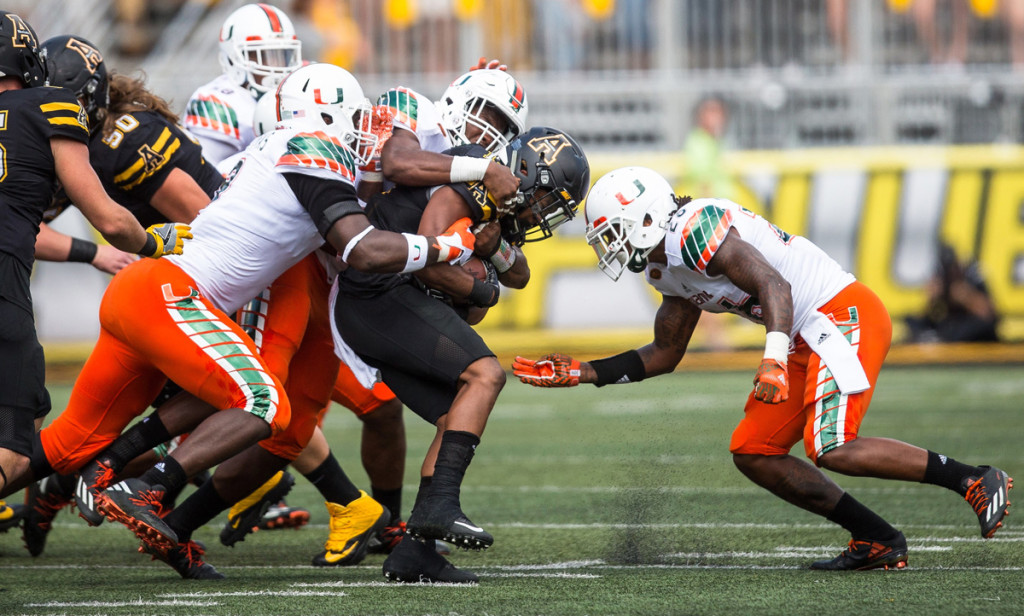 Miami takes its 3-0 record and No. 15 rank into a late-September off-week—solid timing as it gives Kaaya extra time to rest a swollen knee that got dinged when he turned into a defender on the third quarter interception return.
The down time also provides the Canes a necessary early-season reset and opportunity to soak up all that's taken place these past three weeks— a solid start, exceeded expectations, unexpected praise and the necessary humility needed before diving into conference play.
Georgia Tech and their quirky offense is never to be taken for granted—though a safe bet Miami's current staff won't lose the time of possession battle by double as it did in its last road game against the Yellow Jackets.
Take care of business next weekend and the Canes are the undefeated, higher-ranked team when the Seminoles roll into Hard Rock Stadium for a heavyweight bout on October 8th.
Miami has dropped six in a row to rival Florida State—but based on how things have played out these past few weeks, it's not crazy for Canes Nation to start dreaming and believing in big time football again.