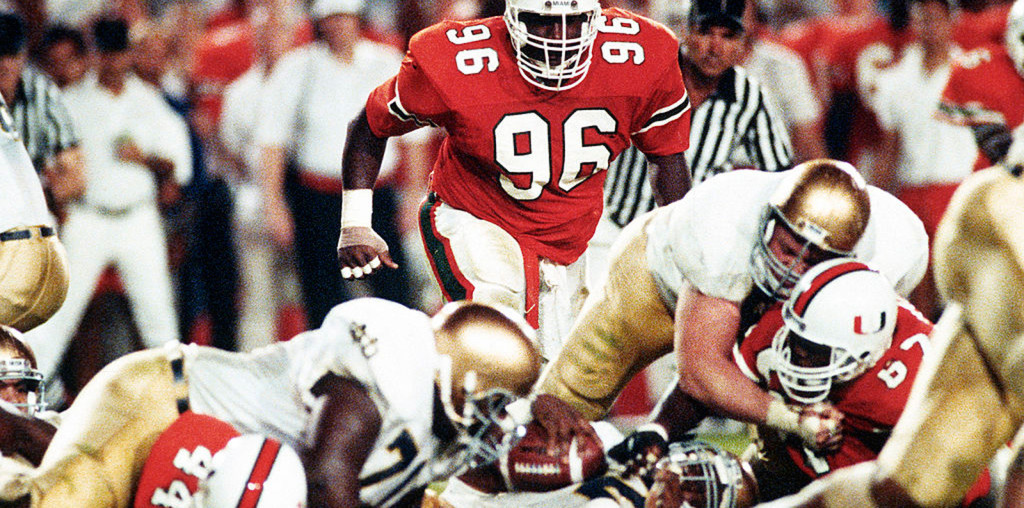 For those with a shared allegiance to the University of Miami, the entire premise of Catholics vs. Convicts had to be met with a mixed bag of skepticism, basic curiosity and a longing for an impartial take on an epic game with a controversial ending.
ESPN's 30 For 30 has become synonymous with the Miami Hurricanes, courtesy of a two revered documentaries spanning the rise, fall and comeback of the storied football program on- and off-the-field over the past three decades. When teasers began dropping regarding the Canes and Irish and that epic 1988 battle in South Bend, it begged the question—who was behind this?
Miami faithful were obviously hoping to see Billy Corben and the Rakontur crew tied to the project; makers of "The U" (2009) and "The U Part 2" (2014)—two of the more beloved segments in the acclaimed series. Instead, the name Patrick Creadon surfaced—prefaced by three words that immediately evoked unshakable feelings of bias; "Notre Dame alum".
For the Canes enthusiast, optimism and excitement immediate shifted to a fear of elitism, embellishment and the type of trumped-up, fairy tale-type mystique, a la Rudy—where legend replaced fact.
Corben and his team produced two films that showed the good, bad and ugly of the Miami football program over the years—as well as unapologetically showcasing the city's culture and climate at the time of the Canes' initial rise to the top. The result was some universally-appealing storytelling which is why the Canes-themed docs always top any "best of" list for the series.
For fans of the Canes, Corben and crew's films got the juices flowing as the best of yesterday was back on display. The epic victories, national championships and colorful personalities that helped transform a small, private school in Coral Gables into a national sensation. For the anti-U crowd; enough footage of heartbreaking losses, titles left on the field, the NCAA hammer dropping—twice—and gut-wrenching moments where an opposing viewer could gleefully celebrate a villain's demise.
Catholics vs. Convicts proved to be the exact opposite. Like a kid with a face so ugly, only a mother could love—this Fighting Irish stroke-fest oozed with schmaltz and Irishesque, holier-than-thou sentiments at every turn.
For the contingent who deems South Bend sacred, a carefully-crafted love letter for a fanbase 23 years removed from championship glory. For everyone else, an all-too-familiar feeling regarding an Irish slant.
SHAMROCK-COLORED GLASSES ON DISPLAY EARLY
First-person plural from the get-go, Creadon uses "we" when talking about Notre Dame football and history—immediately setting the tone that "fair and unbiased" are going right out the window. This trip down memory lane is being told by a Golden Domer with Irish blood pumping through his veins. It's not a story for the universal viewer—this was aimed directly at those who experienced this era of Notre Dame football from Creadon's vantage point; a super-fan who's adamant in sharing their personal history with the program.
The Creadon family's deep ties to South Bend were on display heavily in the film's first act. Dad graduated from Notre Dame; his love for the program rooted in the Irish doing it "with class and dignity", while Gramps was recruited by Knute Rockne. An impressive legacy, but Irishly narcissistic as it truly had nothing to do with the story that was about to unfold.
Early on, it's explained that outside of revisiting the game, a portion of the film was dedicated to figuring out why the moniker "Catholics vs. Convicts" stuck. Why did some feel it was "funny and accurate", while others—Creadon included—thought it was "mean-spirited and reckless"?
That question really never gets answered from the filmmaker's perspective—though Miami-bred columnist Dan LeBatard spelled it out in a way that sums up precisely why the Canes got under that soft, Irish skin.
"They'd tell you there were gonna kick your ass. They'd kick your ass and then they'd celebrate the kicking of your ass."
Damn straight.
For an establishment-type program like Notre Dame who dominated in the leather helmet era—the brashness of the ultimate anti-establishment program taking you behind the woodshed; that's not going to play well, and proved to be the tipping point in this story.
Not two minutes in, Creadon is speaking with college buddy and one-time t-shirt mogul Pat Walsh about the design and the screen goes black, followed by the phrase, "Three Years Earlier" and the notorious date—November 26th, 1985. That's why everyone is along for this ride; bitterness that stemmed—and still stems—from that historic 58-7 ass-kicking.
BRASH & DOMINANT CANES SCAPEGOAT FOR FAUST'S INCOMPETENCE
From that moment, the entire first act immediately goes into defense-mode—justifying the shirt that surfaced three years later and manufacturing hatred because fourth-ranked Miami ran up the score on a prideful Notre Dame program not accustomed to getting its shit pushed in. Those bruised egos then led to the mythical-up sub-plot regarding disrespect shown to then-Irish head coach Gerry Faust, who resigned days before heading south for the season finale in the Orange Bowl.
Faust's squad was 5-5, coming off back-to-back losses against Penn State and LSU, while sporting a 30-25-1 record late in his fifth season. A revered high school coach who spent 19 seasons building up Archbishop Moeller in Cincinnati, Faust was thrust into the big time in South Bend—despite no collegiate experience—and epically face-planted. His career record at the collegiate level was 73-79-4 after spending the next nine seasons at Arkon, where he was done after a 1-10 season in 1994.
Notre Dame's embarrassment of a 51-point loss and an inability to deal with their then-level of insignificance—that's what sparked the sour-grapes still on display today. Even in a documentary meant to showcase the Fighting Irish's 12-0 season and epic win over Miami during that championship run, those Golden Domers on board to celebrate 1988 are still visibly rattled by those four quarters in 1985.
WNDU anchor Jack Nolan rants and raves that Faust's last stand at Miami should've been "quiet and respectful" and "like a state funeral" while others interviewed in the segment still bitch about "hard feelings" for the Canes' 21-point forth quarter. Nolan even goes as far as to compare the Fighting Irish to a baby deer that the Hurricanes ran over, stopped and backed up to hit again—a joke of an analogy to anyone outside of South Bend who watched the University of Notre Dame play the role of bully for decades before more parity, diversity and speed entered the game, eventually leveling things out.
The displaced frustration both pathetic and laughable.
Fast-forward thirty years and Miami was on the wrong end of a 58-0 ass-kicking, courtesy of Clemson in 2015. Up 42-0 at the half, the Tigers scored two fourth quarter touchdowns en route to delivering the worst beating in Canes' football history. Similar leadership narrative, too—a maligned, decent-guy head coach in his fifth year who wasn't getting the job done.
When those four quarters were over, did Miami bitch, moan and complain about Clemson piling on? Hell no. Did anyone have sour feelings towards Dabo Swinney? Not even close. If anything, most folks were grateful as it proved to be the final nail in the coffin regarding the Al Golden era. Fear The Tie was canned the next morning and to his credit, at least he went down swinging—grinding it out and attempting to clean up a mess that didn't happen on his watch.
Golden wasn't much of a head coach, but at least he wasn't a quitter. Faust waiving the white flag for a program once known for the grit of The Four Horsemen—no way that sat well, again leading to some misappropriated anger.
The revisionist history and manufactured storyline surrounding Faust was nothing more than a way to take the focus off the fact the Fighting Irish had simply become Notre Dame—something former Miami defensive end Bill Hawkins touched on in a quick soundbite, smugly explaining the Irish were mortal and lost their fight. Unbeatable author Jerry Barca took it a step further when he got some screen time.
"In the Faust era, players voted to have shorter practices. They had to take three votes to go to a bowl game, because twice it got voted down. College kids not wanting to play another football game. It was bad," expressed Barca, still seemingly baffled all these years later as to the softness the Irish displayed at the end of Faust's tenure.
That denial and deflection, coupled with expected elitism, a sentiment that NBC's Chuck Todd—a Miami native and Canes' supporter—summed up with one perfect sentence. "It was sort of like, 'Wait a minute—how dare Miami throttle Notre Dame in the way that Notre Dame used to throttle other people,'" mocked the visibly-bitter political analyst.
JJ WORRIED ABOUT OWN LEGACY; NOT THE IRISH'S UNRAVELING
The final missing piece—something Notre Dame faithful choose to eliminate from their version of history; complete disregard for Miami trying to work its way back into the national championship picture under second-year head coach Jimmy Johnson. The Canes opened the 1985 campaign with a loss to fifth-ranked Florida, before rattling off a nine-game win-streak, boosted by road upsets of No. 3 Oklahoma and No. 10 Florida State.
Also lost in the shuffle; the fact that Johnson replaced Howard Schnellenberger in 1984—a legend who came off like a prophet when he delivered the national title he predicted by 1983; his fifth and final season. Months later, Johnson got off to a respectable start with the defending champs—taking down Auburn and Florida—but Miami was soon 3-2 after losses to Michigan and Florida State, igniting a newly-spoiled fan base.
Johnson's Canes ratted off five wins in a row—including a 31-13 victory in South Bend—before a nightmarish three-game skid to end the season 8-5. Incomprehensibly, Miami blew a 31-o halftime lead in a 42-40 loss to Maryland, followed by Thanksgiving weekend's "Hail Flutie" miracle against Boston College and coming out on the wrong end of a Fiesta Bowl shootout against UCLA. Months later, the aforementioned season-opening loss at home to the hated Gators—the Canes' last Orange Bowl defeat before tearing off 58-straight victories over the next ten years.
Putting it in the simplest of terms; Johnson and UM had more-pressing concerns than Faust's resignation or a rival's potentially hurt feelings. Johnson wanted a title shot and a convincing win on the national stage over a one-time power would go a long way in regarding Miami's perception when bowl games were announced.
Even with Miami's logical reasoning and Notre Dame's emo-charged bitterness, Irish loyalists proudly point out how revenge was exacted on the hardwood two months later.
Former basketball coach Digger Phelps—in smug fashion—boasts about the beat down they laid on a Miami program that was dormant for 14 seasons and just resurrected months earlier. Phelps boasts about piling on, running up the score and proudly boasts that his boys won by 53 points —"Two more points than football lost!"—as well as his squad's return to South Bend and football players waiting at the gate to welcome and thank them.
This detailed explanation, a long, scenic route to explain that through Creadon's storytelling to this point, Notre Dame justified referring to Miami as "convicts" on a t-shirt because they were butt-hurt the Canes whooped their ass three years prior—yet moments after this revelation, the Irish openly boast about their eye-for-an-eye tactic and purposefully running up the score in the equivalent of a first-year basketball program.
A vintage-era, Notre Dame approach to bullying the little guy—just like they did back in the day in football—and being completely all right with it. Welcome to a crash-course in hypocrisy; Flawed Irish Logic: 101.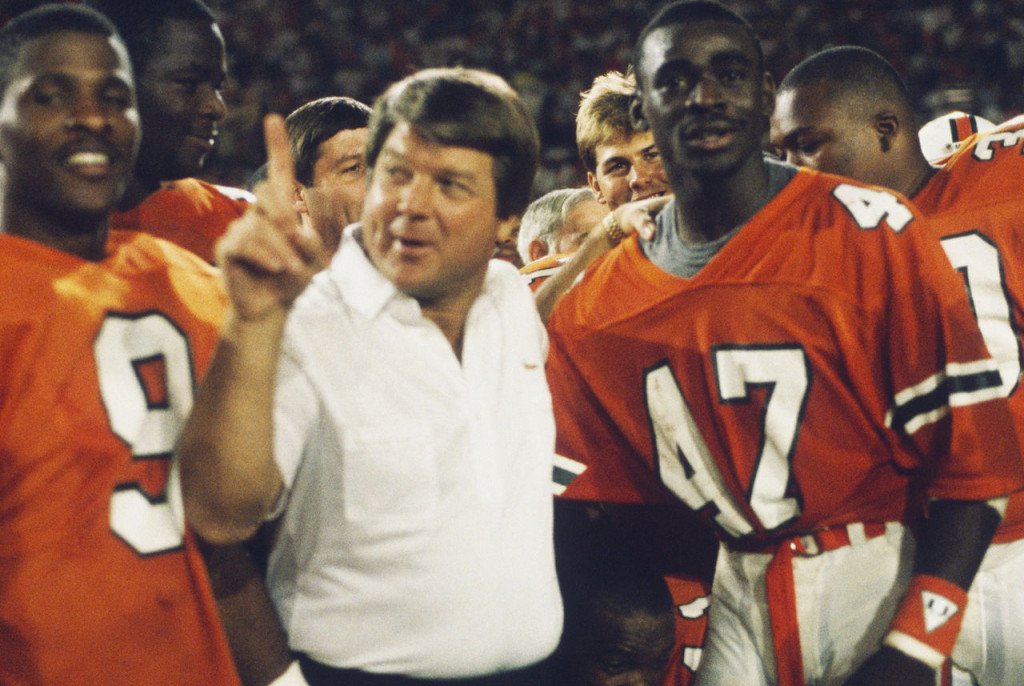 As Catholics vs. Convicts continues to unfold, the Miami hatred continues to unravel—jealousy tones, scowls and smug soundbites sprinkled throughout.
"If you don't want people to be upset, show a little class," whined local radio anchor Nolan; diluted into believing the Canes actually gave a shit what the critics thought, while former offensive lineman Tim Ryan could barely keep a lid on his envy and programmed elitism.
"Those guys went down to Miami Beach and had access to all kinds of stuff. We had a little bit of a different approach. Notre Dame goes above and beyond in trying to do thing the right way and takes this very seriously."
Look up "hater" or "elitist" in the dictionary and you'll find Ryan's headshot.
It's strange to infer that mighty Notre Dame would have any inferiority complex in regards to little ol' Miami—but for whatever reason, the Cane-envy is palpable throughout. Former UM offensive lineman Leon Searcy made what was probably a throwaway statement to the film's editors regarding the 1985 game being that moment where the Irish finally saw things for what they'd become.
"I think that's when Notre Dame finally considered us a rival."
BIG BROTHER COULDN'T STOMACH LITTLE BROTHER RISING UP
A quick history lesson–Miami and Notre Dame first went at it in 1955; the Irish winning, 14-0. The Canes bounced back with a 28-12 victory in 1960, when the two met again. In 1965, a 0-0 tie, leaving both sides were 1-1-1. From there, Notre Dame rose up and tore off an 11-game win-streak between 1967 and 1980—the most-lopsided victory coming in 1973; a 44-0 shellacking at the Orange Bowl.
The Canes finally broke that streak in 1981 with a 37-15 pasting—Schnellenberger going on to lead Miami to a 9-2 season that also included a homecoming win over top-ranked Penn State. Little brother was all grown up and the once-ridiculed Sun Tan U was morphing into a program that would soon dominate and instill fear.
The Canes went 6-2 against the Irish in the 1980's—including a four-game win-streak going into the 1988 battle highlighted in this documentary—while wins in 1983, 1987 and 1989 helping spring Miami to national championships. If you're big, bad Notre Dame—that's a bitter pill to swallow, no matter how you try and package it or prop up the "Catholics vs. Convicts" showdown and the role it played in the Irish's most-historic season.
Sifting through all the mushiness and seeing things for what they are—outsiders will realize this is nothing more than a well-crafted propaganda piece.
The dewy-eyed segment on the stand-up Tony Rice that played out in fairy tale-fashion—solely due to his on-field success and place in Irish history—began with excerpts from the student newspaper where elitism was on full display; fans calling Rice, "intellectually inferior", "ridiculously unqualified", while verbalizing that he didn't belong in South Bend and his acceptance to the university was seen as "lowering our standards" and would "jeopardize our reputation". The father of one young fan even told his son, upon meeting his hero, to not grow up to be a "dummy" like Rice—rattling the quarterback to the point he called his family and expressed a desire to quit.
Fittingly, none of that mattered once the wins started piling up and the Miami dragon was slayed. Rice instantly became a folk hero. Same to be said for the irony in Irish faithful referring to the Canes as hoodlums, while the documentary romanticizes Walsh's bootleg t-shirt business and his entrepreneurial-type spirit.
DOUBLE STANDARD APPROACH TO FLAWED DYNAMICS ON BOTH SIDES
The storytelling essentially justifies all copyright infringement with an explanation that collegiate licensing at the time wasn't what it is now, while driving home Walsh's present-day remorse—which seems to stem more from getting busted and dismissed from Notre Dame's basketball program than any real regret for illegal activity.
The premise for "Catholics vs. Convicts" was birthed out of two Miami players arrested prior to the 1988 season—a reserve defensive tackle who sold drugs to an undercover cop and another who stole a car with a friend.
Both are crimes absolutely deserving of punishment—but much like sin itself, who is man to deem one transgression more erroneous than another? Is selling drugs "worse" than selling illegal t-shirt? Both were done by college kids seeking supplemental income. One just happened to be black and from Miami's inner city, while the other was a white boy from the Midwest and a school with a sterling reputation.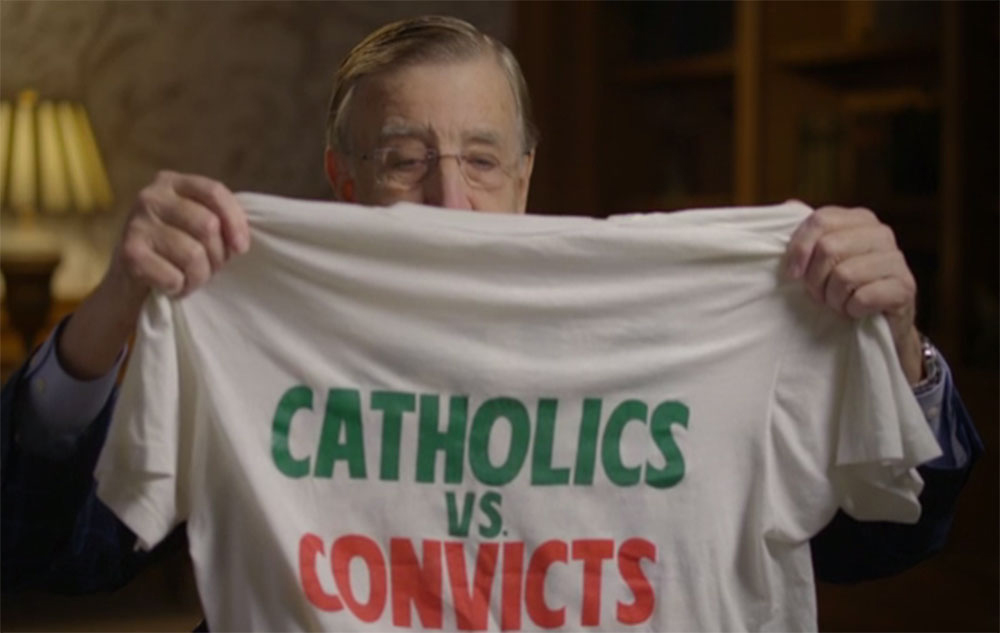 By the standards of Catholics vs. Convicts, one is led to believe that slanging Hanes Beefy T's on campus is slap-on-the-wrist worthy—with Creadon's film working to build sympathy for "Walshy"; constantly hammering home his life's goal of playing basketball for the Irish and that dream taken away.
While there's much to be critical of regarding Creadon's sentimental set-ups, the game-related portion of the film came off unbiased—until the cartoon character that is Lou Holtz surfaced. Everyone else involved—especially on the Irish side—dropped their schtick in favor of a reverence for what took place on the field that day. Notre Dame players came off less defensive and bitter, while Miami's athletes—even in defeat—hold that contest in high regard. Everyone involved that day knew they were a part of something special.
Regarding the coaches, Johnson was transported right back to the moment, not wanting to watch footage of the phantom Cleveland Gary fumble and blown call that mistakenly gave the Irish possession in the shadow of their end zone—while the forever full-of-shit Holtz claim (in vintage Boo Hoo Lou fashion) that he'd never seen footage of the Andre Brown touchdown 28 years later. For added measure; a Holtzism about that referee not getting his way into heaven for calling that grab a touchdown. (For the record, both officials in the end zone signaled the score—which is was regarding the catch rule in that era, which has since changed.)
CBS Sports' Brent Musberger called the game and in typical, vintage commentator fashion, still snickered about the controversial tee, praised the educational rehabilitation of quarterback Rice and refused to give an inch on the position he's held for years—be in the 1985 game, the Gary "fumble" or the villainous label slapped on Miami; never even once playing devil's advocate.
In case all of that wasn't enough for Canes Nation to boil over; Creadon saves his ultimate weak-sauce dig for last—an insinuation that Miami's pounding of Notre Dame in November 1989 was the result of a tight and watered-down Irish bunch, afraid of Holtz's supposed threat to yank scholarships if his players engaged in any pre- or post-game fisticuffs. Without that clamp-down, a pointless "what if" moment.
Miami tipped its hat to Notre Dame; Johnson admitting on camera they were the better team that day in 1988. When presented a comparable moment regarding the 27-10 takedown of the defending champs and nation's top-ranked team sporting a 23-game win-streak—Creadon instead chose a caveat and self-imposed an asterisk on a game that didn't need one.
May the filmmaker remain tortured by that loss just as team captain and Irish linebacker Ned Bolcar were when interviewed on hallowed Orange Bowl grounds in the wake of defeat.
"This one is going to haunt us the rest of our lives. I hate this damn place."
Agreed. Just has a viewing of Catholics vs. Convicts and that controversial afternoon in South Bend haunted us, old rival.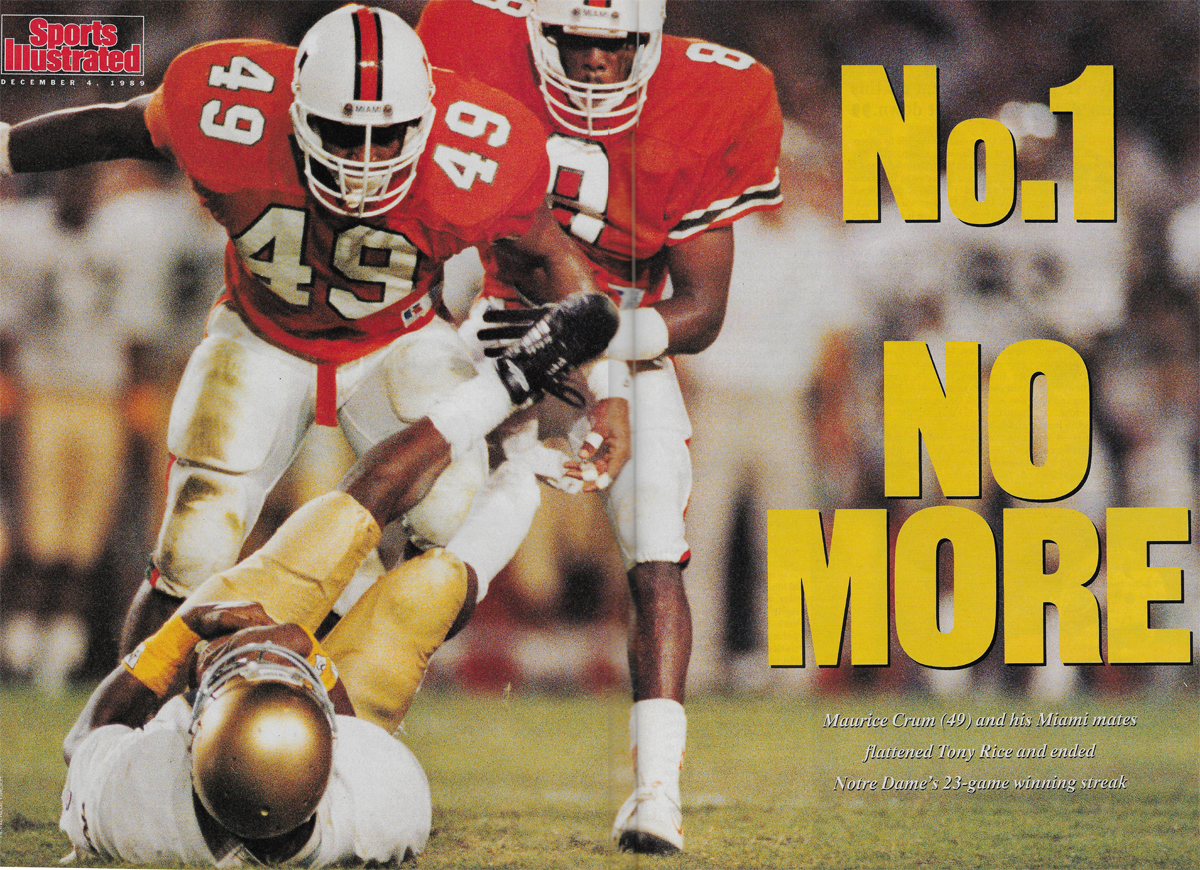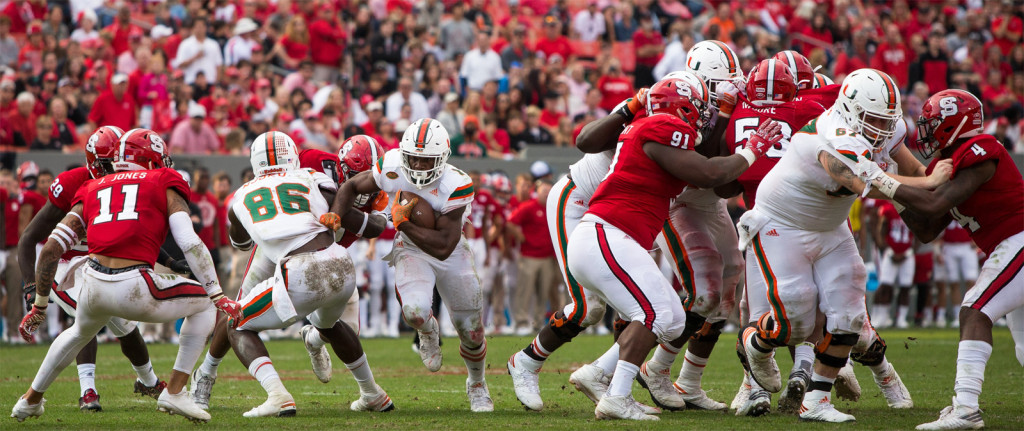 The Miami Hurricanes knocked off the North Carolina State Wolfpack in the eleventh game of the season, a week after convincingly topping the Virginia Cavaliers. Prior to that, an offensive explosion and 51 points scored against the Pittsburgh Panthers at Hard Rock Stadium.
A convincing home beat-down and two back-to-back road wins now set the stage for this Saturday's season finale; a home showdown against the Duke Blue Devils.
It should all feel better, but for some reason, still hollow and disheartening—searching for November silver linings after an October face-plant decimated all season moral; the Canes dropping four in a row against the toughest competition faced this fall, while looking at its best when pounding on nobodies back in September.
Prior to getting on the comeback trail at home three weeks back, Miami fell to a sub-par Notre Dame squad in South Bend, courtesy of yet another slow start on offense—a late comeback thwarted when the defense couldn't reel in a would-be fumble and the Irish knocked through a game-winning field goal.
The week-plus prior, a convincing loss at Virginia Tech—a showdown that even the bleeding hearts penciled in as a loss due to the four-day turnaround, as well as a typical raucous Thursday night in Blacksburg. That came on the heels of a home setback against North Carolina where Miami chose to sleepwalk through the first half, before waking up at intermission and still coming up short.
Of course those three losses were magnified after coming on the heels of a seventh consecutive loss to Florida State; Miami missing a game-tying extra point in the final minutes that could've led to overtime—that Seminoles' hex bleeding over into the following week against the Tar Heels, for a half, at least.
While the last three wins ring a bit hollow after a four-game losing streak, Miami did check off some boxes in the process. 534 yards against the Panthers, no turnovers, a fast start and strong close—a convincing way to end a losing streak against a Pittsburgh squad that went on to upset Clemson in Death Valley the following week.
From there, another meeting at Scott Stadium, where the Canes are 2-4 since joining the ACC and winless in Charlottesville since 2008. Miami racked up 450 yards on offense while holding Virginia to 289. The Canes capitalized on four turnovers and cut down on penalties; seven for 45 yards compared to the Hoos' 10 for 110 yards—while rushing for an uncharacteristic 222 yards as the ground attack has oft been stifled.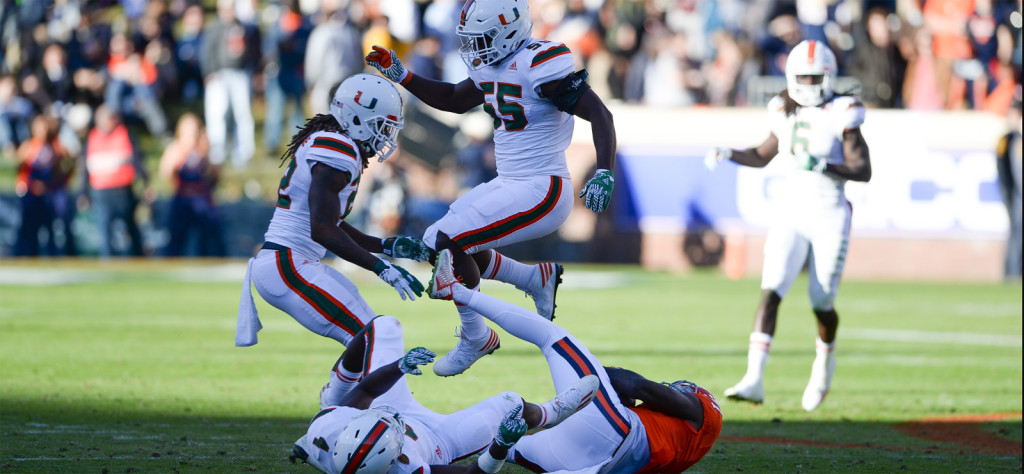 Whatever the reason, Virginia is a tough road showdown for Miami—yet the Canes won this one convincingly, 34-14. Yes, the Cavaliers are garbage—a two-win squad at kickoff, but lest not forget a four-win UVA team riding a four-game losing streak upended Miami, 30-13 two years back; the Canes in free fall-mode after a fifth-straight loss to the Seminoles.
PROGRESS AND LATE-SEASON SILVER LININGS
Small as it was beating lowly Virginia team, it was a step forward. Same to be said for the recent victory in Raleigh, though Miami more or less "survived" North Carolina State delivering a complete, sixty-minute performance.
Ugly play early led to a 3-3 halftime score—the Canes' offense again coming out tepid, complete with suspect play calling. The ground game deplorable on the opening offensive possession, Miami went pass-happy it's next go-around—freshman Ahmmon Richards with two big grabs earlier before Brad Kaaya found David Njoku on the ensuing first down.
Per the norm, a false start penalty turned a 2nd-and-4 into 2nd-and-9, head coach and offensive play caller Mark Richt again going to Mark Walton, who picked up two yards, still leaving the Canes in a third-and-long. Back to Walton again, the sophomore tore off a nine-yarded and picked up the first down.
Richards reeled in an 18-yard grab that set up 1st-and-1o from the 20-yard line—which has oft proved to be the Canes' kryptonite. Kaaya ran for five, Walton ran for two and on third-and-short, an incomplete pass thwarted a stellar drive and Miami settled for three; a way-too-common theme this season.
Feast-or-famine offensive play calling continued; big passes followed up by runs that went nowhere, errant throws or foolish penalties—the Canes punting three more times before a missed field goal to end the half; an 11-play, 74-yard drive resulting in nada.
Passes to Walton and Richards back-to-back—coupled with a roughing the passer call—resulted in 45 yards for the Canes, with Walton tearing off a 30-yard score after finding a crease in the line and turning on the jets.
Malek Young reeled in an end zone interception on 3rd-and-8, costing the Wolfpack all-but-guaranteed points on the ensuing drive. Next possession, a one-yard Walton score—set up by a 51-yard reception by Stacy Coley.
17-3 early in the third had Miami breathing easier—but the path to a two-touchdown lead was as much a part of incompetence by the Wolfpack than next-level play by the Canes.
The Young interception was the result of a bad decision by quarterback Ryan Finley, while the late hit on Miami's previous possession was just the spark the road team needed. Unfazed, the Wolfpack drove 70 yards on 14 plays the next possession—another almost-end zone interception overturned before running back Matthew Dayes punched it in on 4th-and-3, making it a seven-point game.
An ugly-as-hell one-minute possession followed for the Canes—Miami going ice cold after an initial 13-yard reception by Njoku. The run completely abandoned, Kaaya threw incomplete passes on second and third down before another Justin Vogel punt.
Returning to the Wolfpack-meltdown narrative, Bra'Lon Cherry muffed the punt, Jaquan Johnson recovered and the Canes' offense had new life on the 16-yard line.
Seemingly concerned with Kaaya's red zone abilities, Richt called three consecutive runs with Walton; who ran for eight on 3rd-and-2. Kaaya misconnected with Njoku on first down, Walton got nothing on second and a pass to Chris Herndon in the back of the end zone fell incomplete.
A gimme touchdown opportunity resulted in a 22-yard field goal attempt, which the inconsistent Michael Badgley sailed through.
Down 20-10, North Carolina State responded with a seven-minute drive that would've changed the tone of the game had they found the end zone—but a 14-play drive came to a crashing halt by way of a false start.
Clipping on 3rd-and-2 from the Miami 16-yard line called back a would-be score, yet on 3rd-and-18, Finley found Stephen Louis for 19 yards and a first down.
The Canes' defense clamped down on Dayes on first and third down, but an eight-yard pick-up on second was enough for a 4th-and-1 situation from the four-yard line—North Carolina State already 3-of-3 on the day regarding fourth down conversions.
Movement. Self-implosion. Five-yard penalty. 4th-and-6. Field goal time. Seven-point game instead of three, resulting in less pressure on the Canes' next possession—a shoddy one bailed out on 3rd-and-12 by a pass interference call.
A fresh set of downs from the Wolfpack 39-yard line, three doses of Walton in a situation where a field goal likely puts the game out of reach—the sophomore back ripped off a 24-yarder on 2nd-and-6, giving the Canes a two touchdown lead and thwarting out any chance of a comeback.
27-13 on the road against a team that took Clemson to overtime in Death Valley, while also giving Florida State a run for its money—leading the Seminoles all game until the go-ahead score with three minutes remaining—impressive on paper for Miami … on paper.
The Wolfpack certainly gave this one away—but being that the Canes have done the same on occasion this year, chalk it up to the football gods balancing things out. Shame that wasn't the case against Florida State, North Carolina or Notre Dame—all three winnable, with "The U" unable to close.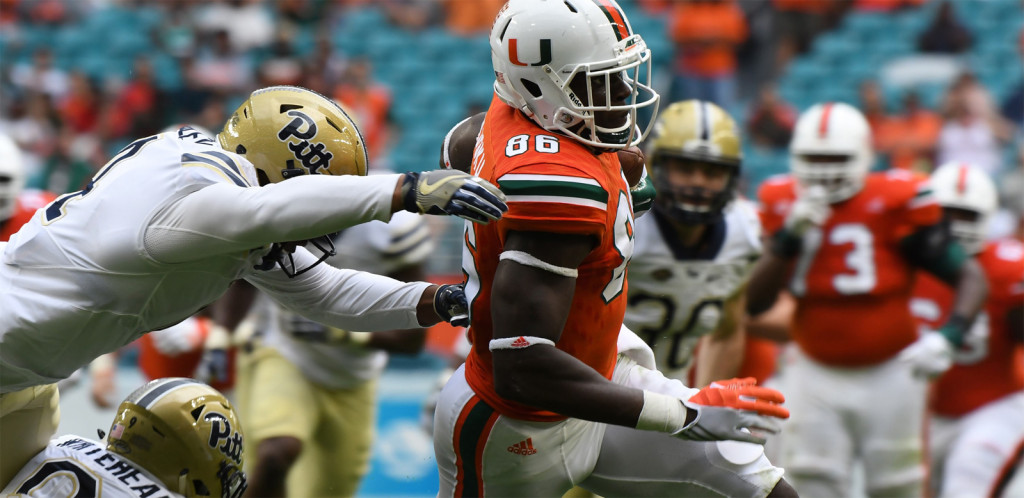 PROGRESS BEING MADE, BUT STILL A WAYS TO GO
A four-win Duke squad rolls south for Senior Day this weekend and that 3:30 p.m. ET kickoff certainly works in Miami's favor—a much different atmosphere than the Canes dealt with last Halloween in prime time, surviving the Blue Devils on a miracle kick return in Durham.
Show up with an ounce of passion and spirit and Miami ends the regular season 8-4 and in line for a decent bowl game, yet missing out on a 13th consecutive Atlantic Coast Conference title—the harshest reality in all this.
Virginia Tech—with first-year head coach Justin Fuente—will wrap up the Coastal with a home win over Virginia; the Hokies going 7-6 last year under long-time leader Frank Beamer in his finale. Beamer won four ACC titles since 2004—joining the conference the same year as Miami—as well as five Coastal crowns dating back to 2005; when the divisions went into place. Over that same span, four different Hurricanes' coaches proved incapable of even pulling off the feat once.
Soon as one wants to give the veteran Richt a pass for year one, you're reminded that the 40-year old Fuente and his five years head coaching experience returned a six-loss team in Blacksburg and is a win away from guiding the Hokies to their first Coastal crown since 2011.
Is that an indictment on the successful former Georgia coach? Is it a broken culture at Miami? Not enough talent across the board? Maybe all three and then some.
For all the knocks the Canes' defense took this past half decade; a faulty 3-4 defense and suspect fundamentals, it looks infinitely better than the offense–Manny Diaz running his side of the ball better than the experienced Richt, whose play-calling has come off inconsistent, rusty and pedestrian way too often this season.
INNOVATE OR DIE; THERE IS NO IN-BETWEEN
Another Canes' site recently offered up a column about Richt sticking to his guns; running the type of system that proved successful at Georgia over the year. Power running back, pro-style offense with the standard, heady drop-back passer and what not.
The piece came off as somewhat defiant and defensive—as well as bleeding-heart; propping up Richt's success with the Bulldogs over a decade-and-a-half, as if that prevents him from needing to evolve as others are in this modern era of college football.
Looking in the rearview or dealing with those ghosts of Hurricanes' past; it's the biggest drawback regarding decades of success at "The U". Those ghosts and five championship rings loom heavy—as does the swagger, style and brand of football played, as well as the pipeline to the NFL. Present-day Miami will forever compete with teams of yesteryear and the bar will remain high.
This isn't a time to plant one's feet, cite past success—neither the Canes or their new coach—and follow an old blueprint in an ever-changing sport. Look across the board at what the top programs are doing; an Alabama, Ohio State, Clemson, Florida State, et al. It's 2016, not 1996–or even 2006, for that matter. Look at what's working elsewhere and attempt to both emulate and improve-upon.
All that aside, Richt does have a secret formula worth bringing from Athens to Coral Gables; his abilities as a recruiter, a way with parents and a true heart for his players that other head coaches at today's football factories might be lacking.
The stories over the years have been heartwarming, welcomed and are the reason Richt is respected as a man and father figure, as well as a head coach—but don't for a minute consider him soft or see that as a weakness. Molding young men and is as important as teaching X's and O's. Former Canes' wide receiver and 4-star recruit Sam Bruce learned that the hard way—dismissed by Richt months back for a minor infraction, on top of a few other setbacks that would've gone unmentioned elsewhere.
"I want him to handle his business, go to class, go to study hall, go to your tutors, be on time, be prepared, be respectful, do your best in every way you can," Richt said prior to the final straw. "Go to your treatment, do your rehab, learn what to do when you're in meetings with your coach, grow up like all of them."
Bruce was late for rehab regarding a broken leg—which resulted in his time at Miami being over before it began.
FINISH STRONG & SHIFT FOCUS TO A STEP FOWARD NEXT YEAR
The wait-til-next-year rallying cry is a tired one, but for the first time in almost two decades, there's reason to believe that Miami will pull out of a rut. The Canes' last two coaches failed miserably in their rebuilding efforts, while the guy before that was handed arguably the best team in the history of the game, before crashing and burning by year six.
Butch Davis was the last Miami head honcho to take a train-wreck situation, change the culture, build depth and coach-up football players, while turning the Canes into a championship-caliber program, again. The first three years were lean, due to probation and the wrong players—but a spark year four, highlighted by a late season upset of second-ranked UCLA.
A year later Miami went 9-4; dropping a heartbreaker to second-ranked Penn State, No. 1 Florida State and second-ranked Virginia Tech; the Noles and Hokies eventually battling it out for the national title. By 2000, the Canes were firmly back.
None of that is meant to compare where Miami was, is or what path Richt should follow to bring the Canes back. It's simply a reminder that having a capable head coach and proven winner offers up some solace.
All that's left for this season; the chance to close strong. Beat Duke. Follow up a four-game losing streak with a four-game win streak. Win a bowl game for the first time in a decade. Send the seniors off with a bang and let Richt show his worth in January, locking down any on-the-fence recruits, making from an impressive National Signing Day.
From there, do everything it takes to field a more compete, mature and capable team in 2017—all-around better and another step closer to being a contender.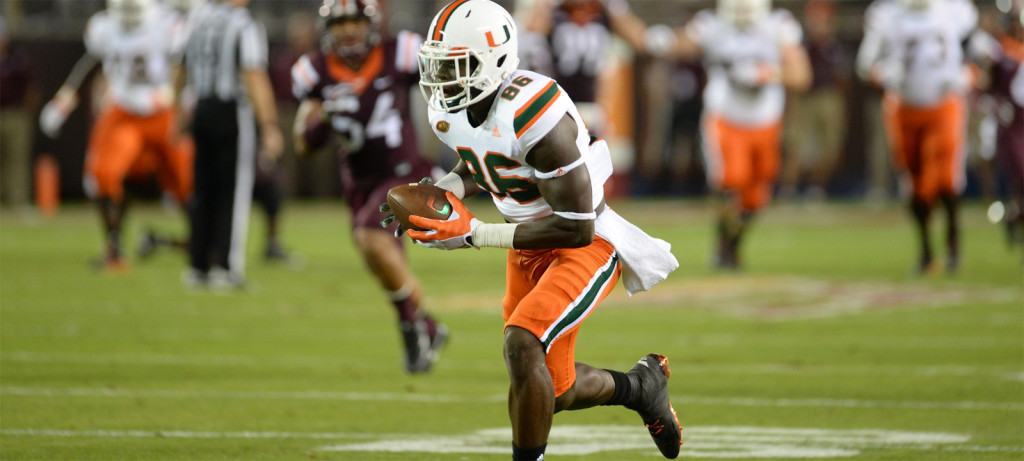 It was like walking into a buzzsaw from the get-go. A spirited Thursday night in Blacksburg—coming off back-to-back losses, a four-day turnaround and the already-stretched-thin, defensive casualties piling up. The Canes' sideline looked more like a M*A*S*H unit than an in-repair team looking for a road win to get back on track. This wasn't going to end well.
Four hours later, Miami's showdown at Virginia Tech pretty much followed the script; incompetence on both sides early on before the Hokies began making some plays. As has been the case in weeks' past, the Canes had a glimmer of hope late—but as always something went awry, killing any hope of a much-needed comeback.
As a result, the bloated and padded 4-0 start has quickly turned into a nightmarish three-game losing streak set to define the season. Even worse, there's truly no quick-fix to stop the bleeding. Miami must shift into overachiever-mode before things fully unravel.
First-year leader Mark Richt did all those post-game things head coaches try to do when making sense of a loss, but it was a wasted exercise. Taking blame for not having his quarterback ready, not doing enough to protect said guy under center and questioning his overall failed offensive strategy. Richt checked off all coach-speech boxes in the bowels of Lane Stadium—but how will that rhetoric translate in regards to having the Canes game-ready the next five weeks?
The answer to that lies in what Richt is saying behind closed doors, or when assessing the program with his coaches. One has to wonder where his head is truly at almost a year into this career change. Does the former Georgia leader feel his alma mater is in need of a full-blown overhaul, or will he stick with his process and core values, running the Canes like he did the Bulldogs and hoping for success in a weaker conference than the mighty SEC?
For the sake of this piece here, reliving and recapping last week's 37-16 loss seems a fruitless exercise. What good will come from a dissecting a third consecutive match-up where the Canes proved they're not a four quarter team capable of consistent success. It started with the late-game fade against a beatable Florida State squad, followed by a took-too-long-to-get-rolling showdown against North Carolina, where the Canes ran out of time.
Five days later, a shot at conference redemption as a win in Blacksburg would've provided a 'hard reset' that would've made it easy to chalk up back-to-back losses as a bump in the road. Instead, Miami's offense was completely exposed by Virginia Tech—blitz-happy on crucial third downs, beating up quarterback Brad Kaaya all night and shutting down the running game, while the raucous environment rattled Hurricanes in position to make a difference, resulting in untimely mental errors.
A worst-case scenario situation that will unfortunately serve as a blueprint for opposing coaches to completely negate Miami's offense. The Canes best be on guard.
CANES NOT AS GOOD AS EARLY HYPE; NOT AS INCOMPETENT AS LOSING STREAK
That four-game win-streak, ascension into the Top 10 and favorable defensive stats—judged accordingly by most, based on the level competition. The only ones overblowing the start; a lazy, hype-driven media that spouts a lot of gibberish when attempting to fill four hours of coverage. It's everywhere these days. Miami is hardly immune to the practice.
Opening weekend the Longhorns outlasted the Fighting Irish in overtime; the game-winning score punctuated with a, "Texas is back!" soundbite. In the weeks since, the Horns have dropped four of their past five, with head coach Charlie Strong firmly planted on the hot seat. Next to him, Notre Dame leader Brian Kelly—whose Irish have lost five of seven after starting the season in the Top 10 and expected to make some noise.
Several preseason faves quickly found themselves shitting the bed. Stanford and Oklahoma two others preseason Top 10's that have fallen way off. Houston showed promise and unraveled, while solid Top 25 teams like Oregon and Southern Cal have been jumped in the Pac-12; the Ducks winless in conference while Washington, Utah, Washington State and Colorado are the new frontrunners.
The storylines remain a work-in-progress on a weekly basis; yet it doesn't stop the media for hyping teams and pulling choice information to build a case—yet when a team falls, they're called "overhyped" by the same media who put them on the pedestal to begin with. Nice process.
An entirely separate piece could be dedicated to irresponsible journalism and a lack of depth, insight and talent by way of changes in today's industry—but that's for another time. The point of this rant is to honestly asses the current "State of Miami", question how these Canes will respond regarding a season that tanked quickly and determine what it will take for a measurable step forward next spring.
That starts with a pull-no-punches approach in discussing these present day Miami Hurricanes; a transparency most covering this team will not offer up as they're too close to the program; reliant upon players and coaches for quotes and in need of credentials that get them in the building.
Part of the machine and forced to play the game, it results in a watered-down message or standard distraction-tactics—hyping current recruits and next year's class (putting the focus on a promising future instead of frustrating present), practice reports (guys getting chippy as they're tired of losing' always a go-to after a few losses) or quotes from coaches about getting back to basics and Hurricanes-style football (evoking memories of yesteryear when Miami was truly "The U".)
It's pointless and instead of setting realistic expectations, winds up creating false hope that leads to frustration.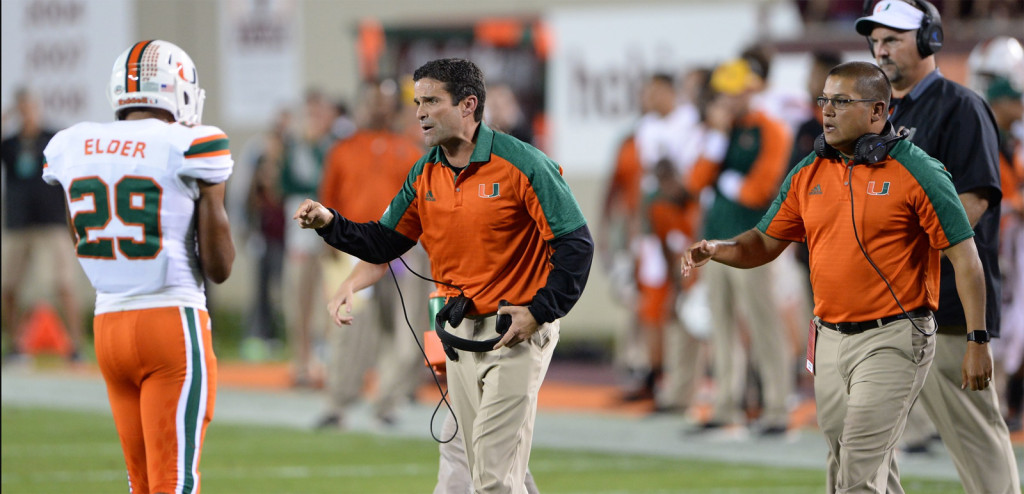 HONEST ASSESSMENT, TOUGH LOVE FOR STRUGGLING CANES
All of that noise; it's to avoid admitting what is painfully obvious—that Miami in its current state is not a good football team and that these Canes remain a far ways off from championship-level style of play. The Hurricanes have essentially been irrelevant for a dozen years now and its going to take some time to flush out the broken culture and negative impact the past few regimes have pushed into the DNA of this program. Three bad-fit coaches over a ten-year span; it gonna take some time to scrub that dirt off.
No doubt the Canes have some standout players and difference-makers—but not enough across the board (or depth-wise) to play the type of consistent football necessary to win divisions and conferences. 0-for-12-and-counting in regards to ACC Championships; it speaks for itself—all these facts making years of irrelevancy easier to comprehend.
Look at other programs across the nation. You know what teams pass the eye test and which ones don't. Coaching, chemistry, game-planning and execution also required for success—but it's not a fluke that the nation's best squads are all loaded with top-flight talent and depth.
Alabama. Clemson. Michigan. Ohio State. Even newer or non-traditional powers like Washington, Louisville and Baylor have the talent to hang with the best. Same to be said for an arch-rival up north; having started their rebuild a decade ago—with a current roster that looks more SEC than ACC.
It's easy to point to Miami's one-point loss to Florida State weeks back as a step in the right direction—but it's the seven-game losing streak the Canes have to the Noles that more indicative of the separation between these two. One program finds ways to win; the other invents ways to lose.
Still not buying it? Make yourself sit through an episode of "A Season With Florida State Football" on Showtime. Not a subscriber? Lucky you, there's a free episode online. Spoiler alert; the Noles pass the eye test.
Four division crowns, three ACC titles and one national championship the past six seasons under Jimbo Fisher—with a handful of almost-Canes that have been Miami-killers amidst this latest streak. Superior talent, winning out—and when combined with experience and depth, makes you a champion.
Can't be said for the Canes right now—and so be it. It's been a shitty decade. Lots of purging in this comeback process. Miami went off course and is finding its way; led for the first time by a former player who at least understands how the program is hard-wired. Long way to go, regardless.
WHERE DO 'U' GO FROM HERE…
The first step is admitting you have a problem. Richt has done that. Now figure out a way to get things back on course.
Miami coaches seem aware of what they're working with and what they want to do; it's simply been a lack of execution. The Canes had a lot of shots the past three weeks. Instead, a nightmare scenario—three losses in 13 days; a fan base holding its breath to see if another all-too-familiar late season collapse is on deck for November.
The offensive line is a hot mess; struggling in run blocking and and letting Kaaya get killed—though often the result of poorly called, long developing plays destined to fail.
The Canes have to run the football to survive the next five games. There's no other option and something has to give with this offense. Mark Walton and Joe Yearby are going to have to tough out some more yards and jumpstart this thing.
Kaaya has to then get on board and lead—with receivers holding on to the rock. Too many drops; adding to issues with untimely penalties and lapses in judgement on both sides of the ball. Whatever the issue with this undisciplined style of play; it starts with mental effort and a stronger mind. Like anything of importance with high stakes; it takes tremendous focus.
Smarter football down the stretch; the best way to negate depth issues and any other related roster holes.
Notre Dame is beatable; on the ropes even more so than Miami—2-5 on the season and job security-related stress for a coaching staff four years removed from a title game appearance. What was once a heavyweight title fight and marquee match-up; reduced to a slump-buster —a win providing much-needed, late-season motivation. For the loser; please try again next year.
Two bonus days to plan after playing last Thursday night. Players with extra down time to heal up. Coaches able to dial in and focus on a strategy that will give Miami's offense the best chance to succeed; while relying on a feast-or-famine defense to make a few big plays, a la Georgia Tech.
Human nature is to fix the problem all at once; and when truly assessing University of Miami football—that simply isn't an option. It's going to take time, patience, strategy and three recruiting classes before these Canes resemble anything close to what "The U" was in its heyday; and that's barring Richt uses the next few years wisely and gets it right. Last two guys had nine years combined and still failed.
Knowing that to be true, set the focus on this week and then worry about the next and the next and the next.
Come with a game plan to beat the Irish. Execute. Buy this program a week of feeling good—and bragging rights over the game's biggest bunch of elitists. From there, get ready for Pittsburgh. Then Virginia. Then North Carolina State. Then Duke. Then the bowl game. Then closing strong on National Signing Day. Then spring ball. You get the drill.
For four hours on Saturday, may it all come together, Miami. It's doable—so do it.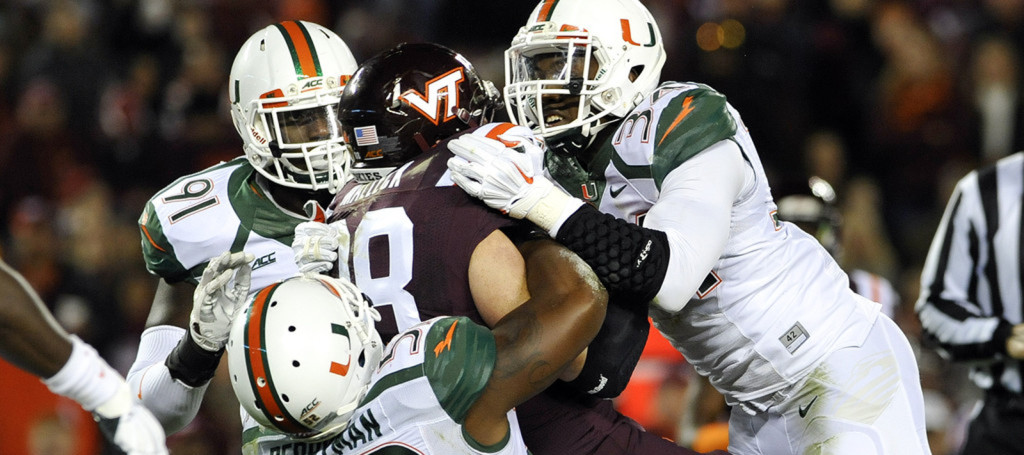 No use in complaining as it's how the game is played. Plus, who would listen, anyways?
The Miami Hurricanes are back in action—on the road five days after a second-consective heartbreaking loss—taking on Virginia Tech in at Lane Stadium. The Canes' offense is struggling and even worse, defensive injuries are piling up. Miami will be without a few key defensive lineman (Gerald Willis, Demetrius Jackson and most-likely Chad Thomas) on Thursday night, while defensive back Sheldrick Redwine didn't make the trek to Blacksburg.
A unit that's been hanging tough halfway through the season—holding both the Seminoles and Tar Heels to 20 points apiece—will now be relying on youth an inexperience everywhere; not just at linebacker. Even scarier; the Canes' will arguably need their offensive performance of the season to top the Hokies and avoid a third-consecutive ACC loss.
Narrative-wise, Coastal Division-related chatter continues—some having already stuck a fork in Miami, while others are again beating the drum about winning out and building cases as to how and why remaining foes are beatable. However it plays out, two conference losses down—the Canes will again be in a position of rooting for upsets and praying rivals fail, while needing some mistake-free, inspired football in the process.
CANES & HOKIES ARE THE SAME, BUT DIFFERENT
October 20th was circled on the calendar when this one was announced; two former Big East rivals who jumped to the Atlantic Coast Conference a dozen years back—having notched some great games in the storied rivalry; many taking place on a Thursday night.
There was also immediate intrigue regarding coaching changes at both programs; Mark Richt taking over at his alma mater, the Canes on their fourth coach in an 11-year span, while Justin Fuente took over a Virginia Tech opening that hadn't been vacant since Frank Beamer arrived back in 1987.
Both teams enter Thursday's showdown with identical 4-2 records, though different paths were taken to get from early September to late October. Like the Canes, the Hokies smacked around their fair share of nobodies early on—Liberty, Boston College and East Carolina. Tennessee got the better of Virginia Tech in Blacksburg, 45-24—but it was Fuente's second game and an out of conference match-up, making it easy enough to dismiss.
Also like Miami's season, the past two weeks proved rather definitive. Where the Canes lost two winnable games to the Seminoles and Tar Heels, Virginia Tech wrecked North Carolina, 34-3 in Chapel Hill, looking tough and somewhat invincible. A week later, an unexpected loss at Syracuse, 31-17.
The Orange racked up 561 total yards—405 through the air—pulling away late with two fourth quarter touchdowns after the Hokies tied things 17-17 with 13:53 remaining. Even more uncharacteristic of the former Beamer-led program; untimely turnovers and some spotty special teams play—a fumble, interception and missed field goal in the loss at 'Cuse.
The "normal" thing to do for the football enthusiast and passionate fan; dissecting an opponent's stats and schedule, in effort to come up with a potentially winning formula. Regarding Miami this Thursday night on the road, it seems pretty cut and dry—the offense needs to wake from its slumber and control this game.
Syracuse proved that Virginia Tech is vulnerable; especially in regards to passing defense—meaning it's time for Canes' quarterback Brad Kaaya to deliver; as well as Miami's offensive coaching staff—namely its first-year head coach.
PRESSURE ON RICHT TO GET PLAYCALLING UP TO PAR
Richt is no longer playing the role of CEO—as he did his final several years in Athens—and has assumed play-calling duties at UM. In time that could turn into something special, but as the past two weeks have proven—the veteran coach needs to shake off some rust and dust, proving conservative at times, while just plain boneheaded at others.
Too many third-and-long runs up the gut with the Canes' smaller running backs proved disastrous the past few weeks. One week, not enough rushing to establish a ground attack. A week later, too much running and no chances taken downfield—despite speedy receivers and a quarterback who can get it there.
Equally as frustrating; an inability to solve inefficiencies with a depth-challenged offensive line. Miami certainly can't do much about that in-season—but the play-calling can be tailored to get the ball out of Kaaya's hands quicker; less reliant on long-developing plays that allow for big hits—like the one that caused a late fumble against North Carolina, ending the comeback and sealing their win.
One could dive into match-ups here and a bunch of nonsense keys-to-victory. Kaaya and his Hokies' counterpart Jarod Evans need to protect the football, a next-man-in mindset has to be in place for both squads, limit the big plays—blah, blah, blah.
For the Canes, it's less about math and more about emotion, followed by execution.
Inexplicably, Miami didn't show up for North Carolina last week. Mental mistakes out the gate. No fire, passion or urgency—the Canes limped through the first half, held in there in the third quarter and attempted to rally late, falling short.
Any hopeful Coastal chatter aside, Miami is in must-win territory simply to turn its season around and to get back on track in regards to the rebuild and making year on in the Richt era a success. Notre Dame looms in South Bend next weekend, while November is chock-full of those pitfall-type games that bite the Canes in the ass; Pittsburgh and Duke at home, as well as Virginia and North Carolina State on the road.
A familiar Thursday night showdown at Blacksburg; it's an opportunity to circle the wagons and potentially turn a season around—while a third loss in as many tries could send this team into a tailspin.
THURSDAY NIGHT IN BLACKSBURG WILL MAKE OR BREAK THESE CANES
Last fall Miami rolled into Durham after a hellish week; their head coach fired after a 58-0 loss to Clemson, the unexpected death of a player's mother (Dana Smith; mother of former cornerback Artie Burns), Kaaya out with an injury and and interim coach handed the keys to the entire shit-show, being told, "Go figure it out."
It came down to a bogus late touchdown for Duke, followed by a lateral-fueled kickoff return for Miami—but it was a turning point-type moment for the Canes. A better North Carolina team still prevailed a few weeks later, but wins against Virginia, Georgia Tech and Pittsburgh propelled the Larry Scott-led squad to a 4-2 finish and 8-4 regular season.
Tonight marks this year's Duke-type moment for Miami. Must-win territory—not in regards to any Coastal Division nonsense; but simply for the sake of the first-year Richt buy-in and setting a tone for this season's remaining games.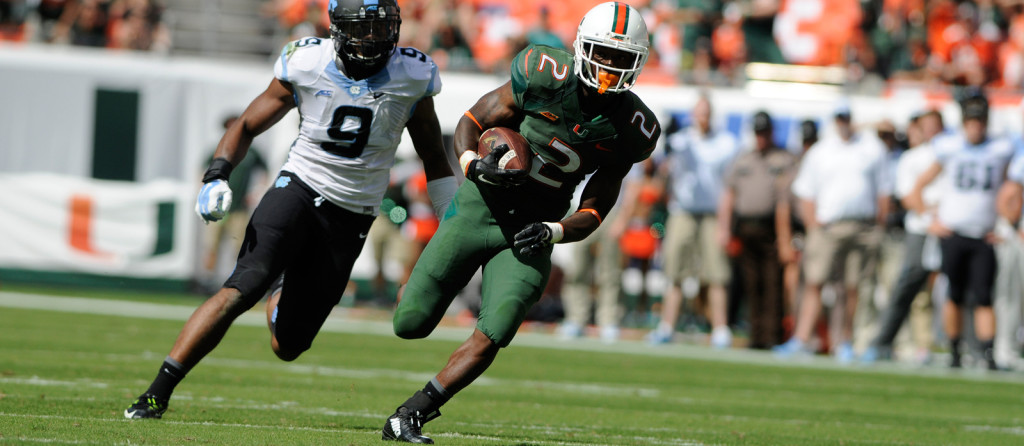 Another big stage moment ended with the Miami Hurricanes coming up short last weekend with rival Florida State in the house. The blocked extra point served as the final nail in the coffin of a 20-19 loss, though the would've, could've, should've moments were plenty leading up to that point.
Conservative play-calling on offense. A crucial end-zone interception. A bogus holding call negating a would-be score. Broken defensive plays allowing the bad guys to get back in the game. All were equally as brutal and played their part in another big game collapse—and with that, all must be flushed as there's a ton of important football left to be played this season.
Look no further than recent Canes' losses to the Seminoles for a blueprint of how not to react in the face of adversity.
That 23-7 first half lead that evaporated back in a 30-26 loss in 2014? Paled in comparison over the lifeless 30-13 loss days later in Charlottesville to a four-win Virginia team. Back home the following week, a five-win Pittsburgh squad rushed for 226 yards and topped Miami by a dozen. Insult to injury came in the bowl game when a six-win South Carolina squad played second half chess while the Canes played checkers, ekeing out the three-point win.
From 6-3 to 6-7, just like that.
MIAMI UNABLE TO RESPOND IN THE FACE OF ADVERSITY AS OF LATE
Last year was no better—falling to a garbage Cincinnati team on Thursday night, before giving one away in Tallahassee against a beatable Florida State squad not firing on all cylinders. The Canes responded with a home win over an eventual six-loss Virginia Tech squad before Clemson rolled in and obliterated the home team, 58-0.
Then-head coach Al Golden was fired 24 hours later, tight ends coach Larry Scott took over in an interim roll and Miami rah-rahed its way to a miracle win at Duke and ugly home win against Virginia before North Carolina went apeshit on the Canes in Chapel Hill.
The Tar Heels put up 487 yards, while quarterback Marquise Williams threw and ran for a combined 210 yards and two touchdowns—throwing down "U" hands as a sign of disrespect to the Canes; something wide receiver Ryan Switzer echoed when returning a punt 78 yards for a score.
North Carolina led 31-0 at the half. Halfway through the third it was 52-7 before Miami got a few late garbage scores. A beat down quite possibly more embarrassing than the one second-ranked Clemson delivered as the Tigers at least reached the College Football Playoffs and took out the Tar Heels in the ACC Championship.
Clemson wasn't 58 points better than Miami, but as a true power last season it's almost easier to process. Zero excuse for such a lopsided performance at North Carolina.
Fast-foward a year and where do these two conference rivals stand? The Canes brought on Mark Richt and an entirely new staff—as well as a 4-3 defensive scheme more conducive to Miami-style play, while it's business as usual for the Tar Heels. Larry Fedora still runs the show while former Auburn national champion head coach Gene Chizik continues revamping a defense seemingly backsliding this year.
Both programs have lost some talent, while adding some new role players, as well.
SEASON-DEFINING MOMENT FOR BOTH THE CANES & TAR HEELS
Miami's narrative this season is pretty cut and dry; beat up on some nobodies out the gate, relied on a few defensive turnovers to take out Georgia Tech and came up a few plays short when hosting Florida State. North Carolina's storyline is a bit more confusing.
After falling to Georgia in the opener the Tar Heels knocked off Illinois and James Madison—while giving up 23 and 28 points, respectively. North Carolina topped Pittsburgh on the game's final drive and went on to upset Florida State the following week, by way of a 54-yard field goal as the clock hit zero.
The four-game win-streak came to a crashing halt last weekend in a rain-soaked affair against Virginia Tech; the Hokies dominating time of possession and holding the Heels to 131 total yards. North Carolina also coughed up two fumbles while the usually solid Mitch Trubisky was a disaster under center. The quarterback threw two picks, going 13-of-33 for 58 yards.
Almost makes you wish another monster storm was on the radar this weekend.
Miami is an 8.5-favorite going into Saturday's showdown, but that's little solace for those who have watched this rivalry over the years since the Canes joined the Atlantic Coast Conference. In good times and bad, the Tar Heels have always had a strange edge in this quirky series.
Besides the obvious—year one in the ACC when third-ranked Miami fell, 31-28 to a garbage North Carolina squad—there have been crazy comebacks on both sides; the Canes usually falling short while the Tar Heels miraculously pulled some magic out their asses.
Some of that may have been the Butch Davis effect; the former Canes' head coach spending four seasons in Chapel Hill and going 3-1 against then-UM leader Randy Shannon—Shannon playing under Davis at "The U" in the 1980's and three years as a defensive assistant in the late 1990's.
Down 27-0 at the half in 2007, the Canes rallied for 20 in the third quarter, only to choke late in a 33-27 road loss. The following year, an early 24-14 four quarter lead blown in a 28-24 loss. 2009 was another gut-punch; the Canes down 23-7 mid-third, pulling to within six, driving and coughing up a fumble that went the other way for a score.
Things somewhat leveled out once the Davis-Shannon dynamic was no more, but things remained unorthodox—two-point conversion attempts changing the strategy in an 18-14 loss for Miami in 2012, yet a miracle comeback in Chapel Hill the following year, overcoming a late 23-13 deficit while relying on back-up role players.
SATURDAY'S LOSER CAN ALL BUT KISS COASTAL DREAMS GOODBYE
All of that history is somewhat moot as these two face off on Saturday at Hard Rock Stadium—a must-win Coastal Division showdown both both squads. Miami and North Carolina are each coming off of losses and need a bounce-back win as much as the other.
For Miami, the strategy itself could almost be cut and pasted from last week's blueprint. Disrupt the quarterback—in this case, Trubisky—as he'll pick you apart with too much time. When rattled, the junior is a mistake-prone mess. When comfortable back there, damn-near a Heisman candidate.
From there, the Canes' secondary needs to crank things up a few notches. Switzer is Trubisky's go-to—and he's hurt Miami in the past. Set the tone early and let the speedy, undersized senior know he's in for a long afternoon.
The x-factor on Saturday; Tar Heels' running back Elijah Hood—questionable after missing last weekend's game against the Hokies. Theoretically it's always about the highest-level of competition and going against the best—but as the Canes look to rebound from the Noles', loss—no issues with Hood being out our limited, making the UNC offense a bit more one-dimensional.
Offensively for Miami, it's all about balance—as well as not letting up. The Canes' first half last weekend was a bit more aggressive, while things seemingly got conservative in the second half against the Seminoles.
Knowing the Tar Heels' defense has been a bit spotty; a great opportunity to take more downfield shots with Kaaya and to open things up a bit. Fact remains the Canes lack a power rushing attack; fielding a pair of number two-type guys in Mark Walton and Joe Yearby, while lacking a bigger-bodied bruiser who can move the chains.
Both Walton and Yearby are threats, but the key is avoiding more up-the-middle runs—relying on a shoddy offensive line to deliver—and getting two speedy backs the ball in space, allowing them to work some magic.
The tight end was also somewhat non-existent last week. Would like to see more touches for guys like David Njoku and Chris Herndon.
All that armchair-quarterback strategizing aside, it's all about finding a way to win—at all costs. Pretty, ugly, lucky or a perfect strategy—Miami simply has to deliver and forge ahead.
Lots of chatter about the Coastal Division and how the Canes should win it—the sentiment based more on emotion than logic, as well as impatience as this marks Miami's thirteenth season in the ACC without repping the division or sniffing a conference championship.
The margin for error down the stretch is damn near zero—especially when factoring in Virginia Tech's weak-ass Atlantic Division foes; Syracuse on Saturday, but no Florida State, Louisville or Clemson on the schedule. Meanwhile Miami already lost to Florida State and has a road game against a good North Carolina State squad late November.
A loss this weekend and the Canes can all but be counted out of the Coastal race—resulting in a must-win situation in Blacksburg on Thursday night and then relying on Virginia Tech to drop one of four remaining ACC games, with Miami forced to win-out.
All of that to be filed under getting-ahead-of-oneself as it's all about responding against a good North Carolina team this weekend—one that embarrassed the shit out of the Canes, last fall.
The blueprint for success is there; it's simply a matter of Miami showing up, executing and knocking out a North Carolina team seemingly on the ropes and struggling defensively.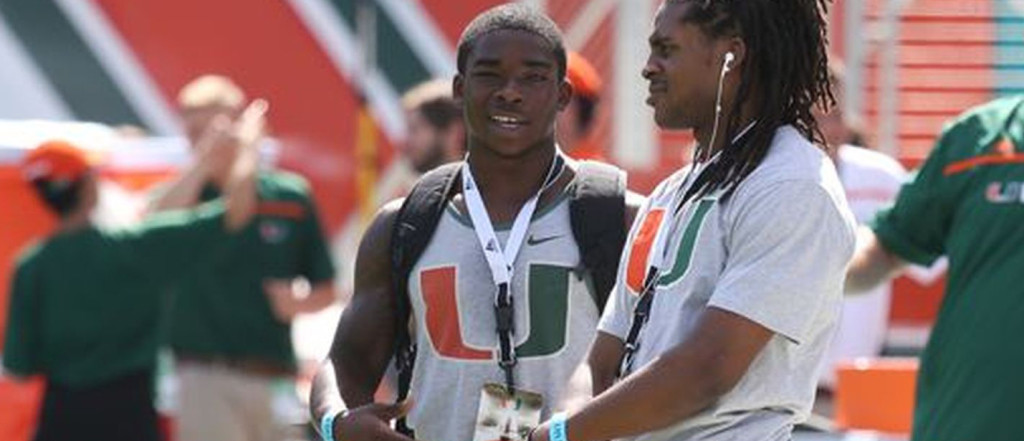 … and just like that, Sam Bruce is gone. Another would-be talent out the door before getting a chance to make his mark at "The U".
The University of Miami severed ties with the freshman wide receiver on Monday morning, stating that the former 4-star out of St. Thomas Aquinas was dismissed "based on multiple violations of team rules and a failure on his part to meet the clear expectations established to be a part of the Miami football program."
Way to f**king go, Sammy.
Bruce was currently serving a three-game suspension for the way-too-common-amongst-today's-athletes social media gaffe; in this case, posing in a photo holding a firearm. The situation got Bruce booted from St. Thomas, where he wound up finishing his high school career at Westlake Prep.
It's believed that the three-game suspension at Miami was related to that event, though Bruce worsened things by not being truthful with coaches regarding a non-football season-ending injury. Bruce was playing basketball—not prohibited, though a hobby football players are suggested to avoid—yet told coaches he was injured riding his bike.
Sources at UM have stated that there have been a long list of disciplinary issues with Bruce in his short time as a member of the program. In hearing that, a swift dismissal is truly the only option as first-year head coach Mark Richt looks to fix a broken culture and rebuild the Canes, proper.
For Miami faithful; that never-ending feeling that the hits just keep on coming. The karmic aspect of losing to Florida State due to a blown kick is lost on no one, but it's bigger than that.
Porous offensive line play, boneheaded, game-changing penalties and a few personnel-related breakdowns all serve as a reminder that the Canes are lacking the type of depth needed to compete nationally, as well as conference-wise.
The Tar Heels head south as Coastal Division champions, having put a 59-21 pasting on Miami in Chapel Hill last fall. Are they as good as last year's squad? A recent home pasting courtesy of Virginia Tech says otherwise, but it came on the heels of North Carolina upsetting Florida State in Tallahassee.
Regardless, a reminder that the Canes next two opponents—the Heels and Hokies over a six-day span—are serious road blocks in Miami's quest for a first-ever division crown.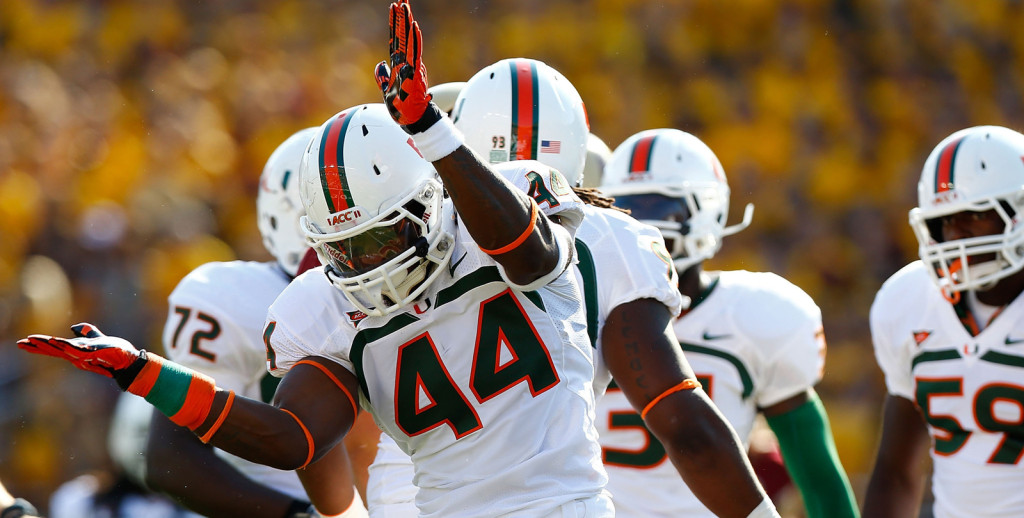 The recently-dismissed Bruce would have zero impact on any of this in 2016; having injured himself outside of football prior-to today's dismissal—but the parting-of-ways is indicative of a bigger problem; too many would-be greats pissing away potential legacies at Miami for moronic reasons.
Manny Navarro of The Miami Herald went in-depth on the player retention topic two Septembers ago and the numbers were staggering as 27 players were lost between 2011 and 2013; be it transfers, dismissals, not qualifying or being forced to quit football all together.
Eddie Johnson. Gionni Paul. Alex Figueroa. Derrick Griffin. Angelo Jean-Louis. The list goes on regarding players who could've helped do something about that 21-15 run over a the three-year span. Instead, more leaks sprung as the Canes' program kept taking on water.
Tack on a few casualties in the 2014 class, as well as the loss of Bruce and it makes Florida State's six-year head start on rebuilding—and seven-game win-streak—that much harder to accept.
All that bullshit these past few years; blame Al. Blame Randy. Blame Shapiro, the NCAA and anything else that fits the narrative of a down cycle. While you're at it, make sure to blame the self-absorbed players who put self, stupidity and immaturity above team, potential and future success.
Bruce blowing a golden opportunity to be the next great Miami speedster—unacceptable in 2016 as the Canes are supposed to be past bullshit like this. That big push to keep local talent home and to rebuild the program; it was to be on guys like Bruce.
Now he's gone—heartbreaking for him as a lifelong fan of "The U" and brutal for the University of Miami as he's yet one more pointless casualty on the road from mediocrity to relevancy.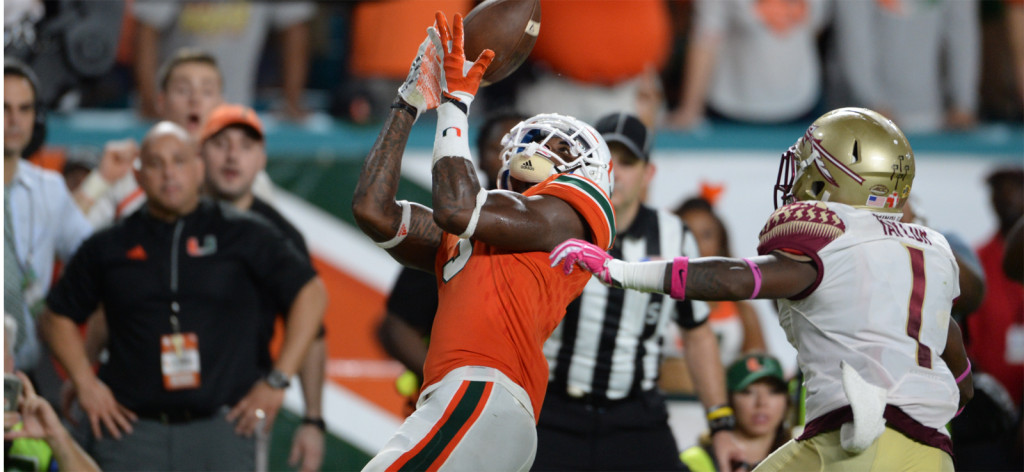 It had all the makings of something special. The hard-rocking stadium. The throwback uniforms. The pre-game skirmish. An undefeated start to the season and a rival having already absorbed a few losses.
The Miami Hurricanes jumped out to another home lead against Florida State, but it was the Seminoles who again closed strong, much like they have the last two times these foes got after it, prevailing, 20-19—the foot of a kicker again defining another big moment in this rivalry.
In the end, a seventh-straight loss and the harsh reality that despite the gap closing between the Canes and Noles, the boys from up north are still a few paces ahead of the five time national championship Miami program. Doesn't matter how or why—FSU's "rebuild" starting back in 2010, while UM's just got underway last December; the result continues to be the same.
The Canes are on the right track, but lack the depth, across-the-board talent and big-win experience that championship teams possess.
There are no moral victories and silver linings the morning after are impossible to appreciate. Saturday's heartbreaker will be forever remembered by a muffed snap and batted-down extra point; The Block at The Rock. Convenient for narrative-sake in a rivalry that has been defined by missed kicks by the guys in garnet and gold—but Miami lost the game well before DeMarcus Walker swatted down a Michael Badgley point-after attempt; the junior kicker automatic in his career up to that moment.
No, this one was surrendered from the get-go when Miami's supposedly-high octane offense sputtered and punted its first two drives, while settling for a field goal on its third—wasting some big time defensive stops; including a fourth-down stuff of the Noles that kept early points off the board.
A DOZEN OTHER "LOST GAME" MOMENTS TRUMP MISSED POINT-AFTER
Miami's swarming defense sent quarterback Deondre Francois to the sideline after a vicious takedown by Kendrick Norton. Jaquan Johnson made the Noles pay, intercepting back-up Sean Maguire on a tipped pass and the Canes turned it into seven by way of a highlight-reel touchdown grab by Stacy Coley on 3rd-and-19—giving Miami the 10-0 lead early in the second quarter.
Still, the where-it-was-lost moments were all over the place; again settling for three when another offensive possession stalled out.
Francois back under center, the Canes' defense held the Noles to 18 yards on six plays, forcing a punt. Brad Kaaya immediately went to freshman Ahmmon Richards for a 38-yard pick-up. A sure-fire pass interference call on Florida State looked to be drive-defining, but was negated when the intended receiver Braxton Berrios was hit with a facemask call—boneheaded-as-hell and taking the steam out of the Canes.
Incomplete pass to Coley. Four-yard pick-up by tight end David Njoku. Four-yard run by Mark Walton. 51-yard field goal by Badgley and valuable points again left on the field against a squad known for second-half comebacks.
The Noles responded with nine-play, 62-yard drive—including a 3rd-and-12 conversion, though eventually settling for three and cutting the deficit to 10 points at halftime, with Florida State getting the ball to start the second half.
Miami's defense forced the three-and-out and was primed again to take control, face planted and had yet another where-it-was-lost moment, unable to close on a would-be, game-defining drive.
Kaaya-to-Richards for 12 yards on 2nd-and-7 had Miami midfield and 15 more yards were picked up when Matthew Thomas was ejected for targeting. 1st-and-10 from the FSU 34, Walton picked up three before Kaaya found Coley for 18. Another first down; the Canes in business at the 13-yard line.
False start, Coley. Momentum killer. Incomplete pass to Richards on 1st-and-15, another setback. Then the dagger—a forced pass on 2nd-and-15 with Kaaya went to Richards again; Tarvarus McFadden stepping in front for the end zone interception.
Six plays later, a defense breakdown and Dalvin Cook—the most-dangerous guy on the field, inexplicably wide open— hauling in a 59-yard touchdown reception. What could've been 20-3, or at worst 16-3, was now 13-10 in just over three minutes—the energy in the stadium shifting as momentum was slipping away.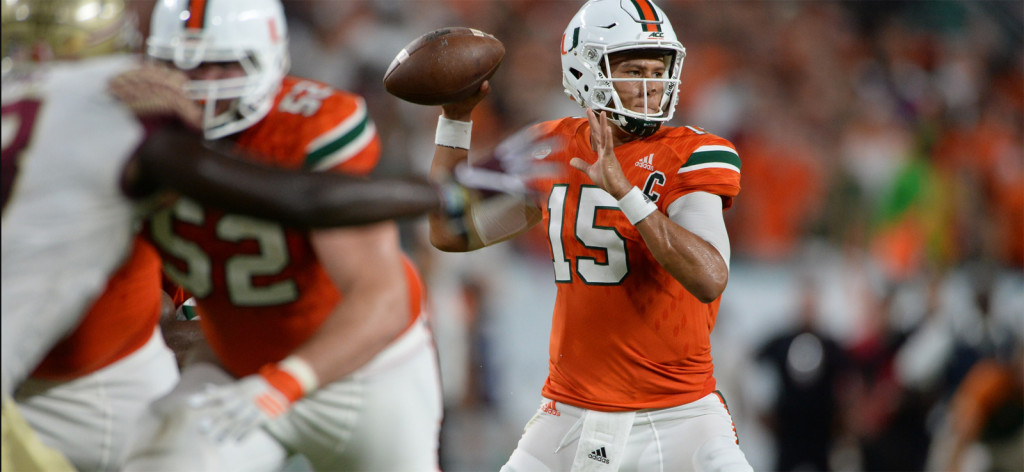 KAAYA COMES UP SHORT IN ANOTHER RAISED-STAKES SITUATION
Incompletion, three-yard run, incompletion, punt. The type of unraveling that defined the past half decade of Miami football was rearing its ugly head again—and no one on either side of the ball could stop the bleeding.
A comeback was underway and everyone in the building felt it. The Canes weren't done, but the lead was set to evaporate and Miami was on its heels. Seven plays and 60 yards later, Francois found Kermit Whitfield for a 20-yard touchdown on 1st-and-10—a brilliant read on a would-be run play, changed when Johnson blitzed for the Canes with three Florida State receivers lined up trips to the left.
17-13, Noles late third quarter—Miami trailing for the first time all season. Here we go again.
Walton, nine-yard run and six more the following play. Tack on a 15-yard personal foul and the Canes were already at the FSU 45 in just under a minute. 1st-and-10, Walton takes it 45 yards to the house. To be filed under, you-can't-make-this-shit-up; holding on Tyree St. Louis—his "mistake" doing zero to spring Walton loose. (Translation; horse-shit call by the zebras.)
Drive destroyed, next-level dagger and a snatching-defeat-from-the-jaws-of-victory type moment that Miami simply can't purge itself of. From taking back the lead to 1st-and-20 and deflated—just like that.
Two runs by Joseph Yearby went nowhere before Kaaya's attempt on 3rd-and-15 was incomplete.
Miami's defense held Florida State to a field goal after stopping Cook cold on 3rd-and-2—leaving the Canes yet another final drive-type chance like the past two years, down seven with nine minutes remaining.
Coley for 17 yards on 3rd-and-8. Another pass interference fortunate break, putting the Canes across midfield. First down run with Walton loses one, Kaaya sack loses six and another takedown on 3rd-and-17—Miami's offense unable to do anything.
The Canes' defense rises up, sacking Francois on third-and-long—putting the ball back in Miami's hands for one final go-around with 3:02 remaining after a brilliant 43-yard return from Berrios.
Walton runs back-to-back, netting seven yards, but gets stuffed on 3rd-and-3. 4th-and-5 from the FSU 11, Kaaya hits Coley on a rope for the score—followed by the unthinkable. Muffed hold, blocked kick, ball game.
Even with the extra point, does Miami's defense stop Florida State's offense with 1:38 remaining in a 20-20 ball game? Doesn't matter. The Canes had already been gutted and exposed—a not-yet good enough squad able to seize big moments and close.
YEAR IS ONLY A FAILURE IF MIAMI ALLOWS FLORIDA STATE LOSS TO BREAK THEM (AGAIN)
Bad as Florida State looked at Louisville, or somewhat exposed in a home loss to North Carolina—when the money was on the table and the Canes were across the field, the Noles were able to rely on muscle memory, earning the type of comeback win that can jumpstart a season.
While Miami toiled in misery these past six seasons—firing Randy Shannon, hiring Al Golden, dealing with ponzi-schemer Nevin Shapiro and fighting with the NCAA—Jimbo Fisher was building his powerhouse; taking over a program in much better shape than the Canes, in the process.
Over that span, four Atlantic Division titles, three ACC crowns and one national championship—while Miami stumbled to 43-33, fought off a two-year investigation, absorbed three years probation and saw three different head coaches at the helm. None of that even addressed the negative recruiting that sent quality local kids packing or forced "The U" to miss out on some key players.
Cook and Whitfield killed Miami last night; two kids who at one point looked to be future Canes. Same for the ejected Thomas and suspiciously-quiet Travis Rudolph last night. Losing out on players of that nature each of the past several years—it shouldn't necessarily define moments like these, but it can't be ignored. Keep the best talent home, recruit strong and develop good players into great ones. It's a tried and true formula, but simply hasn't happened in Coral Gables for well over a decade now.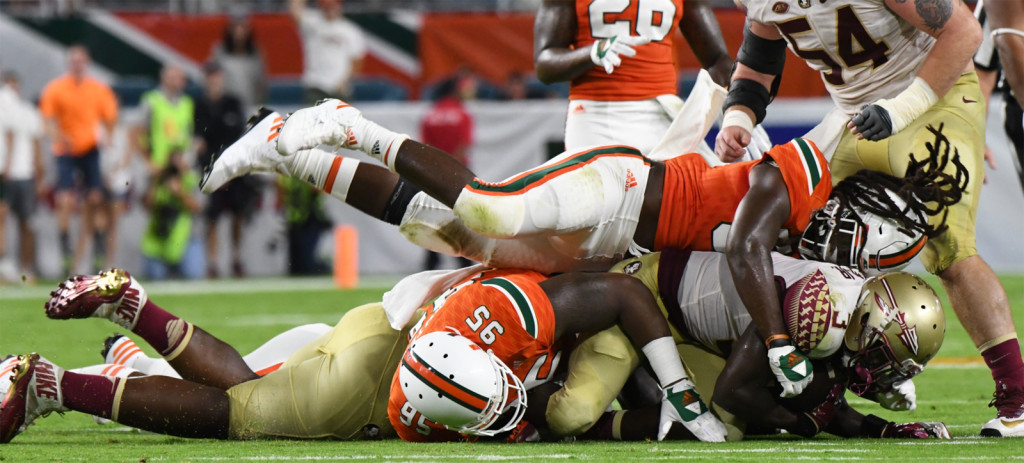 Under all those circumstances, the fact the Canes have actually hung with the Noles the past three years is a mini-miracle unto itself—though it's no solace when surrendering late leads and losing 10 of the past 12 to an arch-rival.
However this edition's script was written, it's over. Another loss in the books and another learning experience to be taken. Some other morning-after thoughts about these Canes as seven games remain. In no particular order:
— Defensive breakdowns at Georgia Tech last week were brushed off by way of a few exciting sack, strip, scoop and score moments which were the difference in a 14-point victory. Exciting plays, but flukes that arguably aren't going to occur on a weekly basis or against top-flight talent. Miami had a few blown plays defensively that were indicative of the past half decade of UM football and served as a reminder that the talent and personnel simply isn't where it needs to be on that side of the ball.
A lot of tipped passes and balls-out play from guys like Corn Elder, Kendrick Norton and Chad Thomas—as well as the trio of freshmen linebackers—but not enough depth or difference-makers over there, yet.
— Exciting as Walton and Yearby have been over their careers, the Canes' ground attack is suffering from not having a bigger-bodied, Cook-type back who can run hard, get the tough yards and carry a struggling offense on their backs. Gus Edwards hasn't panned out and Mike James was truly the last slightly bigger, hard-hitting running back the Canes have boasted.
Two guys who are "lighting" aren't the answer. The rushing attack needs some "thunder", as well. The Canes lost out on Cook a few years back, but need to ensure that they find a back like him on the recruiting trail each of the next few years.
— For every spectacular grab a receiver has, seems there are a few drops, miscues or setbacks to go along with the good. Painful as the ground game has been, the inconsistencies in the passing game are added pressure for an offense seeking and identity.
— Lastly, with almost two and a half seasons under his belt as a starter, it's time to assess who No. 15 is and who he isn't. Kaaya was thrown into the fire as a freshman, has learned on the job and has put up some rather impressive numbers as Miami's starting quarterback. He's pegged to be a Top 10 pick in next spring's NFL Draft, as the 6-foot-4, 215-pounder with the solid head and strong arm checks off most boxes that assure success at the next level.
What Kaaya hasn't shown yet; the "it" factor and overall leadership great collegiate quarterbacks on championship-caliber teams possess.
Come-up-short moments against a Nebraska, Georgia Tech or Florida State as a freshman are forgivable—but that expected step forward wasn't taken as a sophomore. Cincinnati and Florida State were would-be, hero-type moments where Kaaya could've put the Canes on his back and made a difference.
Even the bowl game against Washington State; an interception on a potential game-winning drive.
This recent showdown with the Seminoles was a growing-up opportunity. Kaaya took a beating behind a suspect offensive line, got his ass kicked and still threw two NFL-worthy touchdown passes to Coley. That said, the second down interception in the end zone was brutal and truly unforgivable based on the moment, the opponent and overall state of the program.
Florida State is suiting up a freshman in Francois, who opened his career with a comeback victory against Ole Miss, had a solid outing in the loss to North Carolina and took everything Miami's defense threw at him, yet kept making plays and getting the job done.
Time is running out on the Kaaya era. Will this fan base ever see that next-level, clutch-type performance he's capable of? Tar Heels, Hokies, Fighting Irish and Panthers on deck.
IT'S NOT HOW YOU START; IT'S HOW YOU FINISH—CLOSE STRONG
Two years ago, a blown 23-7 lead against Florida State broke Miami's spirit and the Canes lost their final three games. A year ago, a loss in Tallahassee was followed by a a home win over Virginia Tech before Clemson came south and delivered the type of ass-kicking that gets a fifth-year head coach fired before he sits down with a coffee and his Sunday paper.
What is this year's narrative—Miami now 4-1 with first-year head coach Mark Richt; an even-keel guy celebrated for not getting to high after a win or too low after a loss? Golden—always the disheveled, excuse-making post-game mess—proved unable to get his Canes to respond. Can Richt erase five year's of Golden's hold on this program five games into his tenure? He better and the hits are coming hard and fast.
North Carolina heads south next weekend—the same squad who took down Florida State in Tallahassee weeks back on a game-winning 54-yard field goal that ended a 22-home game win-streak.
Good news; the Tar Heels were demoralized after falling to Virginia Tech at home, 34-3 yesterday. Bad news; the Hokies are up next for the Canes, traveling to Blacksburg for a Thursday night showdown against the new Coastal Division favorites.
Negotiate that rugged terrain and a road trip to Notre Dame follows; the Irish unraveling, though South Bend ready to come alive when boys from Miami show up.
Losses to Florida State have defined Miami's season the past few years and if there's any takeaway from this year's setback—let it be just that; forget about the Noles until next time around, learn from the mistakes and focus on the remaining seven games.
This was never a championship season for the Canes. At absolute best, a Coastal Division title was in the cards—Miami the preseason number two behind North Carolina. Another loss to Florida State hurts; but it's only as detrimental as the Canes allow it to be.
Let the next few weeks define this season—not a few setbacks in a would-be step-foward moment in primetime this past weekend.