Sometimes it feels like the shit-storm surrounding the Miami Hurricanes this past decade is never going to end. In some way, shape or form—every preseason is marred with some type of garbage.
Five years back it was Shapirogate; with that awful stench and crap-cloud hovering over the program for over the next 26 months.
In the years that followed, some type of departure or injury accompanied the fact that the Canes' stubborn, inept coaching staff was going to limp-dick their way through another season—losing five or six games, while coming up with five- or six-hundred different excuses as to why.
Miami seemed primed to reverse the curse this season, by way of a fortuitous bounce when Georgia fired long-time head coach Mark Richt last December. Within days, the Canes brought home an alum capable of righting the ship and everything seemed to be trending upwards since … until this bullshit about improper use of luxury rental cars became this summer's distraction and headline in Coral Gables.
At first it looked like linebacker Juwon Young would be the lone casualty—the junior sent packing back in June. No harm, no foul in the sense that several incoming freshmen were ready to compete at the position.Defensive end Al-Quadin Muhammad, linebacker Jermaine Grace and wide receiver Stacy Coley were mentioned at the time—with insiders stating that the Canes were preparing for all three to sit the first three games of the season.
Again, no big deal when suiting up against Florida A&M, Florida Atlantic and Appalachian State.
Instead, word broke on Saturday that Muhammad and Grace were gone, while folks wait with baited breath, hoping Coley is in the clear. After launching an internal investigation, the University of Miami released the following statement:
"The University of Miami announced today that redshirt junior Al-Quadin Muhammad and senior Jermaine Grace have been permanently dismissed from the Hurricanes football program for violating NCAA rules. The University will, however, continue their financial aid through graduation. The decision was made in consultation with outside counsel and after discussions with the NCAA enforcement staff. As no staff members or boosters were involved in the violations, the program will not be subject to sanctions and, at this time, the University deems this matter closed."
Welcome to Damage Control: 101 when you're a program on probation—one that made matters even worse by cheapening out on back-to-back coaching hires, fueling a decade-long drought. Two years in the NCAA's crosshairs results in slap-on-the-wrist offenses being treated like capital crimes, in order to remain sanction-free and rebuilding without extra roadblocks.
Harsh, but necessary as Miami needs to stay out of trouble, while rebuilding proper. Eliminate those who aren't in line with the changes being made and recruit like-minded kids moving forward. While the word "process" was overused the past five years, it actually makes sense when used in this case.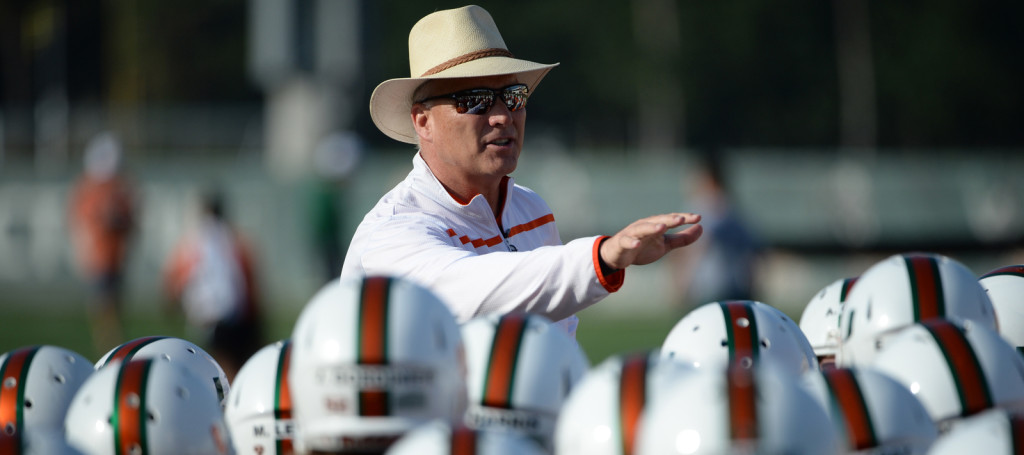 SELFISHNESS COMES WITH A STEEP PRICE
Boys will be boys and college athletes will be college athletes. That goes without saying—and as far as the punishment fitting the crime here; it absolutely doesn't. Still, any of these players lurking around a luxury dealership looking for a flashy whip to push around town—it's simply not wise. You have absolutely zero chance staying off-the-grid or inconspicuous rolling around town in a bright, six-figure ride that looks straight off the set of HBO's "Ballers".
Honestly, what the hell did everything really think was going to happen? You're moving targets when you do something out in the open like this—especially in the era of social media and on a small campus at a private school where it's impossible to blend in.
South Beach Exotic Rentals is denying any improprieties took place; valid explanations in place as to family members of the players renting the cars and what not. Maybe so, but why did Young, Muhammad and Grace lie to UM's compliance office if there was nothing to hide?
Furthermore, why was Muhammad posting the images to Instagram and raising red flags for short lived gains and meaningless "likes"? This is a flashback to former defense back Ray-Ray Armstrong flaunting shots of him dining at Prime 112 on South Beach a week before the annual showdown against Florida State.
Even with the most-logical explanation, these are still bad ideas for college athletes in a major market and at a program like Miami that oft gets pinched on reputation alone.
As much of a brain-fart as the borrowing of cars itself, it was the dishonesty that would up doing these players in. Fess up and it's a three-game suspension. Keep the ruse going and the result was three careers ending prematurely at "The U". Was it worth it, boys?
SHOULD'VE KNOWN BETTER
This rant may be coming off a bit harsh, but here's a quick tip—life is harsh and present day college football is damn near the big boy league. You want to succeed at this level; you need to start thinking like a pro the minute you set foot on campus as all eyes are on you. Redshirting, flying under the radar and bursting onto the scene as an upperclassmen? No mas. A kid can become overnight sensations game one of his freshman year.
Muhammad, Grace and Coley all signed with Miami in February 2013. The NCAA's investigation on the Canes ended the following October. "The U" was in hot water during their entire recruitment and all players heard the negative tactics other programs were saying about UM; "death penalty" chatter and what not. They saw this program at it's most-recent worst, yet a few short years later these guys are pulling the same kind of crap as the kids in the Yahoo! Sports report? Not to mention doing it while they all have one foot out the door and are NFL-bound next year. So boneheaded.
Those who cannot remember the past are condemned to repeat it—and shockingly in this case, the "past" was literally a few years prior. This especially applies to Muhammad, who sat out the entire 2014 season after a physical altercation with his roommate. He then missed the 2015 season opener for a "violation of team rules", which doesn't bode well for a guy said to have learned his lesson. Now, this?
What ever happened to upperclassmen leading by example, leaving the program in better shape than they found it, staying focused and going out with a bang. One solid season from all these guys and they'd have had their own fleet of luxury cars in their driveways this time next year, by way of big-time NFL dollars.
Instead it's full-blown damage control for Young, Muhammad and Grace, while Coley best hope he's not the next causality.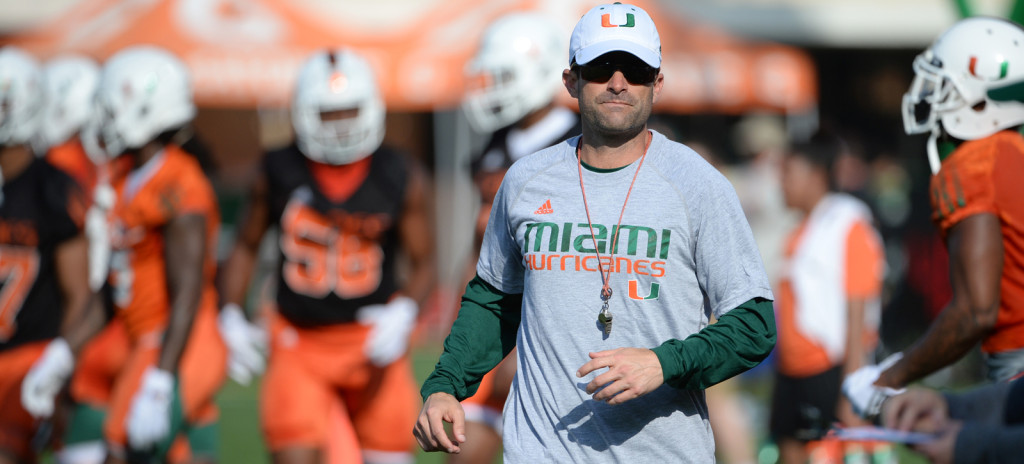 WHERE DO "U" GO FROM HERE
Miami's defensive struggles have been a sore spot for years and while things looked to improve year one under new coordinator Manny Diaz, this depth-related setback is going to hurt.
Sure, the first-year DC will attempt to make some tweaks and hope that a next-man-in mentality can minimize the damage—but for a Canes' defense looking to take a big step forward this season, losing two of its best players is a huge blow however you slice and dice it.
Muhammad's aggressiveness and experience will result in defense end Chad Thomas seeing more double teams, while Grace's speed will sorely be missed in and the middle of the field. Younger players will look to pick up the slack, but truth be told, the onus is going to be on Miami's new coordinator to out-scheme opposing offenses—something recent Canes' defensive minds haven't done in years.
Diaz is now in the spotlight while true freshman will be thrown into the fire immediately. Neither are the end of the world, but it certainly didn't have to come to this—yet it did as Miami continues to feel the effects of a broken culture.
Former cornerback Ryan Hill called out the program after the 2010 season that cost Randy Shannon his job—citing insubordination and a full-blown lack of respect by players for their head coach. Instead of Miami bringing in a proven veteran leader to get things back on track, Miami rolled the dice on another supposed up-and-comer type in Al Golden, who proved to be an even bigger dumpster fire.
Nine years of having incompetent leadership, on the heels of six years with Larry Coker playing a substitute teacher-type role—it's pretty easy to do the math on how UM wound up in this predicament.
Richt has the resume, process, track record and abilities to make Miami a contender again—but that will take a few years, a handful of recruiting classes and the purging of me-first players that have held this program down for way too long.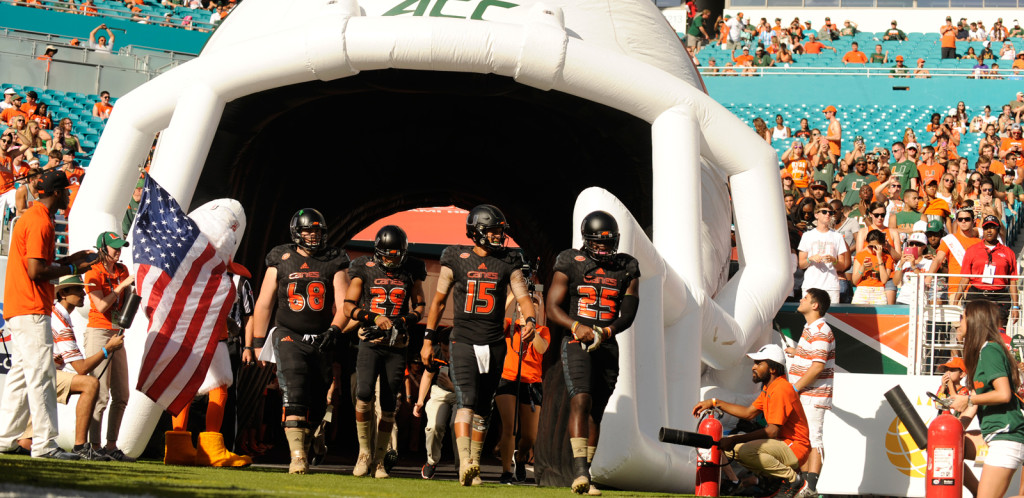 The Miami Hurricanes are just under four weeks out regarding their September 1st home opener against Florida A&M and thumbing through some preseason rags to get the juices flowing for another season in Coral Gables.
The Sporting News ranks the Canes second in the ACC's Coastal Division this upcoming season, behind last year's champs—the North Carolina Tar Heels. Virginia Tech, Georgia Tech, Pittsburgh, Duke and Virginia round out the division, while Clemson sits atop the Atlantic and is predicted to win the conference.
Miami's archival Florida State is second in the Atlantic, followed by Louisville, North Carolina State, Boston College, Wake Forest and Syracuse. The Atlantic Coast Conference's game-of-the-year is the late October showdown between the Tigers and the Seminoles, taking place in Tallahassee this year.
When perusing TSN's ACC storylines, Miami remains a footnote—completely understandable after five years of Goldenization, preceded by four years of getting Shannoned. The Hurricanes have recruited well here or there and occasionally won a semi-meaningful game over that process—but there's zero debating that "The U" became a second-rate program in need of a world class facelift.
Enter former Georgia head coach UM alum Mark Richt to clean up the shit-storm.
Richt fell into the Hurricanes' lap when the Bulldogs cut ties with him in search of a fresh start. The somewhat out-of-nowhere departure paved the way for Miami to land the "home run hire" it's never really had.
"The U" has birthed it's fair share of up-and-comers who more than made a name for themselves, but hasn't plucked an established name in the modern era of the game. Richt checks off that box and many more.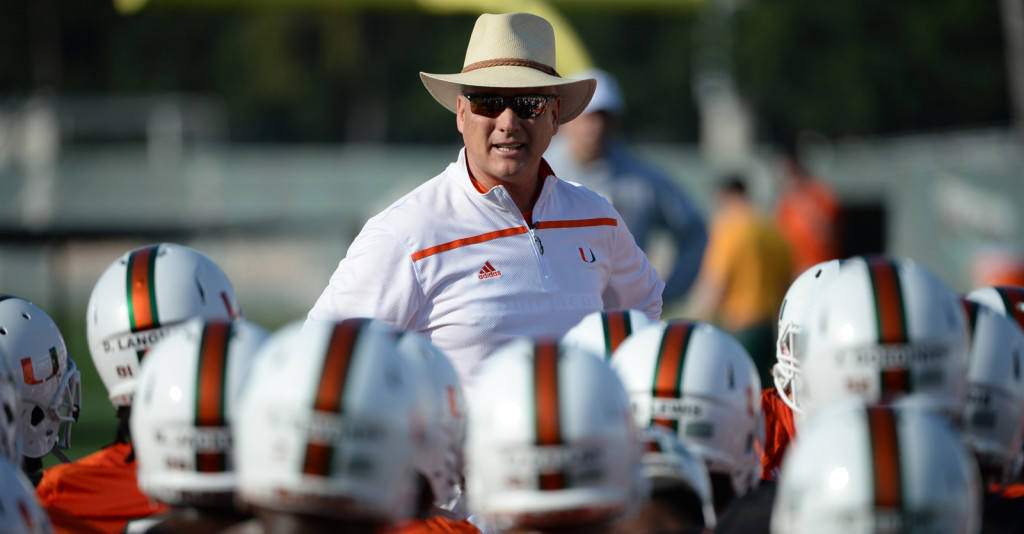 Still, TSN is quick to label the Canes their most overrated team in the ACC this year stating that, "The Hurricanes made a blockbuster hire in Mark Richt, but they've been oversold for the last decade. It's best to believe it when you see it from The U."
Sort of, but not really.
It's magazines like the The Sporting News and others who have lumped undue praise on the Canes the past several years—the same publications who praised Al Golden as a head coach, based on his polished speeches early on, hard-working demeanor and loyalty in sticking with Miami when Shapirogate reared its ugly head.
The only ones "overselling" UM were the sportswriters who refused to see through Golden's facade, broke-ass schemes awful cultural fit, never letting Miami be "Miami" on his watch—talking style of play here, not swag.
The Canes didn't place one player on TSN's All-ACC team—and it's been a lifetime since Miami was putting several future NFLers on that list. If your players can't scratch the best-in-conference surface, you sure-as-shit aren't going to make a dent nationally.
Translation; five- or six-loss seasons became the new norm.
An equally as bitter pill to swallow; seeing those recruits who got away over the years shining in this recent ACC's best poll. Kermit Whitfield was named Fastest Receiver while Dalvin Cook earned Best Athlete and Most Elusive Running Back. Both headed to UM at one point, Whitfield and Cook took their talents to Tallahassee and won a national title a few years back.
Areas where Miami also used to shine; Hardest Hitter (going to Virginia safety Quin Blanding) and Top NFL Prospect (Clemson quarterback Deshaun Watson.) The Canes earned Top Transfer—former Florida defensive lineman Gerald Willis—another indication that things are out of whack and in need of an overall kick-in-the-ass for the Canes.
Watson's recent success stole the spotlight for UM quarterback Brad Kaaya, who is primed for a solid junior campaign and should top all these polls for 2017—though TSN was quick to tag him as Miami's "Difference-Maker" this season.
After mentioning that the Canes haven't seen a quarterback drafted since Ken Dorsey departed after the 2002 season, they quickly mention Kaaya in the same breath as Watson and drop some his stats last season. Most-impressive; his leading the ACC in passing efficiency as a freshman in 2014, as well as a balls-out performance against Florida State last fall.
Despite losing to the Noles for an unthinkable sixth-consecutive time, Kaaya set career marks in completions (29) and attempts (49) while throwing for 400 yards against the Sunshine State rival.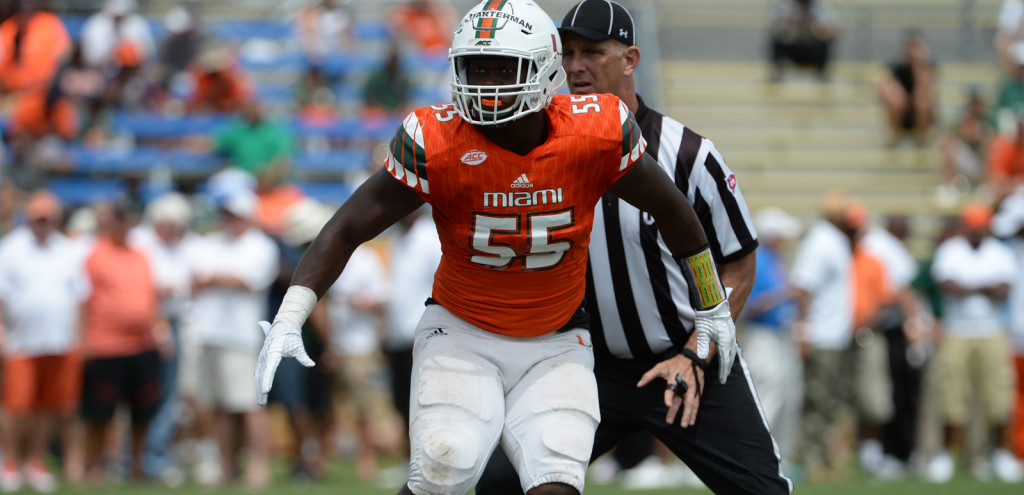 Citing 247Sports rankings, TSN praised a few big names Miami hauled in on recruiting day back in February—wide receiver Sam Bruce, linebacker Shaq Quarterman and wide receiver Ahmmon Richards.
All 4-star prospects are expected to make an impact this fall—especially at the receiver spot due to the departures of Rashawn Scott and Herb Waters, as well as this recent season-ending injury to sophomore Lawrence Cager, who was expected to make some big noise this year.
TSN's actual write-up on the Canes was par for the course regarding a national publication what doesn't have its thumb on the program's pulse.
The humiliation 58-0 beatdown by eventual national title runner-up Clemson, letting too much local talent get out of it's backyard and the hiring of Richt were all front and center. From there, a little blah-blah-blah on the offense line needing to come together, as well as a troubled defense that ranked 69th overall last season.
First-year defensive coordinator Manny Diaz and the move to a more U-like 4-3 scheme was explained with a, "Perhaps that will make the Hurricanes more disruptive after they finished 105th nationally (and 12th in the ACC) in tackles-for-loss last season."
A 3-4 in Coral Gables for five seasons and the Canes 12th in tackles-for-loss last year. Ain't that some shit? Former coordinator Mark D'Onofrio better never cross the Dade County line again after that dumpster fire he and Golden Al trotted out since 2010.
For those who've tried to put this ugly era out of recent memory, TSN came correct with one final graphic showing Miami's 36-27 run the past five seasons. Reconfigure that 8-5 run last season to 4-3 on Golden's watch as interim head coach Larry Scott went 4-2 down the stretch and it was an even uglier 32-25 era-of-stank.
TSN takes the safe route and doesn't make a win-loss prediction on where Miami will wind up in 2016, but believes that the Canes are definitely trending upwards thank to swapping out a schmo for a pro.
"Richt, unlike his predecessor, has a good idea what he's getting into and is about as good a blend of fit and ability as the Hurricanes could have hoped for. He knows the terrain, understands what it's like to recruit in a crucible and could be reinvigorated by a new challenge at this stage in his career. Whether that's enough to justify considerable optimism for this year is unknown, but there is reason to believe that Miami will be on the upswing soon enough."
Based on where this program has been the past decade-plus, that'll work for now.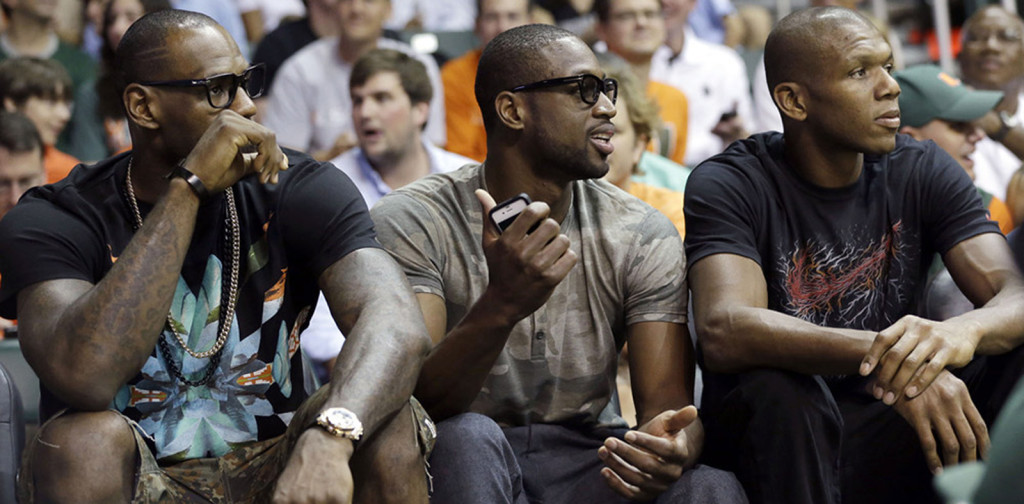 (Disclaimer; yes this is a Miami Hurricanes-themed site—but this story, the subjects being discussed, the championships and history are straight-up 305 and deserve mention here. It's been dubbed Miami Wade-County for a reason.) 
Once the dust settles and the emotions are back in check, two things will come into focus.
First and foremost, this was the ideal time for the Miami Heat and three-time champion Dwyane Wade to part ways. As that is eventually accepted, the genius and process of Pat Riley will be revalidated and appreciated; a firm reminding that the coaching legend and masterful general manager knows exactly what the fuck he's doing.
For the average adult-baby who still wears a No. 3 jersey to games and posts rants on message boards—expect knee-jerk reactions about paying Wade "anything he wants" and "rewarding his loyalty". Those and other typical throwaway sentiments forever spewed by folks who aren't in a position of power and haven't achieved next-level success by making gut-wrenching decisions that legends are faced with.
The more-evolved individual will take a step back and realize there's no room in the business of professional sports for pointless nostalgia or hanging on to the glory years.
Appreciate what was accomplished. Give thanks for the journey. Accept what lies ahead. Don't overcomplicate things.
The news of Wade heading back home to Chicago and ultimately ending a Hall of Fame career in the house that MJ built. momentarily came off as a gut-punch. Soon after, the realization washed over that it was the best-case scenario for all parties involved—especially Miami.
The NBA is currently a two-team race for the NBA title in 2017—Golden State having the leg-up with the addition of Kevin Durant, while LeBron James and Cleveland look to defend a title. The same could be said for 2018, based on where things go with free agency next summer.
Translation; the Miami Heat would be playing for second-best even in a perfect world. Survive the Eastern Conference and it's James and the Cavaliers waiting wings. Miraculously negotiate that rugged terrain and it's a cross-country best-of-seven with the Warriors. MVPs and loaded squads at every turn. Good luck with all that noise.
QUOTING JOE DIRT; "IT'S A BUSINESS, IT AIN'T UNICEF"
"What better place than here, what better time than now?" The chorus of "Guerrilla Radio" by Rage Against The Machine continues coming into focus.
Riley and Heat owner Mickey Arison knew good-and-hell-well what they were doing this off-season; locking down Hassan Whiteside as the ultimate priority, while chasing Durant like everyone else in the league. From there, it's all about the health of Chris Bosh—who Riley and Miami are obviously looking to unload or force into medical retirement; made clear by shutting down the forward's season in 2016.
Unfortunately, this is where the business side of sports hurts and while it's hard to admit, fact is Wade was never a priority this off-season. Every decision being made is in the best interest of the franchise and putting the Heat in position to contend in 2018.
Riley didn't lowball Wade as a sign of disrespect; it was a clear-cut message that it was in everyones best interest to move on. Miami needs flexibility a year from now; something it wouldn't have if giving it's biggest, aging name a max deal for minimum play and an eventual farewell tour.
Any who might disagree, look no further than the end of the regular season and the Kobe Bryant long-winded retirement run as a blueprint for how not to handle a relationship an over-the-hill superstar and one-time franchise cornerstone.
BLACK MAMBA RE-UP SET LAKERS BACK A DECADE
Los Angeles signed Bryant to a two-year extension in November 2013—paying the hobbled, then-35-year old $48.5M for his swan song in the purple and gold.
For those caught up in the emotion and paying attention to the facts, the Lakers went 27-55 the year the extension was signed, 21-61 in year one of the new contract and 17-65 this season as the Bryant era came to a close. Regardless of that lack of success and internal turmoil, in-over-his-head executive vice president of basketball operations Jim Buss defended the boneheaded decision.
"You give Kobe Bryant $50 million for two years," Buss told USA TODAY Sports in 2013. "Are you kidding me? What did he bring us? In this day and age, what did he bring us, for 20 years? And if that isn't what you're supposed to do, then I have no idea what life is all about.
"You pay the guy. You believe in the guy. If he ends up (staying healthy), that's fantastic. Well everybody (in the media) cut me up for that, but I'd say over 200 fans have come up to me and said, 'Thank you so much for letting my kid see Kobe Bryant for two more years.' And I'm like, 'You know what? I'm glad I can see him for two more years.' "
Welcome to what happens when one chooses short-term pleasure in lieu of making tough decisions that ensure long-term success. As feel-good as that may sound, the play couldn't have been a worse business move.
This is also why a once-proud Los Angeles franchise is no longer the biggest draw in California. Hell, the Lakers are even playing second-fiddle in their own backyard as the once-lowly Clippers have stolen the show.
But hey, fans and parents are thanking Buss for keeping a broken down legend on the roster a few extra years—at a hefty price tag—so their kids can see a watered-down No. 8; injured and usually holding down the bench.
Buss—proudly and brashly—defended overpaying Bryant an admitted $50M gold watch for 20 years of service. Faulty logic in an emotional moment for someone paid to make tough decisions for a franchise.
While the "Black Mamba" farewell was punctuated with an epic final night at the Staples Center, it didn't erase the 94-181 run the three years prior to that comeback victory and 60-point closeout.
The Lakers are six years removed from a championship, have a roster full of scrubs, missed the Playoffs three seasons in a row and are banking on a former player and assistant from Golden State to lead them back to the promised land—with virtually zero to sell outside of nostalgia.
Bryant retired with over $680M in career earnings from Los Angeles. Who really needed that extra $48M two years back—Bryant, in the form of a "lifetime achievement" award, or a Lakers' franchise in need of a full-blown overhaul?
YOU. PLAY. THE. GAME. TO. WIN.
Professional sports is a cutthroat business in the modern era—and Miami severing ties with Wade is nothing more than a line item. That takes nothing away from a stellar career in South Florida, three championships and a decorated career—but in the end, it's the past. It's in the rear-view. It's over. Where to the Heat go from here? How do Riley and Arison rebuild a contender?
It starts with a move like this; low-balling Wade, striking an emotional chord—the immediate feeling of being disrespected setting the tone. By the time Miami upped the offer from $10M-per-year to $20M, No. 3 was already rattled; his representatives reaching out to Denver, San Antonio, Milwaukee and Chicago to see what was available.
In the end, a two-team race—home and second home—despite the Nuggets rolling in the fattest offer. Wade chose home, leaving second home for what will equate to roughly $1M annually, due to no state income tax in Florida. Seems like a pretty big life and career move for pennies when one's net worth topples the $100M mark.
As the dust settles, it's clear that Miami made a decision with its head and Wade's was a mix of heart and ego.
Fans will get caught up in the false narratives being pushed—a direct result of watching the talking heads on four-letter networks or listening to sports talk radio, instead of doing something more productive.
Riley, Arison and the Heat organization didn't do Wade "wrong", anymore than the superstar "sacrificed" for the franchise and took less the last two times his contracts were being negotiated. Call it what it is. Wade took less money so the team he played for could land a few big fish, putting him in position to add a few more rings to his collection.
Guess what? It worked. Four straight NBA Finals appearances and two victories made him a three-time champ instead of a one-and-done.
Beyond that, Wade was an integral part of The Big Three; revolutionary and shit-on at the time—but becoming the new norm, as seen with the talent the Cavaliers brought in to surround James, or Durant's recent departure for Northern California.
Wade played alongside James for years—which upped his personal brand; as did those all those Finals' appearances and championships. According to Forbes, Wade earned $12M in endorsements last year. Why? Because being a part of a winning franchise immediately makes you a household name. Gatorade. Naked. Nike, before moving on to Li-Ning, where Wade has an equity stake.
Wade taking less money on two occasions years back wasn't some altruistic move, or was it for the good of the franchise. They were calculated and in the best interest of a star becoming a legend and shooting his brand value through the roof. All those Christmas Day nationally televised showdowns and deep runs in The Playoffs—the direct result of Miami's success and a Riley-built dynasty.
Athletes have every right to look out for their best interest—but attempting to turn that act into something out of the comic book with some superhero narrative attached—stop it already.
D-Wade was Miami Heat basketball. The face of a franchise and city's most-beloved sports figure. That title won't be taken away anytime soon, considering Dan Marino owned it for decades before the torch was passed.  That said, this was the time to put that era to bed—as much as it hurts.
Three years removed from its last championship and nowhere near the hunt for another three, the Miami Heat need to resume their chase for greatness.
Living in the past, getting caught up in nostalgia or prolonging the inevitable—it's simply not what champions do. Not players and not franchises.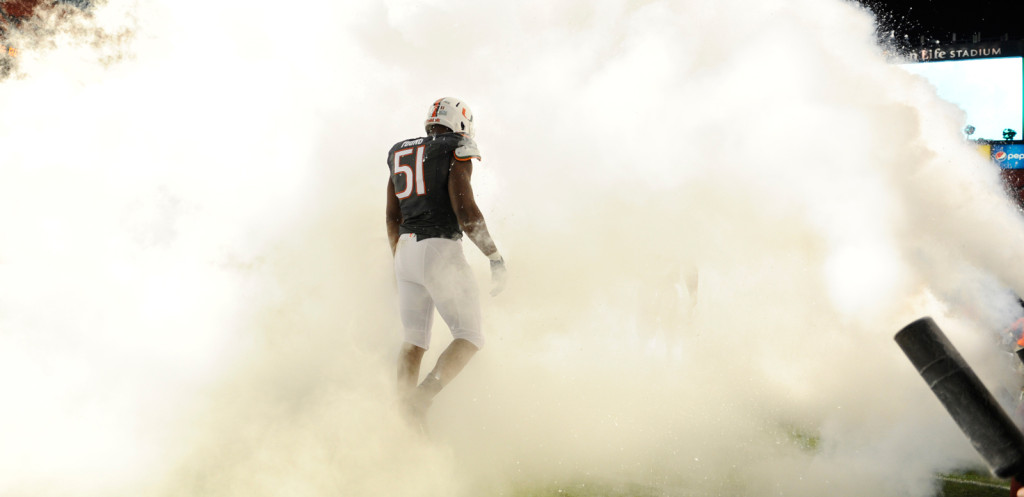 I'm thinking of the line Jeff Daniels dropped on Jim Carrey after; Harry sharing his opinions with Lloyd, who traded the "shaggin' wagon" for the busted scooter, "straight-up".
"Just when I thought you couldn't be any dumber, you go and do something like this… and totally redeem yourself!"
Leave off the redemption part regarding a few select members of the Miami Hurricanes' football program and we've captured the moment—misappropriation of luxury cars the latest mini-scandal to plague "The U".
Junior linebacker Juwon Young has been suspended—his future eligibility in serious doubt—while redshirt-junior defensive end Al-Quadin Muhammad is seeing his name tossed around. Some Canes' basketball players are rumored to be involved, though head coach Jim Larranaga vehemently denies that's the case.
In Young's case, multiple sources inside UM's athletic department expect the linebacker to be removed permanently. Muhammad is expected to be disciplined at some point this fall—his cooperation opposed to Young's misdirection the ultimate difference in how the two were punished.
The degree of selfishness and stupidity in moments like this; it's truly off the charts.
MIAMI CAN'T GET OUT OF ITS OWN WAY
That whole risk versus rewards thing—not even close to playing in one's favor. At best, you go uncaught and roll around Miami in a car fancier than you could afford as a college athlete. At worst, you get caught, lose your eligibility, have to transfer out of your dream school and rebuild from the ground up.
Godforbid a kid keeps his head down for a few years, his nose in the books, busts his ass on the practice field, shines on game day and sets himself up for a multi-million dollar career in the NFL down the road—where he could go on to own any damn expensive car he wants, because he earned it.
Instead, another shortcut. More amateur athlete posturing in a sports culture where image is everything.
On one hand, it'd be easy to define this as a meaningless, small-in-the-grand-scheme-of-things infraction. "Miami kids are getting in trouble for driving around in a fancy car, while big-money SEC boosters are buying kids from their program loaded SUVs!"
Probably true—but that still doesn't make it right.
CAN'T REMEMBER THE PAST? CONDEMNED TO REPEAT
Where the actions of a Young, a Muhammad or anyone from Larranaga's squad (if the latter were involved) become unforgivable—"Shapirogate" and the bomb that dropped on the Miami program five summers ago.
Nevin Shapiro became a household name, as did Yahoo! Sports reporter Charles Robinson—though we haven't heard much from either of them since.
A messy, slanderous two-year NCAA investigation followed regarding that "renegade booster"—and the University of Miami paid dearly. Hell, it's still paying when you look at the product on the field, the drop-off in talent and a broken culture.
Former head coach Al Golden was given an extension the final week of his first regular season—not for his on-the-field efforts, but out of loyalty and fear.
The Canes finished 6-6 in 2011 and as a sub par Boston College team was slugging out a victory in South Florida, ESPN commentators explained the Miami had doubled-down on ol' Fear The Tie. Why? Because with the investigation looming, no one was going to touch the job with a ten-foot pole—outside of the guy who backed his way in ten months prior; due to up-and-comer status and a 300-page binder full of bad Successories quotes.
Golden proved a suitable fall guy who could rah-rah the program in the midst of its' downward spiral—even leading the Canes to a paper-champion 7-0 start two years later, just as the NCAA was pulling up its stakes.
Miami went on to lose three-straight from there—rolled 41-14 by a good Florida State squad in Tallahassee, crushed 42-24 by a bad Virginia Tech team in South Florida and running out of gas in a 48-20 loss at Duke. The Canes took out Virginia and Pittsburgh before getting thumped by Louisville in a bowl game—a 2-4 finish just as the dark cloud was lifted.
A NEW COACH TRYING TO SQUASH OUT BROKEN WAYS
Timing-wise, Golden's firing gave former tight ends coach Larry Scott a chance to tread water with the Canes and get back to football basics—and in even more serendipitous fashion, Georgia decided to part ways with Mark Richt, paving the way for an unexpected homecoming for the former Canes quarterback.
Richt has his work cut out for him in Coral Gables—which is fine for a seasoned veteran making one last tour stop and going all-in before he calls it a career.
What isn't fine; continuing to play Whack-A-Mole and smacking down lame-brained off-the-field problems, when the focus should be on getting this program ready for some tough games this fall.
Young will most-likely be the sacrificial lamb here as he's become mildly disposable due to a trio of freshman linebackers who have shown up ready to play. Meanwhile, Muhammad will get another chance—because let's face it, the defensive line needs his help with the pass rush.
Suspended the entire 2014 season for knocking the block off a classmate, Muhammad put that down time to good use and earned himself another sit-down for the 2015 season-opener thanks to a "violation of team rules".
May these frustrating situations no longer arise on Richt's watch.
May this program get to a point where it can cut bait with a kid who isn't in line with the team's core values—opposed to having to look away as he's needed for depth-sake.
May the Miami Hurricanes simply find their way back after a treacherous ten-year journey—one that seems destined to remain off-track for another couple of years, at least.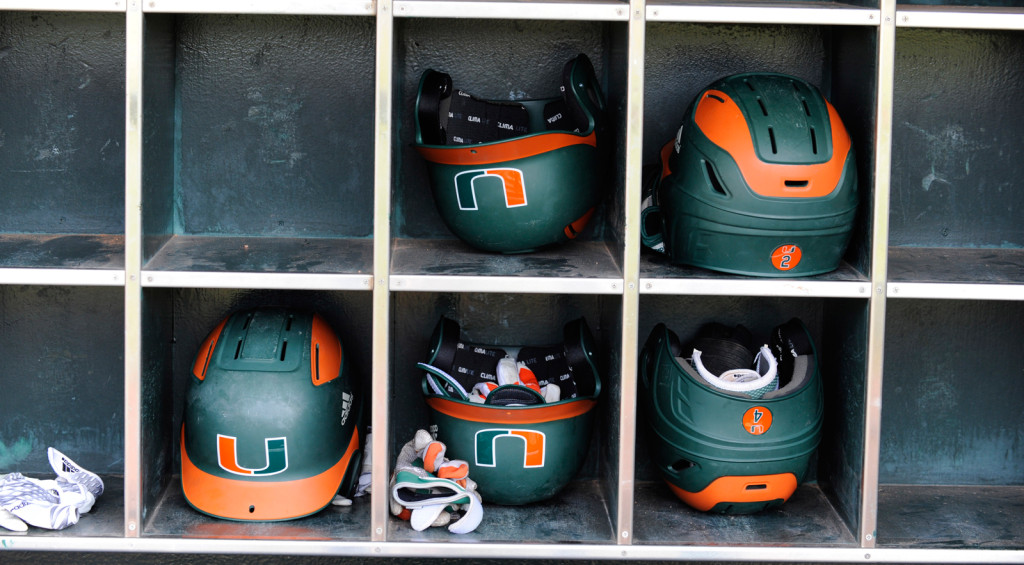 There for the taking, yet left on the field again. Another top-notch Miami Hurricanes team comes up short in their quest for a conference championship—the national power from Coral Gables flinching in a few key moments, keeping them from Sunday's title game as the ACC's top seed.
Miami took down Georgia Tech 4-0 in the Canes' opening round, but needed late-game heroics and a three-run ninth inning blast to survive North Carolina State. Florida State showed up in the third round and topped Miami in walk-off fashion—the loss to the Noles and close-call against the Wolfpack the result of the type of faulty personnel decisions that could haunt the Canes this post-season.
Emotion and muscle-memory have talk of Omaha a natural reaction this time of year—the result of a rich history, selective-memory and way too much nostalgia. Fact is the Hurricanes have fallen well off their shoo-in College World Series days.
OMAHA; NO LONGER A GIMME
Miami made into the sport's Elite Eight 20 times between 1980 and 2008, capturing four national championships and leaving a few on the field. Over the past seven seasons, only one trek to Omaha—last year, where a rival's dominant ways followed the Sunshine State powers to the Midwest.
Florida—a program with zero titles and little overall relevance—has owned Miami for damn near a decade, winning 23 of the past 32 showdowns. Even worse; the Canes collapsing against "that team from up north" in season-defining moments.
While this rant started out a recap of last weekend's ACC Championship in Durham, that's no longer the point here. It's about the "why".
Why are the Canes flinching in such crucial moments? Why are inexplicable personnel decisions always seeming to go the wrong way? Why can Miami look so good against inferior opponents, while cowering on the main stage? Even bigger than all that; how does UM shake this off and get back to the rise-to-the-occasion program it once was?
If getting to the root of things here, the Gators' hex over the Canes and reversed hierarchy has cost Miami it's mental advantage—and those emotions are carrying over to both conference and post-season play.
Florida walloped Miami in Omaha last June—15-3 in the opener and 10-2 in an elimination game. Prior to that, the rivals met three consecutive post-seasons; twice in the Regionals and once in the Supers. The Gators won all six match-ups.
Including last year's College World Series, Florida has turned out the lights on four of Miami's past seven seasons.
CANES; BUILT REGULAR-SEASON STRONG
When it comes down to Omaha and the final eight—anything can happen. At times the Canes have shone brightly. On other occasions, some loaded Miami teams have faltered; bats going cold while opponents caught fire. So it seemed to go at Rosenblatt over the years.
Still, the run through the post-season prior-to always seemed to have the Canes dominating—whereas the program's DNA as of late comes off reactive, un-clutch and somewhat doomed to fail.
Looking back at last week's rally against North Carolina State. Edgar Michelangeli bombed a three-run shot in the top of the ninth, leading to an 8-7 comeback win.
Lost in that narrative, the fact that coaching missteps early on put Miami in a hole it never should've been in.
Leading 2-0, things got dicey in the bottom of the fourth when the Canes gave up five runs. Danny Garcia got off to a solid start, but fell apart and should've been pulled to stop the bleeding. Garcia gave up a double, a single and an RBI bunt that scored a run. From there a single drove in another and with the game tied, a possible time to make a move.
Jim Morris and pitching coach J.D. Arteaga stuck with with Garcia, who immediately gave up a double to center that scored two more. Still no change. From there, a ground out scored one more and another single ensued before Andrew Cabezas entered in relief.
The Canes tied it in the eight, but Frankie Bartow—a name we'll get back to— gave up a two-run shot, but earned the win due to Michelangeli's three-run blast; a mini-miracle any way you slice or dice it.
Against Florida State, Miami wasn't at its best—the Noles' incompetence the only reason the Canes were even in it late. FSU stranded 13 runners on base (to UM's seven) and outhit Miami 11 to eight.
Michael Mediavilla held Florida State in check for six innings; striking out a half dozen, but giving up a two-run shot to Drew Busby in the fourth, tying the game. Bartow was tabbed in the seventh, where he immediately plunked his first batter, was forced into an intentional walk after a ground out and gave up an RBI single drove in two.
The Canes fought back with a two-run ninth, tying the game, but closer Bryan Garcia—one of the best in the game—was inexplicably pulled after throwing 14 pitches in the eighth.
Devin Meyer entered was was immediately owned. A single and a two walks loaded the bases with no outs. A fielder's choice and force out at the plate followed before Busby drove in the game-winner with a single to left.
Conference title dreams dashed within minutes of tying things up in the final inning. A very fitting representation of Miami baseball in big moments this past decade.
CONFERENCE TITLE FAIL; AIMING FOR SOMETHING MORE
Two games shy of an ACC crown and a potential one-seed in the NCAA Tournament, the Canes settled for third—behind Florida and Louisville—and will host the Coral Gables Regional this coming weekend. The foes; a standard run of in-state thorn-in-sides and a long-distance power—(2) Florida Atlantic and (4) Stetson, as well as (3) Long Beach State.
Win and Miami will host a Super Regionals showdown against the winner of the Oxford Regionals; expected to be (1) Ole Miss.
A manageable slate if the Hurricanes bring their A-game—which wasn't the case down the stretch, or in Durham.
Time to hit reset, channel that early-season mojo and hope that Florida doesn't find their way back to Omaha mid-June.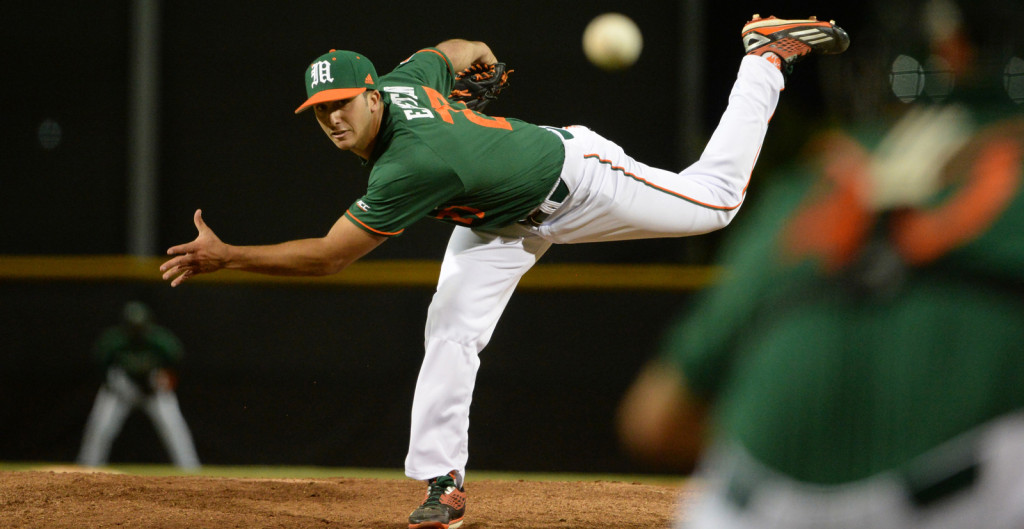 A dozen wins in their last 13 tries, ranked second in the nation and one game up in a three-game, regular season-ending road trip to Tallahassee—the Miami Hurricanes are getting in post-season fashion courtesy of a heated rivalry.
Beating on the likes of Florida A&M, Florida Atlantic, Georgia Tech, Bethune-Cookman, Pittsburgh and Florida Gulf Coast helped Miami shake off a home series loss to Virginia, a mid-week setback against FAU and a lopsided road loss to Duke—though the Canes took the series against the Blue Devils.
With the ACC Tournament soon underway, the Regionals looming and Omaha again the season goal—no better way to get the blood flowing than three throw-downs at Dick Howser Stadium.
The Canes took Thursday night's showdown against the Noles, 4-2—trailing most of the night before pulling ahead in the top of the seventh. Two rain delays coupled with solid pitching were the narrative for Game One; junior Bryan Garcia entering in the ninth and picking up his ACC-leading 13th save of the season.
Offensively Miami wasn't firing early—good defense going along with solid action on the mound the biggest reasons why—but when the opportunities arose late, the Canes took advantage.
With two runners in scoring position, logic dictated an intentional walk—in this case, putting Willie Abreu on base—setting up the forceout. Instead, junior designated hitter Randy Batista smoked a go-ahead double to left-center, giving Miami the 3-2 lead.
The Canes got on the board in the top of the fifth by way of a Johnny Ruiz triple that sent Brandon Lopez home.
Heads-up play helped Miami nurse it's one-run lead—thwarting a Florida State rally and snuffing out a squeeze play with runners on first and third, setting up a tag-out at home.
The Canes were the opposite of clutch early-on as freshman pitcher Andrew Cabezas plunked two batters and issued a bases-loaded walk, attributing to the early Seminoles' lead.
In the top of the ninth, Abreu was inches from a two-run shot but instead settled for a triple, giving Miami a two-run cushion that allowed Garcia some breathing room from the mound.
For the Hurricanes, a regular season finale against the Seminoles is the perfect bookend to an early-season showdown against the Gators—a series where top-ranked Florida took the series. Miami fell 5-0 in the opener and 7-3 in the rubber match, but did squeeze in a 5-3 victory on Saturday night.
The Canes took the top spot from the Gators for a short while this season, but Florida has resumed it's hold on No. 1 and goes toe-to-toe with eighth-ranked LSU this weekend.
Meanwhile, No. 12 Florida State stumbled into this weekend's action—licking wounds from dropping a series at Duke last weekend. Prior to that, the formerly sixth-ranked Noles fell to Jacksonville and Florida Gulf Coast, for a season-worst four-game losing streak.
For Miami, an ideal time to rise up and put a wounded animal out of its misery. Florida State will always bring their best, but recent play has proven the Canes are the better squad right now—and when battling Louisville for that top seeding in next week's conference championship, Miami must seize the moment.
College World Series appearances were once a gimme, while deep postseason runs have been taken for granted. These days, Omaha has become a huge gift when the Canes have made it there—but were quickly run out by the Gators last summer; Florida simply owning Miami for the better part of almost a decade.
Playing up to potential. Smart baseball. Taking advantage of ideal moments and using them as building blocks to success.
Sweeping Florida State is the goal. Winning the series is the consolation. From there, a deep run in Durham next week, though Miami has the horses to win it all.
Host a Regional and dominate. Come to play for the Supers and don't let a golden opp get away.
From there, simply hope for some back luck regarding Florida—or at least a different bracket this year.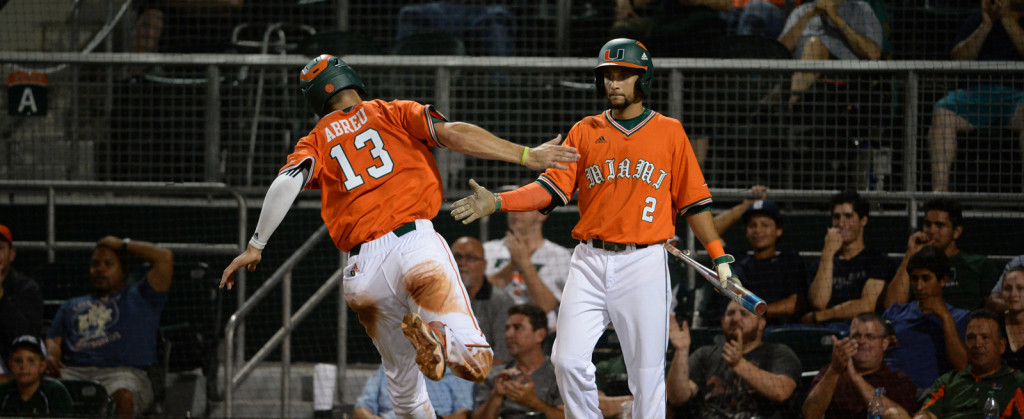 The Miami Hurricanes were on a roll—at one point riding a 12-game win-streak from late-March through mid-April, earning "The U" the top spot in the rankings. Since then, some all-too-familiar backsliding.
Miami swept seventeenth-ranked Clemson at home and held court against ninth-ranked North Carolina. Prior to, the Canes also took 2-of-3 from fourth-ranked Louisville in Coral Gables.
UM was looking somewhat invincible for two months, after dropping a series to top-ranked Florida in late February. Over the past few weeks, not so much.
Miami fell to Duke, 12-5 in Game Two of their three-game series mid-April. From there, a 4-3 home loss to Florida Atlantic, followed by losing 2-of-3 at home against No. 20 Virginia—knocking the Canes from the top-ranked perch.
Since then, Miami took out some frustration on Florida A&M, outscoring the Rattlers, 36-12 last weekend at The Light—in nothing more than a scrimmage for the now fourth-ranked squad in the nation.
A dozen regular season games remain for the Canes—the lone true challenge, a road trip to Tallahassee the final weekend of the season against currently seventh-ranked Florida State.
Outside of that, it's Florida Atlantic, Georgia Tech, Bethune-Cookman, Pittsburgh and Florida Gulf Coast all at home.
Baseball America rolled out their Projected Field of 64 on Wednesday, with Miami currently a two-seed—hosting in Coral Gables, with FAU, Kentucky and Princeton currently slated in for the Regionals.
The Canes sit at 33-8 with 12 to play, but Miami remains in good company as the Atlantic Coast Conference has four teams in the Top 10—fifth-ranked Louisville and ninth-ranked North Carolina State, joining the Canes and Noles.
Florida still sits atop the polls, with the SEC posting six teams in the Top 11—second-ranked Texas A&M, third-ranked Mississippi State, sixth-ranked Vanderbilt, eighth-ranked South Carolina and eleventh-ranked Ole Miss.
While Omaha remains the long-term goal for Miami—a short-term focus must be put on winning out (or coming damn close to doing so) and rolling into the ACC Baseball Championship as a top-seed in Durham late May.
Overtaking the Gators for that top spot—doable should Florida slip up here or there down the stretch—but at day's end, it can't be the focus. Mental errors have cost Miami here and there the past few weeks, which isn't something that championship-caliber teams can afford at this point of the season.
"We didn't play well, really—offensively or defensively and mentally in this game, as far as getting it done," head coach Jim Morris said a few Sundays back. "When that happens, you're not going to win against good teams. And [Virginia] is a good team."
Besides being outhit by the Cavaliers in Game Three, the Canes also had a pair of base-running miscues that ended rallies in an eventual, 7-3 loss. Miami also didn't post a hit until Zack Collins hit a two-run shot in the fourth with Virginia already leading, 3-0. A late ninth inning fielding error helped the Cavaliers tack on two more, making a Canes' comeback that much more daunting.
Miami picked up a dominant 9-2 win the night before, but it came on the heels of a disappointing 6-5 loss on Friday night—a game where the Canes spotted the Cavaliers five first inning runs, before responding.
Trailing 6-4 in the ninth, an Edgar Michelangeli solo shot cut the deficit to one, but Jacob Heyward flied out with bases loaded and couldn't help top-ranked Miami close thing out.
The setback marked the first time Miami had lost back-to-back games on the season, falling 4-3 to Florida Atlantic two days prior. Four days earlier, a 12-5 loss at Duke. The Canes won the series, but the lopsided loss ended a win-streak and sparked this mini-slump.
Hardly time for Miami to sound any panic alarm as the regular season road ahead is manageable and a top seeding in the conference tourney looks to be a shoo-in.
It's simply a matter of these Hurricanes cutting out the mental mistakes, getting focused and realizing that it's going to take a smarter, cleaner brand of baseball if this team has aspirations of winning it all this year.