The post-season failures have become flat-out embarrassing. No other way to put it.
That sentiment isn't rooted in the entitlement of a longtime Miami Hurricanes baseball supporter waxing poetic about the old days—when Omaha was a gimme and "The U" was in the thick of things at Rosenblatt every summer.
Some great Canes teams were humbled on that hallowed field in corn country. Welcome to college baseball.
No, this is a full-blown knock regarding a true lack of grit and absence of clutch play that once embodied a one-time baseball powerhouse. Big bats. Lights out pitching. Iconic moments that brought home four championships and earned Miami some bonafide swag.
The Canes barreled through regular season after regular season—but was built post-season tough for championship runs.
The opposite has become the new norm in Coral Gables this past decade; a program seemingly content with winning three-game series, half-ass mid-week performances against lesser local foes and spouting loser-mentality gibberish after leaving a conference title on the field weeks back; stating that it was all about Omaha and a national title being the ultimate goal.
Instead, the Canes were the first team run out of the College World Series—in limp, lifeless, amateur-hour fashion, no less.
OVER BEFORE IT EVEN GOT STARTED
Half an inning into this year's College World Series, Miami was already reeling.
Starting pitcher Michael Mediavilla plunked two batters and walked two more. The burly left-hander only gave up one hit, but the damage was done and Arizona led, 3-0 in a game they'd eventually take, 5-1.
Back to the loser's bracket in Omaha for the third time in three tries—the Canes were still lifeless and urgency-free against a spirited UC Santa Barbara team coming off a two-game sweep of second-seeded Louisville at home last weekend.
Danny Garcia was serviceable on the mound; a 1-1 ball game before a rain delay in the bottom of the sixth—but Miami's big bats and stout defense were nowhere to be found.
Action resumed ninety minutes later, Garcia trotted back out and got back to work—nobody out and a runner on first.
A pop-up for the inning's first out was followed by a double down the right field line. Frankie Bartow immediately entered in relief—begging the question as to why Garcia was even on the mound after the long delay.
Bartow intentionally walked his first batter before giving up a single. A throwing error on a sacrifice bund kept things rolling and another sacrifice resulted in a second out, before a grounder ending the inning. Still, the damage was done—the Gauchos tacked on four runs and the Canes had nine outs to get hot and keep their season alive.
Miami got two back in the eight, but stranded two more runners while training by two. Coupled with the three left on base earlier and the 10 that were left hanging in the opener to Arizona—the Canes remained consistently inconsistent with everything on the line.
Days back Miami picked up a fourth inning run against the Wildcats, cutting the lead to two—but immediately gave up two runs in the top of the fifth, handing momentum directly back to the guys in the other dugout. The Canes wound up limp-dicking their way to the opening round loss by going scoreless the game's final five innings.
Even worse, the acceptance of their loser's bracket fate—which has become commonplace. Miami seemed void of any true frustration or emotion; which leads to a much deeper-rooted issue within this once-dominant program.
CLOCK KEEPS TICKING; TIME FOR CHANGE
Modern day fans have gotten very knee-jerk when attempt to play the role of athletic director or general manager. Fire this clown. Hire that guy. Recruit kids from this school. Break the bank and throw everything at this superstar in free agency.
It's easy to have all the answers when everything is supremely hypothetical and there's zero accountability tied to the decision-making.
All that disclaimer stuff out of the way—it shouldn't be hard to collectively agree that the Jim Morris era in Coral Gables has more than run it's course. In all reality, change should've been made half a decade ago—but loyalty and overall body of work have a tendency of getting over-rewarded in college sports.
Miami dealt with it on the gridiron over a decade ago—sticking by bad-longterm-fit football coach Larry Coker, who bought himself a lot of time with a national title, two championship game appearances, three consecutive BCS games and a 35-3 start.
Coker won with the super-squad assembled by the great Butch Davis, but once those greats departed—the Canes were quickly humbled. 25-12 over the next three seasons. No BCS games. Miami's first six-loss season in a decade and a lopsided 40-3 ass-kicking at the hands of LSU in a second-tier bowl.
Where Coker rode coattails to success, Morris certainly built his legacy at Miami—taking over for the legendary Ron Fraser, maintaining a high level of success and winning his first title six years in (and his second two years later.) Morris rolled into Coral Gables a 44-year old former Georgia Tech head coach in his prime and ready to go all-in. He did, and the results were undeniable.
Miami re-upped with Morris in 2009 and at the time his body of work supported it. The Canes had made it to Omaha 11-of-16 tries in his time at "The U"—a top-seed the previous season, before dropping the College World Series opener on a fluke ninth-inning throwing error.
Morris was named ACC Coach of the Year in 2008 and had earned national honors three times prior. His winning percentage at Miami was .724 by way of a 733-278-3 record. The Canes made it to Omaha his first six seasons as skipper.
As quick as supporters may be to hype those successful early years—one has to be realistic about the State of The U since. Over the past seven seasons, the Canes are 288-136 under Morris; a .679 winning percentage.
Omaha? More of a fluke than a trend. Miami experienced a five-year drought after that 2009 extension and despite making it to the College World Series the past two seasons, sport a lackluster 1-4 record in those appearances.
In rolling out this narrative on Morris' past decade at the University of Miami, it has to be acknowledged that the move from a baseball independent to member of the Atlantic Coast Conference definitely ratcheted up the level of competition for the Canes.
On the cold-hard-facts side of things; UM also deals with things that state schools don't face—namely, partial scholarships and the fallout that comes from being an expensive private university. Morris and Miami have lost a boatload of talent these past few years, either to more-affordable state powerhouses, or to the big money phenoms can make via the MLB Draft.
All of that is real. All of that has impacted the Miami program. All of that has changed college baseball from what it was, to what it is today. Still, none of that excuses what looks like some blatant going-through-the-motions for a head coach whose heart no longer seems in it.
REAL LIFE VERSUS SPORTS LIFE
Age is something we all battle and at 66 years old—having been a head coach for 34 seasons—Morris has every reason to feel a bit tired or run down. There was a health scare back in 2013 that left him hospitalized in Durham, North Carolina during the ACC Championship for upwards of two weeks.
The health scare came two years after some real life moments as well; getting married for a second time and soon after, becoming a late-in-life father. Five years remarried with a four year old son—as well as the baggage of an ex-wife, alimony payments and all the other heaviness that comes from ending one chapter and starting anew.
As much love Morris still has for the game, or the amount of fire he claims still burns within regarding winning—it all has to be measured against his world outside of baseball, as well as the body of work since the noticeable backsliding began. The Canes look all the part of a completely disinterested bunch in the post-season and going-through-the-motions has become the new norm.
ALL DOWNHILL AFTER ANOTHER EXTENSION
Had extensions not been thrown around so liberally over the years by Miami's athletic department—in all sports—a logical time for change would've been after the 2012 season came to an abrupt, unexpected had. The Canes weren't a national seed, but were picked to host the Coral Gables Regional against a beatable field.
Instead, Miami opened with fourth-seeded Stony Brook and got waxed, 10-2. Once in the loser's bracket, the Canes got stomped, 12-1 by third-seeded Missouri State, who fell to Central Florida, 2-1 in their opener.
Stony Brook wound up taking down LSU in Baton Rouge in the Super Regionals, punched their ticket to Omaha and were run out of town two games later—somewhat excusing the Canes' loss to the Seawolves—but getting rolled by the Bears and losing by a combined score of 22-4 over two games at home?
The following season the Canes put together a 35-21 regular season, got pounded 17-1 in the opening two rounds of the ACC Championship—courtesy of North Carolina and North Carolina State—but found a little magic in game three against Clemson.
Morris fell ill that morning and was hospitalized with pneumonia. Long-time assistant Gino DiMare was handed the keys and the Canes played some inspired baseball in a "meaningless" 7-o win over the Tigers. DiMare remained at the helm through the Louisville Regional—where Miami topped Oklahoma State in the opener, fell to the hometown Cardinals and got worked in a rematch with the Cowboys, ending the 2013 season.
The Canes put together an impressive 40-15 regular season in 2014, earning the regular season ACC title—but the post-season setbacks continues. Georgia Tech and Clemson waxed the Canes in Greensboro in the first two rounds of the championship, before Miami responded with an extra-innings win over Duke.
Another Coral Gables Regional followed, with the Canes falling to Texas Tech in the winner's bracket. Miami got another shot at the Red Raiders and forced a win-or-go-home showdown with Omaha on the line. The second-seeded squad from Lubbock shut out the home team, 4-0 and ended the Canes' most-promising season since 2008.
INSULT TO INJURY; MEASURED BY RIVAL GAMES
Another large component regarding Miami's failures over the past decades; a shift in power and getting owned by Florida—often in the regular season, but especially in roadblock-fashion in regards to Omaha.
After a six-year College World Series drought, the Canes were back in action in 2015—but promptly run out of town by the Gators, falling 15-3 in the opener and 10-2 in a loser's bracket situation days later.
In 2011 the Gators topped the Canes in the Gainesville Regional—5-4 in a winner's bracket game and 11-4 the next day, ending Miami's season. The year prior, Florida rolled at home in the Super Regionals—ousting the Canes in back-to-back games; 7-2 and 4-3. Another abrupt ending to a positive run.
In 2009 another Gainesville Regional showdown—Florida rolling 8-2 in a winner's bracket game and putting Miami out of it's misery, 16-5 in the loser's bracket, on the heels of two meaningless wins over lowly Jacksonville to stay alive.
Like Miami, Florida went winless in Omaha this June—their quest for that first title again snuffed out, with that bringing some type of pointless solace to Canes Nation. Rooting against the Gators is a national pastime for supporters of "The U"—but Florida's lack of next-level success doesn't diminish their dominance over Miami in the Canes' decade-long backslide.
In short, if the Gators remain that beatable in Omaha—how come they continue owning the Canes' in both the regular- and post-season? It's less about overall talent and has everything to do with mental edge, attitude and confidence level that should all trickle down from the head coach, but simply do not.
In the wake of another disappointing end to a season, the apologists again cite Morris' overall body of work, celebrate getting to Omaha, ramble on about the competition and parity in today's game and chalk this year up to a success, statistically.
If that contingent wants to beat the 11-of-16 drum in Morris' favor regarding treks to Omaha early on—they better be equally as quick to answer questions about 2-of-8 since and a a 1-4 record in the College World Series since; as well as that five-year drought since that extension was signed in 2009.
While 2016's body of work won't be chalked up as an epic fail—winning the ACC's regular season and getting back to Omaha a second consecutive season—the heartless showing and lack of competition was unforgivable. Miami ran into a buzzsaw last year when having to take on Florida twice. Those lopsided beatdowns were ugly, but the Gators were that good and arguably should've won it all.
Neither Arizona or UC Santa Barbara are anywhere near comparable to last year's Florida squad. These were simply two spunky teams that brought some fight, energy, looseness and fun to their post-season and then fed off it against a tight, cold, lifeless Canes squad.
Miami hasn't won an opener in Omaha since rolling Oregon State, 11-1 in 2006. The Canes were out two games later, eventually losing to the Beavers in the loser's bracket—while OSU scrapped their way to a national championship.
Six trips to Omaha since the Canes last ring in 2001—with a 5-12 record and never once making it past the third game or a loser's bracket victory. Once a gimme to be one of those elite eight final teams—Miami is now a crap shoot to make it, and once there has proven post-season week, reinventing new ways to squander opportunities.
TOSS THE KEYS TO THE GUY AT THIRD BASE
All of this to go Shawshank-style, advising the Miami program to get busy living, or get busy dying. Morris' extension in 2009 was understandable, but what logic was there in another three-year re-up after a post-season fail in 2014?
No conference championship, no home regional success, no Supers and no Omaha for a sixth-straight season—yet the Canes' top brass deemed this the ideal tie to reward a veteran coach in the twilight of his career.
Morris had one year left on his contract, which would've set up a logical swan song in 2015—and the transition to DiMare this season. Instead it's Morris' show through 2018, where he'll finally retire at 68 years old and 25 seasons at "The U". DiMare will then take his first stab at college head coach at 48 years old—when in all reality he should be entering his seventh season, had change been made after 2012.
At minimum, DiMare would be entering year four in 2018 had the last extension never happened and Miami would either be well on their way back, or would be in the market for a new leader if the promoting-from-within experiment failed.
Is DiMare the answer? Zero clue—but he's next in line and is being given a shot, so why tack more time onto the Morris farewell tour at the expense of Hurricanes baseball getting back on the right track? The program has to be bigger than the individual—no matter what he's done for the program or where his heart is at regarding the game.
"I love coaching," Morris told the Miami Herald in mid-May of 2014, when asked about his future status and what he would say to critics that wanted him ousted after seeing UM go three consecutive seasons without winning a regional—one of those, in 2012, as the host. "I'm not doing things a lot differently than I did 10 years ago. We have better players this year. We had a great recruiting class.
"You know what? I drive a Cadillac. And these guys are Cadillacs."
Yes that was a high-performance bunch—but as any racing enthusiast will tell you, a car is only as good as it's driver.
Morris' Canes came up short of ACC titles the past two seasons, despite all was under the hood and accomplished nothing in Omaha, outside of the challenge of getting there.
Welcome to where the current bar is set baseball-wise at "The U"—and will remain for another two seasons, unfortunately.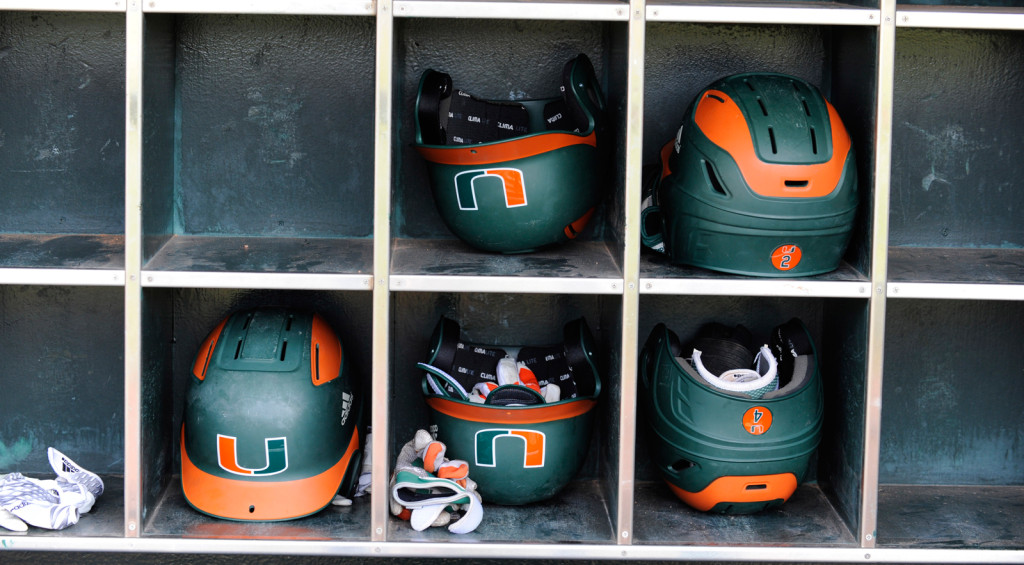 There for the taking, yet left on the field again. Another top-notch Miami Hurricanes team comes up short in their quest for a conference championship—the national power from Coral Gables flinching in a few key moments, keeping them from Sunday's title game as the ACC's top seed.
Miami took down Georgia Tech 4-0 in the Canes' opening round, but needed late-game heroics and a three-run ninth inning blast to survive North Carolina State. Florida State showed up in the third round and topped Miami in walk-off fashion—the loss to the Noles and close-call against the Wolfpack the result of the type of faulty personnel decisions that could haunt the Canes this post-season.
Emotion and muscle-memory have talk of Omaha a natural reaction this time of year—the result of a rich history, selective-memory and way too much nostalgia. Fact is the Hurricanes have fallen well off their shoo-in College World Series days.
OMAHA; NO LONGER A GIMME
Miami made into the sport's Elite Eight 20 times between 1980 and 2008, capturing four national championships and leaving a few on the field. Over the past seven seasons, only one trek to Omaha—last year, where a rival's dominant ways followed the Sunshine State powers to the Midwest.
Florida—a program with zero titles and little overall relevance—has owned Miami for damn near a decade, winning 23 of the past 32 showdowns. Even worse; the Canes collapsing against "that team from up north" in season-defining moments.
While this rant started out a recap of last weekend's ACC Championship in Durham, that's no longer the point here. It's about the "why".
Why are the Canes flinching in such crucial moments? Why are inexplicable personnel decisions always seeming to go the wrong way? Why can Miami look so good against inferior opponents, while cowering on the main stage? Even bigger than all that; how does UM shake this off and get back to the rise-to-the-occasion program it once was?
If getting to the root of things here, the Gators' hex over the Canes and reversed hierarchy has cost Miami it's mental advantage—and those emotions are carrying over to both conference and post-season play.
Florida walloped Miami in Omaha last June—15-3 in the opener and 10-2 in an elimination game. Prior to that, the rivals met three consecutive post-seasons; twice in the Regionals and once in the Supers. The Gators won all six match-ups.
Including last year's College World Series, Florida has turned out the lights on four of Miami's past seven seasons.
CANES; BUILT REGULAR-SEASON STRONG
When it comes down to Omaha and the final eight—anything can happen. At times the Canes have shone brightly. On other occasions, some loaded Miami teams have faltered; bats going cold while opponents caught fire. So it seemed to go at Rosenblatt over the years.
Still, the run through the post-season prior-to always seemed to have the Canes dominating—whereas the program's DNA as of late comes off reactive, un-clutch and somewhat doomed to fail.
Looking back at last week's rally against North Carolina State. Edgar Michelangeli bombed a three-run shot in the top of the ninth, leading to an 8-7 comeback win.
Lost in that narrative, the fact that coaching missteps early on put Miami in a hole it never should've been in.
Leading 2-0, things got dicey in the bottom of the fourth when the Canes gave up five runs. Danny Garcia got off to a solid start, but fell apart and should've been pulled to stop the bleeding. Garcia gave up a double, a single and an RBI bunt that scored a run. From there a single drove in another and with the game tied, a possible time to make a move.
Jim Morris and pitching coach J.D. Arteaga stuck with with Garcia, who immediately gave up a double to center that scored two more. Still no change. From there, a ground out scored one more and another single ensued before Andrew Cabezas entered in relief.
The Canes tied it in the eight, but Frankie Bartow—a name we'll get back to— gave up a two-run shot, but earned the win due to Michelangeli's three-run blast; a mini-miracle any way you slice or dice it.
Against Florida State, Miami wasn't at its best—the Noles' incompetence the only reason the Canes were even in it late. FSU stranded 13 runners on base (to UM's seven) and outhit Miami 11 to eight.
Michael Mediavilla held Florida State in check for six innings; striking out a half dozen, but giving up a two-run shot to Drew Busby in the fourth, tying the game. Bartow was tabbed in the seventh, where he immediately plunked his first batter, was forced into an intentional walk after a ground out and gave up an RBI single drove in two.
The Canes fought back with a two-run ninth, tying the game, but closer Bryan Garcia—one of the best in the game—was inexplicably pulled after throwing 14 pitches in the eighth.
Devin Meyer entered was was immediately owned. A single and a two walks loaded the bases with no outs. A fielder's choice and force out at the plate followed before Busby drove in the game-winner with a single to left.
Conference title dreams dashed within minutes of tying things up in the final inning. A very fitting representation of Miami baseball in big moments this past decade.
CONFERENCE TITLE FAIL; AIMING FOR SOMETHING MORE
Two games shy of an ACC crown and a potential one-seed in the NCAA Tournament, the Canes settled for third—behind Florida and Louisville—and will host the Coral Gables Regional this coming weekend. The foes; a standard run of in-state thorn-in-sides and a long-distance power—(2) Florida Atlantic and (4) Stetson, as well as (3) Long Beach State.
Win and Miami will host a Super Regionals showdown against the winner of the Oxford Regionals; expected to be (1) Ole Miss.
A manageable slate if the Hurricanes bring their A-game—which wasn't the case down the stretch, or in Durham.
Time to hit reset, channel that early-season mojo and hope that Florida doesn't find their way back to Omaha mid-June.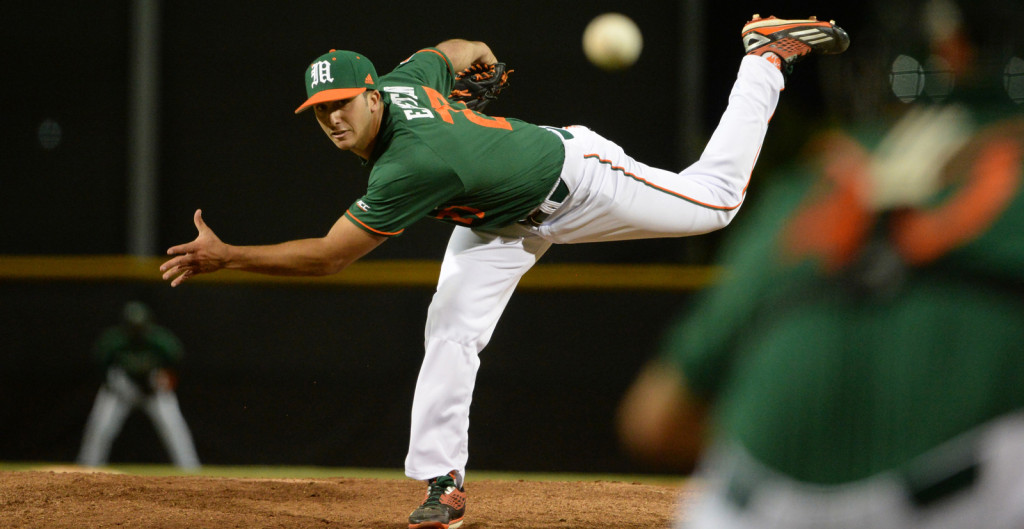 A dozen wins in their last 13 tries, ranked second in the nation and one game up in a three-game, regular season-ending road trip to Tallahassee—the Miami Hurricanes are getting in post-season fashion courtesy of a heated rivalry.
Beating on the likes of Florida A&M, Florida Atlantic, Georgia Tech, Bethune-Cookman, Pittsburgh and Florida Gulf Coast helped Miami shake off a home series loss to Virginia, a mid-week setback against FAU and a lopsided road loss to Duke—though the Canes took the series against the Blue Devils.
With the ACC Tournament soon underway, the Regionals looming and Omaha again the season goal—no better way to get the blood flowing than three throw-downs at Dick Howser Stadium.
The Canes took Thursday night's showdown against the Noles, 4-2—trailing most of the night before pulling ahead in the top of the seventh. Two rain delays coupled with solid pitching were the narrative for Game One; junior Bryan Garcia entering in the ninth and picking up his ACC-leading 13th save of the season.
Offensively Miami wasn't firing early—good defense going along with solid action on the mound the biggest reasons why—but when the opportunities arose late, the Canes took advantage.
With two runners in scoring position, logic dictated an intentional walk—in this case, putting Willie Abreu on base—setting up the forceout. Instead, junior designated hitter Randy Batista smoked a go-ahead double to left-center, giving Miami the 3-2 lead.
The Canes got on the board in the top of the fifth by way of a Johnny Ruiz triple that sent Brandon Lopez home.
Heads-up play helped Miami nurse it's one-run lead—thwarting a Florida State rally and snuffing out a squeeze play with runners on first and third, setting up a tag-out at home.
The Canes were the opposite of clutch early-on as freshman pitcher Andrew Cabezas plunked two batters and issued a bases-loaded walk, attributing to the early Seminoles' lead.
In the top of the ninth, Abreu was inches from a two-run shot but instead settled for a triple, giving Miami a two-run cushion that allowed Garcia some breathing room from the mound.
For the Hurricanes, a regular season finale against the Seminoles is the perfect bookend to an early-season showdown against the Gators—a series where top-ranked Florida took the series. Miami fell 5-0 in the opener and 7-3 in the rubber match, but did squeeze in a 5-3 victory on Saturday night.
The Canes took the top spot from the Gators for a short while this season, but Florida has resumed it's hold on No. 1 and goes toe-to-toe with eighth-ranked LSU this weekend.
Meanwhile, No. 12 Florida State stumbled into this weekend's action—licking wounds from dropping a series at Duke last weekend. Prior to that, the formerly sixth-ranked Noles fell to Jacksonville and Florida Gulf Coast, for a season-worst four-game losing streak.
For Miami, an ideal time to rise up and put a wounded animal out of its misery. Florida State will always bring their best, but recent play has proven the Canes are the better squad right now—and when battling Louisville for that top seeding in next week's conference championship, Miami must seize the moment.
College World Series appearances were once a gimme, while deep postseason runs have been taken for granted. These days, Omaha has become a huge gift when the Canes have made it there—but were quickly run out by the Gators last summer; Florida simply owning Miami for the better part of almost a decade.
Playing up to potential. Smart baseball. Taking advantage of ideal moments and using them as building blocks to success.
Sweeping Florida State is the goal. Winning the series is the consolation. From there, a deep run in Durham next week, though Miami has the horses to win it all.
Host a Regional and dominate. Come to play for the Supers and don't let a golden opp get away.
From there, simply hope for some back luck regarding Florida—or at least a different bracket this year.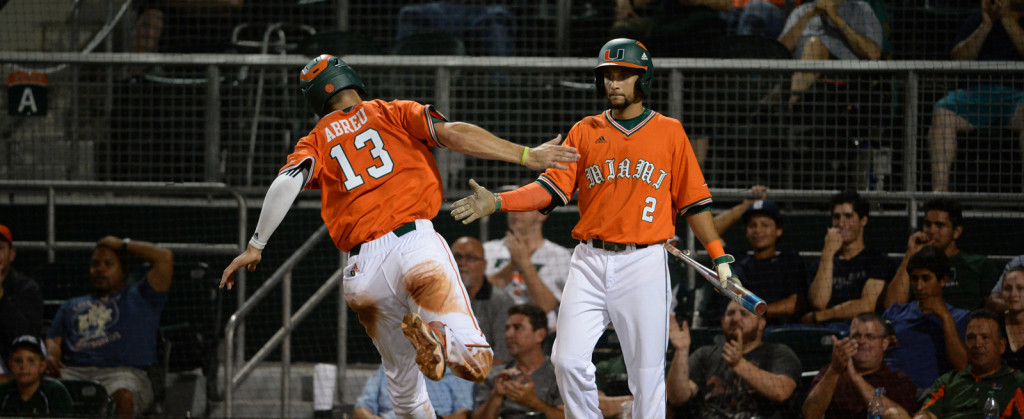 The Miami Hurricanes were on a roll—at one point riding a 12-game win-streak from late-March through mid-April, earning "The U" the top spot in the rankings. Since then, some all-too-familiar backsliding.
Miami swept seventeenth-ranked Clemson at home and held court against ninth-ranked North Carolina. Prior to, the Canes also took 2-of-3 from fourth-ranked Louisville in Coral Gables.
UM was looking somewhat invincible for two months, after dropping a series to top-ranked Florida in late February. Over the past few weeks, not so much.
Miami fell to Duke, 12-5 in Game Two of their three-game series mid-April. From there, a 4-3 home loss to Florida Atlantic, followed by losing 2-of-3 at home against No. 20 Virginia—knocking the Canes from the top-ranked perch.
Since then, Miami took out some frustration on Florida A&M, outscoring the Rattlers, 36-12 last weekend at The Light—in nothing more than a scrimmage for the now fourth-ranked squad in the nation.
A dozen regular season games remain for the Canes—the lone true challenge, a road trip to Tallahassee the final weekend of the season against currently seventh-ranked Florida State.
Outside of that, it's Florida Atlantic, Georgia Tech, Bethune-Cookman, Pittsburgh and Florida Gulf Coast all at home.
Baseball America rolled out their Projected Field of 64 on Wednesday, with Miami currently a two-seed—hosting in Coral Gables, with FAU, Kentucky and Princeton currently slated in for the Regionals.
The Canes sit at 33-8 with 12 to play, but Miami remains in good company as the Atlantic Coast Conference has four teams in the Top 10—fifth-ranked Louisville and ninth-ranked North Carolina State, joining the Canes and Noles.
Florida still sits atop the polls, with the SEC posting six teams in the Top 11—second-ranked Texas A&M, third-ranked Mississippi State, sixth-ranked Vanderbilt, eighth-ranked South Carolina and eleventh-ranked Ole Miss.
While Omaha remains the long-term goal for Miami—a short-term focus must be put on winning out (or coming damn close to doing so) and rolling into the ACC Baseball Championship as a top-seed in Durham late May.
Overtaking the Gators for that top spot—doable should Florida slip up here or there down the stretch—but at day's end, it can't be the focus. Mental errors have cost Miami here and there the past few weeks, which isn't something that championship-caliber teams can afford at this point of the season.
"We didn't play well, really—offensively or defensively and mentally in this game, as far as getting it done," head coach Jim Morris said a few Sundays back. "When that happens, you're not going to win against good teams. And [Virginia] is a good team."
Besides being outhit by the Cavaliers in Game Three, the Canes also had a pair of base-running miscues that ended rallies in an eventual, 7-3 loss. Miami also didn't post a hit until Zack Collins hit a two-run shot in the fourth with Virginia already leading, 3-0. A late ninth inning fielding error helped the Cavaliers tack on two more, making a Canes' comeback that much more daunting.
Miami picked up a dominant 9-2 win the night before, but it came on the heels of a disappointing 6-5 loss on Friday night—a game where the Canes spotted the Cavaliers five first inning runs, before responding.
Trailing 6-4 in the ninth, an Edgar Michelangeli solo shot cut the deficit to one, but Jacob Heyward flied out with bases loaded and couldn't help top-ranked Miami close thing out.
The setback marked the first time Miami had lost back-to-back games on the season, falling 4-3 to Florida Atlantic two days prior. Four days earlier, a 12-5 loss at Duke. The Canes won the series, but the lopsided loss ended a win-streak and sparked this mini-slump.
Hardly time for Miami to sound any panic alarm as the regular season road ahead is manageable and a top seeding in the conference tourney looks to be a shoo-in.
It's simply a matter of these Hurricanes cutting out the mental mistakes, getting focused and realizing that it's going to take a smarter, cleaner brand of baseball if this team has aspirations of winning it all this year.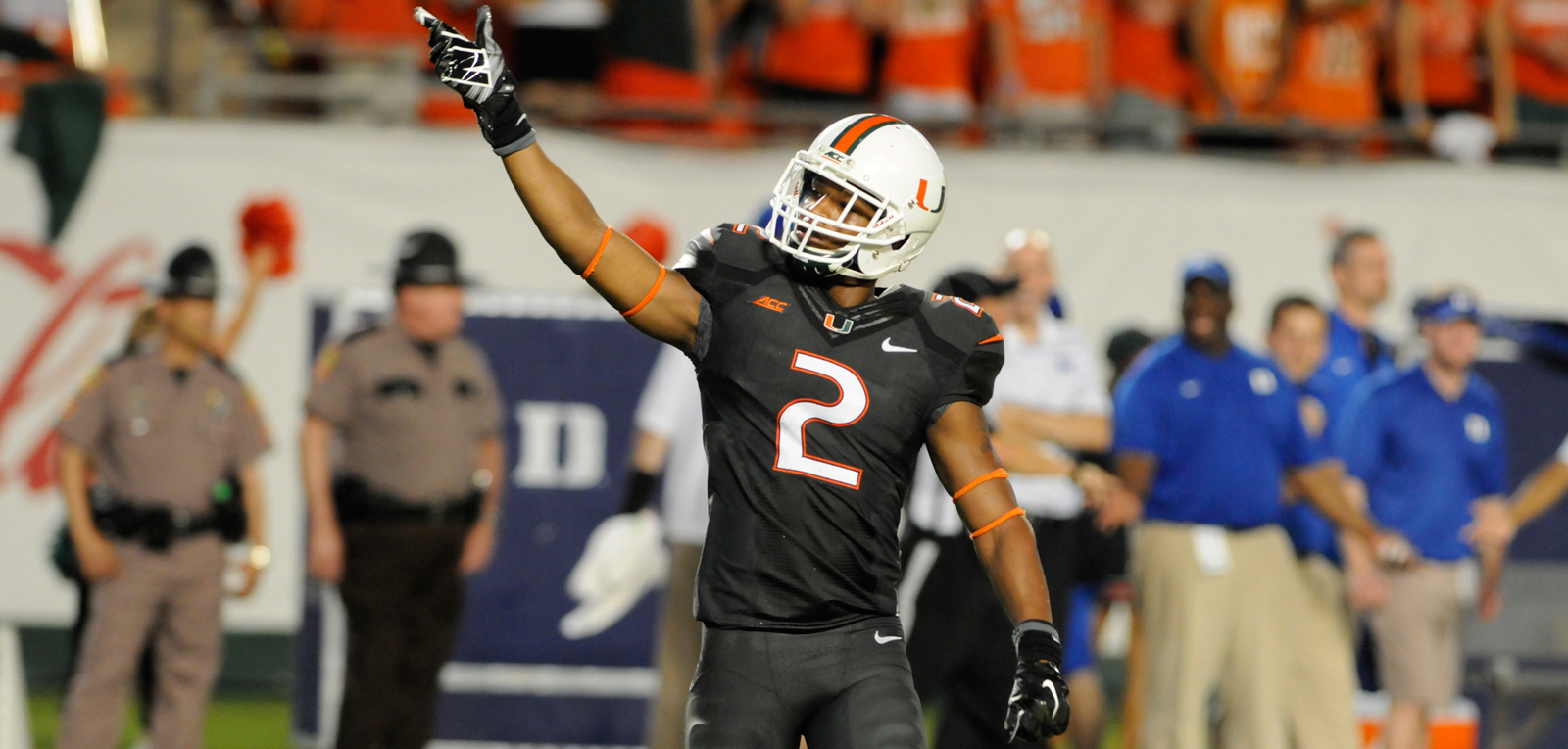 Another Miami Hurricane if off the board as safety Deon Bush was picked up by the Chicago Bears in the fourth round of the 2016 NFL Draft on Saturday.
Bush—a hometown product who chose Miami over Alabama—rolled into Coral Gables from nearby Columbus High. A 4-star recruit, Bush was the fifth-ranked safety prospect in 2012.
As a freshman Bush played in 10 games for the Canes, making six starts at safety. By year's end, second-team Freshman All-America honors by CollegeFootballNews. Bush had 34 tackles—including 28 solo stops.
The following season Bush played in 11 games, making three starts after missing the first two games due to injury. Bush shone brightest in a bowl game loss against Louisville with a team-high seven tackles, one sack and a safety.
The Canes opened against the Cardinals in 2014 and the junior posted six tackles and five solo stops, en route to a 53-tackle season with two interceptions, two passes broken up and four tackles-for-loss—all career highs.
Bush earned All-ACC Honorable Mention his first three season, but as a senior made All-ACC Third Team after starting 12 of 13 games. (The lone non-start the result of a missed first half due to targeting the previous week.)
Bush ranked fifth on the team with 50 total tackles and ranked second with six passes broken up. He finished his career at Miami with 168 total tackles and nine forced fumbles.
The senior safety was also one of 22 college football players named to the 2015 Allstate AFCA Good World Team; one of the most-significant off-the-field honors in the sport.
Bush earned his way onto the team for his community service efforts, helping all over 500 donors to the Be The Match Bone Marrow Drive's national registry. He also used per diem money from the 2014 Independence Bowl to buy Christmas gift for underprivileged youth.
A big reason for Bush's philanthropy; seeing Gary Bush—his father—battle liver cancer and an uncle, Arabia Omar Darensburg in need of a kidney transplant; both setbacks occurring during the safety's time at "The U".
Bush's journey to the NFL is a dream come true—like so many in his position—though it's safe to say there will be a deeper appreciate for the accomplishment than others might have.
In Chicago, the 6-foot-1, 200-pound Buch is projected as a special teams starter that will have the opportunity to compete for a safety spot.
The Bears' nabbed fifth-round pick Adrian Amos in 2015, with the safety making 16 starts as a rookie. Former Canes great—Antrel Rolle is also with Chicago and while banged up, the veteran is the perfect hard-hitting safety-type to help bring Bush along.
According to the CBS Sports breakdown:
A tall, rangy defensive back, Bush is a terrific athlete with the required length, physicality and ball-skills for the safety position at the NFL level. He is used all over the Hurricanes' defense, giving scouts an opportunity to evaluate him as a blitzer, in run support, single high in coverage even dropping down to cover slot receivers.
Bush has a lean body type, but he's not skinny and plays tougher than he looks, throwing his body around and delivering jarring hits to separate his target from the ball on defense and special teams (nine forced fumbles over his career). He light feet and fluid hips to change directions quickly and accelerates in a flash.
Bush has the instincts and range for the deep middle, reading the eyes of quarterbacks and erasing deep-ball opportunities. He locates the football well and times his leap to win contested passes.
Chicago landed a quality safety in Bush—and an even better person.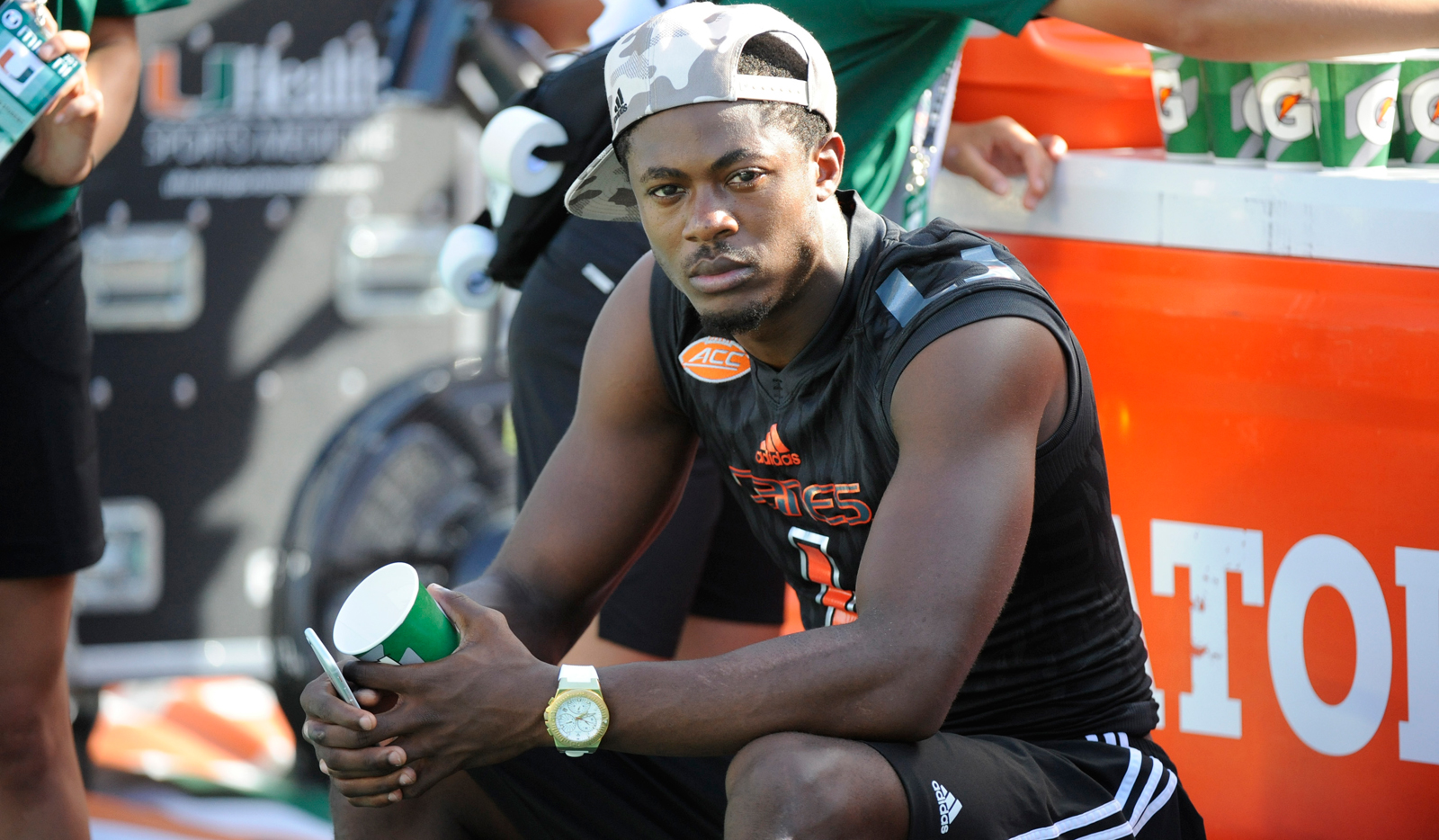 Selfishly from a fan's perspective, it would've been a dream to see Artie Burns return to the University of Miami for his senior season. Fiscally-speaking, it made sense that the talented cornerback chose to follow the money trail.
Toss in what Burns went through his junior season at "The U"—losing his mother unexpectedly, forced into manhood overnight—and all you can do is root for the kid to dominate, get paid and to live the life he's always dreamed of.
That dream became a reality on Thursday night when Burns was the 25th pick of the 2016 NFL Draft, chosen by the Pittsburgh Steelers.
Burns wound up in Coral Gables by way of just up the road Miami Northwestern—which has sent countless kids to UM. A 4-star recruit, Burns was a consensus Top 20 cornerback; ranked as high as tenth nationwide by ESPN U.
As a true freshman in 2013, Burns played in 11 of 13 games—recording 17 tackles and averaging 26.1 yards on ten kick returns. Burns damn-near leapt off the screen on a blocked first half field goal in an eventual four-point win at North Carolina; an early sign that there was something special about this kid.
The following season Burns earned his first career start in a road loss at Louisville in the season opener. He finished the season with 43 tackles and had a career-high with six in a loss at Nebraska.
By 2015, Burns truly broke out of his shell and put together the type of junior season that helps make it easy for a kid to go pro a year early. Burns led the ACC with six interceptions—the most by any Hurricane since the late, great Sean Taylor hauled in 10 back in 2003.
Burns started all 12 games in which he competed—sitting out the Virginia game early November soon after his mother Dana Smith was laid to rest.
Smith passed days after Miami was throttled 58-0 by Clemson, but suited up for the miracle comeback over Duke—though was an obvious, emotional wreck; getting hit with personal fouls and understandably erratic due to all that life dropped in his then 20-year old lap.
Burns went on to finish the season with 36 tackles—26 solo—five passes broken up and a fumble recovery. Two interceptions against Virginia Tech and six tackles against Clemson were career highs.
Speed is another tool in Burns' arsenal; the defensive back once dreaming of Olympic fame and idolizing legendary sprinter Bob Hayes; the only man to win a gold medal and a Super Bowl ring. Burns is a former junior America record holder in the 60-meter hurdles—cut from good stock, as his late mother was a former track star at Miami Northwestern, as well.
Burns joins a Steelers organization that hadn't drafted a cornerback in the first round in over two decades. Pittsburgh seems ready to welcome the former Miami star—and all the weight he's carrying.
"He's a solid, young man who went through a little tragedy this year with his mother passing during the season," Steelers general manager Kevin Colbert told the Pittsburgh Post-Gazette. "He fought through that … had a solid year.
"Artie's a special kid. He has a child and is in relationship with [the child's mother]. He has two younger brothers who really have fallen under his care with his mother's passing. It will be a challenge for him. I give the kid credit for what he's doing.
"It's a lot to undertake. It will be part of our duties to help him succeed in that venture."
More exciting for Burns than the first round payday—a change to make an early impact with The Steel Curtain defense.
Three cornerbacks have left Pittsburgh since the end of last season—including starter Antwon Blake and Brandon Boykin; both of whom left as free agents. Cortez Allen is also gone, cut by the organization.
Steelers' starter William Gay returns, as does back-up Russ Cockerel and rookies Senquez Golson and Doran Grant. Golson is coming off of shoulder surgery, while Grant only played one down on defense in 2015.
Three cornerbacks were taking prior to Burns—Jalen Ramsey fifth to Jacksonville, Eli Apple tenth to the New York Giants and Vernon Hargreaves  eleventh to Tampa Bay—a Seminole and two Gators.
Steelers head coach Mike Tomlin and Colbert had dinner with all corners before their respective Pro Days.
"There's a lot to be excited about with Artie," Tomlin told the Post-Gazette. "We're excited about the up side. He's a natural bump corner.
"He has elite speed, a track man also down there at Miami."
What was a nightmare fall for Burns and gut-wrenching end to a collegiate career with the hometown team has blossomed into a dream-scenario spring.
Go make the most of it, No. 1.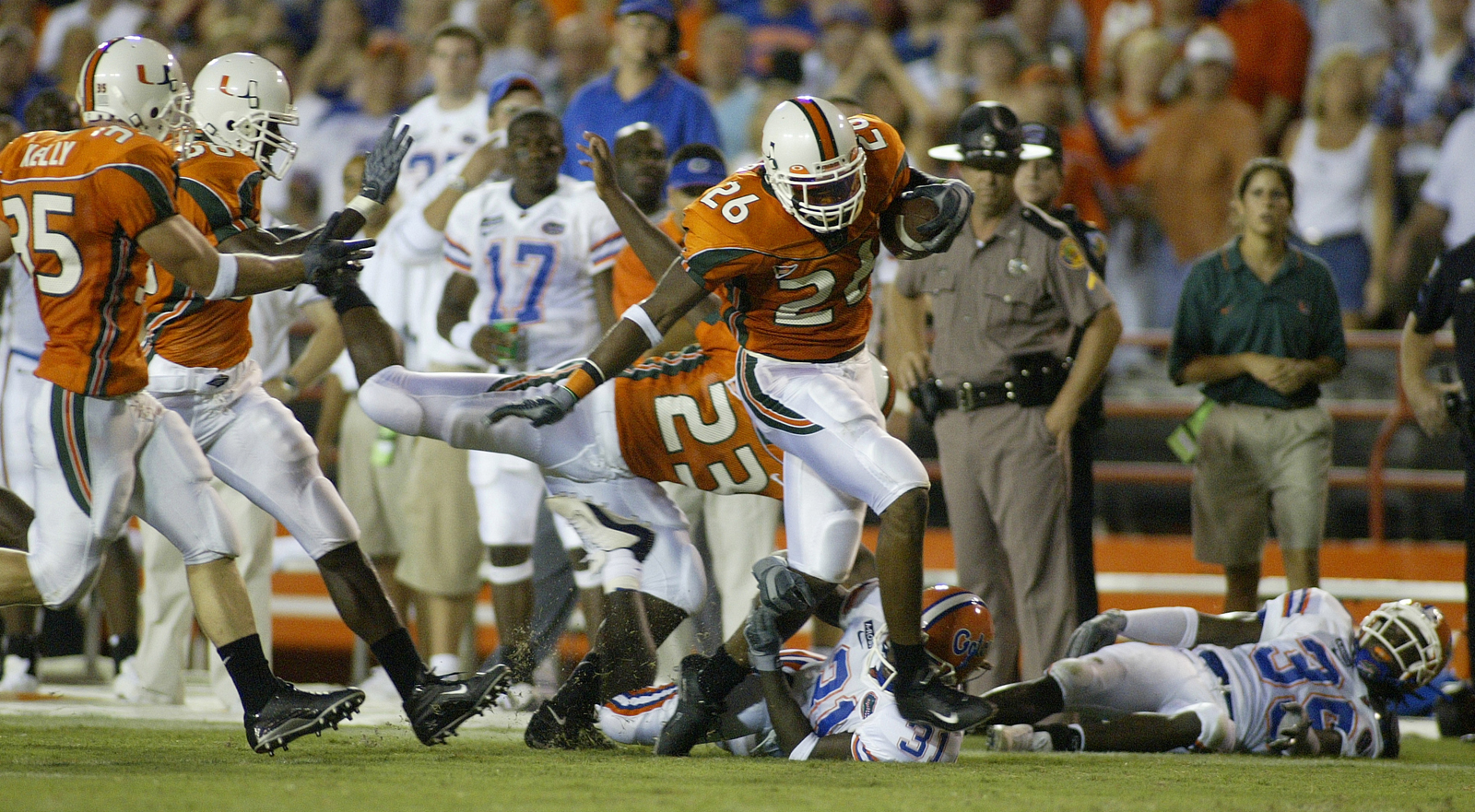 Typical Florida Gators. Only way to sum it up.
Of course that "team from up north" is all about a rivalry renewed now; confident in the state of their program and using their muscle to get a "neutral site" game on the books—in the 407.
Miami to Orlando; a solid 232 miles. Gainesville to O-Town clocks in around 111. Neutral, my ass. There's more University of Florida support in the middle of the state than there is for the University of Central Florida. O-Town is Gator Country any way it's sliced or diced.
The showdown is set for the 2019 season opener and is part of the Camping World Kickoff games at the former Citrus Bowl.
"Florida Citrus Sports is proud to announce yet another big-time college football game for Orlando," FCSports CEO Steve Hogan said in a release. "We're excited to pair two in-state teams for a match-up with tremendous appeal locally and nationally at the top of the 2019 season."
Two more ACC versus SEC showdown have been announced at the venue; Florida State and Ole Miss this fall, followed by Louisville and Alabama in 2018.
Miami leads the all-time series with Florida, 29-26—the Canes and Gators sporadically playing since UF cited scheduling issues in the decades back and ended the annual meeting after the 1987 season.
What Florida faithful have chalked up to SEC participation and lost revenue from out-of-conference road games outside the confines of The Swamp—the rest of the planet knows it's nothing more than a sore loser taking their ball and going home.
Miami and Florida played almost annually between 1938 and 1987—the Canes winning three of the final four regular season games before things came to a screeching halt.
One decade of modern day U-fueled success was all that Florida could take.
The early years of he rivalry were somewhat even; both programs even at 10-10 by 1959. From there, the Gators pulled ahead—winning 12 of the next 18.
By 1979, it became clear these weren't your father's Hurricanes anymore as Howard Schnellenberger began building a bonafide program in Coral Gables—picking up where Lou Saban left off, taking Miami to places no one expected.
Between 1978 and 1987, the Canes took 7-of-10 from the Gators and that was all she wrote. One of those three Florida wins—a 28-3 whipping of Miami in Gainesville in 1983. "The U" proceeded to rattle off straight 11 wins, including a takedown of No. 1 Nebraska in the Orange Bowl for the national championship.
Translation; in a year when the Gators got the best of the Canes, Miami still won the war despite losing the battle.
By 1987—the Hurricanes had won two titles over a five year span (while leaving two more on the table. Miami waxed Florida at the Orange Bowl that season, 31-4, waving the white flag soon there after.
In 1990 Florida cancelled its 1992 and 1993 games against Miami—paying a $75,000 penalty in the process. It also voided letters of agreement with the Canes for games in 1996, 1997, 1999 and 2000.
Then UM athletic director Sam Jankovich reacted bitterly to Florida's bail-out.
"I was shocked to learn about the Florida series through the papers," Jankovich told the Miami Herald. We had received no previous notice."
Florida arguably saved themselves a loss in 1992, with Miami the top-ranked team and undefeated before falling in the Sugar Bowl to eventual champs Alabama. 1993 would've been a toss-up, though the Gators finished stronger than the Canes.
Those 1996 and 1997 games would've gone Florida's way—Miami on probation, getting kicked in the teeth—while the Gators won a national title and title went 22-3 over that span.
1999 would've been another toss-up between two eventual 9-4 teams, but 2000 was settled on the field by way of the 2001 Sugar Bowl as the second-ranked Hurricanes dominated the No. 7 Gators, 37-20.
The teams met during the regular season two years later. Miami—fresh off the program's fifth national title—destroyed Florida at The Swamp, 41-16. The following year the Gators blew a 33-10 lead at the Orange Bowl in an improbable U-fueled 38-33 win.
Insult to injury; the comeback was led by former UF quarterback Brock Berlin—who was also under center for the Peach Bowl victory against his former mates the following year, 27-10.
The postseason win pushed Miami's win-streak against Florida to six game. The Gators got one back in 2008 with Tim Tebow leading the charge—en route to a national championship—26-3. Florida (somehow) staved off their return game at Miami until 2013—which the Canes won, 21-16 courtesy of six Gators' turnovers.
A bowl game could pit these two against one another before 2019. Regardless, the amount of shit-talking between now and then will be immeasurable—two programs that loathe each other, celebrating the enemy's missteps along the way.