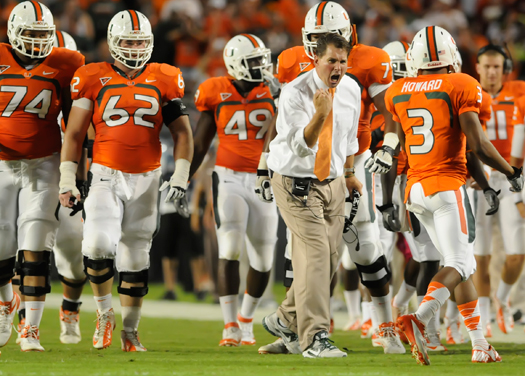 One stop.
That's all the Canes needed needed, but it proved undo-able in this tenth game of the season, with so much on the line. Miami's three best defenders were home, either injured or forced to take a 'time out' for a football-related issue and to say they were sorely missed is a gross understatement.
One stop.
Two-and-a-half minutes on the clock. Eighty-seven yards to go if Virginia wanted to steal a win. The middle of the field, wide open as a prairie  — a recurring theme on this mid-November afternoon in Charlottesville.
4th-and-7. Complete for nine yards. 3rd-and-15. Held to eight, setting up 4th-and-7.
One stop?
Almost. Holding call. New life. From there, 3rd-and-2 gained two and two plays later, a ten-yard strike to the back of the end zone, putting six on the board with six seconds remaining.
Cavaliers 41, Hurricanes 40.
Ten games in, it feels emotionally as if Miami has played two full seasons. Nailbitiers. Come-from-behind wins. Heartbreaking losses. A few beat downs that required serious regrouping. Suspensions. Injuries. NCAA sanctions constantly on the brain.
Zero reprieve for Al Golden, his assistants or his players.
Honestly, it's no wonder everyone associated with this program has clung so tightly to the brass ring that is the ACC Championship Game. Without that, the present is a bitter pill to swallow.
TESTED EARLY, MOUNTED COMEBACK, DISCOVERED FORMULA
A season-opening comeback win at Boston College started things on the right foot – and introduced the world to freshman phenom Duke Johnson. At 1-0, Miami was semi-hopeful going into Manhattan the following week to take on Kansas State.
When the now top-ranked Wildcats rolled, 52-10, the focus quickly went back to the conference. Play for the Coastal. Find a way to Charlotte. For 'The U', it's all about the ACC.
The next few weeks, Miami did just that. High-flying offense bested suspect defense and a few thrilling comeback wins against Georgia Tech and North Carolina State had UM an unexpected 3-0 in ACC play, leading the division where they were originally picked fifth to finish.
That in itself an accomplishment, but two-thirds of the season remained. Most-notably, the meat of the schedule.
A harsh dose of reality in Chicago a week later when the offense went into a hole and Miami proved it wasn't ready for prime-time, falling to Notre Dame, 41-3.
Still, the mantra was preached; stay the course. Worry about the ACC. Keep grinding towards that Coastal title and a spot in the championship game.
Even with that, North Carolina bested Miami, 18-14 and a comeback attempt was thwarted when starting quarterback Stephen Morris tweaked an ankle and back-up Ryan Williams couldn't get the job done.
The defense finally shows up an the offense can't muster more than fourteen points. Go figure.
Even with the loss, 3-1 in conference play. Still alive and atop the division standings. Press on.
LATE SEASON STEPS FORWARD, AND BACK
Florida State rolled in, appearing somewhat mortal having recently lost to the same North Carolina State squad Miami upended. The Canes hung tough for three quarters, down 16-13 early in the fourth. A few big plays later and things expectedly got away, resulting in a 33-20 loss.
3-2 in ACC play. Stayin' alive with Virginia Tech on deck.
A Thursday night home crowd and win-less against the Hokies in three tries, the Canes had every reason to show up – and did. Billed as a season-saving game, Miami got it done, despite winning on the scoreboard and turnover department, but nowhere else.
Virginia Tech self-imploded, Miami won the special teams battle and in the end, earned the decisive, 30-12 victory, firmly planting the Canes in the driver's seat for a Coastal crown.
And then Virginia happened.
A few years back it was Clemson. Prior to that, Georgia Tech derailed a clear shot to a division title.
On paper this loss reeks like other past disappointments, but in the grand scope of things, a moment of clarity was ultimately provided; self-imposing another bowl ban is the only option.
If this loss didn't bring every member of the U Family back down to earth, it should have. Dreams of an ACC Championship were a wonderful distraction, as was any talk of a rematch against Florida State.
Some even took the dream a step further – entertaining the notion of beating the Seminoles in a rematch, winning the conference title for the first time in nine tries and reaching the hometown Orange Bowl for the first time since the 2003 season.
The perfectly-scripted ending to a rebuilding year that was hovering at 5-4 before this past weekend.
ACC CHAMPIONSHIP GAME IN REACH … BUT AT WHAT COST?
Yes, Miami could still reach Charlotte if it beats Duke on November 24th. The Blue Devils would have to take out the Yellow Jackets in Atlanta this weekend, possibly. Or maybe not. The math gets complicated with a three-way tie, which could also include the Tar Heels, who beat Miami, but lost to Georgia Tech.
Square root of something. Carry the one. Whatever.
Regardless, if long-term is the goal here and it's truly is all about 'The U', self-imposing is a no-brainer. Logic needs to best emotion here and at day's end, as much as a few seniors "deserve" a post-season, the bigger question remains; at what cost?
Miami was picked fifth in the Coastal this year for a reason – because it lacked depth, experience, veteran upperclassmen and a bevy of play-makers.
Before year two of the Golden Era kicked off, this was a rebuilding year. No other way to put it.
The defense everyone is so up in arms about? Hardly a surprise.
NO ADDITION BY SUBTRACTION FOR MIAMI THIS YEAR
The Canes struggled last year – and that with was some veterans who are sorely missed this year. When in 'rebuild', not 'reload' mode, it's difficult to absorb the loss of a Sean Spence, Marcus Robinson, Micanor Regis and JoJo Nicolas.
Even worse, the fact the program was sold out by some guys who bailed early, despite not being day one talent; Marcus Forston and Olivier Vernon. – both of which missed the majority of the 2011, yet still passed on their senior years.
There was also Adewale Ojomo, who was denied a medical redshirt, while Ray-Ray Armstrong got the boot.
When you look at this recent loss to Virginia and add up a few injuries, a suspended player and those who left early, Miami was without eight bona fide starters.
Are the Canes pegged at .500 ten games in with that kind of defensive depth and experience? Probably not, but what it, is.
Because of the early departures. Because this program would be so reliant on true freshmen this year. Because of a tough out-of-conference schedule, the breaking in of a new quarterback and some other key losses on the offensive side of the ball (Lamar Miller, Tommy Streeter and Brandon Washington, we hardly knew ye) – the goal this year was growth, maintenance and to thicken skin for the future.
Every game would be a one-game season and while the majority of the teams on the schedule were all beatable, if Miami showed up, played a complete game and found a way to stay healthy and out of trouble, the odds of all that coming together … pretty much 50/50, which is where the Canes sit today.
The top-flight, veteran, upperclassmen-heavy teams did to Miami what they were supposed to, while the toss up games went either way.
Miami fell in a 14-0 hole at Boston College week one, but scrapped back and eked out the 41-32 victory.
The formula against the Eagles was something that proved key throughout the season when the Canes manufactured ways to win.
Those four quarters in Chestnut Hill proved to be a microcosm of the 2012 season.
Good enough quarterback play. Solid running from a veteran senior back, peppered with explosive runs from a freshman phenom. A receiver, or two, rising to the occasion weekly.
A defense that got beat, but at least manufactured some big moments weekly – big hits, key strips, forced fumbles, timely interceptions, goal-line stops – with all that, the Canes had the ability to win some high-scoring, backyard-style football games.
Boston College. Georgia Tech. North Carolina State. All toss-up games where Miami hung tough and persevered, but all contests that could've easily gone the other way.
Even the Virginia Tech win was a combination of the Canes hanging in there, while the Hokies hung themselves out to dry.
Times the recipe didn't work or things didn't fall into place, neither did Miami.
Kansas State, Notre Dame and Florida State were all forgivable losses, but North Carolina and Virginia are the type that sting, as both proved how middle of the pack Miami is when not running full-steam, yet so reliant on newbies.
MID-NOVEMBER PROVIDES TRUE REALITY CHECK
Ten games in, with injuries and suspensions taking their toll, the bubble has popped. The result; this team isn't quite who it was predicted to be – but it's in that ballpark.
Miami showed more moxie this year than the critics predicted and credit for that has to go to Golden. Players take on the personality of their head coach – as seen when Larry Coker and Randy Shannon were leading UM.
Golden's kids may be out-manned and green, but they don't quit or make excuses. That was the case year one, despite suspensions and some last-second losses and again that is the story this year.
Miami fights to the wire. They make mistakes, they learn on the fly and at times have looked downright lost – but they keep fighting. They bounce back. They don't see opponent's leads as insurmountable, they're conditioned to play four quarters and they believe in each other.
Those traits get lost in the wash of a .500 run, but when looking to change a culture or to properly rebuild a program from the ground up, those are all cornerstones.
Whether Miami could beat Florida State in Charlotte on December 1st; it's truly a moot point. The rematch might be in the best interest of this particular team, but in no way benefits the program overall.
As tired as fans are of losing, until the culture changes, it will remain garbage in, garbage out. The firing of Shannon and hiring of Golden seemed like a step in the right direction, but before things had a chance to properly start working themselves out, the Shapiro bomb dropped, suspensions were levied and the first-year head coach began his career in Coral Gables with one hand tied behind his back.
It's been setback after setback for Golden, these players and this fan base – and when you pile the last two years on top of seven down years and ten years of sub-par coaching, as thin as everyone's collective patience may be, mere frustration will change nothing.
No, it will take a huge act for Miami as a program to make a leap forward, and if long-term gain is the goal, fall on the sword one more time with NCAA mercy the goal.
The best-case dream scenario for this season still can't measure up to what taking one on the chin now can do in the long run.
TIME TO STOP DAYDREAMING AND ACCEPT REALITY
Hypothetically Miami wins the next two and gets to Charlotte, steals one from Florida State, reaches the Orange Bowl and beats the Big East champ at Sun Life.
9-5 on the season, and then what? Short-term satisfaction does nothing to right the ship regarding what the NCAA will bring when sanctions are handed down.
It's a bitter pill to swallow as the ACC Championship was the carrot Golden and staff dangled all season. Focus on conference. Keep grinding. Even with some gut-wrenching losses, it remained in reach and was a driving force.
But at 5-5 is it deserved? UM has lost four of its last five – three in conference. The ACC is in shambles this year, especially the Coastal. Even if Miami does pull it out, odds are it will be by default as North Carolina is ineligible for post-season play.
7-3 right now with losses to the Wildcats, Fighting Irish and Seminoles? Wins over South Florida and Duke en route to a nine-win regular season?
Different story.
Had Miami found a way to go 9-3 in a rebuilding year, that's a case where you roll the dice. The kids will have earned it and again, bird in hand is easier to justify. That type of success story is something this program can get some serious mileage out of, as will this crop of freshman and sophomores, who will have learned how to win on the job.
But not 6-6, or even 7-5. Not after the last five games. Not with kids fading down the stretch. Not with suspensions, injuries and the physical grind this season is taking on underclassmen who represent the future.
The goal right now should be nothing more than winning out. Get to 7-5. End on a two-game win-streak. Finish one game better than last year.
Hold those heads up high, call it a season and then work twice as hard as everyone did this past off-season.
In the meanwhile, let the coaches hit the recruiting trail. While other programs and coaches bowl-plan, Miami can go back in the lab to rebuild, while spending the month of December starting the process of winning over some on-the-fence superstars.
Sitting out two bowl game is not only something the NCAA will look favorably upon, but it gives that governing body the ability to use Miami a shining example for how to participate with an investigation.
UM has been an open book from day one, working with the NCAA, paying back the bankruptcy trustee and self-imposing last year's bowl ban.
Doing it one more time will show that Miami is serious about paying for past sins and with five losses in ten games, there is no longer a decision to make – the process has actually worked itself out.
Barring Miami gets that sixth win one of the next two weeks.
If not, forget everything you just read and prepare for the biggest kick in the shorts yet.
Christian Bello has been covering Miami Hurricanes athletics since the mid-1990s. After spending almost a decade as a columnist for CanesTime, he launched allCanesBlog.com. – the official blog for allCanes.com : The #1 Canes Shop Since 1959. Bello has joined up with XOFan.com and will be a guest columnist at CaneInsider.com this fall. Follow him on Twitter @ChristianRBello.
Comments
comments