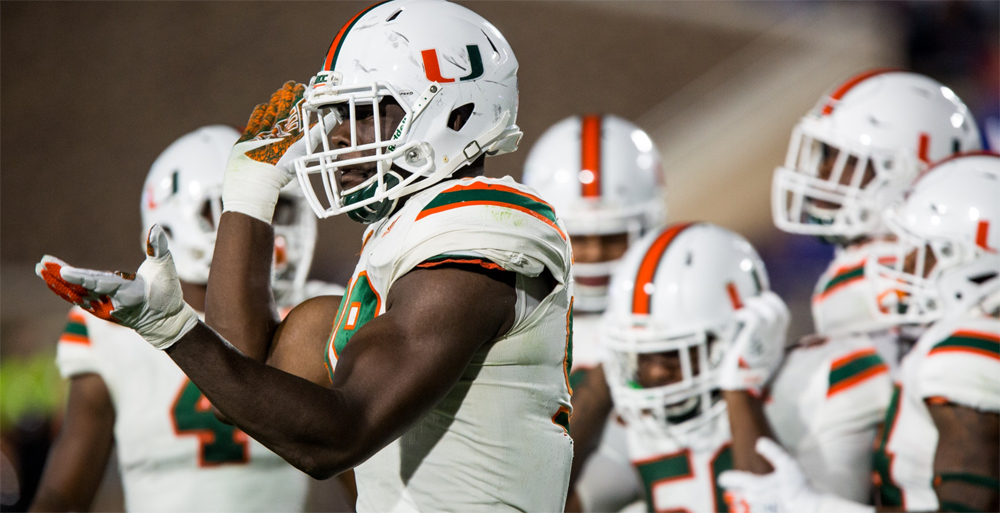 Inexplicable as it may have sounded if the phrase had been uttered a decade ago; the Duke Blue Devils are a quality football foe and Wallace Wade Stadium a formidable ACC venue.
Then again, folks in the Tobacco Road region would've been equally as baffled if you'd told them back in the day that Miami Hurricanes basketball would one day smack around the Blue Devils and Tar Heels en route to a conference title. Times have a-changed, with parity, money and quality coaches making a difference all around.
Miami got a much-needed road win at Duke on Friday night—a convincing 31-6 drubbing that felt more like 13 years ago, than 2013—the lone time the Blue Devils took out the Canes in college football's modern era.
GETTING 'THE U' BACK TO GOOD
Durham has given The U fits since Miami joined the ACC in 2004—the Canes largest margin of victory before Friday night's showdown; 18 points in 2008. Since then a few close calls, a shootout and that loss four years back, where a veteran Blue Devils squad turned a one-point third quarter lead into a humbling 48-30 smackdown, en route to a Coastal Division crown.
Vegas had Miami taking this year's contest by a touchdown, while ESPN's quirky computers and algorithms gave Duke a 55% chance of winning. Factor in the revenge element from the eight-lateral comeback two years prior and there was no ignoring the Canes were walking into a spirited affair.
The Blue Devils hit the ground running this season, a 4-0 start with impressive wins over Northwestern (41-17), Baylor (34-20) and arch-rival North Carolina (27-17) over the past three weeks. Conversely, the two-win Canes were still out of sorts and routine-less courtesy of Irma's impact and a 21-day layoff—brutally obvious in the first half against Toledo six days prior; the Canes trailing the Rockets, 16-10 after two before blowing it out the second half, 52-30.
Toss in a trek to Tallahassee on the horizon and this had all the makings of a trap game—one that a less disciplined, unfocused, poorly coached squad could've (and has) easily shit away. Instead, Miami treated the trek to Durham like the business trip and stepping stone it was in the early stages of what has all the makings of a defining comeback season.
Duke moved the ball on the opening drive, setting the stage for a potential offensive battle. Quarterback Daniel Jones relied on his arm and legs to move it around, while veteran running back Shaun Wilson gashed the Canes' defense for a few hearty runs. Inside the red zone, Jones galloped for six yards on a 3rd-and-7, setting up a statement-making 4th-and-1. The Duke offense stayed on the field—momentarily—before linebacker Michael Pinckney shot out of a cannon and took Jones down for an 11-yard loss.
Statement made. Miami came to play.
Mark Walton was leaned on immediately for back-to-back runs, before Malik Rosier dumped one off to the junior running back for a 39-yard gain. Walton's next carry resulted in a tw0-yard loss, but the damage had been done; the Blue Devils' defense baited as Rosier hit Braxton Berrios in the back of the end zone for a 27-yard touchdown; hanging in the pocket and getting clobbered.
Sitting on a 7-0 lead halfway through the first quarter itself is less impressive than the path taken to get there—a path only noticeable by those who have carefully followed the Canes' underachieving journey this past decade.
Losses don't just "happen". Looking at those Sunday morning box scores over the past few years, wondering how Miami wound up on the wrong end of things—it's all the little things consistently going the wrong way.
Take that loss in Durham four years back. Miami drives inside the Duke red zone on the game's opening drive, but settles for a field goal after a 3rd-and-5 pass falls incomplete. After a solid defensive stop, the Canes return a punt and go up, 10-0—short-lived as the Blue Devils drive 75 yards and cut it to three.
Miami answers, pushing the lead to 17-7, holds on defense and is driving again—a chance to blow things up early in the second quarter, before an interception midfield that Duke turned into seven a few plays later. 24-7 becomes 17-14 in a flash and the Canes can only muster up three more over the next two possessions.
A game ripe for the taking early in the second quarter is instead a 21-20 deficit at halftime and the the momentum shift is on.
PROPER LEADERSHIP CHANGING GAME FOR CANES
One can only imagine the intermission speech from then-head coach Al Golden and staff—but a safe bet it wasn't the confident approach current defensive coordinator Manny Diaz took against Toledo last week; scrawling, "We are going to win this game" on a locker room grease board.
Where the Hurricanes outscored the Rockets, 36-16 in the second half a week ago—Miami was outscored by Duke, 27-17 three years back—including a 17-0 fourth quarter shutout. It was an all-too-familiar blueprint for the Hurricanes this past decade, but one that Mark Richt and staff have put out to pasture as year two gets underway.
None of that is to imply that Miami has everything solved. A scoreless third quarter featured a few offensive drives that stalled, a freshman punt that lost a yard and another head-scratching decision from Rosier that resulted in an ugly interception—but how the Canes responded from there; again, proof things are on the right track.
Rosier made up for his earlier blunder, finding Ahmmon Richards, who scampered for a 49-yard score. A few possessions later, the Miami defense recovered a fumble and on the first play from scrimmage, Travis Homer busted through the line—untouched—for a 40-yard score and exclamation point on an effective evening.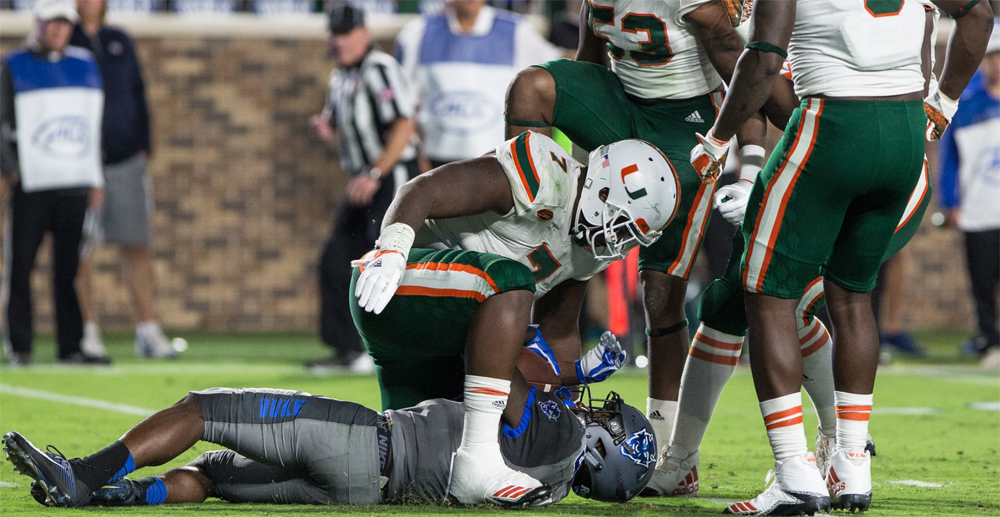 Seemingly lost in the shuffle of power rankings and all the are-the-Canes-back talk; the fact that the process is working. Under Golden, there was too much talk and no action, while with Richt, little chatter and business as usual. Miami did what it was supposed to at Duke. No fanfare, defending of stats or back-slapping. Get in, get out, do the job and move on.
Undefeated was the goal going into Florida State week—albeit this wasn't the path. Miami expected to take on Bethune-Cookman and travel to Arkansas State before facing the Seminoles on September 16th. Irma had different plans, resulting in a cancellation, a postponement, a three-week layoff and practice disruption.
Thankfully for the Canes, Toledo helped ease normalcy back in, while Duke provided that initial road trip before heading to Tallahassee. Toss in the extra rest-up day from a Friday night game and things have gotten back to normal with a demoralized arch-rival on the horizon.
That doesn't mean a two-loss Florida State squad won't be ready—but this marks the first time Miami truly has those guys somewhat on the ropes in about a decade.
Get back to work this week, follow the blueprint, take this to Doak Campbell, make a statement and emerge victorious. It's there for the taking, so take it.
Chris Bello has been covering University of Miami athletics since the mid-nineties. Getting his start with CanesTime, he eventually launched allCanesBlog—which led to a featured columnist stint with BleacherReport. He's since rolled out the unfiltered, ItsAUThing.com where he'll use his spare time to put decades of U-related knowledge to use for those who care to read. When he's not writing about 'The U', Bello earns a living helping icon Bill Murray build a lifestyle apparel brand. Hit him on Twitter @ItsAUThingBLOG or @ChristianRBello.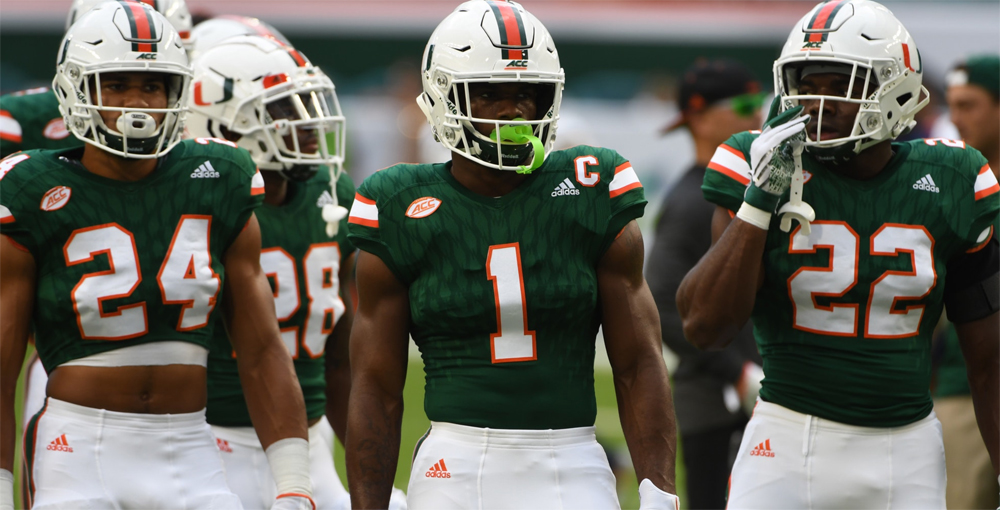 Miami's recent home win over Toledo won't look like much on paper. Anyone who missed the showdown and went no further than the, 52-30 box score would most-likely chalk it up to a power conference beating up a lesser program, while assuming the Rockets tacked a on a late score for one of those closer-than-it-appeared finishes.
For the outsider with no vested interest, so be it. That's all they saw and need to know regarding what was utterly a meaningless game on what turned out to be one of those early-season, "Survival Saturday" situations—where it was all about the win and less about style points.
While a contingent of Miami's fan base will praise the 42-point second half and comeback, others won't be able to shake off the 16-10 halftime deficit and slow start. In reality, neither should be the focus as the true takeaway had less to do with point totals and everything to do with the Hurricanes taking another steps towards becoming a resilient, win-minded bunch that believes in both themselves and the coaches, but also the message and approach.
Everyone has their different measuring stick in regards to Miami being "back". Beat Florida State. Take the Coastal. Win the ACC. Bring home a sixth national title. While none of those cries are out of line, for consistency-sake the true measure and jumping-off point comes with the attitude and effort witnessed last Saturday at HardRock Stadium. Those are the necessary first steps in regards to again becoming a contender.
HOW U GOT HERE; HOW U GET OUT OF HERE
Soon after Miami's turn-of-the-millennieum dominant run, the Canes became a watered-down version of the giant Butch Davis rebuilt them into. Short version for history-sake; Larry Coker was the nice-guy chaperone who couldn't recruit, Randy Shannon was the low-cost, low-risk, hire-from-within option and Al Golden proved to be smoke and mirrors; a resume full of padded stats, as well as an all-around shit fit.
That decade-plus of incompetence took it's toll on both the Canes' brand, as well as the style of football played in South Florida. Outside of that "U" on the side of the helmet, or ceremonial run through the smoke—nothing about Miami truly looked like Miami. "The U" felt trapped in some type of Bizzaro World; talking the talk, but incapable of walking the walk.
The slow start this past weekend was almost inevitable; a 21-day layoff due to the effects of Hurricane Irma—the Canes' world getting turned upside down days after a season-opening win over Bethune-Cookman. Since then, a closed campus in repair, a cancelled game—and another rescheduled—while Miami trekked north to Orlando to practice; seeking some semblance of normalcy and routine.
Hours before Miami hosted Toledo, Florida State—also looking to rebound after a three-week layoff—fell to North Carolina State, 27-21. The Noles also started sluggish, down 10-0 after a quarter, while breaking in a freshman quarterback—insult to injury after losing starter Deondre Francois in a season-opening loss to Alabama.
While the ACC's Wolfpack are a more-formidable foe than the Mid-Atlantic's Rockets, the common theme for the Canes and Noles was the same; how does one shake off the dust after not playing full-contact football since September 2nd? Florida State didn't solve that riddle, but Miami—after a spirited, confident halftime—came out guns blazing for the game's final thirty minutes.
"We're going to win this game"—those six-word scrawled on a grease board by defensive coordinator Manny Diaz in the home locker room set the tone for a comeback. No desperation, stat-padding or manufactured rah-rah. It was a simple statement that embodies a new, old-school culture and the type of core values that made "The U" such a dominant force years back.
"It was important that we believed it," Diaz told the Miami Herald, regarding the message he wrote. "It was important that we felt like for as much adversity as we faced to be only down by six and to realize that we were just one stop, one score away from being in the lead, which is in essence what happened, I want to say this: As a coach you can write [things] down, but the players have to go out and make it happen.
Diaz elaborated—touching on the unexpected, extended break between the season opener and this eventual home showdown with Toledo.
"We were having a hard time the second quarter of putting 11 functioning defensive football players on the field because of getting back to just the conditioning level of being able to play in a game. We couldn't think straight. We couldn't play a base coverage. We could hardly do anything there for probably the second half of the second quarter. A lot of that was self-inflicted because of staying on the field on third downs. You're looking at halftime, you're telling them the path back and how we're going to win the football game. But for those guys to go out and take control of the third quarter—is one of the most remarkable things I've ever seen from the sideline."
While that last statement may come off to some as blowing smoke, or hyperbole—a look back at the Hurricanes' recent history proves otherwise.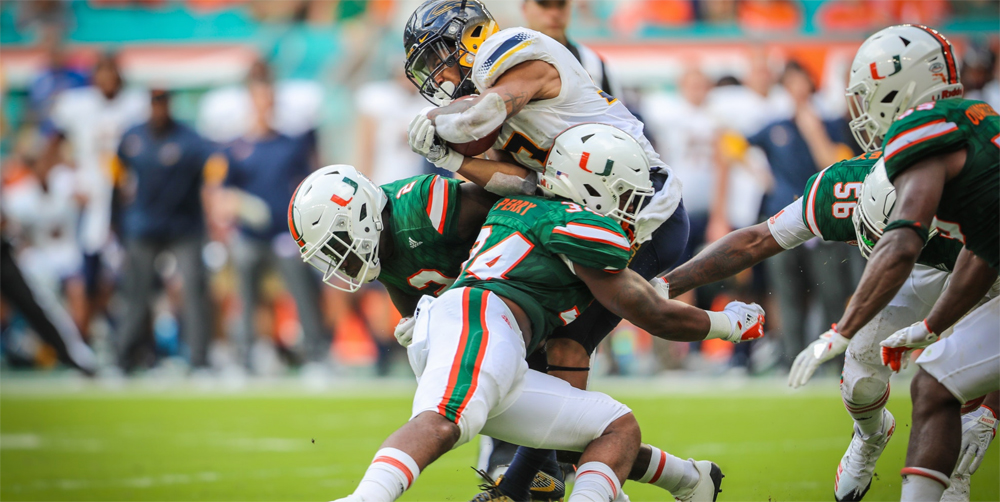 PUTTING TO REST THE DAYS OF SLIPPING AWAY
Richt's squad let a few slip away year one, but still put enough together for a 9-4 season and the program's first bowl win in a decade. Steps were being taken in the right direction and a spirited second half against the Rockets helps underscore the shift.
While most would love to bury or flush the last decade of Miami football, for the sake of this example a trek down memory lane seems necessary.
Weeks before Golden was canned in October 2015—after a historic 58-0 loss to Clemson—an embarrassing Thursday night loss at Cincinnati; an eventual 7-6 squad smoked 42-7 by San Diego State in the postseason. A week later, the Dalvin Cook show, as the Miami native and Seminoles' running back torched the Canes for 222 yards an three scores. UM took a brief lead early in the fourth—but as has happened so many times in that era, Miami bent, broke and stumbled home a loser.
The season prior; a collapse for the ages as the Canes pounced on the defending national champs early, taking a 23-7 lead over the Seminoles. Fear of success crept in and Miami played tight, while Florida State—a come-from-behind squad in that Jameis Winston era—chipped away, eventually prevailing, 30-26. Even worse—the Canes' inability to rebound moving forward.
A no-show against a four-win Virginia the following week, pushed around by Pittsburgh at home in the finale and outworked in a suck bowl game against a six-win South Carolina squad. Coaches oft talk about not letting last week's opponent beat you twice—carrying that hangover into the next contest. During the Golden era, a late season heartbreak to the Noles cost the Canes the next three games and ultimately the season.
Lest all the blame fall on the last guy, Shannon was no prize in this department, either—his final season marred by a 7-6 run in a year where Miami was primed to build off of a 9-4 finish in 2009. Instead, shellacked at home by Florida State as the No. 12 team in the nation, 45-17, and losing three of the next five—falling at an eventual four-win Virginia, at home against a pedestrian Virginia Tech squad and a back-breaking, tenure-ending overtime loss to lowly South Florida.
Those awful memories relived to underscore two points; that a comeback against Toledo shows a culture shift and new set of beliefs, as well as a justification for the pit in Canes fans' stomachs last Saturday when the Rockets took a halftime lead—muscle memory kicking regarding a decade-plus of stepping down instead of up.
The slow start after the layoff wasn't optimum, but Miami eventually found it's groove, took control and survived—and within that; a ton of positive moments that deserve highlighting.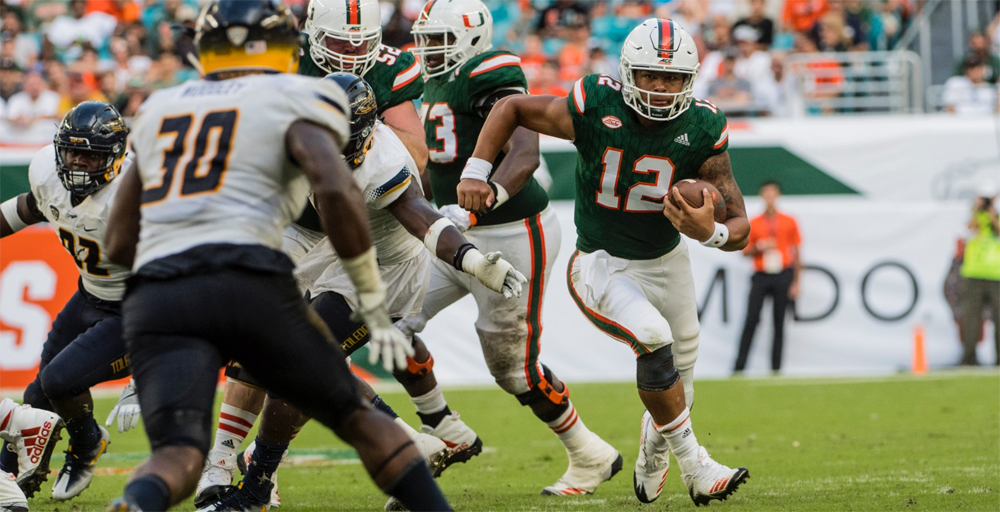 MORE SILVER LINING AT 'THE U' NOW THAN IN YEARS
Malik Rosier has over-exceeded early expectations two games in. Yes, there have been some errant throws and newbie mistakes—but the former 3-star prospect out of Alabama with a lone career start before this season, looks more than capable of leading this offense. There's a maturity, a poise and a quality about No. 12 that many didn't expect to see—including Richt, who famously told Rosier (after anointing him the starter) that he never expected the junior to be the guy.
The loss of would-be senior Brad Kaaya felt like a blow early-on. The Canes had so many other pieces in play and instability at quarterback seemed a cruel way for this comeback season to play out; to the point where unrealistic expectations began surrounding true freshman N'Kosi Perry before he'd even arrived on campus over summer.
Rosier has a long road ahead, but appears to have more upside than many originally thought—a godsend when you see what a squad like Florida State is now suffering without Francois under center.
Same can be said for the running back position; a question mark as the season got underway. Hopes were high that Mark Walton would pick up where he left off after a brilliant sophomore campaign—but a lack of depth behind him with Joe Yearby declaring for the NFL and Gus Edwards transferring to Rutgers—was downright scary. How would Walton's durability fare and was anyone ready to step into the number two slot behind him?
Walton hit the ground running in the opener; going for 148 yards and two touchdowns against Bethune-Cookman. Against Toledo, an 11-carry, 204-yard outing and a score. Even more impressive; the fact Walton absolutely brought the Canes back to life when re-entering the game in the second half. Miami has some bonafide leaders and spark plugs on both sides of the ball—again, something that's been missing for way too long.
The Canes also found a true compliment to Walton's game in sophomore running back Travis Homer, who looks the part—carrying 11 times for 108 yards in the opener, while plugging in nicely last Saturday when Walton was temporary sidelined. Toledo's defense was focused on stuffing the run and forcing Rosier to carry the offense. Homer carried eight times for 32 yards and punched in two scores, while hauling in three receptions for 46 yards.
A 20-yard hook-up from Rosier to Homer opened the second half and lit a fire. Two plays later, a 19-yard grab. Rosier spread it around—and used his legs—on the 91-yard drive that eventually ended in a 12-yard Homer touchdown run. Walton was back later in the quarter, but the message had already been sent; the Canes have two capable cats who can pound the rock.
Another early-season bonus; tremendous play at wideout despite star sophomore Ahmmon Richards being sidelined the first two games of the year. Losing receiver Stacy Coley and tight end David Njoku to the NFL—there was an expected drop-off regarding who to spread the ball around to, as well as Richards' production level slipping due to double teams and defenses focusing on him.
Instead, it's been eight quarters of production out of a bevy of receivers. Darrell Langham, Dayall Harris and Lawrence Cager are putting their height and reach to use, while speedster Braxton Berrios is looking more and more like the player many expected the former 4-star prospect to be earlier in his career.
Dionte Mullins is also emerging in his second season, while true freshman Mike Harley is emerging as a threat. Chris Herndon is also picking up at tight end where Njoku left off—and all of this without Richards taking the field yet this season.
If there's any knock thus far, it's been the slow defensive start—guys reading their headlines, believing the pre-season hype and what not—but seeing the Canes clamp down in the second half against the Rockets proved reassuring. No, Toledo won't soon be confused with some of the offenses Miami will see throughout the season—but the Canes defense responded and furthermore, is responding to their leaders.
Be it the "Turnover Chain", a halftime message on a grease board, or watching clips of the fabled 1986 Miami defense—to learn unity and ball-swarming—Diaz, line coach Craig Kuligowski, safeties coach Ephraim Banda or cornerback coach Mike Rumph, the Canes are in good hands and are responding as such.
Put it all together over the next nine games and 2017 could truly mark the season Miami turned a corner it's been unable get around in what feels like a lifetime.
Chris Bello has been covering University of Miami athletics since the mid-nineties. Getting his start with CanesTime, he eventually launched allCanesBlog—which led to a featured columnist stint with BleacherReport. He's since rolled out the unfiltered, ItsAUThing.com where he'll use his spare time to put decades of U-related knowledge to use for those who care to read. When he's not writing about 'The U', Bello earns a living helping icon Bill Murray build a lifestyle apparel brand. Hit him on Twitter @ItsAUThingBLOG or @ChristianRBello.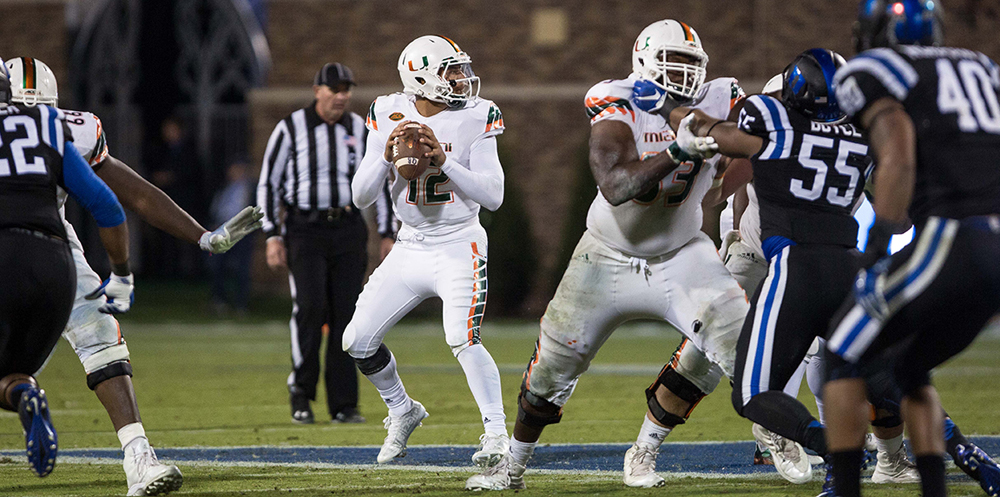 Heated position battles at Greentree Practice Field are a strong part of the Miami Hurricanes' folklore, going back four decades now. Competition has forever been fierce and those vying for a starting job have often found another gear, or manufactured a defining moment in their quest for that preseason nod. In many ways, it's the true heartbeat of Miami Hurricanes football.
Strangely, that wasn't the case in Coral Gables these past few months regarding the quarterback position and the quest to replace three-year starting quarterback Brad Kaaya. This completion almost felt clinical or corporate; the best man for the job who checked off the most boxes and whatnot.
Malik Rosier—a dual-threat, redshirt junior and former 3-star prospect out of Alabama—expectedly got the nod, despite media hype and fan-fueled chatter surrounding true freshman N'Kosi Perry. Had the 4-star product out of Ocala trekked south in January as an early enrollee, those four extra months of playbook-learning and college-acclimation could've produced a more exciting result, courtesy of a heated fall battle.
Such wasn't the case, which had consistency and maturity edging out potential and sizzle—and based on the squad Mark Richt will field year two at 'The U', maybe that isn't necessarily a bad thing. Solid defense. Workhorse running back. Speedy receivers. Whoever is under center doesn't need to wear an "S" on their chest. They simply need to do just enough and not blow it.
'QUARTERBACK U' STARTING TO LOOK THE PART AGAIN
There's an old adage about a back-up quarterback being the most-popular guy on a team when an offense is struggling. That tends to hold true in this day and age regarding freshman phenoms with next-level high school reels and endless potential. Perry absolutely falls into this category—the legacy already growing before taking his first collegiate snap.
With dual-threat quarterbacks like Lamar Jackson, Marcus Mariota and Jameis Winston winning three of the last four Heisman trophies—the national hunt for the next great is forever underway. Perry even synced and studied with Winston back in February—by way of a mutual friend—Tampa Bay's former number-one pick doling out some football knowledge to the then-high schooler weeks after he'd signed with the Canes.
Any way it's sliced or diced; a sexier narrative surrounds the Perry era, than next-in-line Rosier—who along with Evan Shirreffs, had pulled ahead of both freshman Cade Weldon and r-sophomore Jack Allison, the latter leaving the program late April and transferring to West Virginia by June.
Vincent Testaverde—son of Vinny—was nowhere in the mix, leaving the former Texas Tech transfer to part ways with the Canes earlier this week.
Perry made his way to campus late May for the Summer A session; a solid month after Rosier started putting his fingerprints all over this year's squad—something that even surprised Richt.
"I did not expect to have a clear leader when [spring practice] was done. I think we are right about where we thought we were. And if I had to say how I peck them right now, it would be just like I got them going into this spring game. Kind of a co-No. 1 thing, and the rest of them are kind of like co-No. 3. Just fighting for that No. 3 spot, at the moment," explained the second-year Miami coach—who shared with Rosier that upon taking over last season, never foresaw the day when No. 12 would play for him.
Richt went on to tell the Miami Herald that while Rosier stood out about the rest, it wasn't by "an unbelievable amount" and went on to acknowledge that "it was apparent he was having the best camp. There was enough of a difference to feel comfortable that Malik is the guy."
Shirreffs, Weldon and Perry were all advised to keep grinding—and there have been reports that Perry will have some special packages designed for certain games as the athleticism is undeniable.
Rosier has seen action in ten games over the past three seasons, with one start—guiding Miami to a miracle win at Duke in 2015 a week after then-head coach Al Golden was fired in the wake of a 58-0 home loss to Clemson.
Rosier was 20-of-29 for 272 yards with two touchdowns and an interception in a game the Canes seemingly had locked up, 24-19 before a few bunk interference calls kept drives alive—the Blue Devils going ahead, 27-24 with :06 remaining. From there, an eight-lateral 'Miracle In Durham' unfolded and the Larry Scott-led Hurricanes survived with Rosier in for the banged-up Kaaya.
It was a singular moment in the spotlight as the next season was all about Richt's takeover and the quarterback guru working with Kaaya. Rosier saw action in three games during the 2016 campaign; 2-of-4 for 32 yards against the likes of Florida A&M and Appalachian State early in the year, followed by mop-up duty against Duke in the regular season finale.
Still, the behind-the-scenes can't be denied—Rosier spending the past three seasons shadowing his predecessor; rooming with Kaaya on the road, hunkering down in the film room together, going over the playbook, always observing and ultimately ready to go as No. 15's back-up.
Knowledge was absorbed through the experience and now it's time to put it in play.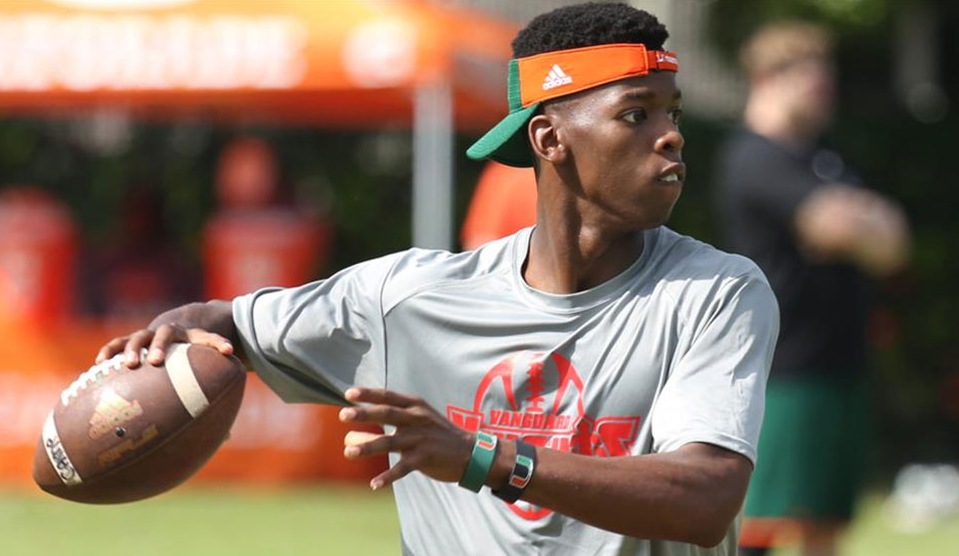 MITIGATE RISK, PLAY THE ODDS, WIN THE COASTAL
A handful of candidates for the job, no one—at this point—is a safer, low-risk / high-enough reward bet than Rosier. Perry may have the most athleticism and potential upside, but that doesn't currently trump a 22-year old r-junior who's put in the work, stacked on the man-weight, knows the system and earned the respect of his teammates.
Steady as she goes early-on for Miami this season; the Hurricanes' early schedule also playing an unspoken role in Rosier getting the nod, as much as his experience—versus Perry's lack-of.
With both could arguably beat Bethune-Cookman in their sleep next Saturday at HardRock—three of the next four games are on the road; Arkansas State (9/9), Florida State (9/16) and a rare Friday showdown at Duke (9/29), six days after hosting Toledo. From there, a very manageable conference schedule, as well as a late-season home showdown against Notre Dame—the first in South Florida since the revenge-fueled beat-down of 1989.
Regarding all things Atlantic Coast Conference-driven, the Coastal Division looks to be a two-horse race between Miami and Virginia Tech; with the Canes getting a leg up talent-wise, as well s home field advantage for the November showdown.
North Carolina is in rebuild-mode after it's offense was decimated with departures and Georgia Tech remains one-dimensional offensively—albeit always comes to play on defense. Duke's upperclassmen-heavy teams of the past few years are no more. Virginia is coming off a two-win season. Pittsburgh is breaking in a new quarterback, while it's defense gave up 35+ plus points-per-game on average last season.
Translation; Miami has as good of a shot to win the division as it's had in upwards of a decade. Knowing that, a big part of this season's strategy is mitigating risk—and entering the season, nothing is currently riskier than an inexperienced freshman forced to learn on the job.
The Canes may lose something here or there regarding Perry's athleticism—but the tradeoff; eliminating those types of rookie mistakes that could prove detrimental.
MUST PUT A PRICE ON EXPERIENCE
Kaaya was thrown into the fire back in 2014 and Miami paid with a 6-7 season. No, the all-around talent level wasn't the same as what the Canes are currently sporting—and culture-wise, Richt's squad versus what Golden fielded, are night versus day.
Still, pushing that all aside—there were freshman moments where it was Kaaya in control to make a play and the inexperience got him. Two sacks and two interceptions in the season opener at Louisville were difference-makers. Weeks later, a three-touchdown, 359-yard outing at Nebraska was also marred with two crucial picks.
Georgia Tech beat Miami with ball control—but a late second quarter interception prevented the Canes from taking a halftime lead. Kaaya had a late shot to pull UM to within four late, but another red zone pick sealed the deal—in a game where the Yellow Jackets held the ball for 40:45 and Miami was 1-of-5 on third down conversions. A common theme as the Canes were 4-of-10 against the Huskers on third down and a paltry 1-of-13 versus the Cardinals in week one.
Three years ago, Miami had no option but to go with Kaaya—as it was down to the true freshman, versus an underachieving journeyman in Jake Heaps. Such is not the case this year putting Rosier versus Perry, or even Shirreffs and Weldon as there's an abundance of talent at the position that the Canes haven't seen in a good while. Richt has options and with the season opener days away, he made the right one choosing "good enough" over "potentially great"—while saying all the right things to explain his decision and opening the door for change should Rosier backslide, or others step up.
Miami is a favorite to win the watered-down Coastal Division—arguably setting up a rematch with Florida State on December 2nd in Charlotte. That in itself inevitably puts less short-term pressure on September 16th in Tallahassee and more long-term focus on the seven regular season ACC games that follow.
Chris Bello has been covering University of Miami athletics since the mid-nineties. Getting his start with CanesTime, he eventually launched allCanesBlog—which led to a featured columnist stint with BleacherReport. He's since rolled out the unfiltered, ItsAUThing.com where he'll use his spare time to put decades of U-related knowledge to use for those who care to read. When he's not writing about 'The U', Bello earns a living helping icon Bill Murray build a lifestyle apparel brand. Hit him on Twitter @ItsAUThingBLOG or @ChristianRBello.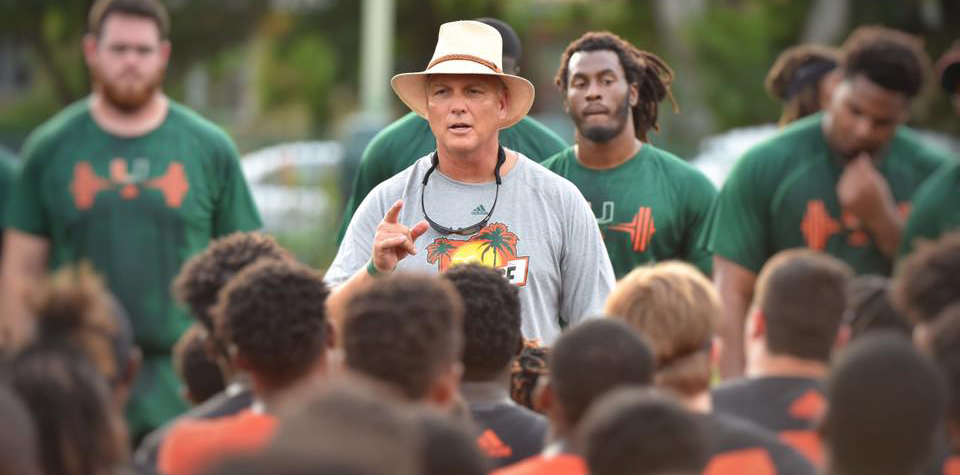 Outside of playing some downright sub-par football over the past decade-plus, the Miami Hurricanes also spent that time suffering from a full-blown identity crisis.
Who is The U and what does present-day Hurricanes Football embody? It's a question that was at one-time easily-definable, but got rather convoluted when contender status and consistent BCS appearances became a thing of the past—traded in for a middle-of-the-pack ACC existence amongst never-ending "rebuilding" cries.
It's also a query Mark Richt has been working to solve by way of reshaping Miami's brand identity—on display this weekend with his second annual Paradise Camp, where the second-year head coach tapped into a deep football alumni pool, welcoming home some legends and giving those great players defined roles in the Hurricanes' rise from the ashes.
In decades past, college football was more or less the Wild West—a wide-open landscape and endless opportunity for any upstart program who dared challenge the in-place, traditional powers—which the University of Miami did in the early 1980's and beyond. Locking down South Florida's local, homegrown talent—which most opponents hadn't quite caught onto yet—produced speed, swagger, dominance and an anti-establishment attitude that inevitably helped the Hurricanes turn the sport upside down.
Probation derailed the agenda in the mid-1990's, but the success formula remained the same; bring in Miami-style kids who understood the blueprint and get things back on track. Success wasn't far removed for those Hurricanes—the late nineties guys growing up watching the "Decade of Dominance" era and chasing the ghosts of those greats.
The game plan worked to perfection and by the early 2000's, Miami was again on top. Four consecutive BCS games, back-to-back title games, a national championship and 34-game win-streak—not to mention sending top-flight talent to the NFL in droves.
Wins produced swag while swag also fueled those history-making victories. The proof was in the results and there was little room for interpretation. Ultimate success and style point defined the Hurricanes—and then it stopped, making way for a "Decade of Disaster", with no reprieve in sight.
Prior to the fall, Larry Coker went on a run with the talent assembled by Butch Davis, but the tank was soon on empty and it would take more than a nice-guy, interim-style leader to rebuild proper. Financially-strapped and playing catch-up facilities-wise, Miami football wasn't yet the desirable gig it's since become—leading to a promotion-from-within and dice rolled on a former player and longtime assistant, Randy Shannon—who had his flaws and proved better-suited to be a career assistant than CEO and backbone of a program.
When that failed, enter Al Golden—praised for his efforts turning a doormat Temple program around, but still an unproven outsider plucked from the northeast and low-risk, low-reward option for a cash-strapped program with a then-university president lacking a long-term vision for athletics, with her (understandable) focus on a world-class medical school legacy.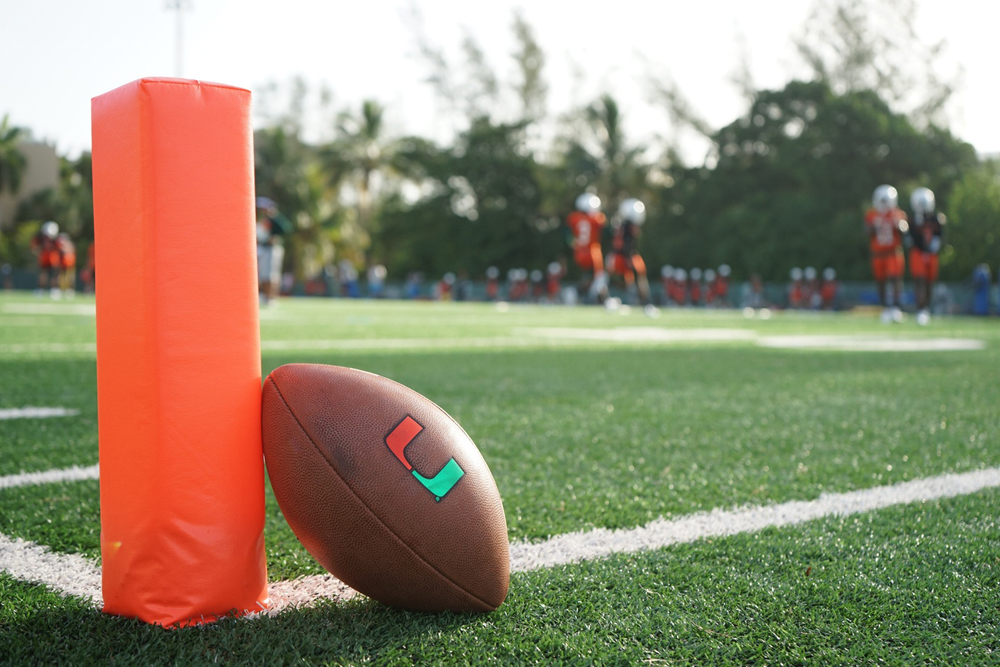 THAT WAS THEN, THIS IS NOW—LET'S GO, MAN
Timing is a quirky thing and so often since the turn of the millennium, it hasn't worked in Miami's favor. That said, timing also has a way of leveling itself out and eventually coming back around—which happened for the Hurricanes a few Decembers back when Richt's run in Athens came to an end.
One man's trash certainly proved to be another's treasure. The long-time Georgia leader was let go, leaving Miami to scoop up the veteran immediately—believing Richt to be an ideal fit; a proven commodity with a chip on his competitive shoulder and something left to prove with one last go-around.
More than just chasing an elusive championship, the former Hurricanes' quarterback is proving to be the rebuild-it-right and leave-it-better-than-you-found it type leader—especially in the case of his alma mater. Richt put his money where his mouth is, investing $1M out of his own pocket towards a much-needed indoor practice facility—while leaning on creativity with the forward-tanking Paradise Camp; an event that finally puts the University of Miami on offense regarding how it challenges the competition, moving forward.
For years, the Hurricanes have inexplicably been in defense-mode. Defending the program's facilities, defending an off-campus stadium or a lack of a traditional college-town atmosphere and the steadfast small-town support that comes from being the only channel to watch in a one-horse town.
The experience in Coral Gables won't soon be confused with one in Gainesville, Tuscaloosa, South Bend or Ann Arbor—and conversely, none of those smaller towns can compete with Miami's "paradise" vibe and overall style, so quit with the pointless comparisons or inferences that the Hurricanes don't measure up.
Richt is changing the narrative; playing up the University of Miami's unique strengths, which more than negate any perceived weaknesses.
No on-campus stadium? Who gives a shit? The Canes play in a recently-renovated, first-class NFL stadium that houses Super Bowls. No rah-rah college town vibe? Good, as it sets the bar even higher. Hurricanes Football is treated like a big time pro sports franchise. There are no sympathy points or forced support because of emotional alumni ties.
This is Miami. There are countless ways to spend one's entertainment dollar and everyone is jockeying for the spotlight. Win, and you earn the keys to a diverse, international, big time city. Lose and you're feel the heat as there are no free rides and tremendous competition for the community's eyeballs.
Bigger risks equating in greater rewards—which is something the past Miami greats did when putting their balls on the line to play in that orange and green spotlight. Former receiver, mouthpiece and self-appointed motivational speaker Michael Irvin touched on all of that when "Paradise" wrapped on Sunday.
"I just wanna be around the kids, man,'' the legendary wideout said, "Just pass on to them what it was like when we stepped on these practice fields and how it became what it was, how proud we were to play for one another and how hard we worked against one another.
"You could see their eyes light up at what they have an opportunity to be a part of,'' Irvin continued. "Being here is important. … This is Miami. You come be a part of something. You dominate here, you own Miami. … You dominate here, you own the world.''
Owning the Magic City and the world. Sounds a shit-ton better than being king of "Too-ka-loo"—Irvin's purposeful mispronunciation of Tuscaloosa and the small fish in a big pond experience at cookie-cutter universities across the nation.
CRACKING THE MIAMI CODE; GROWING "THE U"
Having spent 15 years in Athens and a decade in Tallahassee prior-to, Richt is well aware of what makes programs in those smaller regions tick—but he also reaped the benefits of growing up in South Florida and playing his college ball at Miami. Right knows "The U" also stands for "unique"; hence tapping into over a dozen former UM legends for this special camp—while continuing to play up the weather, energy, environment and atmosphere in the 305.
In other words, we play where you vacay. Get on board, or get left behind and deal with the consequences.
Along with Irvin, this past weekend brought Ed Reed, Willis McGahee, Jeremy Shockey, Vince Wilfork, Jon Vilma, Antrel Rolle, Devin Hester, Jon Beason, Bryant McKinnie, D.J. Williams, Brett Romberg, Kenny Phillips and Calais Campbell all back home as player-coaches, wisdom-spouters and veteran motivators, while current coaches intensely led practice.
Coupled with the impossible-to-argue sales pitch regarding South Florida's weather and the University of Miami's unique vibe—"paradise" proved the be the ideal adjective. A day later, it's still hard to tell who got more out of it—the recruits, or the former Miami greats chomping at the bit to see this program back on top again.
"They told us, 'Just be yourself. Do whatever you feel is right,' " former running back McGahee told the Miami Herald. "These guys look up to us, and they can get a lot out of two or three hours. I wish we had this. Didn't have nothing like this. Didn't have nobody to talk to but neighborhood friends."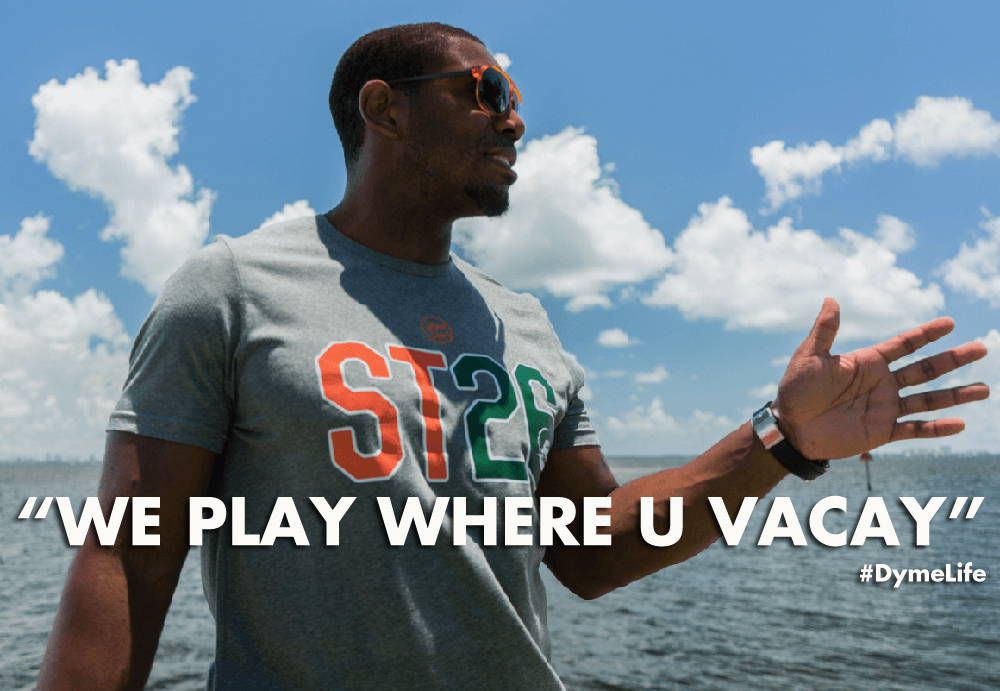 Rolle echoed his former teammate's sentiments.
"I see something in them," Rolle shared with the Palm Beach Post. "It's a different mentality that they have. It's a different look at they have. Before I had to feel the guys were just too anxious here. They were just too anxious to try to get to the next level. Right now I'm not so much seeing that. I'm seeing the guys are really anxious to get back to winning and that's what it's all about. If you win everything takes care of itself."
It seems so simple, really—but much like the game of college football itself, without nailing the finite details and properly executing, The Hurricanes haven't been able to bring it all back together until Richt's arrival.
Coker and Shannon had their camps, but neither were like the one current on display. Golden tried, as well—earning positive reviews for his efforts, which helped mend fences with local high school coaches burned by his predecessor—but it wasn't enough to make a real recruiting dent. Steps were taken forward, but the New Jersey native and Penn State alum lacked the authenticity that Richt brings to the table as "one of us", as well as checking off the "proven commodity" box as a head coach and leader.
Richt's pedigree also affords him the ability to know how to properly incorporate those uber-successful Hurricane legends into his long-term game plan—another area where recent leaders of this proud program came up short. Shannon was inexperienced, unproven and unable to implement a workable strategy, while Golden simply didn't have the roots and history with those who helped build this program one snap at a time.
Outside of the obvious, something as intangible as timing is also proving to be on Richt's side—where others didn't have that luxury. Miami's three-year probationary period ended last October—fallout from the NCAA investigation that prohibited former players, boosters and trustees from standing sideline on game.
Richt worked around this last spring, but inviting former greats to the official spring game and night-before banquet—seeds planted that helped lead to these game-changing summer camps that are destined to have the Hurricanes reeling in some of the nation's best athletes after an unfathomable drought.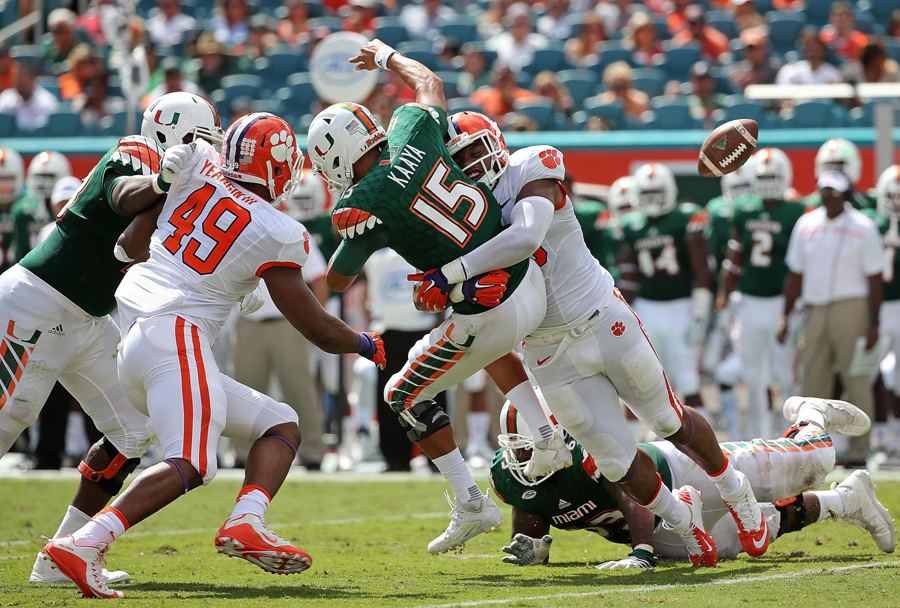 TIME IS (FINALLY) BACK ON MIAMI'S SIDE
Phrases like "perfect storm" are easy to toss around when discussing the state of Hurricanes football, but in all reality, there's no other way to describe the serendipitous nature for Miami over the past almost-two years—beginning with rock bottom when Clemson delivered that 58-0 ass-kicking in late October of 2015.
What felt like the ultimate gut punch at the time—that annihilation proved to be the first step in the journey back. A lesser beat-down might not have cost Golden his job, but suffering the worst loss in the proud program's history was the proverbial last straw. Interim head coach rallied the troops for a 4-2 run down the stretch and less than six weeks after Golden's dismissal, Richt fell into Miami's lap.
Another six weeks later, a solid foundational recruiting class was locked down—Golden and staff's initial efforts to plant seeds, while Richt's style, energy, confidence and resume sealed the deal with future stars like Shaq Quarterman, Ahmmon Richards, Zach McCloud and Joe Jackson; the type of player the Canes had swung and missed out on too often.
A serviceable inaugural season followed, full of highs and lows. Late-game losses to Florida State and Notre Dame stung, while a five-game win-streak and convincing bowl victory ended things on a high note—a high the Canes have continued riding, with momentum rising ever since.
All of this will inevitably pose the standard, "Is Miami back?" line of questioning from the national media as fall rolls around—and so be it. Love or hate the Hurricanes, the program remains polarizing. For those in-the-know, best suited to brush off that small-mindedness as the moves being made in Coral Gables aren't going be measuredly a mid-September showdown in Tallahassee.
Something bigger is finally in the works; a much-needed, revamped process and proper plan is in effect—put into place by the right guy at the right time, with a clear cut vision as to how to make all right for Hurricane Nation once again.
Outsiders, you've been warned—and this time it's coming from the top; rooted in process, not hype.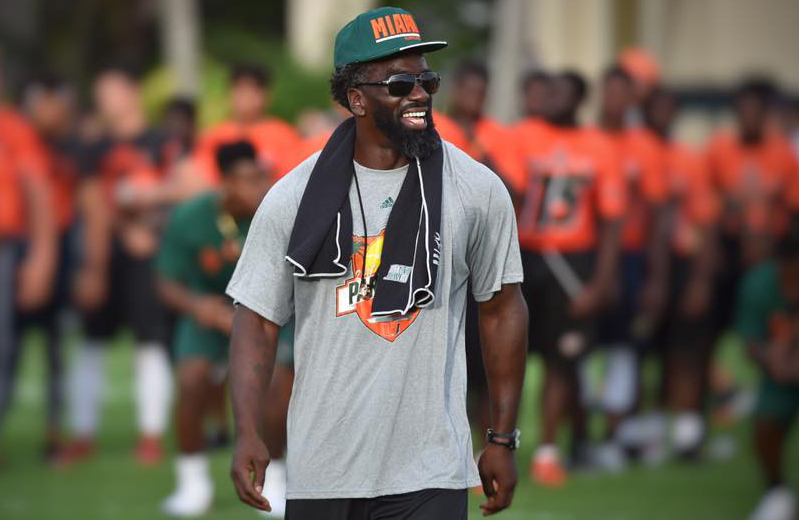 Chris Bello has been covering University of Miami athletics since the mid-nineties. Getting his start with CanesTime, he eventually launched allCanesBlog—which led to a featured columnist stint with BleacherReport. He's since rolled out the unfiltered, ItsAUThing.com where he'll use his spare time to put decades of U-related knowledge to use for those who care to read. When he's not writing about 'The U', Bello earns a living helping icon Bill Murray build a lifestyle apparel brand. Hit him on Twitter @ItsAUThingBLOG or @ChristianRBello.

Look no further than a 24-hour mid-March snapshot to see the glaring differences between two in-repair teams; the title-rich (and mojo-less as-of-late) Miami Hurricanes baseball program and a men's basketball squad hellbent on becoming a true contender.
As a rebuilding season rolls down the stretch for the Jim Larranaga-led men's basketball program, Miami topped a feisty Syracuse squad in New York last Wednesday at the ACC Tournament.
The Canes would ultimately fall to top-seeded North Carolina the morning after—but a statement had already been made. Despite losing some key starters, this squad won enough quality games—in the sport's toughest conference—to be deemed NCAA Tournament-worthy. Days later the Canes earned an eight-seed and will take on ninth-seeded Michigan State in Friday's opening round; a date with top-seeded Kansas looming as a consolation prize on Sunday if surviving the Spartans.
A dozen hours prior to basketball's conference tourney victory, the Jim Morris-led Miami baseball squad was on the wrong end of a 12-1 home shellacking courtesy of crosstown rival Florida International, who the Canes would also lose to Wednesday evening, 3-2, in a make-up game. This latest setback came on the heels of losing a home series to Dartmouth, getting swept at Florida the weekend prior and a head-scratching Sunday loss to Rutgers opening weekend, 17-6, after Miami took the first two games against the Scarlet Knights.
To the Canes' credit, bats came alive at home against Georgia Tech last weekend; a 17-7 rubber-match victory after an extra innings loss on Saturday after holding on 10-8 on Friday night at The Light—and before over-praising any hardwood success, Larranaga's kids did drop road games at Virginia Tech and Syracuse the final week of the regular season, hurting conference tourney seeding and a more favorable path match-up wise at the Barclays Center.
Still, one would be remised to not acknowledge the vastly different trajectories Miami baseball and basketball are on as one rebuilding season is ending successfully and another is just getting underway, albeit to a rocky start.
A year ago, a completely different story for both.
IT'S ALL ABOUT U BEING BUILT POST-SEASON TOUGH
Morris' squad rose to number one in the nation last April—29-5 at that point in the season after taking a road series against Duke. A week later, some backsliding to No. 4 following a mid-week loss to Florida Atlantic and dropping a home series to Virginia.
Still, Miami rolled to a regular season ACC title before losing to Florida State in the conference championship game late-May.
The third-ranked Canes then topped Stetson in the Coral Gables Regional opener and knocked off Long Beach State in back-to-back games—followed by a break in the Super Regionals when host Ole Miss lost in Oxford, sending Boston College south; a familiar conference rival Miami disposed of in three games.
While there's little knocking the Canes regular season success—the ongoing narrative regarding a lack of next-level post-season play held true. Miami face planted on the main stage—again—getting rolled by Arizona in the opener, followed by a lifeless loser's bracket showdown where UC Santa Barbara prevailed.
Over the years the Canes always had fun at Florida State's expense—ball-busting long-time Seminoles' head coach Mike Martin and his 0-and-2-and-a-BBQ track record—yet the Jekyll and Hyde regular season versus post-season personas have since become Miamiesque.
The Canes reached Omaha in 2015, as well—after a six-year drought—the result even more limp-dicked as Miami was trounced by Florida, 15-3 in the opener, barely survived Arkansas in the loser's bracket and was the Gators' bitch once again—falling 10-2 in a do-or-die match for both teams.
Unfortunately, the issue with Florida is proving to be the new norm, opposed to an aberration. Despite the fact that the Gators remain title-less, there's no denying their ascension as the Sunshine State's baseball power—even amassing an 8-1 record against Florida State the past two seasons; beating the Noles in back-to-back Super Regional appearances with Omaha on the line, as well.
Miami's record against Florida is even uglier. Going all the way back to the 2009 post-season—where the Canes were outscored by the Gators 27-4 over two losses in the Gainesville Regional—UM went on to drop 14-0f-15 to UF over the coming years and are now 6-26 since against a hated arch-rival, including this season's recent road sweep.
Losing to a talented Florida program is understandable, but seeing the Canes suffering from a Gators-fueled inferiority complex is a much deeper-rooted problem—one which starts at the top leadership-wise. Where did Miami baseball lose its grit—especially in the post-season where it was once clutch and tough as nails? Two years ago the Canes made their first trek back to Omaha six tries and was outscored by the Gators, 25-5 over two games sandwiched between a do-or-die win over Arkansas.
Last season, the regular-season ACC champs saw bats go ice cold in a 5-1 opening loss to Arizona and an all-too-familiar loser's bracket match-up against UC Santa Barbara, 5-3—making for a 2-6 record at the College World Series in three tries for Miami, since dropping the 2008 opener to Georgia as the tourney's top seed.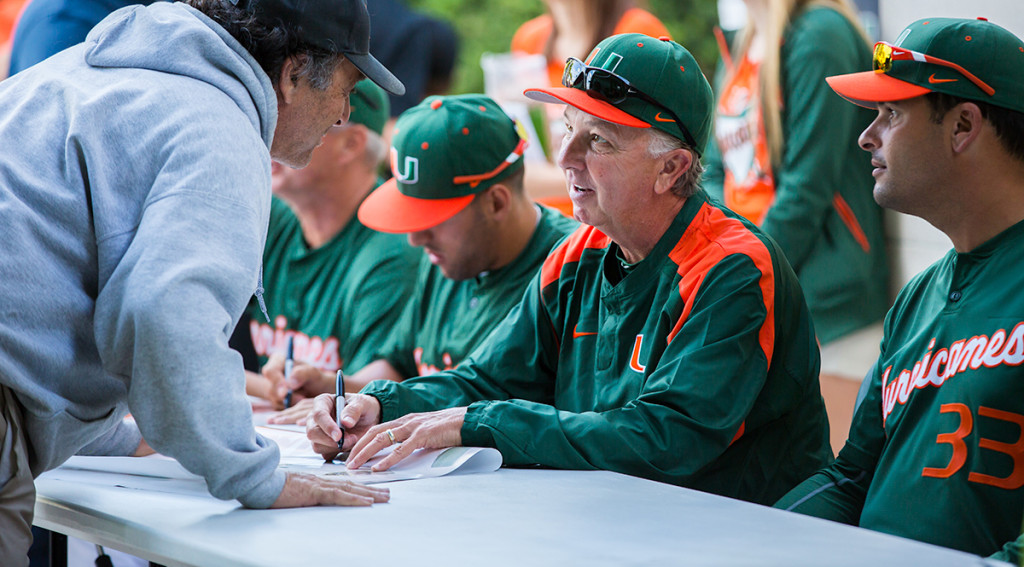 A TIRELESS LEADER VERSUS ONE WHO LOOKS JUST PLAIN TIRED
Compare and contrast all of that to what Larranaga has done with his magic touch since falling into the Canes' lap back in 2011 in truly serendipitous fashion. Known then for a Cinderella-like NCAA Tourney run in 2005—11th-seeded George Mason rolling all the way to the Final Four, taking down Michigan State, North Carolina, Wichita State and top-seeded Connecticut in the process.
While Larranaga spent 15 seasons in Fairfax, Virginia leading the Patriots—Miami lost an entire decade trying to rebuild in the post-Leonard Hamilton era; setting the bar with a Sweet 16 appearance his final season in Coral Gables. Hamilton's stint with the Washington Wizards—featuring the return of Michael Jordan—only lasted two seasons before insult to injury; the former Canes coach winding up in Tallahassee while Hamilton's former assistant Perry Clark took over at UM.
Clark amassed a 65-54 record before back-t0-back losing seasons earned him a pink slip. Next up; Frank Haith, who last seven seasons, reached the NCAA Tournament once, earned four NIT bids and never finished higher than T-5th in the Atlantic Coast Conference—as well as 12th and 9th his final two seasons with the Canes, before inexplicably being hired away by Missouri when all signs pointed to a Miami dismissal.
Haith was later disciplined as the Tigers' head coach for Nevin Shapiro-related infractions that happened on his watch at "The U". In 2016—two years after Haith agreed to leave Missouri for Tulsa—an internal investigation uncovered violations throughout the head coach's tenure in Columbia; the Tigers self-imposing and vacating all wins from the 2013-14 season.
Where Morris replaced a legend in Ron Fraser—widely-know as The Wizard of College Baseball and a pioneer for the sport—Larranaga walked into a busted culture and program riding a decade-plus of mediocrity; the only thing perfect was the timing.
Three years prior, Larranaga turned down his dream job at Providence to stay at George Mason—a close friendship with then-university president Alan G. Merten a big reasons why. Merten's decision to step down at the end of the 2012 school year set off a chain of events that inevitably turned the University of Miami into a budding basketball power.
Less than two weeks after Merten announced his retirement, Haith left Miami for Missouri. A coaching search was underway and the on-vacation, interested-in-The-U Larranaga didn't have a resume ready to go—so at the advice of a friend in South Florida, copied his Wikipedia page and emailed it in. An hour later, he got a call for an interview.
Lost in that feel-good story about Larranaga the man—his behind-the-scenes efforts as a visionary and leader. On the flight home fresh after coming up short in the Final Four, Larranaga spoke with George Mason athletic director Tom O'Connor about the future—his contract, the contracts of assistants the program couldn't afford to lose and upgrades to facilities.
That type of thinking, aggressiveness and approach—a reminder that the job never ends and that it's takes a fire, passion and little something extra to go from good to great. Throw smarts and the embracing of technology in there, as well.
Despite being 63 years old in 2013 when the Canes made their first Sweet 16 run under their second-year leader, Larranaga was one of the sport's earliest adopters of Kenpom.com—a college basketball analytics program—as well as Synergy Sports' video-scouting software that compiled detailed data on every team in just about every game-time situation.
"The thing with Coach is, as long as he's been doing this, he's never stopped learning," Chris Caputo, a long time Larranaga assistant said regarding the obsession with stats and tech analytic tools. "You're looking, searching for things that will give you a bit of an edge. I think it was just word of mouth—there's no great story."
While it's unfair to hold everyone to the same standards, Larranaga and his success-by-way-of-process at Miami have inevitably raised the bar for his 67-year old counterpart, Morris—the basketball coach only a few months older than the baseball skipper.
There's no ignoring or discrediting Morris' out-the-gate and long-running success at Miami, two national championships or recently-strong regular season play over the past two years—but you can't praise the good without hammering the bad and questions the long-time leader's current passion for the game, a lack of connection with players and the inability to find another gear in the post-season.
PLAYING NICE IN THE PRESENT IS IMPACTING MIAMI'S FUTURE
Where Larranaga is a proven leader among men—both with his players and assistants—the past few years have shown that Morris is presently unable to run a top-notch program without his right-hand man, head-coach-in-waiting Gino DiMare.
DiMare is a Miami product out of Westminster Christian who played his college ball for the Canes and has spent 17 seasons on and off under Morris. A three-year break between 2008 and 2011 saw the program backsliding without DiMare—throttled by Florida in the 2009 post-season, dropped in the Gainesville Super Regional the following year and a repeat of that failure in the 2011 Gainesville Regional.
Upon DiMare's return in July 2011, Miami responded with a 39-14 regular season but did little in the ACC Championship and was embarrassed as host of the Coral Gables Regional. The Canes fell to fourth-seed Stony Brook and third-seeded Missouri State by a combined score of 22-4, making it clear that DiMare's efforts as recruiting coordinator and hitting coach were beyond necessary of this once-proud program was going to be a contender again.
Recruiting efforts were felt immediately as Miami reeled in the ninth-ranked class in 2012 and the sixth-ranked class a year later—the Canes' best haul since 2006—welcoming immediate-impact players like Willie Abreu, Zach Collins and Jacob Heyward; opposed to overly-ranked players who were shoo-ins to shun college ball for a crack at the majors.
The measurable efforts of DiMare—coupled with his in-waiting status and a general aloofness from Morris—it's had the Canes in a state of limbo since Miami re-upped with the long-time head coach back in 2014. The Canes' batting average dipped to .275 in 2013; the program's lowest since 1979—and the inability to get to Omaha (or past Florida) was was on full display without DiMare.
Conversely, Miami's offense ranked among the Top 10 in school history eight of nine season with DiMare as hitting coach and the last great Canes squad (2008) held a .320 average and notched some strong internal records—tied for second in home runs (106), fourth in slugging percentage (.541), eighth in total bases (1,202) and RBI (517), ties for ninth in doubles (135) and tenth in hits (711).
"I'm not coming back to just get to an NCAA Tournament," DiMare told the Miami Herald upon his return. "Coach Morris knows how I am. He and [pitching coach] JD [Arteaga] are used to winning and going to Omaha. The fans are used to that. I am as a former coach and player at Miami. I certainly wouldn't be coming back if I didn't feel the program could get back to Omaha. I wouldn't put myself in that situation. I think we can get it turned around. I don't think they're that far off. But there's no doubt we have to get it going in some areas, hitting is one big area where we have to get it turned around. And we will get it turned around."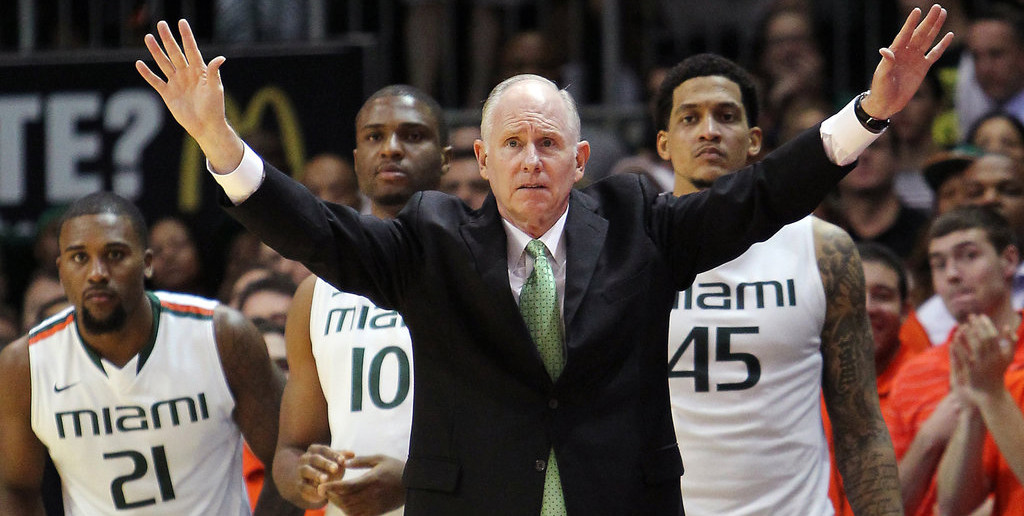 YOU HAVE YOUR GUY; WHAT ARE YOU WAITING FOR?
The coach-in-waiting dynamic may make sense in certain situations, but in this case reeks of seniority and rewarding a long-time coach for past success, while dangling a carrot and keeping the next-man-up at bay—a guy more than ready to create his own legacy.
In a sense, it could be argued that a two-time national champion has earned the ability to retire when ready and has every right to stick around—but doesn't that in itself put the individual over team and go against everything coaches teach their players regarding what it takes to be successful?
Same to be said with a coach starting a good-not-great senior because he's been around longer, despite having a phenom freshman hungry and ready to make an immediate impact. This isn't about Morris' legacy; it's about the future of Miami baseball in a crowded and competitive landscape where rivals haven't just caught up—they've pulled ahead.
The DiMare experiment remains just under two seasons away and upon his takeover, Miami will have a new leader at the helm for the first time in 24 years—which requires adjustment at some level. Best case scenario, the Canes hit the ground running under DiMare. Worst case; it's a carry-over from the Morris era and Miami doesn't re-find it's post-season groove—the title drought since 2001 rolling on—and the program will have to look elsewhere for a leader (setting the rebuild back even further.)
Whatever the case, does it not make sense for the Canes to dive in and start the process, already? Was it really necessary for Miami to renegotiate the original Morris deal—one that would've wrapped after the 2015 season—extending it through 2018 as some form of a courtesy? Sure, a fair-enough send off for a successful coach—but at what expense?
Slow-start aside, or recent regular season success the past few years—doesn't matter. At best, Miami baseball is in maintenance-mode, while Canes' basketball is reaching new levels—both coached by men in the twilight of their careers; one still learning and fueled by fire and passion, while the other is sticking with his archaic ways and seems like he's going through the motions; riding this thing out until the end, for his own personal needs—not the future of the program he helped build.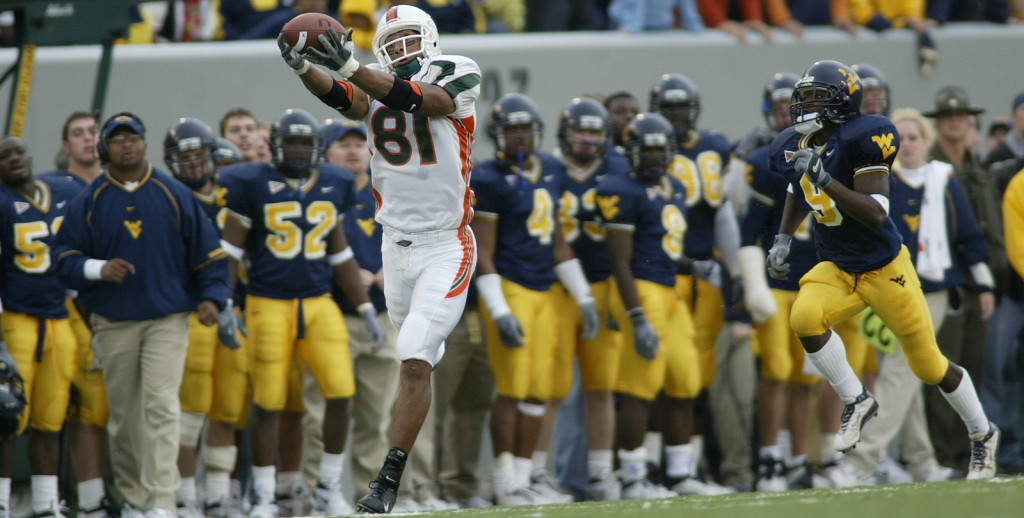 This year's Russell Athletic Bowl might now have the dramatic flair and high stakes of the playoffs on New Years Eve, but the storylines and history surrounding the Miami and West Virginia showdown will make for one of the season's more intriguing match-ups.
On paper, it's the ACC and the Big 12 going at it. A four-loss team versus a two-loss squad—both with higher hopes back in September, but landing in a good-enough spot as 2016 draws to a close.
In reality, a lot of hate on both sides between one-time BIG EAST rivals who tangled over a dozen times from the early 1990's through the early 2000's.
The Mountaineers' hate for the Canes is as elementary and pedestrian as expected; little brother envious of big brother and a backwoods program jealous of them flashy "big city" boys who racked up conference titles and national championships left and right.
Added animosity for those few occasions the underdog had swag-fueled program on the ropes, but couldn't close—as well as the defection to the ACC after the 2003 season, where Virginia Tech, Boston College and Syracuse were eventually invited along, the BIG EAST imploded and the boys from Morgantown were left out in the cold.
For Miami, West Virginia was nothing more than a mid-tier rival who rose up on a few occasions, fell short many others and proved to be a shitty host whenever dem boys from the three-oh-five made that biannual trek to Mountaineer Field.
And what a throw-down some of those treks were. For those unfamiliar with the rivalry, a quick trek down memory lane for context-sake.
CANES FOUND WAYS TO WIN; MOUNTAINEERS REINVENTED WAYS TO FAIL
Prior to becoming conference foes in 1991, four match-ups between 1942 and 1974, with Miami going 3-1. The teams met again in 1983, with the Mountaineers a footnote in the Canes' first national championship season—where the hometown boys rolled, 20-3 at the Orange Bowl.
The first conference game was a 35-23 home win for Miami in 1992. Those eight years in-between, the Canes racked up three more championships and left at least three more on the field. Meanwhile, long-time head coach Don Nehlen had the Mountaineers an at-best 9-3 squad before an 11-1 standout season in 1988, culminating with a Fiesta Bowl loss to Notre Dame.
Five seasons later West Virginia rose to No. 2 in the polls by way of an undefeated run, before getting trounced, 41-7 by eighth-ranked Florida in the Sugar Bowl—a season highlighted by a late November upset of fourth-ranked Miami in Morgantown, 17-14.
The Mountaineers got the Canes one more time in 1997; a 28-17 victory in the Orange Bowl with Miami on probation year three under Butch Davis and en route to its first losing season since 1979, bottoming out at 5-6.
Outside of that, it was a rivalry where Miami either rolled, as expected—or West Virginia choked-away would-be upsets or thrilling victories; 1996 being one of the more memorable dogfights.
Miami limped with losses to Florida State and East Carolina, while eleventh-ranked West Virginia was 7-0 and smelled blood. The Canes rolled out quarterback Ryan Clement and his separated non-throwing shoulder, as back-up Scott Covington was laid-up back home with a collapsed lung.
Scoreless at the half, the Canes notched a third quarter field goal, though a Clement interception by Mike Logan was returned to the three-yard line and quickly resulted in a go-ahead touchdown. With :26 remaining, the game looked in the bag as the Mountaineers lined up to punt in the shadow of their end zone when magic happened.
Tremain Mack came fast off the edge, blocked the punt, Jack Hallmon recovered and before going down, handed the ball off to Nate Brooks, who rumbled in for the score. Miami survived 10-7 in a game where the Mountain State's finest rained down D-sized batteries, unopened beers and racial slurs—as well as 22-gallon-sized trash can from the second level that took out Shannon, the Canes' linebackers coach at the time.
For added measure, the locals even tried to tip the ambulance geared up to take injured Miami running back Danyell Ferguson to the hospital with a dislocated hip.
Two years later, revenge was equally-as-sweet as the Canes were coming out of probation and Davis' squad was finally on the mend. Again, an early loss to Florida State had Miami in bounce-back mode, while West Virginia rode a four-game win-streak and rose to No. 14 after a season-opening loss to top-ranked Ohio State.
The Mountaineers raced to an early 14-3 lead, but the Canes cut it to 24-17 by the half. Covington helped tied things up early third, before Miami took a 27-24 lead in the quarter's final moments—but West Virginia scrapped back, going up 31-27 in the fourth.
Daryl Jones hauled in the eventual game-winner with 1:37 remaining and the Mountaineers missed a game-tying 53-yard field goal attempt as time expired in a 34-31 victory for Miami.
COMEBACK CANES SAVED BEST FOR LAST IN BIG EAST SWAN SONG
All that aside, the biggest dagger might've come in 2003 when the BIG EAST foes met one final time on a Thursday night in the Orange Bowl. The second-ranked Canes were four games removed from a national championship loss to the Buckeyes and a 34-game win-streak coming to an end. Weeks prior to West Virginia's trek south, a thrilling comeback victory against the hated Florida Gators had Miami on a high.
Amidst that tremendous run, the Canes extended the win-streak over the Mountaineers to five and won the previous three meetings by a combined score of 132-26.
Limping in 1-3 in year three of the Rich Rodriguez era, the early-October showdown was nothing more than a formality as Miami prepped for its annual trek to Tallahassee nine days later. Instead, one of those quirky Thursday night ESPN games that threatened to derail the season.
Brock Berlin coughed up two interceptions. Frank Gore went down with an injury, while back-up Jarrett Payton was guilty of a late-game fumble. Red-zone struggles plagued the Canes all night, too—leaving freshman kicker Jon Peattie to keep Miami alive with his inexperienced right foot.
The Canes looked to be in control late; pushing the lead to 19-10 early third quarter, but an early Mountaineers' field goal pulled the road dogs to within six with just over ten minutes remaining.
Payton's mid-field fumble with 3:30 remaining was the momentum-shift West Virginia needed and five plays later Rasheed Marshall hit running back Quincy Wilson on the left sidelines; the running back trucking Canes' defensive back Brandon Merriweather en route to pay dirt.
Upset alert in full force as Miami took over, trailing 20-19 with 1:54 remaining—made even worse by a penalty that set up 1st-and-20 from the Canes' 18-yard line.
Moments later, history was made when Kellen Winslow II made a ballet-like grab on 4th-and-13. Berlin spread it around three more times before finally getting Peattie in position to drill a 23-yarder with :14 remaining, while new-level of dejection kicked in for a West Virginia program that has reinvented ways to shit the bed against Miami.
Even worse, the rivalry ended that day as it was all about the ACC for the Canes the following season. Wednesday's showdown in Orlando marks the first time the teams have met since that Instant Classic in 2003.
A DECADE-OF-DISASTER FOR ONCE-POWERFUL MIAMI
Life for Miami since the dominant BIG EAST days have been a struggle—having less to do with the conference switch and everything to do with poor leadership, in-over-their-head coaches and an off-field scandal that brought the NCAA sniffing around, a lengthy, distracting investigation and three years of probation—all of which killed recruiting and turned the Canes into a middle-of-the-pack program.
Bowl-winless since topping Nevada on some blue turf in 2006, Miami is on it's third head coach over that same span and dealt with a few seasons of self-imposed penalties that killed any chance at post-season success.
Mark Richt looks to succeed year one where both Randy Shannon and Al Golden failed the Canes on a handful of tires.
The Mountaineers ride in on their first 10-win season since 2011—their final run in the BIG EAST, where they won the conference and reached the Orange Bowl. The five years since have been sub-par for head coach Dana Holgersen as life in the Big 12 has proven more challenging; 26-25 the past four go-arounds before this year's 10-2 regular season.
For West Virginia, a win over Miami this bowl season would be more nostalgic than ultimately meaningful. The Canes roll in unranked, while the Mountaineers' successful season is somewhat paper-thin—playing only one ranked team and getting rolled by eight-ranked Oklahoma, 56-28 at home.
West Virginia beat BYU, Kansas State and Texas by a combined eight points, while other wins came against the likes of Missouri, Youngstown State, Texas Tech, TCU, Kansas, Iowa State and Baylor, it what was an admittedly weak year for the Big 12.
CANES WITH ONE-FOOT OUT THE DOOR MUST DELIVER
For Miami, a win over West Virginia would prove meaningful—less by way of the opponent and more to do with ending a post-season victory drought, taking down a 1o-win squad, closing out a 9-4 season year one of the Richt era and riding that momentum into recruiting season.
Late December and early January optimism legitimately hasn't been the case in Coral Gables since 2004 wrapped with a 9-3 season and Peach Bowl win over Florida. A win on December 28th, 2016 goes a long way in reversing a horrible curse.
Furthermore, it's a chance for this current crop of Hurricanes to go out with a bang. Lots of chatter surrounding quarterback Brad Kaaya, tight end David Njoku and running back Joe Yearby, who are all expected to give up their remaining eligibility in favor of chasing NFL dreams.
Today's players taking a me-first approach late in their careers is understandable. College football has become big business and so much is on the line for the modern-day athlete. Still, the lack of team success and all-encompassing success during the tenure of these aforementioned kids is impossible to ignore. Doesn't matter if Kaaya broke the record books in his three years as a starter or Njoku had better numbers than all three Mackey Award finalists—these Canes all come up hollow regarding the ultimate stats. No other way to say it.
Winless against Florida State; playing their part in a seven-game losing streak. No Coastal Division title, either—let alone an ACC Championship, which Miami hasn't sniffed in the 13 years since joining the conference. No one on this current Canes' squad has won a bowl game, either—all of this unfathomable when comparing the present to Miami's rich legacy as a one-time powerhouse.
While there's no room for waxing nostalgic for a rah-rah era where players still believed in that "unfinished business" mantra and would put personal goals on hold for one more go-around with their brothers—chasing team goals, conference titles and making a run at a national title—it's not asking too much for these soon-gone Miami greats to elevate their game to the next level and show up big at the Russell Athletic Bowl.
Four wins over patsies to start the season were followed by four losses against the best competition the Canes faced this fall (sans Notre Dame). Four wins against average conference talent followed, hence the 8-4 finish—yet not one signature win.
Embarrassingly, Miami has to go back to 2009 and a one-point victory over eight-ranked Oklahoma for the program's last marquee victory (and even that one came with Sooners' quarterback Sam Bradford sidelined with an injury.)
Beating a one-time BIG EAST foe who the Canes are 16-3 against lifetime doesn't seem like a signature win—but coupled with a dozen down years, a decade-long bowl drought, head coaching turnover and a 10-win squad on the other sideline this Wednesday—a victory over the couch-burners and nine-win season for Miami is a fine way to close out a true rebuilding season.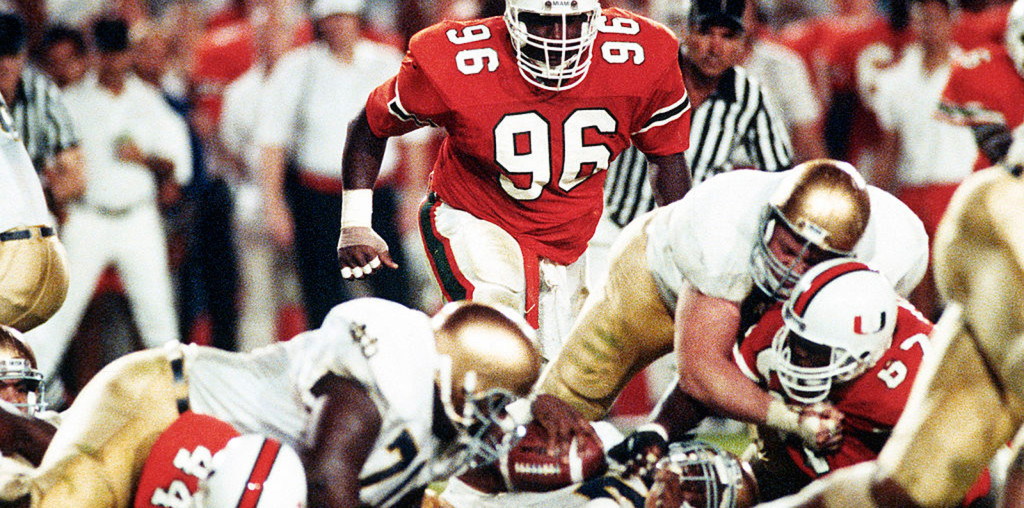 For those with a shared allegiance to the University of Miami, the entire premise of Catholics vs. Convicts had to be met with a mixed bag of skepticism, general curiosity and a longing for an impartial take on an epic football game with its controversial ending.
ESPN's 30 For 30 series has become synonymous with the Miami Hurricanes, courtesy of a two revered documentaries spanning the rise, fall and comeback of the storied football program on- and off-the-field over the past three-plus decades. When teasers began dropping regarding the Canes and Irish and that epic 1988 battle in South Bend, it begged the question—who was behind this?
Miami faithful were obviously hoping to see Billy Corben and the Rakontur crew tied to the project; makers of "The U" (2009) and "The U Part 2" (2014)—two of the more beloved segments in the acclaimed series. Instead, the name Patrick Creadon surfaced, prefaced by three words that immediately evoked unshakable feelings of bias—"Notre Dame alum".
For the Canes enthusiast, optimism and excitement immediate shifted to a fear of elitism, embellishment and the type of trumped-up, fairy tale-type mystique, a la Rudy, where legend replaced fact.
Corben and his team produced two films that showed the good, bad and ugly of the Miami football program over the years—as well as unapologetically showcasing the city's culture and climate at the time of the Canes' initial rise to the top. The result was some universally-appealing storytelling which is why the Canes-themed docs always top any "best of" list for the series.
For fans of the Canes, Corben and crew's films got the juices flowing as the best of yesterday was back on display. The epic victories, national championships and colorful personalities that helped transform a small, private school in Coral Gables into a national sensation. For the anti-U crowd; enough footage of heartbreaking losses, titles left on the field, the NCAA hammer dropping—twice—and gut-wrenching moments where an opposing viewer could gleefully celebrate a villain's demise.
Catholics vs. Convicts proved to be the exact opposite. Like a kid with a face so ugly, only a mother could love—this Fighting Irish stroke-fest oozed with schmaltz and Irishesque, holier-than-thou sentiments at every turn.
For the contingent who deems South Bend sacred, a carefully-crafted love letter for a fanbase 23 years removed from championship glory. For everyone else, an all-too-familiar feeling regarding an Irish slant and drunken storytelling.
SHAMROCK-COLORED GLASSES ON DISPLAY EARLY
First-person plural from the get-go, Creadon uses "we" when talking about Notre Dame football and history—immediately setting the tone that "fair and unbiased" are going right out the window. This trip down memory lane is being told by a Golden Domer with Irish blood pumping through his veins. It's not a story for the universal viewer—this was aimed directly at those who experienced this era of Notre Dame football from Creadon's vantage point; a super-fan who's adamant in sharing their personal history with the program.
The Creadon family's deep ties to South Bend were on display heavily in the film's first act. Dad graduated from Notre Dame; his love for the program rooted in the Irish doing it "with class and dignity", while Gramps was recruited by Knute Rockne. An impressive legacy, but also an Irishly narcissistic sub-plot that truly had nothing to do with the bigger story that was about to unfold.
Early on, it's explained that outside of revisiting the game, a portion of the film was dedicated to figuring out why the moniker "Catholics vs. Convicts" stuck. Why did some feel it was "funny and accurate", while others—Creadon included—thought it was "mean-spirited and reckless"?
That question really never gets answered from the filmmaker's perspective—though Miami-bred columnist Dan LeBatard spelled it out in a way that sums up precisely why the Canes got under that soft, Irish skin.
"They'd tell you there were gonna kick your ass. They'd kick your ass and then they'd celebrate the kicking of your ass."
Damn straight. Spoken like a true Miamian who lived through that era.
For an establishment-type program like Notre Dame that dominated in the leather helmet era, the brashness of the ultimate anti-establishment program taking you behind the woodshed—that was never going to play well and proved to be the tipping point in this story.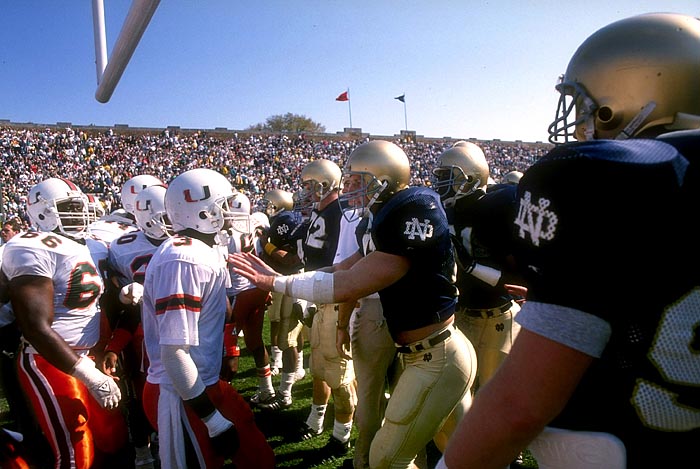 Not two minutes in, Creadon is speaking with college buddy and one-time t-shirt mogul Pat Walsh about the design and the screen goes black, followed by the phrase, "Three Years Earlier" and the now notorious date—November 26th, 1985. That's why everyone is along for this ride; bitterness that stemmed—and still stems—from that historic 58-7 ass-kicking the Canes delivered.
BRASH & DOMINANT CANES SCAPEGOAT FOR FAUST'S INCOMPETENCE
From that moment, the entire first act immediately goes into defensive-mode—justifying the shirt that surfaced three years later and manufacturing hatred because fourth-ranked Miami ran up the score on a prideful Notre Dame program not accustomed to getting its shit pushed in. Those bruised egos then led to the mythical-up sub-plot regarding disrespect shown to then-Irish head coach Gerry Faust, who resigned days before heading south for the season finale in the Orange Bowl.
Faust's squad was 5-5, coming off back-to-back losses against Penn State and LSU, while sporting a 30-25-1 record late in his fifth season. A revered high school coach who spent 19 seasons building up Archbishop Moeller in Cincinnati, Faust was thrust into the big time in South Bend—despite no collegiate experience—and epically face-planted. His career record at the collegiate level was 73-79-4 after spending the next nine seasons at Arkon, where he was done after a 1-10 season in 1994.
Notre Dame's embarrassment of a 51-point loss and an inability to deal with their then-level of insignificance—that's what sparked the sour-grapes still on display today. Even in a documentary meant to showcase the Fighting Irish's 12-0 season and epic win over Miami during that championship run, those Golden Domers on board to celebrate 1988 are still visibly rattled by those four quarters in 1985.
WNDU anchor Jack Nolan rants and raves that Faust's last stand at Miami should've been "quiet and respectful" and "like a state funeral" while others interviewed in the segment still bitch about "hard feelings" for the Canes' 21-point forth quarter. Nolan even goes as far as to compare the Fighting Irish to a baby deer that the Hurricanes ran over, stopped and backed up to hit again—an absolute joke of an analogy to anyone outside of South Bend who watched the University of Notre Dame play the role of bully for decades before more parity, diversity and speed entered the game, eventually leveling things out.
The displaced frustration pathetic, laughable and deserves to be mocked.
Fast-forward thirty years and Miami was on the wrong end of a 58-0 ass-kicking, courtesy of Clemson in 2015. Up 42-0 at the half, the Tigers scored two fourth quarter touchdowns en route to delivering the worst beating in Canes' football history. Similar leadership narrative, too—a maligned, decent-guy head coach in his fifth year who wasn't getting the job done.
When those four quarters were over, did Miami bitch, moan and complain about Clemson piling on? Hell no. Did anyone have sour feelings towards Dabo Swinney? Not even close. If anything, most folks were grateful as it proved to be the final nail in the coffin regarding the Al Golden era. "Fear The Tie" was canned the next morning and to his credit, at least the in-over-his-head coach went down swinging—grinding it out and attempting to clean up a mess that didn't occur on his watch.
Golden wasn't much of a leader, but at least he wasn't a quitter. Faust waiving the white flag for a program once known for the grit and toughness of The Four Horsemen—no way that sat well in South Bend, again leading to some misappropriated anger.
The revisionist history and manufactured storyline surrounding Faust was nothing more than a way to take the focus off the fact the "Fighting Irish" had simply become plain ol' Notre Dame—something former Miami defensive end Bill Hawkins touched on in a quick soundbite, smugly explaining the Irish were mortal and lost their fight. Unbeatable author Jerry Barca took it a step further when he got some screen time.
"In the Faust era, players voted to have shorter practices. They had to take three votes to go to a bowl game, because twice it got voted down. College kids not wanting to play another football game. It was bad," expressed Barca, still seemingly baffled all these years later as to the softness the Irish displayed at the end of Faust's tenure.
That denial and deflection, coupled with expected elitism, a sentiment that NBC's Chuck Todd—a Miami native and Canes' supporter—summed up with one perfect sentence. "It was sort of like, 'Wait a minute—how dare Miami throttle Notre Dame in the way that Notre Dame used to throttle other people,'" mocked the visibly-bitter political analyst.
JJ WORRIED ABOUT OWN LEGACY; NOT THE IRISH'S UNRAVELING
The final missing piece—something Notre Dame faithful choose to eliminate from their version of history; complete disregard for Miami trying to work its way back into the national championship picture under second-year head coach Jimmy Johnson. The Canes opened the 1985 campaign with a loss to fifth-ranked Florida, before rattling off a nine-game win-streak, boosted by road upsets of No. 3 Oklahoma and No. 10 Florida State.
Also lost in the shuffle; the fact that Johnson replaced Howard Schnellenberger in 1984—a legend who came off like a pipe-smoking prophet when he delivered the national title he predicted by 1983; his fifth and final season. Months later, Johnson got off to a respectable start with the defending champs—taking down Auburn and Florida—but Miami was soon 3-2 after losses to Michigan and Florida State, inviting criticism from a newly-spoiled fan base.
Johnson's Canes ratted off five wins in a row—including a 31-13 victory in South Bend—before a nightmarish three-game skid to end the season 8-5. Incomprehensibly, Miami blew a 31-o halftime lead in a 42-40 loss to Maryland, followed by Thanksgiving weekend's "Hail Flutie" miracle against Boston College and coming out on the wrong end of a Fiesta Bowl shootout against UCLA. Months later, the aforementioned season-opening loss at home to the hated Gators—the Canes' last Orange Bowl defeat before tearing off 58-straight victories over the next ten years.
Putting it in the simplest of terms; Johnson and "The U" had more-pressing concerns than Faust's resignation or a rival's potentially-hurt feelings. Johnson wanted a title shot and a convincing win on the national stage over a one-time power would go a long way in regarding Miami's perception when bowl games were announced.
Even with Miami's logical reasoning and Notre Dame's emotionally-fueled bitterness, Irish loyalists proudly point out how revenge was exacted on the hardwood two months later.
Former Notre Dame basketball coach Digger Phelps—in smug fashion—boasts about the beat down they laid on a Miami program that was dormant for 14 seasons and just resurrected months earlier. Phelps boasts about piling on, running up the score and proudly boasts that his boys won by 53 points —"Two more points than football lost!"—as well as his squad's return to South Bend and football players waiting at the gate to welcome and thank them.
This detailed explanation, a long, scenic route to explain that through Creadon's storytelling to this point, Notre Dame justified referring to Miami as "convicts" on a t-shirt because they were permanently-soured the Canes whooped their ass three years prior—yet moments after this revelation, the Irish openly boast about their eye-for-an-eye tactic and purposefully running up the score on the equivalent of a first-year basketball program. (Editor's note: Miami dropped basketball in 1971, eventually resurrecting it in 1985.)
A vintage-era, Notre Dame approach to bullying the little guy—just like they did back in the day in football—and being completely all right with it. Welcome to the Domers' crash-course in hypocrisy—Flawed Irish Logic: 101.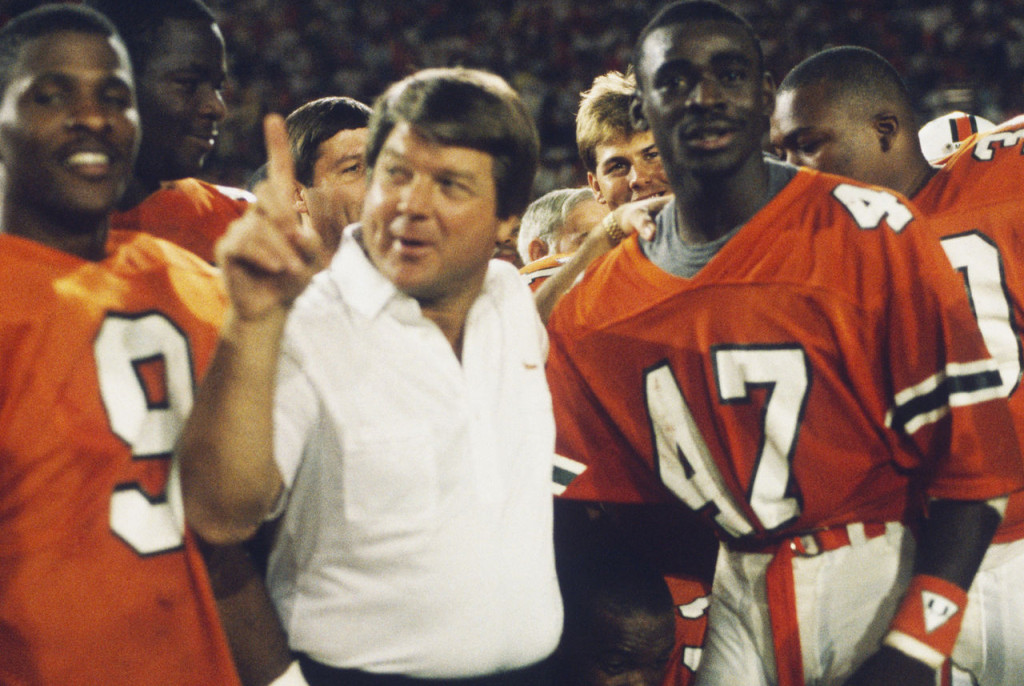 As Catholics vs. Convicts continues to unfold, the Miami hatred continues to unravel—jealousy tones, scowls and smugly delivered soundbites sprinkled throughout.
"If you don't want people to be upset, show a little class," whined local radio anchor Nolan; diluted into believing the Canes actually gave a shit what the critics thought, while former offensive lineman Tim Ryan could barely keep a lid on his envy and programmed elitism.
"Those guys went down to Miami Beach and had access to all kinds of stuff. We had a little bit of a different approach. Notre Dame goes above and beyond in trying to do thing the right way and takes this very seriously."
Look up "elitist hater" in the dictionary; you'll find Ryan's headshot.
It's strange to infer that mighty Notre Dame would have any inferiority complex in regards to little ol' Miami—but for whatever reason, the Cane-envy is palpable throughout. Former UM offensive lineman Leon Searcy made what was probably a throwaway statement to the film's editors regarding the 1985 game being that moment where the Irish finally saw things for what they had become.
"I think that's when Notre Dame finally considered us a rival."
BIG BROTHER COULDN'T STOMACH LITTLE BROTHER RISING UP
A quick history lesson regarding these rivals.
Miami and Notre Dame first went at it in 1955; the Irish winning, 14-0. The Canes bounced back with a 28-12 victory in 1960, when the two met again. In 1965, a 0-0 tie, leaving both sides were 1-1-1. From there, Notre Dame rose up and tore off an 11-game win-streak between 1967 and 1980—the most-lopsided victory coming in 1973; a 44-0 shellacking at the Orange Bowl.
The Canes finally broke that streak in 1981 with a 37-15 pasting—Schnellenberger going on to lead Miami to a 9-2 season that also included a homecoming win over top-ranked Penn State. Little brother was all grown up and the once-ridiculed Sun Tan U was morphing into a program that would soon dominate and instill fear.
The Canes went 6-2 against the Irish in the 1980's—including a four-game win-streak going into the 1988 battle highlighted in this documentary—while wins in 1983, 1987 and 1989 helping spring Miami to national championships. If you're big, bad Notre Dame—that's a bitter pill to swallow, no matter how you try and package it or prop up the "Catholics vs. Convicts" showdown and the role it played in the Irish's most-historic season.
Sifting through all the mushiness and seeing things for what they are—outsiders will realize this is nothing more than a well-crafted propaganda piece.
The dewy-eyed segment on the stand-up Tony Rice that played out in fairy tale-fashion—solely due to his on-field success and place in Irish history—began with excerpts from the student newspaper where elitism was on full display; fans calling Rice, "intellectually inferior", "ridiculously unqualified", while verbalizing that he didn't belong in South Bend and his acceptance to the university was seen as "lowering our standards" and would "jeopardize our reputation". The father of one young fan even told his son, upon meeting his hero, to not grow up to be a "dummy" like Rice—rattling the quarterback to the point he called his family and expressed a desire to quit.
Fittingly, none of that mattered once the wins started piling up and the Miami dragon was slayed. Rice instantly became a folk hero. Same to be said for the irony in Irish faithful referring to the Canes as hoodlums, while the documentary romanticizes Walsh's bootleg t-shirt business and his entrepreneurial-type spirit.
DOUBLE STANDARD APPROACH TO FLAWED DYNAMICS ON BOTH SIDES
The storytelling essentially justifies all copyright infringement with an explanation that collegiate licensing at the time wasn't what it is now, while driving home Walsh's present-day remorse—which seems to stem more from getting busted and dismissed from Notre Dame's basketball program than any real regret for illegal activity.
The premise for "Catholics vs. Convicts" was birthed out of two Miami players arrested prior to the 1988 season—a reserve defensive tackle who sold drugs to an undercover cop and another who stole a car with a friend.
Both are crimes absolutely deserving of punishment—but much like sin itself, who is man to deem one transgression more erroneous than another? Is selling drugs "worse" than selling illegal t-shirt? Both were done by college kids seeking supplemental income. One just happened to be black and from Miami's inner city, while the other was a white boy from the Midwest and a school with a sterling reputation.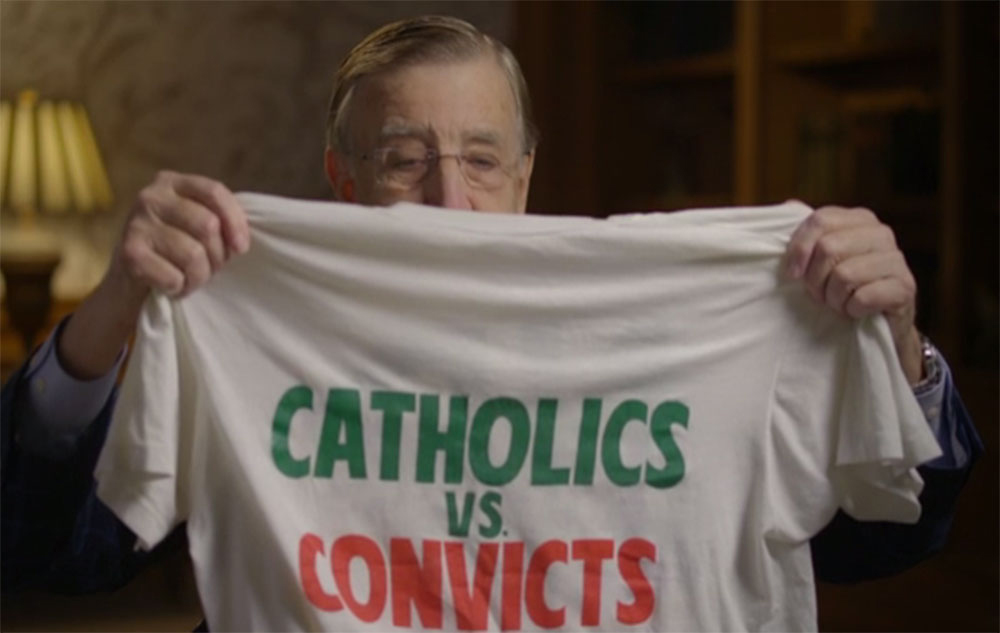 By the standards of Catholics vs. Convicts, one is led to believe that slanging Hanes Beefy T's on campus is slap-on-the-wrist worthy—with Creadon's film working to build sympathy for "Walshy"; constantly hammering home his life's goal of playing basketball for the Irish and that dream taken away.
While there's much to be critical of regarding Creadon's sentimental set-ups, the game-related portion of the film came off unbiased—until the cartoon character that is Lou Holtz surfaced. Everyone else involved—especially on the Irish side—dropped their schtick in favor of a reverence for what took place on the field that day. Notre Dame players came off less defensive and bitter, while Miami's athletes—even in defeat—hold that contest in high regard. Everyone involved that day knew they were a part of something special.
Regarding the coaches, Johnson was transported right back to the moment, not wanting to watch footage of the phantom Cleveland Gary fumble and blown call that mistakenly gave the Irish possession in the shadow of their end zone—while the forever full-of-shit Holtz sanctimoniously claimed that he'd never seen footage of the Andre Brown touchdown 28 years later. For added measure; a Holtzism about that referee not getting his way into heaven for calling that grab a touchdown. (For the record, both officials in the end zone signaled the score—which is was regarding the catch rule in that era, which has since changed.)
CBS Sports' Brent Musberger called the game and in typical, vintage commentator fashion, still snickered about the controversial tee, praised the educational rehabilitation of quarterback Rice and refused to give an inch on the position he's held for years—be in the 1985 game, the Gary "fumble" or the villainous label slapped on Miami; never even once playing devil's advocate.
In case all of that wasn't enough for Canes Nation to boil over; Creadon saves his ultimate weak-sauce dig for last—an insinuation that Miami's pounding of Notre Dame in November 1989 was the result of a tight and watered-down Irish bunch, afraid of Holtz's supposed threat to yank scholarships if his players engaged in any pre- or post-game fisticuffs. Without that clamp-down, a pointless "what if" moment.
Miami tipped its hat to Notre Dame; Johnson admitting on camera they were the better team that day in 1988. When presented a comparable moment regarding the 27-10 takedown of the defending champs and nation's top-ranked team sporting a 23-game win-streak—Creadon instead chose a caveat and self-imposed an asterisk on a game that didn't need one.
May the filmmaker remain tortured by that loss just as team captain and Irish linebacker Ned Bolcar were when interviewed on hallowed Orange Bowl grounds in the wake of defeat.
"This one is going to haunt us the rest of our lives. I hate this damn place."
Agreed. Just as a viewing of Catholics vs. Convicts and that controversial afternoon in South Bend will forever haunt us, elitist Domers.