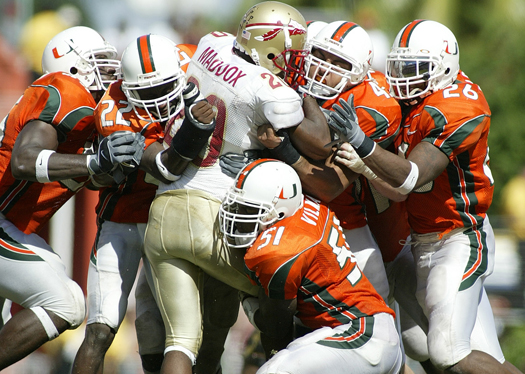 The University of Miami went on offense this week in regards to the bankruptcy trustee in the case involving jailbird Ponzi schemer Nevin Shapiro.
UM has agreed to pay $83,000 — $55,610 of which will be shared among victims of Shapiro, while the remaining $27,390 will go to the firm Tabas Freedman, which represents bankruptcy trustee Joel Tabas.
This total also includes the $3,000 in penalties levied by the NCAA regard the eleven present-day student athletes who received improper benefits from Shapiro – including $1,200 from defensive lineman Olivier Vernon, $788 from safety Ray-Ray Armstrong and $140 from quarterback Jacory Harris.
Besides doing the right thing, Miami's proactive nature all but eliminates the possibility that any former Hurricanes will have to disclose under oath any potentially incriminating information about "improper gifts" received from Shapiro, which would not only have embarrassed UM further, but also could've helped the NCAA in their case against 'The U'.
Had a settlement not been reached, UM would've most-likely been sued, with former players subpoenaed, being forced to testify about what they received from Shapiro. The NCAA cannot require former athletes to speak with officials and with being forced by law, it's not expected that any of yesterday's Canes are going to speak on the matter.
Furthermore, had UM not settled, its legal fees could've easily exceeded the settlement amount.
Gary Freedman, of Tabas Freedman, stated that the settlement amount should not be considered an admission that Shapiro's cash and gifts were comparable to that amount. "It's not a dollar-for-dollar correlation for what was provided," said Freedman.
Shaprio's attorney Maria Elena Perez disagrees, which is to be expected based on the claims of her client.
The NCAA is still sifting through the evidence of their investigation of UM and the fallout is still too difficult to predict, but this is obviously good news for those who have been overly concerned with the statute of limitations and the sins of former Canes.
With this chapter closed, this is definitely a check in the win column for UM and a feather in the cap of school president Donna Shalala, who has handled this scandal and fallout masterfully from day one.
Comments
comments