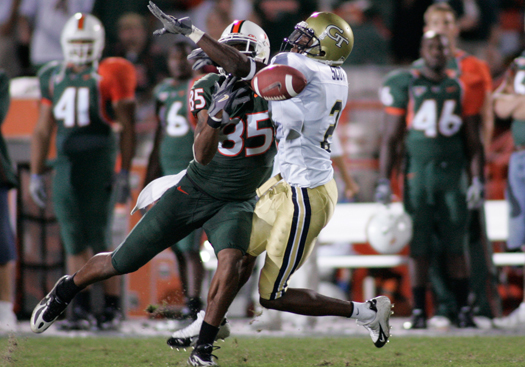 The game itself was as ugly as the Nike Revolution jerseys Miami was sporting and as spotty as the makeshift Orange Bowl lights, the standard ones knocked out weeks prior courtesy of Hurricane Wilma—which also postponed the game a month in late 2005.
Miami and Georgia Tech will tangle in South Florida eight seasons later, squaring off this weekend at Sun Life Stadium. The Hurricanes have won four straight in the series, while the Yellow Jackets' upset win kicked off a four-game win streak for Tech.
In honor of this budding ACC rivalry, ESPN's Classic Sports Network gave Miami / Georgia Tech some love, choosing the Yellow Jackets' best moment and the Hurricanes' worst. (In fairness, last season's OT thriller was on the ACC Network, so CSN didn't have the rights to it.)
For Miami, it marked the last time the Hurricanes were truly relevant. Having lost the season opener at Florida State, 10-7 , UM rattled off eight straight wins. The highlight; a 27-7 upset of then-No. 3 Virginia Tech in Blacksburg.
Miami crept to No. 3 in the rankings and was 8-1 rolling into the make-up game against Georgia Tech. There was even chatter that the Hurricanes were a title game dark horse behind No. 1 Southern Cal and No. 2 Texas, had either undefeated squad slipped up.
In reality, Miami's sub-par offense was overwhelmed by a stout Georgia Tech defense and the Hurricanes dropped two of it's three final games, including the disastrous 40-3 loss to No. 9 LSU in the Peach Bowl, complete with post-game tunnel brawl.
There was also coaching fallout as then-head coach Larry Coker had to clean house if he was to be retained.
Offensive coordinator Dan Werner wasn't considered a big loss, but long time legends were shown the door in running backs coach Don Soldinger, as well as offensive line coach Art Kehoe, who current coach Al Golden brought back three years ago.
Revisionist history is a scary thing as the legend of the 2005 has grown as the years have passed and Miami's struggles continued. In an effort to prove relevant days weren't that far off, more had been made of this season than it deserved.
Things felt good at 8-1, with a No. 3 ranking. Three games later, 9-3 and ranked No. 17 to finish the season, bell still rung from that Tigers-sized ass kicking. Meanwhile, the Longhorns topped the Trojans in one of the more exciting Rose Bowls and national championship games in recent memory.
Logic said to delete Miami vs. Georgia Tech 2005 from the DVR when it recorded earlier today, but the masochist within simply wouldn't let that be.
Over the years, the loss became foggy. The Yellow Jackets' defense dominated, but the Hurricanes' self-implosion was uglier than remembered.
Some other tidbits from and idiot who actually rewatched this nightmare, for those wise enough to change the channel:
The 2005 season was remembered for "defense" while the offense "struggled". Both statements are putting it mildly. Miami's defense wasn't as good as advertised. The competition was simply weak. Rewatching the game, prompted a history lesson.
After the early loss to Florida State, Miami eked out a 36-30 overtime win at Clemson. From there, the schedule boasted Colorado, South Florida, Duke, Temple, North Carolina and Virginia Tech, the Hokies being a defensive squad with a sub-par offense.
Florida State wasn't an offensive juggernaut, either and Georgia Tech was a defensive squad with little offensive firepower, outside of Calvin Johnson at wide receiver.
Miami faced one legitimate offense in 2005; Louisiana State. The combination of the Tigers' defense and the Canes' sub-par offense made for an tremendously lopsided affair.
LSU put up 468 yards and dominated time of possession 2-to-1. UM was 1-of-12 on third down and had 153 total yards in the loss. Doesn't get much uglier than that.
A true appreciation for the offense Miami is currently rolling out in 2013, which is another testament to Golden and another knock on Coker, who was handed the most-loaded roster in history, yet five years later had a dog of a squad.
No disrespect intended, but facts are facts. It was a squad of guys that simply didn't pan out, for one reason another, but all come back to the head coach's doorstep.
Kyle Wright. Ryan Moore. Lance Leggett. Charlie Jones. Things were ugly across the board on that side of the ball and defensively, things weren't that pretty either.
Kelly Jennings, Brandon Merriweather and Kenny Phillips held down the secondary, but the linebacker corps were in shambles with Glenn Cook and Romeo Davis. Jon Beason was in the mix, but as a sophomore hadn't yet mad his mark.
The defensive line also had its overall struggles, outside a few moments here and there throughout the season.
Miami's loss to Georgia Tech truly was one of those nights where something was in the air. From the uniforms, to the makeshift lights, rescheduled games and larger stakes, the Hurricanes were off and the Yellow Jackets were on. It was Miami's first big time game since the ascension to No. 3 after the upset of Georgia Tech and UM folded. The Hurricanes were also without all-everything returner Devin Hester, who was sorely missed as the night rolled on and Miami needed a spark.
Sinorice Moss picked up ten yards on an opening game reverse but on 2nd-and-10, Wright underthrew tight end Greg Olsen grossly, allowing a Tech linebacker to break up the play.
Minimal as one play may be, it set a tone. Miami's offense looked rattled and Georgia Tech's was immediately energized. Moss gained seven on third down and the Canes were forced to punt.
Georgia Tech opened with a pass from Reggie Ball to Johnson, for an 18-yard gain and midfield positioning. From there, smashmouth, though Tashard Choice was stopped back-to-back plays, showing that the Canes planned to defend the run.
Ball went back the air, hitting Pat Clark and picking up 18 yards on a 3rd-and-17 (again, one of those nights right out the gate). Choice then broke off a 15-yard scamper and the Yellow Jackets were just outside the red zone.
Johnson got 11 yards on first down and a play later, Miami's first self-inflicted wound with a pass interference call. Choice punched it in on 3rd-and-Goal from the two. 7-0, Georgia Tech.
Gun-shy, Werner relied on Jones' legs of Wright's arm. Back-to-back drives had Jones running on first down and doing little. Georgia Tech began the blitzing process, rattling Wright, forcing third-and-long situations and the unraveling began.
The Yellow Jackets wound up sacking Wright seven times over the course of the game, having found the Hurricanes' weak spot and exploiting the hell out of it.
Werner and Miami ran Jones on first down 8-of-11 possessions through the third quarter. Trailing 14-10 in the fourth, the Canes were in panic mode and attempted to open things up too little, too late.
Miami's first score was a 43-yard field goal by Jon Peattie. The Hurricanes forced a punt from the Georgia Tech three-yard line, which Darnell Jenkins returned to the 24-yard line. Outside the red zone, Miami could do nothing, going -2 yards in four plays and settling for the long field goal. Huge scoring opportunity squandered.
The Canes took a lead prior to halftime with a seven-play, 90-yard drive. Maligned receiver Ryan Moore was the hero with back-to-back receptions for 15 and 37 yards—the latter, a beautiful over the catch haul-in that seemed to sum up Moore's time at "The U". (All world one minute, a wreck the next.)
After a quick Quadtrine Hill run, Wright found Moss for the 19-yard score—Miami's last points of the night.
The teams traded opening second half possessions, with Miami overly reliant on Jones. Five runs in a row were followed by another sack of Wright, setting up a nightmare 3rd-and-21 situation and eventual punt.
Georgia Tech answered with balance and a seven-play, 61-yard drive ended with a Ball run of 16 yards for the game-winning score, midway through the third. The score didn't come without some Miami self-implosion, though.
Facing a 3rd-and-5 early in the drive, the Hurricanes were hit with an unsportsmanlike conduct call. Georgia Tech took the 15 yards and the momentum, scoring five plays later.
Miami's most embarrassing drive came early fourth quarter, with a shot to take the lead. After punting on 4th-and-22, the Canes were granted a reprieve on a muffed punt and took over midfield.
From there, the Jones show as Werner coached scared and ran his back five of the next six plays, outside of a 24-yard Wright to Buck Ortega hook-up on 2nd-and-8.
3rd-and-1 from the Tech 12-yard line, Jones rushed for a loss of one. 4th-and-2, Jones is swarmed for a two-yard loss.
Insult to injury came in the form of one final drive with 2:37 remaining. Wright spread it around to Hill, Moore and Moss—who went 25 yards on the same jailbreak screen that forced overtime against Florida State the previous season.
From there, a Tech timeout and with a 1st-and-10 from the Yellow Jackets' 27-yard line, Wright heaves up a lame duck to Olsen, double covered and not even looking back from the ball.
IN CONCLUSION: Call this a Jerry Springer "Final Thought" moment. In hindsight, should've deleted this train wreck of a game from the DVR, but in reality it gave a better appreciation for the squad Miami is fielding today, as well as for all things the Golden era.
In 2005, success was simply too fresh. The Canes saw four BCS games, two title games, a national championship, a 34-game win-streak, tons of NFL-bound talent and 9-3 season was considered a "down year".
The early loss to Florida State in 2005 was followed by the eight-game tear, highlighted by the win at Virginia Tech—which gave the false illusion that things weren't as bad as they seemed. (The 40-3 loss to end the season quickly changed that.)
A year later, Miami went 7-6, Coker was fired, Shannon took over and from there, 5-7, 7-6 and a false hope 9-4 season before back to 7-6 and another coaching change.
By 2005, the decline was fully on, outside of a few stay of execution-type moments, prolonging the bottoming out and eventual rebuild.
Miami isn't "back" just yet, but these Hurricanes are on the right side of the hill; climbing towards the top again—like those late nineties-era Butch Davis squads that set the tone for a stellar run.
Reliving this relic from 2005 was like watching the Canes bleed out slowly. Still, it needed to be done as there will be a newfound appreciation as the rest of this season unfolds.
On that note, stomp out Georgia Tech this Saturday. Don't even want to imagine to imagine "two" losses to the Yellow Jackets in a one-week span.
Comments
comments