For Miami faithful, lots of hope and hype surrounding the kickoff to this latest college football season. Much of it was rooted in addition-by-subtraction; a maligned, in-over-their-heads coaching staff sent packing, while a seemingly better-suited one was assembled. Exit, Al Golden and his buffoons—enter Mark Richt and an all-around better fit.
Lost in the exciting shuffle for many; the fact that the Hurricanes were still going to trot out essentially the same group that went 8-5 last year and 6-7 the year prior—upperclassmen tainted by years of sub-par coaching, while last year's freshest faces dealt with a mid-season turmoil and new staff by year's end.
A lot is being made about the Seminoles hangover effect; the Canes going in the tank on the heels of losses to their arch-rival. A blown lead in 2014 led to a three-game losing streak, while a late-game comeback attempt last season paved the way to Clemson collapse, leading to Golden's dismissal.
There's no denying that Miami showed up flat, lethargic and mentally checked-out of this weekend's 20-13 loss to North Carolina; but pinning all that on Florida State isn't logical. It's also a disservice to what the Tar Heels have grown into this past decade.
Hard as it may be for some to accept; North Carolina looked more like "Miami" than Miami.
'U' HISTORY: 101—A FEW MOVES THAT SENT CANES DOWN THIS PATH
Rewind to mid-November 2006. The Canes were reeling, but to what degree no one was ready to admit. Five years removed from its last national title, four years it's last championship appearance and three years since ending a streak of four consecutive BCS games—everyone wanted to believe it was simply a down year and bump in the road.
Early losses to Florida State and Louisville were followed by bland wins over Houston and North Carolina, followed by the battle royal against Florida International and almost-loss at Duke, courtesy of a dozen player suspended.
The Canes then dropped back-to-back games against Georgia Tech and Virginia Tech. Defensive end Bryan Pata was gunned down in cold blood. Road losses to Maryland and Virginia ensued. Between setbacks against the Terrapins and Cavaliers, North Carolina quietly hired former Miami head coach Butch Davis—a few years on the shelf after his short NFL stint flamed out.
Two weeks later, Larry Coker was out at Miami—an ugly 7-6 season where the wheels came off in disastrous fashion. From there, a crushing nine-year run for the Hurricanes—mistake after mistake made, crippling the program and paving the way for yet another rebuild underway today.
Ten days separate Davis' hiring in Chapel Hill and the end of Coker's run in Coral Gables—changing the course of both programs over the next decade.
This is the point where this article could go one of several different paths, leading to countless moot results—so let's keep things on track. Davis was eventually dismissed by North Carolina prior to the 2011 season; caught up in an academic scandal that reached the highest levels and UNC. That said, it's neither here nor there for the sake of this write-up.
The focus here is how Davis assembled a football program at a basketball school; bringing in blue chip talent and future first rounders, while building a winner and changing a culture.
While Davis built-up the Tar Heels, the inept Randy Shannon piled on Coker's mess with the Hurricanes. Four program-defining years in Chapel Hill, versus four setback years in South Florida. A bonus for the Canes; Nevin Shapiro and his shit-bag ways mucking things up and bringing immediate distraction and chaos to the Golden years.
North Carolina hit reset post-Davis and went the interim route, promoting defensive coordinator Everett Withers for a throwaway season as the program regrouped. Miami chose Golden from a talentless pool that included Marc Trestman and Randy Edsall; and ultimate lesser of a few evils situation.
Withers' run was over as soon as it began and the Tar Heels hired Southern Miss head coach and up-and-comer Larry Fedora to take over. Year one Fedora took a Davis' built squad to 8-4; winning the ACC's Coastal Division on paper, but banned from all postseason play due to violations from the 2010 season.
7-6 and 6-7 followed—as did a coaching change as Fedora brought on former national champion head coach Gene Chizik to run the Tar Heels' defense. The result; an 11-3 season and 8-0 regular season run in the ACC.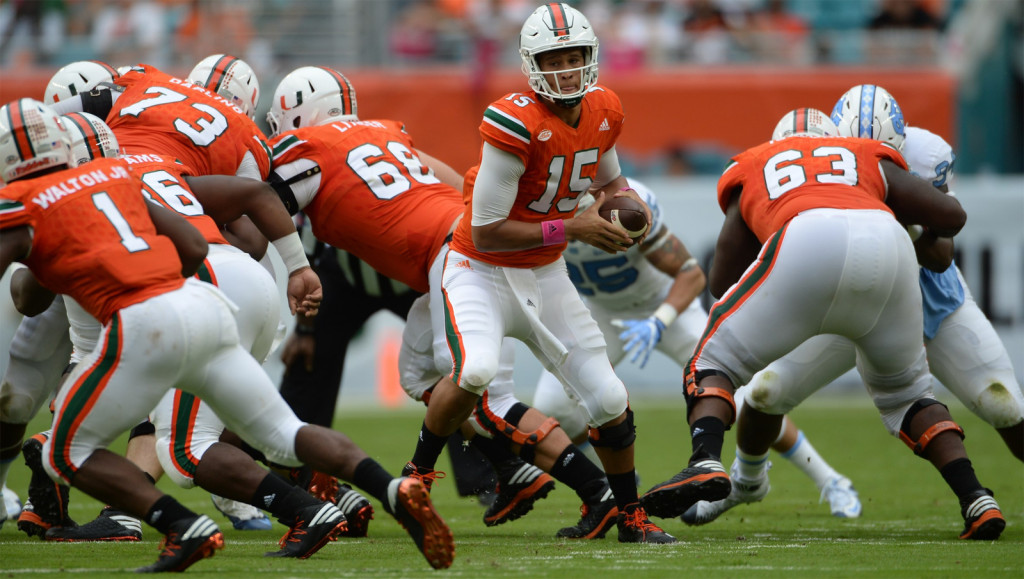 As North Carolina turned a corner in 2015 with the Fedora/Chizik combo, Miami dumped a bad stock and sent Golden packing by late October. Interim head coach Larry Scott took over, went 4-2 down the stretch and Richt was the new guy in charge by December.
RICHT FEEL-GOOD STORYLINE WON'T TRUMP RIVALS' HEAD STARTS
Looking at the timelines between the two programs, it shouldn't come as a surprise that North Carolina looks the part this fall, while Miami still comes across makeshift, inconsistent and shoddy.
The Tar Heels benefitted greatly from eight years with Davis and Fedora at the helm, while the Canes had eight-plus with Shannon and Golden leading the the charge. Meanwhile, Richt is six games into a bigger mess than he probably accounted for—fired by Georgia on a Sunday and hired by Miami the following Wednesday.
A 15-year career coming to an end and embarking on a new one 96 hours later doesn't give one much time for deep thinking or critical analyzation.
Assessing the long-term, the Canes are right to be excited about Richt's potential. The Miami alum was hired to rebuild the program proper; laying a solid foundation and doing away with a broken culture that started on Coker's watch.
A proven recruiter, a man of faith—giving players Bibles (with no expectations), improving community relations, et al—this will all pay off in due time, win over parents and further build-up Richt as one of the best in the business, allowing "The U" to rebuild properly, in some ways starting from scratch.
What it won't do; fix a decade-long problem overnight.
After falling to North Carolina—Miami dropping to 1-2 in conference play—Richt admitted some rustiness in his play calling; something he got away from at Georgia when taking on more of a CEO-type role.
Any notion or belief that Richt would just waltz back into the role of offensive guru after a multi-year hiatus; absolutely foolish. While Richt was managing things in Athens, guys like Fedora were climbing the coaching ladder—making a name for themselves as the game's next great offensive minds.
None of that is to say Richt can't or won't refind his groove; but expecting next-level play year one while trying to clean-up a culture the last few guys broke? Wishful thinking.
CANES' MYSTIQUE WON'T WIN ACC; NEED SMARTER PLAY & BETTER PLAYERS
Rough as the last two losses have been to accept, it's time for a hard reset on expectation for year one in the Richt era. Any entitlement in regards to winning the Coastal Division and reaching the ACC title game for the first time in a dozen tries; stop it. Should this squad pull it off, great—but any blah-blah-blah about talent, match-ups and how the Canes are "better" than divisional opponents on paper; it's all noise.
Miami hasn't earned the right to have any conference expectations. All talk of winning the Coastal must be shelved until this program proves it can bounce back from tough losses, while showing up against beatable opponents—dropping games to four-win squads like Virginia a few years back and what not.
Show up for whoever is on the schedule that week. Bring it. Do away with the mental mistakes—moronic penalties, inexplicable drops, sub-par execution and flaws in coaching strategies—as each step and accomplishment takes you closer to the ultimate goal.
This shift in thinking is crucial as it's flat-out embarrassing to watch in-season bargaining taking place—crossing fingers that divisional rivals are upset down the stretch, allowing Miami to back into the title game (something yet to happen to date.)
Six regular season games remain; five in conference. A few things to focus on down the stretch:
— Better protection for quarterback Brad Kaaya, who is taking an absolute beating by way of a shoddy, depth-challenged offensive line. In a perfect world, there are more bodies and a deeper pool of talent to work with. Right now, there isn't—so you work with what you have and plan a strategy accordingly.
The Miami Dolphins are a hot mess, but found a way this past weekend to get their line working together and protected their guy under center en route to an upset of the Pittsburgh Steelers. Improvise. What's the worst that happens, another loss?
— Accept the fact that this Hurricanes' squad is void of a capable bigger-bodied running back; so quick trying to ground-and-pound with smaller guys like Mark Walton and Joe Yearby, as it's not working. Makes you wonder if Richt is having Georgia flashbacks and thinks he has a few of those tough Bulldogs runners he's had in years passed.
Miami was 4-of-15 on third-down conversions against North Carolina; a handful of those the result of a Walton or Yearby called upon to rush up the middle—smaller backs behind a weak-ass line and a predictable play snuffed out.
Walton and Yearby are most dangerous when given some space and the ability to make a move. Nothing is happening when handed the ball three yards behind the line of scrimmage when opposing defenses are in the backfield soon as the ball is snapped.
— Put the best players out there and let them do their thing. All due respect to fifth-year senior Malcolm Lewis and all he's been through, but fielding a kickoff and running out of bounds on the three-yard line to start the game; a bench-worthy offense.
Special teams as a whole has been deplorable for the Canes this season and that is something that needs constant tweaking and personnel changes until the right mix is found.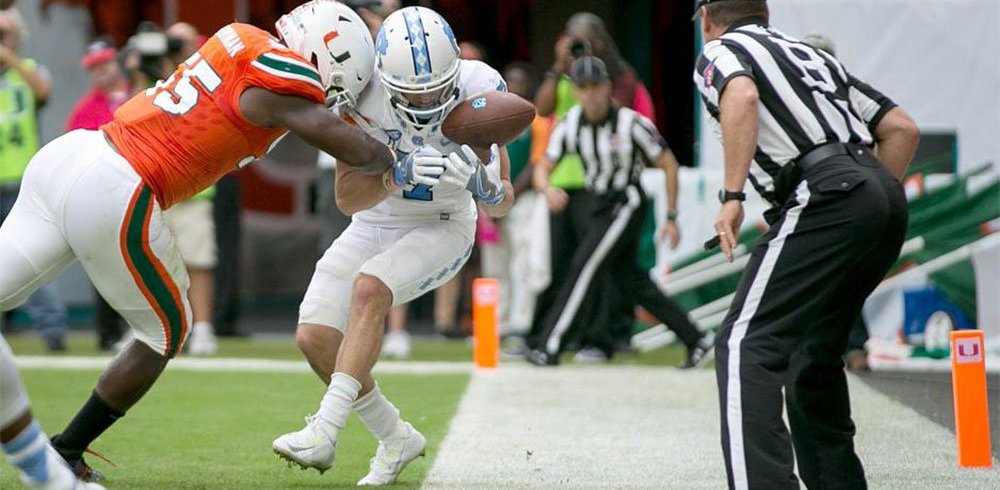 — Lastly, the mental breakdowns and emotional lapses in judgment have to come to an end. Miami was only dinged for four penalties against North Carolina—compared to a disastrous 10 for 110 yards versus Florida State—but in both cases, game changing and ultimately detrimental.
ACC officiating has been lopsided and piss-poor the past few weeks; a bogus holding call negating a Walton touchdown against the Seminoles, while a bobbled haul-in was called a touchdown this past weekend; the right call likely setting up a field goal on 4th-and-Goal from the five-yard line.
Both shit calls impacted the tone of the game, as well as the final outcome—but neither have anything to do with the mistakes the Canes are making top to bottom, which are having a greater impact on the course of the game.
MODERN-DAY MIAMI; WHERE DOES IT GO FROM HERE?
Time will tell if the short week and road trip to Virginia Tech proves to be a blessing or a curse, but Miami is in must-win territory.
Coastal dreams aside, a third-consecutive loss would send this season into a full-blown downward spiral—early wins deemed meaningless, while ten months worth of Richt hype would go right down the drain until another hopeful step forward next fall.
Even worse, the schedule isn't necessarily forgiving.
Bad as Notre Dame has looked, no doubt the Irish will bring their A-game and South Bend will be rocking the final Saturday of October. From there, a tough home game against a gritty Pittsburgh squad.
Charlottesville is always tough on Miami and the Canes follow up that annual showdown with the Cavaliers by heading to Raleigh to face a North Carolina State squad that took Clemson to overtime in Death Valley. Last up, a home game against Duke—who is on the mend and will be revenge-minded after last year's game in Durham.
Time to respond quickly, adjust on the fly and work with that the Canes got as anything less will result in another disastrous close-out amidst yet another rebuilding year.
Comments
comments