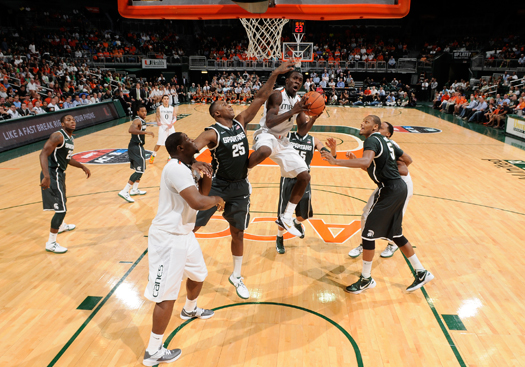 Honestly, with all the melancholy news coming out of the University of Miami as of late, this little early season men's basketball win was just what the doctor ordered.
The 2012 ACC-Big Ten Challenge is underway and with No. 13 Michigan State headed to Coral Gables to take on unranked Miami, odds were in the favor of the veteran Spartans.
Instead, the Hurricanes pulled the big-time upset, allowing fans to rush the court, with supporters of the orange and green finally reveling in that winning feeling for the first time in forever.
Miami experienced a rough start, falling to lowly Florida Gulf Coast weeks back, 63-51. Prior to that, UM lost an exhibition game to Saint Leo, 69-67.
Not exactly the way head coach Jim Larranaga drew up the first three games of the new season, but after wins over Jacksonville and Detroit, Miami came to play when Michigan State showed up.
Senior guard Trey McKinney Jones played thirty-four minutes and went 5-of-7 from beyond the three-point arc, finishing with 18 points on the night.
Durand Scott and Shane Larkin each finished with 15, while Larkin was 3-for-4 from three-point range. Center Reggie Johnson put up 10 points while hauling in 11 rebounds and blocking three shots.
UM trailed 31-27 at the half, but tore off a 14-2 run early in the second half to create some separation, putting the Canes ahead 41-33. 'The U' never looked back.
Miami also went 8-for-8 from the free throw line in the final two minutes and held Michigan State without a field goal for a 5 1/2-minute stretch late in the game, both helping seal the eight-point upset.
Next up for Miami, a Saturday showdown at Massachusetts. Tip off is 2:00pm ET and the game will be televised on the CBS Sports Network. From there, a home game against Charlotte on Friday December 14th at 7:00pm ET.
ACC play tips off just after the first of the year, when Miami travels to Georgia Tech on Saturday January 5th for a 2:30pm ET tip-off in Atlanta.
Comments
comments