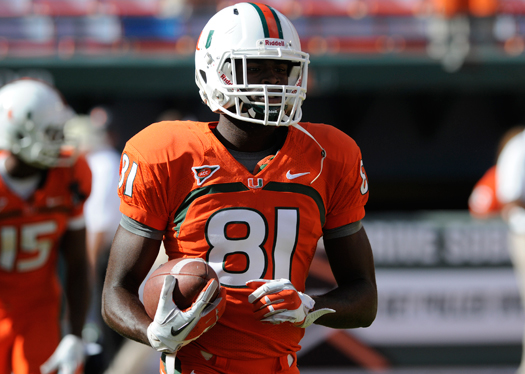 Another Miami Hurricane is taking his talents elsewhere and in this case, it's yet another positive sign for a program on the mend.
Wide receiver Jontavious Carter was set to be a redshirt freshman for UM this season. A three-star prospect out of Crisp County, Georgia a few years back, Carter was a 6-foot-2, 230-pound prospect who came to Coral Gables hoping to make a mark.
Instead, he's been surpassed by a half dozen others, proving that depth, talent and competition are returning to The U, and he'll look for a new home this fall.
Running back Danny Dillard chose to transfer days back due to the loaded depth chart and emergence of true freshman back Gus Edward and Carter's story is similar as Stacy Coley is already turning heads.
The Canes have seven scholarship receivers on the roster, with Phillip Dorsett and Allen Hurns two key standouts. Miami also welcomes back Malcolm Lewis, knocked out early last season due to a gruesome ankle injury, as well as Rashawn Scott, in hot water with coaches down the stretch, but having worked out some personal issues and game-ready this fall.
Herb Waters looked stellar in some games late last season and the Canes also bring back D'Mauri Jones, who redshirted in 2012 but is vying for playing this this fall.
Toss in Coley and Miami is absolutely loaded, leaving Carter feeling like the odd man out and choosing to start fresh elsewhere, opposed to trying to work his way up the depth chart.
For those who see these departures as a bad thing, that's definitely not the case. Head coach Al Golden is proving that he knows how to build depth, reload talent and to bring in the "right" kind of players, who understand that competition is fierce and nothing is going to be handed to them.
That's not a knock on Carter or Dillard, as much as it's a compliment to those who show up every day and fight for playing time – especially the last two freshman classes who were made up of kids with some senior-sized cojones.
Last year it was Duke Johnson, Deon Bush and Raphael Kirby who stepped in proper and started turning heads and this year there will be more of the same.
The winds of change are blowing through South Florida and Miami is again becoming the type of place where talent, hard work and the proper attitude and buy-in are going to be required to see the field and make headlines.
Beyond that, Golden is sending a message, as well as being wise regarding usage of scholarships. The NCAA ruling is around the corner and while another bowl ban isn't expected, safe to say that the Canes are going to lose some scholarships – meaning that some fat needs to be trimmed and every kid on the roster must pull their weight.
A seventh-string wideout or a fifth-string running back who doesn't feel like working hard to climb the ladder, certainly needs to be gracefully shown the door so that roster stop can be filled with someone who is all-in and respects The Process.
As always, wish Carter the best and hope he lands on his feet as there's still a ton of football left in his future.
Comments
comments