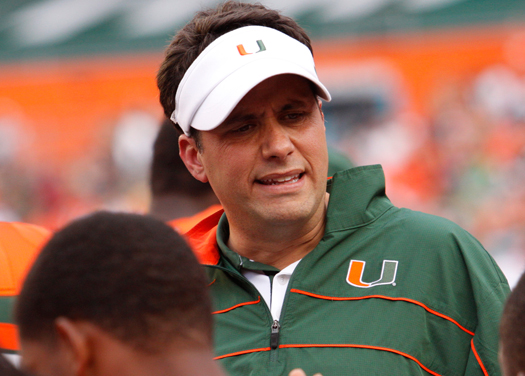 Good news for the coach, bad news for the program … again. When it seems the Miami Hurricanes can't take another blow, the punches keep coming.
Offensive coordinator Jedd Fisch has taken the same position with the Jacksonville Jaguars. Prior to taking the job with Miami, Fisch coached quarterbacks for the Seattle Seahawks. He's also coached in Denver, Baltimore and Houston, with a one-year NCAA stint at Minnesota worked in there.
It's no surprise that Fisch made his way back to the NFL, as it was obviously in his blood. He's hopped around often, with many one-year stops on his coaching carousel, never staying any one place more than four years.
The shock is that the leap was made late January, with Signing Day two weeks out and with Miami hosting its biggest recruiting weekend of the year – including quarterback Kevin Olsen, who was a fan of Fisch as a coach, teacher and offensive mind.
The move is understandable for a coach who always aspired to be an offensive coordinator at the next level, but due to timing, it's somewhat of a bush-league move.
Based on where things are with Miami, Signing Day so close and this such a pivotal time for the program, seems it's passed the point of no return.
Won't go as far as to say that Fisch owed UM anything, as that's not the nature of this business. This was a dream opp for the man and he had to take it.  Still, as an outsider, one has to wonder how coaches can bail out at times with such ease.
The NFL was always going to snatch Fisch up. But the biggest recruiting weekend of the year? Two weeks prior to Signing Day? It just doesn't feel right.
Weeks back Miami lost receivers coach George McDonald to Arkansas for the same title. Within days McDonald was offered the offensive coordinator position at Syracuse, which he took.
Had the Fisch departure gone down sooner, would McDonald have been promoted to offensive coordinator, in effort to keep some continuity? Hard to tell, but would've been nice to have the option.
Then again, Golden is no dummy and certainly isn't as shocked by this move as the fan base is. Might someone else already be in the pipeline? Fisch certainly left this offense in better shape than the one he inherited, making it a desirable location for many an offensive mind.
Miami did recent hire Mario Cristobal, who will take over as tight ends coach, recruiting coordinator and earned the title of assistant head coach, and while he's played the role of head coach for the past half decade, Cristobal has no play-calling experience on his resume and isn't a viable candidate to replace Fisch. Miami will have to look outside and will hopefully reel in an impressive hire.
Regardless, best to Coach Fisch as he'll need it with that terrible Jacksonville franchise.
Comments
comments