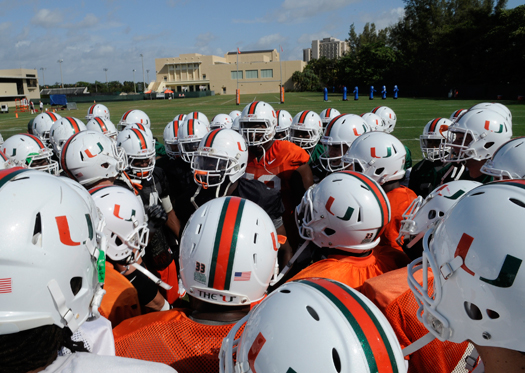 Looking back, depending on how it all plays out, this could prove to be the recruiting weekend for the Miami Hurricanes. That perfect balance where the right committed recruits are on campus with the right on-the-fence kids, where some magic happens.
Ten recruits are headed to Coral Gables this weekend. The big names already on board? Quarterback Kevin Olsen. Offensive lineman Alex Gall. Son-Of-Fifty-Two, Ray Lewis III. Local four-star defensive backs Artie Burns and Jamal Carter will also be there to experience and talk about the future, as will three-star tight end Standish Dobard of New Orleans.
Their mission? Sell like hell.
Two former commits are on campus this weekend; Plantation running back Alex Collins and Delray Beach defensive tackle Keith Bryant. Both were on board early with The U, but backed away recently, testing the waters elsewhere.
Both have been to campus and know what Miami is all about, but Collins specifically mentioned that he wants to look at the experience through different eyes. Namely, can he bond with this team and fit in with these guys.
Meanwhile Bryant has recently been enamored with Florida State, but some coaching changes on the defensive side of the ball there could cause a shake up and one would think a good weekend in Coral Gables could remind him why he committed in the first place.
The other big names current players and committed recruits will sell are offensive lineman Denver Kirkland, a four-star prospect out of Booker T. Washington, and defensive tackle Jaynard Bostwick, of Port St. Lucie.
The 6-foot-5, 333-pound Kirkland's top three are Miami, Florida State and South Florida, while the 6-foot-4, 291-pound Bostwick is favoring The U over Alabama, Oregon, Florida, Florida State and LSU.
The one who 'got away' this weekend? Local linebacker Matthew Thomas, teammate of Kirkland at Booker T. Thomas was originally set up to visit Southern Cal, cancelled it with the intent of visiting Miami, but stayed true to his original obligation and will check out the Trojans' program this weekend.
Thomas is a five-star who will most-likely choose between Miami, Alabama, Southern Cal, Georgia and Florida State.
Super-huge weekend on deck for this program. Cross your fingers and believe in "The Process" as Al Golden, his staff, these current players and a slew of commits will do all they can to sway some big-time players this way.
Comments
comments