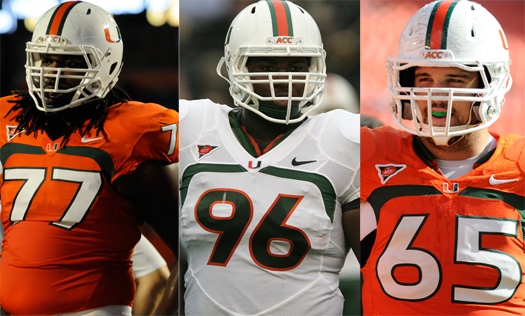 Michael Casagrande of the Sun-Sentinel is reporting that three Miami juniors are set to announce their draft intentions via a press conference on Monday.
Offensive linemen Seantrel Henderson and Brandon Linder, as well as defensive lineman Curtis Porter have until Tuesday to make their intentions known. The three will speak to the media at 11:00am ET this coming Monday.
On the surface, one would assume that the presser is simply a free media opportunity and coverage for the program as none of the three are considered high draft picks.
Henderson missed the season opener, as well of all fall practice, while Porter sat out the first eight games of the season recovering from an appendectomy. Linder started all twelve game and was named honorable mention All-ACC.
A year ago this time, a handful of Hurricanes had declared for the NFL Draft. Sophomore running back Lamar Miller, junior receiver Tommy Streeter – both one-year starters – as well as defensive lineman Marcus Forston, who missed the majority of the season due to injury, defensive lineman Olivier Vernon, suspended six games courtesy of Nevingate, and offensive lineman Brandon Washington, who bickered with coaches mid-season due to where they wanted him to play.
The rest is history. Vernon went in the third round, with Miller following in the fourth – and both hometown kids to the Dolphins, which had them both considering their decisions a success.
For the others, not so much. Streeter fell all the way to the sixth round, where a return could've had a Leonard Hankerson effect, where he jumped to the second or third round. Washington was also a sixth rounder, while former Miami Northwestern teammate and five-star defensive lineman Forston went undrafted.
Head coach Al Golden later talked about how all settled for twenty cents on the dollar, due to their stock dropping, and was equally as shocked that all declared before hearing back from the NFL Draft advisory board on where they were expected to go.
Has this current crop of Hurricanes learned anything from the mistakes of last year's crop? Or on the conspiracy theory front, might coaches be pushing some on-the-fence kids over the top in order to open up more scholarship spots?
Logically, one would believe that all three will take the podium on Monday, announcing their belief in Golden and intent to return to Miami – treating the presser as free positive coverage for the program and a chance for current recruits to hear that some upperclassmen continue believing in the direction of the program.
That said, after last year's mass exodus – and the need for extra scholarships as sanctions loom – it wouldn't necessarily be a shock if one, two or all three, decided to hit the road.
Tune in Monday to find out … and choose wisely, gentlemen.
Christian Bello has been covering Miami Hurricanes athletics since the mid-1990s. After spending almost a decade as a columnist for CanesTime, he launched allCanesBlog.com. – the official blog for allCanes.com : The #1 Canes Shop Since 1959. Bello has joined up with XOFan.com and will be a guest columnist at CaneInsider.com this fall. Follow him on Twitter @ChristianRBello.
Comments
comments