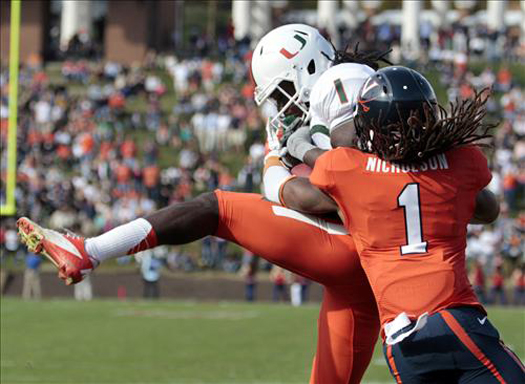 Miami suffered heartbreak against Virginia when the Cavaliers stormed back from ten down in the final quarter, scoring the go-ahead touchdown with six-seconds remaining. In the end, a hard-fought 41-40 loss for the Hurricanes, sending this team to 5-5 and muddying up any ACC Coastal chatter with two to play, one in conference.
This contest proved to be a shootout from the get-go, with the Cavaliers leading 21-14 after the first quarter – one in which both teams combined for over five hundred all-purpose yards.
Virginia led 28-24 at the half, but Miami took the lead back midway through the third quarter, going ahead, 31-28. The Canes built a cushion with an early fourth quarter touchdown, pushing the lead to, 38-28, but Virginia stormed back and made it, 38-35 with just over five to play.
The Canes' defense stepped up, earned a safety, pushed the lead to, 40-35, but could do no more. One final drive from the Cavs sealed it and after missed two-point conversion and nothing on the ensuing kickoff, 41-40 was in the books and Miami dropped to 5-5.
The subplot going into the game inevitably is what did the Canes in when this one was all said and one. Key losses of safety Deon Bush and linebacker Denzel Perryman were known days back, but the recent suspension of linebacker Eddie Johnson officially put Miami's young defense on its heels – and UM paid dearly.
Virginia ran eighty-nine offensive plays to Miami's fifty-nine, going between two quarterbacks and running backs all day.
Michael Rocco proved to be the best man under center, at one point completing eighteen straight passes and finishing the day 29-of-37 for 300 yards and four touchdowns through the air – including the game-winner, a perfectly-placed ball to tight end Jake McGee with six seconds remaining on 2nd-and-Goal.
On Virginia's previous drive, Miami appeared ready to put the game, forcing Rocco into an intentional grounding on 2nd-and-10 from the UVA twelve.
Duke Johnson, masterful all day, then returned the free kick thirty-three yards to the Miami forty-seven, before three straight running plays netted six total yards and forced a crucial punt.
Johnson returned the previous punt fifty-nine yards, to the UVA forty-one, but again suspect offensive playcalling forced a three-and-out as Stephen Morris threw incomplete to fullback Maurice Hagans on first down, Johnson rushed for two on second and Morris was blitzed and threw short of Phillip Dorsett on 3rd-and-8.
Late in the third quarter, the Canes seemed to find an offensive recipe – relying on short horizontal passes, putting playmaking receivers in space and if the blocks were there, big chunks were picked up. Dorsett had back-to-back gains, totaling seventeen yards, while the ground game churned with Duke and Mike James.
After a pass interference call, Morris found freshman Herb Waters for eight and a few runs set up a brilliant 2nd-and-5 call, with the junior quarterback faking a handoff to Duke and rushing for twenty-two yards, before being stripped and turning the ball over on the UVA two.
The blunder proved to be a wash. After a Virginia three-and-out, Miami won the field position battle and took over mid-field after a Dorsett fair catch. Johnson ran for thirteen on first down and a play later, Morris delivered a perfect strike to Dorsett for the touchdowns, getting back the seven he left on the field, made possible by the great field position and defensive stand.
With its three best defenders out, Miami saw early this was going to be a shootout, but missed too many opportunities in a game that was going to be tit-for-tat all four quarters.
Tied 21-21 early in the second quarter, another Miami offensive drive stalled due to some suspect offensive playcalling.
Brandon McGee picked off a halfback toss by Perry Jones on 2nd-and-6, with the Canes taking over mid-field. Morris found Allen Hurns a few times on the drive, while getting some key yards out of Duke and James.
Again, inexplicably on first down, a dump off to the fullback Hagans, losing a yard when Miami was on Virginia's twelve. On 2nd-and-11, Morris ran for no gain and facing a third an long, an incomplete pass to Davon Johnson, when the Cavaliers were bringing heat and ready for the pass.
Jake Wieclaw drilled his thirty-yard field goal, but in a game where every point proved early that it would count, the series was a loss for Miami's offense as a red zone drive should've resulted in seven.
Winning first and second down, while relying on speed and getting the ball to playmakers – when that was accomplished, the Canes had offensive success. When offensive playcalling steered away from that formula, Miami struggled or merely settled.
'The Duke of Coral Gables' single-handed kept the Canes humming in this game.
Besides a few returns that set up tremendous field position, Johnson also had a ninety-five kickoff return for a touchdown late in the first quarter, knotting things up, 14-14. Johnson also had a hand in Miami's first score, throwing a halfback pass to Hurns for a touchdown – the first toss of his collegiate career.
James added fifty-two yards on twelve carries, while Morris picked up thirty-one with his feet, some designed and some on the fly, as Miami ran for 233 yards on the afternoon – a huge improvement as the ground game has struggled recently.
Still, the story of this game was three missing components on a depleted defense, as well as an offense that played great, but needed to be a few plays better in effort to outscore an opponent on the road.
Yes, Virginia was 3-6 entering this game and is far from a good football team – but they're well-coached, they've had Miami's number lately and they were coming off a turning-point victory after stomping North Carolina State, 33-6 in Raleigh last weekend. It's hardly a stretch to say that the Cavaliers could win out, beating North Carolina and Virginia Tech down the stretch, finishing 6-6 and going bowling.
This was a must-win game for Miami and the Canes simply didn't get it done. Can't argue that.
Blame the coaches. Credit Virginia. Shoot double birds at the football gods while looking to to the heavens, pleading "whhhhyyyy?" All are sufficient responses.
Of course the question that should stick out more than all others; why are guys going off the rails and earning suspensions this late in the season?
This week it was Johnson who let down his fellow linebackers, defense and team. Two weeks ago Kelvin Cain took a demotion to heart and chose to go AWOL instead of taking his medicine. (Cain has since been reinstated after leaving/getting kicked off the team.)
The ACC Coastal has been in reach since Miami started out 3-0 in conference. Even with losses to North Carolina and Florida State, the Hurricanes have still remained in the driver's seat, entering this weekend 4-2 in conference and in control of its own destiny.
With Perryman and Bush, sidelined due to injury, what could Johnson have done – and what could he have been thinking – that would earn a suspension for such a crucial game?
The same goes for receiver Rashawn Scott, suspended indefinitely for a violation of team rules. Scott didn't hurt teammates as Johnson did, with other capable receivers stepping up – or maybe he did? Maybe he had a banner day up his sleeve. What if he could've been a better option on a few third down conversion attempts that went awry?
Scott was Miami's second-best receiver, yardage-wise, coming into Saturday's game. Instead of contributing, he too was home and watching from Coral Gables, freshman Waters was getting his reps.
Unfortunately both wins and losses can mask logic. When Miami blew leads against Georgia Tech or North Carolina State, but came back to win in miracle fashion, mistakes were forgiven.
Conversely, the opposite happened in a loss against Florida State, where Miami spent three-plus quarter fighting tooth and nail against one of the better teams in the nation.
The same will happen with this Virginia loss. Falling late kills the ability to take anything good from the day, while a late stop and 40-35 win would have many sky high, still overly focused on the ACC Championship Game and the million dollar post-season question.
Win or lose, Miami played like the 2012 Hurricanes today, for better or worse.
The offense had some explosive plays and put up big points. It also had some bone-headed plays, didn't execute and left points on the field.
Defensively, there were some shining moments – seriously, go back and watch the tape – but there were also bend-don't-break moments where this team crumbled. Most-notably, the final drive as the Canes were oft one stop away from this one being in the books, but simply couldn't get it done.
Special teams had some big hits and huge returns, but also had some blunders and gave Virginia more than it should've.
Up, down and all around. The result? Back to .500 on the year at 5-5 and when combined with last year, 11-11 for this staff since taking over a program in the midst of a downward spiral.
With year two winding down in a few weeks, and another self-imposed post-season ban likely, it really isn't time to turn this into an coaching debate.
Visit any message board the the wake of another loss, hold down 'command f' and type in the word 'fire' and check the results. If fans had their way, programs would go through a half dozen coaching staffs annually.
Is the jury still out on head coach Al Golden, offensive coordinator Jedd Fisch and defensive coordinator Mark D'Onofrio? Absolutely. "The U" doesn't play for the middle of the road and a .500 record won't cut it – and you can bet everything you own that coaches and players feel the same way.
At the same time, it's unfair to judge these coaches on their overall ability before the cupboard is a bit more full and until they have a roster full of older players who are all-in, sold on the scheme, in the system a proper amount of time and all involved have matured.
This staff has preached "The Process" since day one, but in the wake of another loss – and on the heels of seven disappointing seasons before any of these coaches rolled into town, patience is thin, which is understandable and understood.
Where things get scary are when folks live three decades back or clamor for the return of past coaches, forgetting the issues that occurred on their watches, too.
In no way does Golden deserve to be mentioned in the same breath as Butch Davis – he'd probably be the first to tell you that – but as fans clamor for the return of the former coach, it proves that revisionist history is a funny thing.
Davis was never a heads-up game day coach, and at times even came across a bit goofy – but he was a solid recruiter and in time assembled arguably the best team in the history of the game.
Still, the man who took over a team that was 10-2 the previous year, finishing number three in the nation, losing to number one Nebraska in the Orange Bowl, took five years before any chartable difference was made.
What Davis incurred with a few years probation, Golden and staff all but inherited with last year's staff and a roster littered with non-Miami-type players.
Davis started 8-3 in 1995. The following year, 9-3. Year three, his Canes bottomed out and went 5-6, with jaw-dropping, 47-0 loss at Florida State.
Things picked up year four thanks to a shocking win over No. 2 UCLA, but it came on the heels of a 66-13 loss at Syracuse, where the Big East title was lost on the field and an Orange Bowl berth squandered.
1999 resulted in a 9-4 run and while losses to Penn State, Florida State and Virginia Tech were all forgivable, Miami fell apart in an inexplainable loss to East Carolina — again, year five in Davis' tenure
This was also the season Davis brought Greg Schiano in to run his defense, pulling the plug on the Bill Miller experiment after year four, on the heels of giving up 111 points in back-to-back games.
Miami finally became a player again year six of the Davis rebuilding project, but still had that unforgivable loss to Washington which cost the Canes a shot at a national title – coaching blunders to blame for that sorry-ass Seattle afternoon.
Davis left UM high and dry at season's end, lying to fans and players, ultimately doing what was best for he and his family.
He lasted three-and-a-half years with the Cleveland Browns, going 24-34 overall and was forced to resign ten games into year four, sitting at 3-7.
A few years later, hired by North Carolina, where he lasted four years, turned a once-clean program dirty, left shamed and was forced to forfeit two years worth of wins that occurred on his watch.
Davis and his staff were recruiting machines in Chapel Hill, bringing South Florida talent and Miami-like players to the program – but at a huge expense, as countless athletes were suspended for dirty ways, eventually bringing the program to its knees, courtesy of the NCAA.
All that, and some Miami fans would still take Davis back tomorrow, without giving Golden a fair chance to create a Davis-like legacy.
If UM faithful had their way in the mid-nineties, Davis would've been run out of town years before that epic recruiting class of 1999 – his fifth – and before his rebuilding project would've come to fruition.
When Davis was working tireless to put Miami back on the map, he was no legend. Just a lifer assistant that wasn't getting it done at a proud program, to a point where fans flew a banner over the Orange Bowl thanking him for turning a team full of 'champs' into 'chumps'.
Alas, the ultimate chump move is lacking the patience to let something come to fruition.
Time will tell if Golden is indeed golden – but that won't be known until he's given the proper time to turn things around.
You can't take a dish out of the over when it's half-baked, complaining that it tastes like crap.
No, instead you must let all the proper ingredients blend together and cook to perfection before playing the role of critic and two years in, that hasn't been done.
Golden wanted a job no one else wanted and he walked into a buzzsaw regarding an NCAA investigation. From day one, he's been fighting with one hand tied behind his back – and to his credit, he's kept on fighting, where lesser coaches would've run for the hills.
In it for the long-haul and committed to winning, his team keeps fighting, too, despite being out-manned and trying to grow up weekly.
Part of this maturation process might require Golden to make some tough decisions he might not want to make in the near future.
There appear to be some coaching and personnel issues with this team, which will force him to choose between his career and overall legacy, versus friendships and staying put, doing the comfortable thing and simply hoping things eventually get better.
Today was a heartbreak, but teams in rebuilding mode suffer games like this. Miami stole a few this year and has had a few stolen. Par for the course on the road to .500 when trying to make things right.
Before worrying about off-season moves and late recruiting steals, Golden has the task of getting the ship righted before next weekend with South Florida heads to town.
Get to 6-5 and prepare for a very unexpected Coastal showdown with Duke, for all the marbles as the road to Charlotte runs through Durham in this bizzaro year.
Christian Bello has been covering Miami Hurricanes athletics since the mid-1990s. After spending almost a decade as a columnist for CanesTime, he launched allCanesBlog.com. – the official blog for allCanes.com : The #1 Canes Shop Since 1959. Bello has joined up with XOFan.com and will be a guest columnist at CaneInsider.com this fall. Follow him on Twitter @ChristianRBello.
Comments
comments