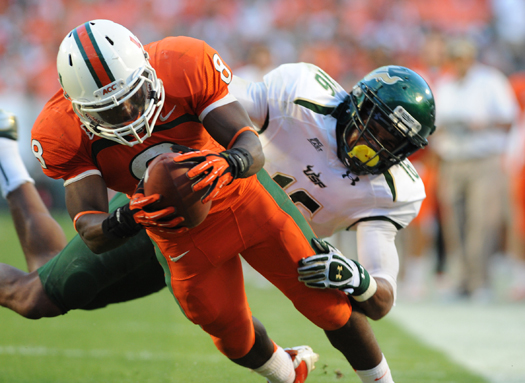 And with that, exhale as the Hurricanes bowl eligible.
What on paper was a throwaway game, Miami convincingly beat South Florida, 40-9 on Senior Day at Sun Life Stadium, moving UM to 6-5 and putting the program to self-impose a bowl ban in the next forty-eight hours.
While the forfeited post-season will be the headline the next few weeks, for now these Canes deserve credit for coming to play in this home season finale, dominating the Bulls en route to the most convincing win in 2012.
Miami racked up 548 total yards – 413 coming from Stephen Morris in just over three quarters of play. Morris was 21-of-32 with three touchdowns and no interceptions before Ryan Williams entered and went 3-of-4 for forty-three yards.
Duke Johnson again led all running backs, carrying thirteen times for sixty-six yards and a touchdown, while Mike James picked up twenty-five yards on eight carries, his last time in a home orange jersey.
Clive Walford led all receivers, shocking in its own right as the tight end position has been inconsistent for years. Walford opened the game with a thirty-four yard reception, eventually setting up a thirty-nine yard Jake Wieclaw field goal.
Morris went back to Walford on 2nd-and-7 early in the second quarter, this time for thirty-six yards, setting up another Wieclaw kick. In the fourth quarter, ahead 30-3, Morris bought time, scrambled right and found a sprinting Walford wide open for a sixty-five yard touchdown.
Phillip Dorsett also had a monster day with eleven receptions for 104 yards, while freshman Herb Waters reeled in Miami's longest touchdown pass in years – an eighty-seven yarder – en route to a four reception, 130-yard day.
Another bonus was Kendal Thompkins, one of a few remaining Northwestern Bulls from the heralded 2008 recruiting class. Thompkins had three grabs on the day, including Miami's first touchdown, a fifteen-yard pass from Morris on first down, on the heels of a Jimmy Gaines interception, setting the Canes up with a short field.
Prior to that, Thompkins had a huge twenty-eight yard grab on 3rd-and-8 and his final catch of the day, a thirty-seven yard, diving, fingertip grab from Williams, leading to Miami' final score of the day, a thirty-three yard kick from Wieclaw.
With so much talk about the Canes receiving corps struggling due to the injuries to Davon Johnson and Allen Hurns, as well as the suspension of Rashawn Scott, this group stepped up and had a monster day – which South Florida obviously wasn't banking on as the Bulls oft stacked the box to stop the run, while blitzing at times, working to rattle Morris.
Defensively this game took a turn late first quarter when Miami led, 3-0. Bulls quarterback Bobby Eveld, redshirt lifted recently due to the injury of starting quarterback B.J. Daniels, scrambled for yards on a 3rd-and-11 and was tattooed by linebacker Denzel Perryman.
Eveld, who played in the last two games against Miami, including South Florida's upset in 2010, was knocked from the game with a non-throwing shoulder injury and his replacement Matt Floyd proved too green to do anything meaningful against a Hurricanes' defense that pinned its ears back the rest of the afternoon.
South Florida wound up throwing for 204 yards and rushing for 154, but could only muster up nine total points. Both teams had twenty-two first downs, though the Bulls were only 3-of-14 on third down, while the Canes were 7-of-14.
Time of possession was comparable, with USF holding the ball for 29:27 and UM at 30:33.
The difference in the game proved to be turnovers, with the Bulls coughing it up three times to the Canes one.
South Florida without Daniels – and Eveld – proved to be the difference in what was a close game the past two years. The Canes won 6-3 in Tampa on a last-second field goal, while the Bulls pulled out the 23-20 overtime win 2010, sending Randy Shannon to the unemployment line hours later, wrapping his fourth season with a disappointing 7-5 finish.
At best, Miami will finish 7-5 with a win at Duke next week (barring there is no post-season, which looks to be the case) – but in year two of the Al Golden era, versus year four of Shannon's reign, there is reason for optimism.
The Canes weren't expected to do much in 2012, hence the fifth-in-the-Coastal pre-season prediction, and while there were some disappointing losses this year, there were also comeback wins and again this team showed some heart.
There was also an influx of young talent which shows that the future is bright. The emergence of Duke, a bevy of young wideouts, the safety play of Deon Bush and Rayshawn Jenkins, a linebacking corps finally solidifying and a young, improved defensive line that proved it's only a player or two away, taking things up a notch upon the late-season return of Curtis Porter.
Miami is primed to take another step forward next year. Especially if Golden can bring in another crop of freshmen who can make an immediate impact. This in itself is another reason to accept a bowl ban this year, helping recruiting and building for a better future.
Still, that's a conversation for another time. Right now it's all about a convincing win over a Sunshine State rival and a season finale at Duke, where even if it's just on paper, Miami can go from fifth to first in the ACC Coastal, which is an amazing feat in what was predicted to be very down season.
Christian Bello has been covering Miami Hurricanes athletics since the mid-1990s. After spending almost a decade as a columnist for CanesTime, he launched allCanesBlog.com. – the official blog for allCanes.com : The #1 Canes Shop Since 1959. Bello has joined up with XOFan.com and will be a guest columnist at CaneInsider.com this fall. Follow him on Twitter @ChristianRBello.
Comments
comments