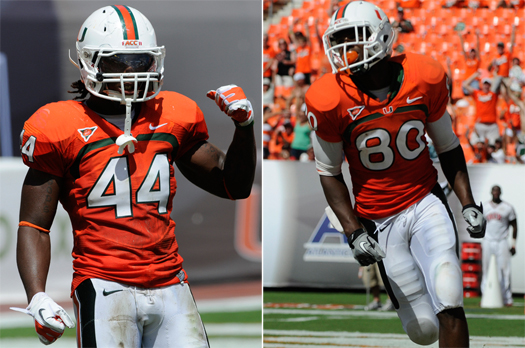 The hits keep coming. After losing linebacker Denzel Perryman and safety Deon Bush to injury this week, two more oft-used Hurricanes won't be in Miami's starting line up at Virginia this Saturday.
It's being reported that linebacker Eddie Johnson did not travel with the team, reasons unspecified, while receiver Rashawn Scott has been "suspended indefinitely" for a "violation of team rules".
Injuries are tough enough for a depth-challenged team, but selfishness and stupidity are something else all together.
Linebackers Gionni Paul, Raphael Kirby and Thurston Armbrister will be relied on heavily against the Cavaliers, while someone will have to step up for Scott, who entered this week the Canes' second-leading receiver.
With freshman Robert Lockhart Jr. lost for the season, that could mean more reps for freshman Herb Waters, as well as the dependable senior Davon Johnson.
The phrase "next man in" is taking a new meaning this week. Virginia was already entering this game a slight favorite, according to the bookies, but records-wise they're definitely upset-minded when looking to take down Coastal-leading Miami.
A tough game just got that much tougher. Hopefully Al Golden and his staff are driving home their message and mantras.
Brick by brick.
One at a time.
Trust "the process".
Win the Coastal.
Comments
comments