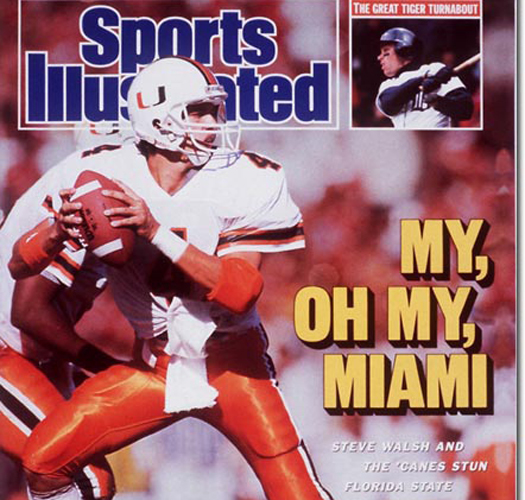 There's been little to celebrate lately on the gridiron for the Miami Hurricanes, but the twenty-five-year anniversary of one of UM's better squads definitely deserves to be honored.
The University of Miami will give props to its second-ever national championship team – the undefeated 1987 Hurricanes – on Saturday October 20th, homecoming weekend when Florida State rolls to town.
Of course getting throttled by the Noles would be no way to "honor" a team that owned Florida State in the latter half of the eighties, to today's Canes better come to play late October.
The 1987 version of this series was one of the better showdowns of the decade as then-No. 3 ranked Miami traveled to then-No. 4 Florida STate and escaped with a 26-25 victory. The Canes were down 19-3 late in the third quarter, but a furious comeback was mounted, courtesy of three fast-strike scores.
Quarterback Steve Walsh fired a 49-yarder to running back Melvin Bratton, a 26-yarder to Michael Irvin (with a two-point conversion) and a 73-yard strike, again to Irvin. UM sealed the win by batting down a FSU two-point conversion attempt in the final moments.
The rivalry hasn't sniffed a game like in a decade, the closest being in 2002 when No. 1 Miami trailed No. 12 Florida State, 27-14 early in the fourth quarter. Ken Dorsey quickly went to work, finding Andre Johnson for a 42-yard pick-up. A few plays later, Dorsey hit Kevin Beard in the back of the end zone to narrow the deficit to, 27-21.
A drive later, the signature play of the game; a 58-yard gain when Dorsey hit running back Willis McGahee on a screen. From there, Jason Geathers punched it in from eleven yards out and the Canes held on to win after Xavier Beitia sent a 43-yard attempt Wide Left.
The 1987 Canes ran a gauntlet few in college football run anymore. After opening the season ranked No. 10, Miami went on to beat No. 20 Florida, No. 10 Arkansas, No. 4 Florida State, No. 10 Notre Dame, No. 8 South Carolina and took out top-ranked Oklahoma in the national championship game.
This team deserves to be honored and hopefully head coach Al Golden makes a point to show these 2012 Canes what made that legendary team so good – a team that left the 1986 title on the field against Penn State, but pressed on a season later, even after losing Heisman Trophy-winning quarterback Vinny Testaverde, running back Alonzo Highsmith and defensive lineman Jerome Brown to the NFL Draft.
allCanes already has some plans in the works to do our part showing some love for this amazing bunch of Canes. Stay tuned to see what we're able to pull off in the coming months.
Comments
comments