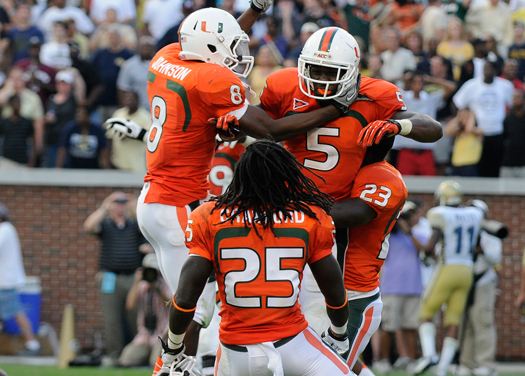 What a finish. What a finish. What a finish. What. A. Special. Finish.
A full recap will come in the next day, but for now, some initial thoughts on Miami's thrilling comeback win at Georgia Tech.
After jumping out to a 19-0 lead, the Canes gave up thirty-six unanswered and were down seventeen with ten remaining in the third. From there, both sides of the ball woke up – and grew up beautifully.
For all the (deserved) talk about a struggling Miami Hurricanes' defense, it was a balls-out performance on that side of the ball the final quarter-and-a-half – and overtime.
Miami finished the day with 609 total yards to Georgia Tech's 436. Stephen Morris, despite missing some throws, passed for 436 yards, two touchdowns and an interception.
Morris spread the ball to eight different receivers, with Phillip Dorsett and Davon Johnson providing the one-two punch. Dorsett finished the day with nine receptions for 184 yards and a touchdown, while Johnson picked up some huge first downs and hauled in seven receptions for 107 yards.
Duke Johnson was held somewhat in check, carrying thirteen times for 72 yards, but Mike James more than picked up the slack and re-asserted himself as the go-to back on this squad. The senior and team captain carried fifteen time for 89 yards and three scores – his final, a twenty-five yard scamper in overtime for the game-winner.
The final quarter, and overtime, were a true thing of beauty. Miami settled for three late in the third quarter, with Jake Wieclaw knocking through a 23-yarder to get on the board for the first time since the first quarter.
Trailing 36-22 entering the fourth, Miami went to work. Grinding. Fighting. Scrapping. This team followed the lead of head coach Al Golden. They trusted "the process" and applied their brick-by-brick mentality, one play at a time, working their way back into the game.
The Canes got the stops they needed to defensively, while picking up crucial first downs, moving the ball and overcoming adversity – the biggest blow, a missed Wieclaw field goal around the seven-minute mark, on the heels of a James touchdown getting called back as the Yellow Jackets called a timeout.
What could've been a backbreaker, was just another play. Miami forced another punt after Georgia Tech went thirty-two yards on eight plays, chewing almost five minutes off the clock. The Canes then drove ninety-one yards on eight plays to tie the game, James taking a dump off ten yards for the touchdown.
In overtime, a dream scenario. Miami won the toss, gave up a first down conversion after a fourteen-yard pick-up on first down, but from there the Canes clamped down — holding quarterback Tevin Washington to one-yard on 3rd-and-2 and stopping him cold on 4th-and-1, for the turnover.
Two plays later, James scampered into the end zone from twenty-five yards out.
The lone downside was losing wide receiver Malcolm Lewis late in the first quarter. After a twelve-yard reception, Lewis was rolled up and dislocated his ankle in a gruesome-looking play. Golden rushed the field to embrace his receiver and went back to rally his team, which fell apart for a bit, but fought back.
This was a game Miami needed – a young squad still smarting from the Kansas State shellacking two weeks back, and a program in need of some 'signature wins' as Golden and staff rebuild a program and sell their 'process'.
Huge win, young Hurricanes. Continue to grow. Amazing day and better days lie ahead.
Comments
comments