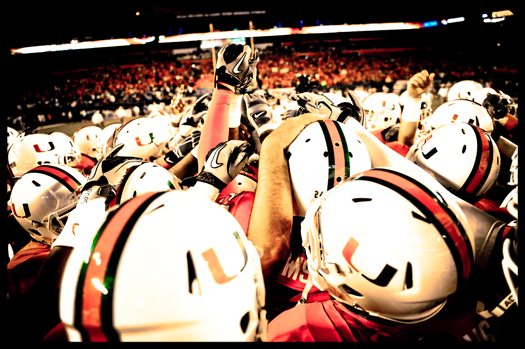 Much has been quiet on the football front these past few weeks as Miami self-imposed another post-season ban, meaning the Hurricanes missed out on the ACC Championship game, having won the Coastal Division, but also an upcoming bowl game – either the Orange Bowl, had Miami beat Florida State, or the Sun Bowl, in a showdown against Southern Cal.
While things have been still regarding things on-the-field, much has been going down off-the-field – most-notably, some things on the recruiting front that are worth noting.

Miami reeled in the top JUCO transfer in the nation earlier this week when tight end Beau Sandland chose 'The U' over Arizona State and Nebraska. Sandland comes to Coral Gables via Woodland Hills Pierce Community College and he officially signed his letter of intent.
Sandland will arrive on campus mid-January and will have two years of eligibility, barring he doesn't redshirt in 2013. He is a 6-foot-6, 250-pound prospect that will immediately help a position that has been lacking the past several years.
Clive Walford came on for Miami late in the year, but the Canes have gotten little production out of Asante Cleveland and Dyron Dye, who very well might move back to his original position on the defensive line with this new addition. (As for Cleveland, wouldn't be a surprise if he didn't return next year.)
A great pick-up for Miami as everyone saw what improved tight end play meant for this offense late in 2012. Welcome to 'The U', Beau.

Days before Sandland made things official, Miami added Roseville Sierra Community College outside linebacker Devante Bond to the fold. Bond is a 6-foot-5, 230-pound athlete and a three-star prospect with a handful of offers, including Nebraska, West Virginia, Syracuse and Fresno State. Bond's college coach referred to him a "hybrid-type" player and praised his athletic and physical abilities.

Coaches are focusing on the defensive line, knowing that is truly the weak point on defense. Yes, the secondary got chewed up this past season, but there's youth and talent on that side of the ball and things will take a step forward. Defensive line will need a shot in the arm and a few pass rushers to help the overall cause.
Miami recently offered Dodge City Community College defensive end Marcus Hardison days back, as well as current Baylor commit, defensive tackle Terell Brooks, of Corsicana Navarro Junior College. Both guys are new to UM's radar as other targets have wound up elsewhere. Still, even if some of these guys weren't first choice material, they are some immediate-impact players and continue to emphasize that this staff knows that game-ready defensive line talent is a must for 2013.

There was a departure regarding the coaching staff this past week as wide receivers coach George McDonald took the same job with Arkansas, under former Wisconsin coach / new Arkansas leader, Bret Bielema.
The loss hurts Miami has McDonald is a quality recruiter and did wonders with the Canes receiving corps the past two season – most-notably one-year wonder Tommy Streeter in 2011, while doing good things with Phillip Dorsett, Allen Hurns, Rashawn Scott and late bloomer Davon Johnson this past season.
Some names are being tossed around by other UM sites right now, but nothing seems truly tangible or feasible and while it wouldn't be a surprise if someone was hired soon, it seems logical to think that Golden will wait until some NFL coaching changes are made in the coming weeks, with the regular season ending soon.

Lastly, on the hardwood, Miami earned a quality win against Hawai'i late Saturday night, rolling the home team 73-52 in Honolulu.
The Canes are participating in the Diamond Head Classic – and travelled a hell of a long way to compete. Some feared jet lag – and a six-hour time change – could impact Miami in game one against Hawai'i, but UM came to play and won their seventh straight game.
Next up, a much more formidable foe in fourth-ranked Arizona, with tip off at 11:30pm ET on Sunday night (5:30pm local). The Canes are a four-point underdog, which shows the nation respect for UM's schedule, thus far. Especially considering big man Reggie Johnson will miss the remainder of the tourney due to injury.
Far from a must-win game for Miami, but safe to say the biggest showdown in the Jim Larranaga era at 'The U'. A loss against the Wildcats would be understood – especially with travel and injuries – but a win could really define the season, while playing a huge role in where the Canes end up when 'March Madness' rolls around.
The game will be televised on ESPN2, so set the DVRs, 305-Canes-fam members.
Comments
comments