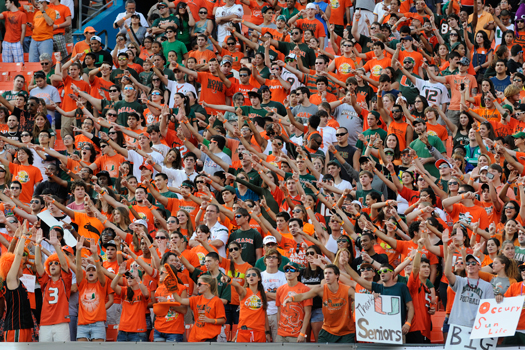 I've seen several strange things in my years but I'm not sure anything could top what happened Friday night as Miami was losing to Boston College.
Miami is down ten in the 4th quarter, to a team they should have beat the you-know-what out of ,and all of a sudden my email box clicked.
I looked down and sure enough, Al Golden had signed on the dotted line and gotten a contract extension. Obviously, the original intention could not have been to release this information in the middle of the game, however, with the game in doubt, and the Penn State rumors heating up, the Miami PR machine did their own conga and got that release out.
It was like they were saying," please pay no attention to the game in which our team is losing to an inferior opponent. Al is signed. Al is signed. Al is signed." This was the same PR machine that allowed several players to address the media after the game with out prepping them by telling them coach had signed a contract and we might ask about it.
After the game, a few of us grabbed dinner, unable to determine if The U did the right thing or not. The next day, I sat on the couch all day watching college football, and I still couldn't come to a conclusion. Sunday? More of the same. Monday? I still have no idea.
Like you, I'm clinging to Golden's "Process."
Yes, Jacory Harris got a lot better. Yes, the turnovers were cut in half. Yes, the penalties were down. I saw all that.
But I also saw a tight end position that didn't develop at all. I saw offensive linemen continue to make the same mistakes, game after game after game. I saw a defense that looked lost at times, and dominant at others.
I know there were extreme circumstances going on, but the bottom line is the team was 6-6 and in many cases a 6-6 record gets you fired. In other cases, especially where it's your first year as a coach, 6-6 gets you put on notice that next year better be a hell of a lot better.
At Miami, it just earned a head coach a contract extension.
Look, I understand that had Miami done it's job in notifying Coach Golden about the pending NCAA investigation, they wouldn't have had to offer him a contract longer than the one Urban Liar just signed in Columbus. I get that.
I was pushing for Al to get a new contract from day one. It was something that had to be done. That doesn't mean I'm sold yet, though I love what I hear day after day. It all sounds good. "The Process", "The Eight Pillars of Success", "Deserve Victory", "Core Values," etc., etc., etc. It all sounds awe-inspiring.
As the legendary Don Soldinger once said about one of his running backs, "I'm like Missouri, you're going to have to show me."
If Miami had won eight games, I'd feel so much better about things over the long term. 6-6 though, that's tough to handle. Randy Shannon was an absolute failure (which is why Golden is here in the first place) and he won seven games. How am I supposed to process that? I want to believe. I'm trying to believe. I'm trying to realize that my expectations have to be tempered, but I want to be really honest with you, I'm worried.
Miami has accomplished more than any other football program over the last thirty tears, but it's been a decade since it's last soiree with the big boys. A lot has changed in those ten years. A ton, actually.
Everyone is telling me to go back and look at how Miami overcame probation in 1997 by recruiting Santana Moss, Dan Morgan, Ed Reed and Reggie Wayne. I hate to tell you this, but those guys wouldn't have been around for Miami to get in 2012.
Moss had to come to Miami on a track scholarship and these days he'd be snatched up by a West Virginia or a slew of other schools who would've been all over him. Same with Reed, who would've had a dozen other offers besides Tulane and Miami.
Butch Davis and Pete Garcia also wouldn't have been the only ones to find a fullback-to-linebacker convert from Taravella in Morgan as a dozen other major programs would've been chasing his services, too.
With the amount of tape, online recruited services and other outlets, it's much harder for kids to fly under the radar these days. The world has changed in every way, right down to the fact that South Florida, Florida International and Florida Atlantic didn't even have football yet.
Despite Golden feeling good about Miami's dealings with the NCAA, there's going to be more punishment and I wouldn't be shocked to see more scholarship limitations and another bowl ban. Unfortunately this thing could still get worse before it gets better.
I don't say this to scare anyone, but with the current trend in college football between the haves and have-nots, Miami may never be what it was again. I look at teams that win titles these days and I see money, facilities and stadiums full of fans.
I see football factories, too. Alabama? Not a university, a football machine. LSU? Same thing. Auburn? Cash out the ying-yang. Think of all the major powers. Oklahoma? Ohio State? Michigan? Texas? Money, money, money, money. Even look at Oklahoma State, new to the party, but loaded up with that T. Boone Pickens money.
The Schwartz Center is going to be a great addition to the athletic facilities and UM fans nationwide should be thanking the Schwartz family (and all who donated) on a daily basis. That said, the Schwartz Center is scheduled to cost $13.6 million while Ohio State just resurrected on that cost $21.5 million. Texas A&M has one that cost $27 million and Florida's cost a million more than that.
Any way you choose to look at it, Miami is falling behind the powers in college football. It's much tougher today to make up those deficits than it was in the late nineties.
I believe in Coach Golden for the long haul, but my expectations might be slightly different than yours. I care about winning, but I'm also into the off-the-field behavior, graduation and character thing and Golden is ideal for that. I'm just not sold on the football part and in the end, that is why we're here, aren't we? Honestly, would you even be reading this piece if it was my take on the crew team? Didn't think so.
I'm clinging to "The Process". I'm just hoping "The Process" can overcome the mountain of obstacles in our way.
Toto, we're not in 1997 anymore.
Comments
comments