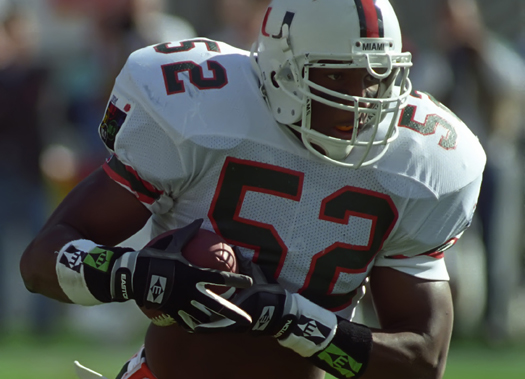 After seventeen years, arguably the best linebacker to play the game is finally hanging it up – which hits home for Miami fans as Ray Lewis is truly one of ours and an all-time great.
Lewis spent the majority of 2012 sidelined with a tricep tear, but he will be back this weekend as the Baltimore Ravens kick off their playoff run. The thirteen-time Pro Bowler will inevitably use his retirement as one final locker room speech and motivational tool when visiting Indianapolis comes to Baltimore this weekend.
"God is calling," the 37-year-old Lewis said. "My children have made the ultimate sacrifice for their father for seventeen years. I don't want to see them do that no more. I've done what I wanted to do in this business, and now it's my turn to give them something back."
Specifically, Lewis is talking about his son, Ray Lewis III, who will take the field for the University of Miami this coming fall, either at running back or defensive back.
The news is obviously bittersweet, as it just doesn't feel like the NFL these days without #52 roaming the field and delivering big-time hits. Lewis has also been an incredible leader and the face of Baltimore for almost two decades now. Not being a part of the game – it will take some getting used to.
That said, with the motivation to be around his kids more and to fall into the role of full-time dad, safe to say that Lewis will again be a presence around "The U" for years to come due to "III" joining the program.
The NFL's loss will be UM's gain as the ultimate motivator will oft be a fly on the wall around Al Golden and this program.
Thanks for being one of the best ever, Ray, and for doing right by 'The U'. There will never be another like you.
#UFamily
Comments
comments