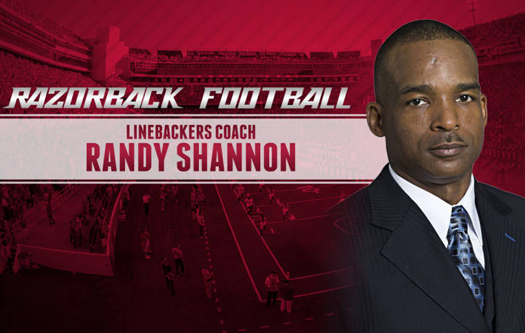 Former Miami Hurricanes head coach Randy Shannon is on the move again.
After spending the last season as linebackers coach at Texas Christian, he is headed to Arkansas to join the staff of first-year head coach Bret Bielema, who recently left Wisconsin to head-up the Razorbacks.
Not really much to say here, other than the fact that Shannon's journey has been … interesting, to say the least.
The failed Miami experiment turned into a paid vacation for the one-time head coach. Shannon collected his UM money and essentially earned a master's degree in coaching as he toured the country (on The U's dime), spending time at various program learning more about how to run a program and all the ins and outs that surround the college game.
When the Canes' cash was gone, Shannon trekked back to the Lone Star State and took the job with the Horned Frogs, in what turned out to be Texas Christian's worst season since 2004.
The Arkansas opportunity marks Shannon's first "experience" outside of Florida, or Texas, in his lifetime. Growing up in Miami, Shannon attended UM and was eventually drafted by former head coach Jimmy Johnson, where he spent a little time with the Dallas Cowboys.
He returned to Miami when his NFL playing days ceased, spending time at The U and with with Dolphins, under Johnson, before coming back to the Canes for ten years, six as defensive coordinator and four as head coach. From there, back to Texas for a year after spending a year on the road learning more about the game.
For Bielema, a great hire as Shannon has been given keys to linebackers, but not the entire defense. A lot of time was spent as a linebacker and coaching linebackers, and while bridges were burned in South Florida during his tenure as head coach, Shannon still has some pull as a recruiter — and there aren't too many linebacker coaches in the nation with the resume of Randy.
Always a part of the U Family, have to wish Shannon the best … though is continues to be a strange journey for the former UM head coach.
Comments
comments