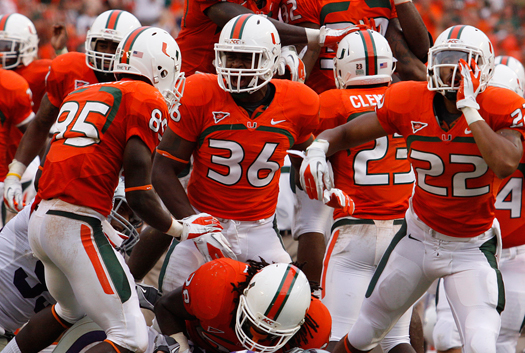 The rumors kicked around throughout the day and it finally became official; linebacker GIonni Paul is no longer a Miami Hurricane. Paul started seven of UM's last eight-regular season games and the sophomore is gone.
According to reports, it is unsure if Paul quit, or was removed. CaneSport.com stated that Paul's scholarship wasn't renewed, but that hasn't been confirmed.
While Paul has been unreachable, he did go the social media route, stating via Twitter, "Not playing for the univ of miami next year.. I thank all of miami fans for there support and wish the hurricanes the best.."
Paul played nine games in 2012 and registered sixty-one tackles, ranking seventh on Miami's defense. He missed the Canes first two games and was suspended for the October showdown against the state-rival Seminoles for an undisclosed reason.
Paul did earn ACC Linebacker of the Week honors earlier in the year, with eleven tackles against North Carolina State, in a 44-37 Miami win. Weeks later he had a career-high fourteen tackles at Virginia in a 41-40 loss.
It doesn't take a genius, or a conspiracy theorist, to realize much is going on behind the scenes at the University of Miami, and while we'll never really know the inner workings and what head coach Al Golden is up to, a safe bet that weeding out guys that aren't "his guys" is part of "the process".
Is a roster spot being freed up for an incoming freshman? It's been known since last year that the 2013 class was destined to be a smaller one, as Miami brought in just under three-dozen players last February.
Booker T. Washington five-star linebacker Matthew Thomas has Miami in his mix, as does former Maryland four-star commit Yannick Ngakoue and Daytona four-star linebacker Quinton Powell.
How do you get more kids in this year's class? For lack of a better term, "cutting dead weight" and nudging out those guys with less all around upside.
Paul showed promise in his time at Miami, but if he didn't fit the coaches' game plan and based on this appears to not be one of their guys, making him another casualty in this rebuilding project.
Wishing Gionni the best in his football career. Let this life experience help him figure out his path and may he succeed wherever he winds up next.
UPDATE : The Herald's Manny Navarro reported that Miami is calling the split with Paul a mutual thing. Paul hasn't confirmed nor denied.
Comments
comments