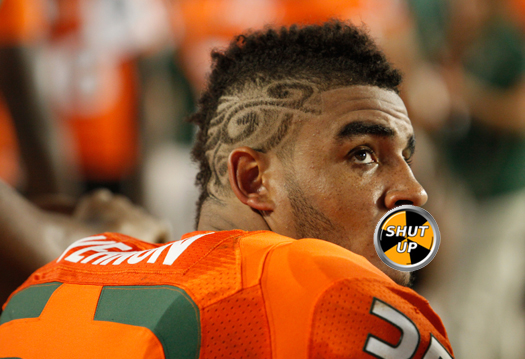 The quote almost reads like a parody from TheOnion.com for those who actually know the history of Olivier Vernon, his suspension last season and the eventual early departure from the University of Miami, if favor of last spring's NFL Draft.
Vernon was suspended six games in 2011; two more than any other Hurricane and five games longer than most.
The verdict – that Vernon received 'substantial benefits' from Nevin Shapiro, and athletics personnel, in effort to entice him to enroll at Miami. Meals, transportation, access to a game day suite, drinks and night club cover charges totaling over $1,200.
A drop in the bucket compared to what goes on nationwide in college athletics, but wrong nonetheless – and Vernon got caught.
Upon his return the junior posted eighteen total tackles (three-and-a-half for loss) and one-and-a-half sacks.
Vernon only started the final three games of the season, yet still decided to take his talents to the NFL, where he was drafted in the third round – seventy-second overall – by the Miami Dolphins. He scored a touchdown on a blocked kick against the New York Jets earlier this season, punctuated with a 'Gangnam Style' celebration dance.
Of course his most memorable play of the year will most-likely be his comments in the wake of UM self-imposing a bowl ban for a second straight season.
"Sometimes I guess you feel like the school doesn't have your back," said Vernon, who sat out a bowl ban last season with the Canes.
"You work so hard in the season to get to a bowl game, get to ACC championship, and to know that your school gave up a bowl bid kinda hurts a little bit, but I'm not there so I ain't worrying about it right now."
Blaming the school for the mistakes of past players and punctuating the thought with an air of, I-don't-give-a-shit-not-my-problem.
Welcome precisely to how the University of Miami ended up on this mess; selfish, me-first players like Vernon.
Guys who took more than they gave. Another athlete who felt they were owed something, opposed to focusing on the legacy left behind and the impact on those coming up in the rear-view.
The high school recruiting high jinks? Forgivable. Eighteen-year old entitled athletes are nothing new and the system is broken. In a word, it happens. Plus, Vernon made right regarding the money and missed half of last season as punishment. His debt was paid and repaid.
Leaving early? Again, the name of the game. Third round talent usually returns, but if the kid was done with the college game and wanted to move, it's his right and his life.
Wrongly directing pot-shots at his alma mater (who gave him a shot, an education and more than 'had his back'), instead of the NCAA or the former U players who created this mess? Ridiculously immature and showing zero growth since those mistakes made on his recruiting trip as a high school senior.
Was nothing learned through age, growth and experience, these past four years, Olivier? Should an opportunity like this arise again, a simple "no comment" would best help all parties involved.
Honestly, this is precisely the self-absorbed culture head coach Al Golden needs to rid of as he rebuilds a damaged program and broken culture in Coral Gables.
Christian Bello has been covering Miami Hurricanes athletics since the mid-1990s. After spending almost a decade as a columnist for CanesTime, he launched allCanesBlog.com. – the official blog for allCanes.com : The #1 Canes Shop Since 1959. Bello has joined up with XOFan.com and will be a guest columnist at CaneInsider.com this fall. Follow him on Twitter @ChristianRBello.
Comments
comments