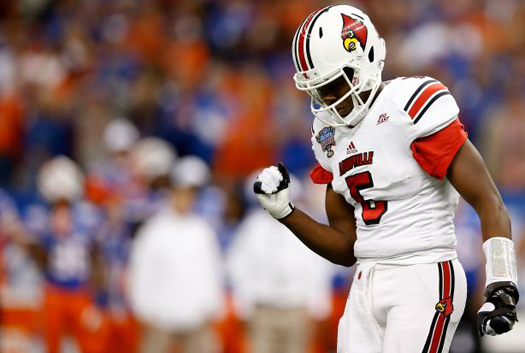 It was an innocent post on the allCanes Facebook page last night in order to generate some looks. The 2013 Sugar Bowl was underway and Miami product Teddy Bridgewater was taking the field for the Louisville Cardinals. The opponent; the hated Florida Gators.
The image posted? A shot of Bridgewater at Doak Campbell Stadium on a recruiting trip. A Miami commit at the time, he rocked a UM beanie in Florida State's stadium and verbalized what he planned to do to the hated rival on that field some day.
An eighteen-year old kid, his intent was pure. Like former high school predecessor, quarterback Jacory Harris, Bridgewater was next in line at Miami Northwestern and all signs pointed to him succeeding Harris at 'The U' a few years later.
Along the way, something changed. Months back Andrea Adelson wrote about it for ESPN, finally clearing up some rumors that surrounded Bridgewater's change of heart.
Was it due to the firing of the Miami head coach who recruited him, Randy Shannon? Or was something else brewing?
In the end, the decision wasn't as drama-filled as message board enthusiasts and conspiracy theorists wanted to believe. Bridgewater simply wanted change.
The kid who almost quit football in high school to take care of his cancer-ridden mother, stuck by the game. He helped the family's bottom line by washing cars and mowing lawns. He found himself suspended from school after a while, always late while he played the role of man of the house when mom, Rose Murphy, was too sick to get out of bed.
Safe to say mom's illness was a driving force in keeping the budding star quarterback local, but like so many things in life, circumstances changed.
Shannon's firing might not have helped the cause, but according to Bridgewater, the decision was made well before that. The kid simply desired a change of scenery.
"With everything that was happening down there, I felt I needed to get away," Bridgewater said. "Leaving my mom was the hardest part because of how close we are and the relationship we have. Just knowing I couldn't come home to a cooked meal, it was tough, but you adapt after a while."
Some Miami fans and locals trashed the decision, but those closest to Bridgewater backed the move for all the right reasons.
"Basically, they didn't want me to be in Jacory Harris' shadow," Bridgewater said. "They wanted me to go somewhere and make a name for myself."
And that he has, with January 3rd, 2013 serving as the crown jewel – for now.
Bridgewater and the Cardinals smacked up the third-ranked Gators. It was a game where Florida's defense was expected to dominate, but Louisville stole all the headlines. A pick-six on the opening play provided some breathing room, but Bridgewater's offense responded after a quick Gator three-and-out.
Twelve plays, eighty-three yards, two huge third down conversions and in a flash it was 14-0, Cardinals.
Before continuing on, let's set the record straight – I dislike Louisville.
Tons of Papa John's money has turned a middle-of-the-road program into a sports powerhouse. The football team is run by an ex-Gator in Charlie Strong and former Miami assistant Clint Hurtt is poaching South Florida kids left and right, bringing them to the Bluegrass State. (The same Hurtt who left UM in a real mess with the NCAA, no less.)
But last night wasn't about seeing Louisville win – the goal is to always see Florida lose. Period. As a Miami fan, you're two favorite teams are always the Canes … and whoever is playing the Gators that weekend. Even when it's the Seminoles.
Rooting for Florida to get upended is a God-given right of every Miami fan – and seeing it orchestrated by a local legend who loves the UM program, but felt he needed a fresh start? Nothing wrong with any of that … depending who you ask.
While there was some general support for Bridgewater, the hometown kid, last night – it was shocking how some in this fan base view the kid. Some random comments posted to our page, where we showcased the pic of him in the UM beanie:
– "Hope they both lose. Don't care for kids who commit and then decommit."
– "If he's not with the Hurricanes anymore f*** him and f*** them Gators too."
– "F him —U R no man if your word is NO GOOD!! Just another Benedict Arnold!"
– "Sorry wont root for him he bailed on his hometown team. I have no respect for him. There is no winner in this game."
Someone also called him a 'sellout', a 'coward' and a 'little spoiled punk' but then retracted the comment after we posted the link to Adelson's story. (Calling the kid a 'coward' and then deleting the comment. Rather cowardice, no?)
Truly scary how the fangs pointlessly came out last night. Instead of celebrating an embarrassing Florida loss at the hands of a born-and-bred Miami kid, Bridgewater was treated like some mob snitch or FBI informant.
There was no hat trick or games played. Bridgewater had a change of heart and did what he felt was best for him. Miami seemed to be the choice early on, but things changed. He was ready to break out on his own and chose a different path. Good for him.
Furthermore, there was a legit shot to earn early playing time at Louisville, which proved to be the case.
Bridgewater arrived on campus in January 2011, and with little depth at the position, worked his way into the starting quarterback role by game three – a win at rival Kentucky, going 10-of-18 for 106 yards and throwing two touchdowns.
The starting job has been his ever since.
Had Teddy-B wound up at Miami, news flash – he'd have ridden the bench the past two seasons. Harris got the nod as a senior in 2011 and while he'd have competed with Stephen Morris this season, a safe bet the junior would've won out.
Not landing a quarterback hurt more in past years when Miami's depth was a joke. Think back to the Shannon era where the roster was made up of Harris, Robert Marve, Cannon Smith and Taylor Cook, who is currently starting at Rice … as their punter.
Morris is coming off a 3,345-yard season with twenty-one touchdowns to seven interceptions. He will enter 2013 as a senior and one of the better quarterbacks in the nation.
Behind him is Preston Dewey, the 6-foot-2 freshman out of Austin, who learned under mentor Ty Detmer and has a great football pedigree.
Dewey will back Morris this coming year, as will Gray Crow, and Miami is on the brink of signing 6-foot-3, 190-pound, four-star prospect Kevin Olsen, who will most-likely redshirt, giving UM some stability under center from now until at least 2016, while more quarterbacks are recruited, as well.
The timing was right for Harris to join the Canes in 2008 as it was Shannon's second year and the position was wide open. In 2011? Wouldn't have been as wide open an opportunity for Bridgewater as Louisville was.
Plus, there was the whole Shannon fired, Al Golden hired situation and while the Nevin Shapiro story was yet to officially drop, the MiamI Herald had floated the Ponzi-schemers name out there and his desire to write a tell-all book to bring the program down.
As far as Wednesday night in New Orleans shook out, it was a great night for all fans outside of Gainesville. An arrogant Florida program was punched in the mouth — as was the invincibility of the SEC — and who led the charge?
A tremendous talent, a hometown kid and a good kid, no less.
The fact that anyone in the U Family chose to turn it into a soapbox moment about kid not being as good as his word, for simply changing his mind and going elsewhere — classless.
Get a grip, Hurricane Nation.
Christian Bello has been covering Miami Hurricanes athletics since the mid-1990s. After spending almost a decade as a columnist for CanesTime, he launched allCanesBlog.com. – the official blog for allCanes.com : The #1 Canes Shop Since 1959. Bello has joined up with XOFan.com and will be a guest columnist at CaneInsider.com this fall. Follow him on Twitter @ChristianRBello.
Comments
comments