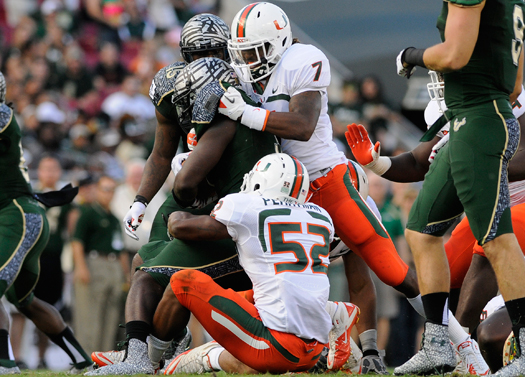 Every week, another game of the year for the Miami Hurricanes and while this one, on paper, is 3-6 South Florida Bulls squad, this is not to be a game taken lightly based on one thing alone; bowl eligibility.
Sitting at 5-5 after a recent loss to the Virginia Cavaliers, Miami has lost four of its past five and has only two games left to earn a sixth victory this season.
Yes, the Hurricanes are still in the hunt, again, on paper, for a berth in the ACC Championship Game with a win at Duke next weekend, but all signs are pointing to another self-imposed bowl ban (re: interim athletic director Blake James stating weeks back that UM will do what's in the program's best long-term interest).
Facing a slumping South Florida at home versus an inexplicably-pretty good Duke team in Durham; it's no mystery that Saturday's showdown against the Bulls provides the Canes' the best chance at security bowl eligibility. Without a sixth-win, bowl talk isn't even pertinent – and honestly, there is no worse-case scenario to draw up than 5-7 and a bowl ban in 2013 that could've been surrendered now.
Thankfully for this slumping Miami squad, South Florida is in worse shape. Before getting a 13-6 win over Connecticut weeks back, the Bulls had lost six straight.
Even their two wins weren't impressive, beating Chattanooga and Nevada to open the season.
Veteran quarterback B.J. Daniels has also been knocked from the starting line up, due to an ankle injury that will close out the senior quarterback's career in Tampa. He'll be replaced by freshman Matt Floyd, who is 4-of-10 for 22 yards this season, or Bobby Eveld, who's been redshirted all year, but played in the past two games against Miami.
The Bulls are also missing senior running back Lindsey Lamar, who fractured his clavicle against Syracuse weeks back. Demetris Murray, who split carries with Lamar, will shoulder the load this weekend, while Marcus Shaw will attempt to provide that one-two punch.
Miami is banged up as well. Safety Deon Bush is slated to miss a second straight game with concussion-related issues, though linebacker Denzel Perryman should return this weekend.
Wideout Davon Johnson suffered a season-ending injury days back at practice, sidelining him for the rest of the season and ending his Miami career.
In theory, it should be a coming-out party for Miami's offense. The Canes rolled at Virginia last week, putting up thirty-eight between kickoff and the 11:38 mark in the fourth quarter.
Quarterback Stephen Morris was a respectable 17-of-25 for 179 yards and three touchdowns, while running back and special teams return-man Duke Johnson was electric. Four returns went for 214 yards, including a ninety-five yard touchdown.
Johnson also threw for Miami's first score, finding Allen Hurns in the end-zone for the eight-yard score. Hurns suffered a fractured hand in the loss, but will be available for the Canes this Saturday.
Phillip Dorsett also hauled in a reception – a thirty-five yard strike for Morris, finishing with 103 yards on the day. Dorsett will be relied on heavily due to the Johnson and Hurns injuries, while sophomore receiver Rashawn Scott is still suspended indefinitely. Freshman wideout Herb Waters will also get some looks due to the thinness at receiver.
The loss of Daniels is the key to this modern-day Sunshine State rivalry. As bad as the Miami defense has played at times, the notion of Floyd having a career day against the Canes seems pretty far-fetched. Designed blitz packages and defensive looks to rattle the freshman quarterback have to be part of this week's scheming.
As far as things go, this is as much of a lay up that coordinator Mark D'Onofrio will see this season. Get to Floyd and the Bulls' offense becomes ridiculously one-dimensional.
Saturday is Senior Day for Miami, so the hope is that long-time running back Mike James gets his fair share of carries and can go out with a bang. James, who missed his mother's funeral to participate in the 2010 Sun Bowl loss to Notre Dame, is the saddest aspect of a self-imposed bowl ban this year.
If any kid involved in this program deserves a few more chances to shine, it's James. With what appears to be eight more quarters of Hurricane football in his future, he deserves his carries and the opportunity to run wild. Especially with so many issues on the receiver front.
This truly is one of those games this program just wants in the book. A non-conference throw-down with another one of those teams who will tear this match-up like a bowl game.
Not too much else to say. Get to 6-5 and wait for an announcement on Sunday to see how big, or meaningful a finale with Duke will be – or fall to 5-6, making the Blue Devils match-up present- and future-defining.
Christian Bello has been covering Miami Hurricanes athletics since the mid-1990s. After spending almost a decade as a columnist for CanesTime, he launched allCanesBlog.com. – the official blog for allCanes.com : The #1 Canes Shop Since 1959. Bello has joined up with XOFan.com and will be a guest columnist at CaneInsider.com this fall. Follow him on Twitter @ChristianRBello.
Comments
comments