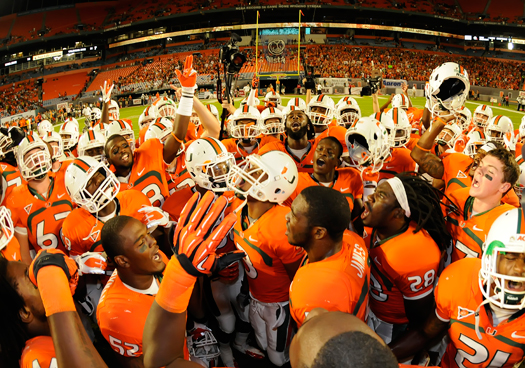 In the wake of the thirteen-point loss to Florida State this past Saturday, I wrote a piece about Miami keeping it close until late (16-13, early fourth quarter) and while not going so far as to call it a 'moral victory', did state that it would help Al Golden on the recruiting trail, giving him the ability to sell prospects on the Canes not being as far off as the Noles (and Gators) are selling.
Today Jeremy Fowler at CBS Sports wrote a piece on Miami's pending resurgence, claiming that it won't be easy, but there's reason the believe the Canes can again be a power – proving that UM's efforts on Saturday night weren't in vain.
A few points Fowler makes in his argument, after rattling off some of the obvious issues – recent losses, looming sanctions, poor attendance, lesser facilities, et al:
–  Starting this past February, Miami began winning some local battles an kept homegrown talent in Coral Gables. According to Rivals.com, UM signed seven of the top fourteen players from the South Florida area (Fort Lauderdale and below) in 2012, helping result in a top-ten class. In 2005, the Canes only netted five of the top seventeen.
– Golden is focusing on development and twenty-one freshmen have seen the field this season. He is also working to squash out a sense of entitlement that plagued the program in recent years.
– Fowler states that Miami needs to land a long-term athletic director, after both Kirby Hocutt and Shawn Eichorst used UM as a stepping stone to bigger opportunities.
Golden believes he'll have a hand in hiring the next AD and states that he wants stability.
"An appreciation for the University of Miami and South Florida, someone who's process-oriented," said Golden about what the school needs in a director. "We need to negate our deficiencies and highlight our assets."
– Fowler points out that Golden is signed through 2019 and wrote that the second-year coach cites his mom's Italian immigrant roots and father's work ethic (held down two jobs) as the driving forces behind why he refuses to "retreat", but will instead fight through UM's reclamation project.
– According to John Infante, a former Division-I compliance director and author of the Bylaw Blog, Miami could receive an NCAA notice of allegations by late November, followed by definitive sanctions by next spring / summer.
Infante also stated the fact that most of UM's staff wasn't directly connected to Nevin Shapiro could help the school's cause.
– Regarding attendance 'woes', Fowler points out the following : "The 2001 national title season drew 46,162 fans per game in the now-defunct Orange Bowl. This year's attendance is at 52,557 through five games, down from last year's 56,207.".
– The debate regarding an on-campus stadium and football-only facility still rumbles on. Former running back Alonzo Highsmith is pushing for a change with both, but interim athletic director Blake James points out that it's not doable right now.
"We're in a large stadium as a small private school," James said. "A lot of people lose sight of that and equate Miami's success on the field with those programs that have maybe had that kind of [additions]. A 10,000-student private school is a much different equation."
The $13.6M Schwartz Center is under construction – a two-level, 30,000-square-foot multipurpose athletics facility, built to serve as the focal point of the football program – and the school isn't ruling out enhancements to the program.
– Fowler ends by stating that Golden is the architect to lead UM through this rebuilding process, pointing out the early struggles at Temple and how the 2007 team was hugely made-up of freshmen – the same players who eventually comprised the school's winningest football class.
Golden believes in his blueprint and process, stating, "You really had to learn to be a callous team, control things you can control."
"I still believe the execution of the process, on a consistent basis, is what's going to deliver us out of this."
Golden also pointed out that while he sees mistakes on the field, he also sees fight, which he and his staff can build on.
"I have no doubt," said Golden about whether he has enough time, resources, talent to make it work. "I'm proud as heck of our guys for competing the way we're competing."
Comments
comments