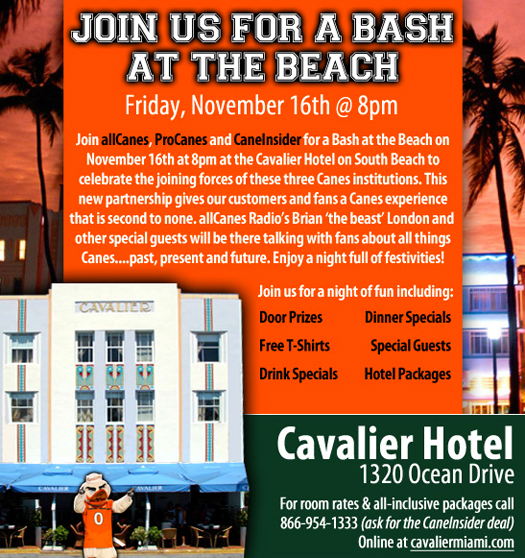 One last home game means one more reason to party as this football season winds to a close.
Sure, the Miami Hurricanes are hovering at 5-5 with an outside shot at the ACC Championship game, but this weekend is all about the Sunshine State and putting South Florida back in its place when the Bulls take on the Canes at 3pm ET this Saturday.
allCanes.com, ProCanes.com and CaneInsider.com are teaming up for what should be a fun little South Beach throwdown on Friday November 16th at the Cavalier Hotel on Ocean Drive. The event starts at 8pm ET and goes until … whenever.
There will be door prizes, free tees, drink / dinner specials, hotel packages and some special guests in the house.
Working on some names and some guys are expected to be there, but not going to name to drum up extra hype. Hoping fans will come for the event, with the former U players a secondary reason for attending.
"We wanted to have a bash as a way of bringing fans together to engage with each other, while giving them a forum to talk with some beat writers, recruiting analysts and collegiate scouts," said Josh Borne of CaneInsider.
"It also starts the weekend right in regards to getting fans in the mood to celebrate this senior class as those guys play the final home game of their careers the following day."
Rally the troops for this one, U Family. Should be a blast.
Comments
comments