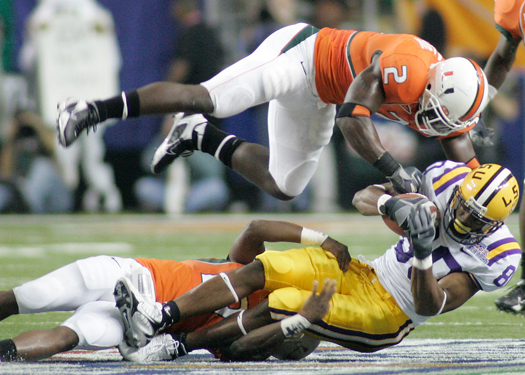 Google "Miami Hurricanes Louisiana State Tigers" and the first five entries are related to the SEC program. Halfway down the page, a recap regarding the Peach Bowl blowout UM suffered at the end of the 2005 season.
What you won't find? Any story that relates to a potential meeting between Miami and LSU to kick off the 2014 football season, yet remains a hot-button topic on Canes-themed message boards this week, with some implication that UM punked out of a proposed meeting.
The only thing reported about this showdown-not-to-be came from Barry Jackson and the Miami Herald, in the form of a thirty-nine word quip in his 'Sports Buzz' column days back:
"UM declined overtures to open the 2014 season against LSU at Houston's Reliant Stadium – smart, considering it will be the first game for Stephen Morris' successor at quarterback. UM doesn't need him opening against a usually-stout LSU defense."
According to the piece, Miami declined "overtures" to open the season against LSU — "an introduction to something more substantial" or "an approach or proposal made to someone with the aim of opening negotiations". This thing was in the most infantile stage discussion-wise.
The idea was introduced and Miami decided that opening the season on the road against an SEC power made no sense. Especially considering UM will welcome Memphis to Sun Life on September 13th and then treks to Lincoln to take on Nebraska the following week.
From there, a full-blown ACC schedule that could include match-ups against Big East defects, Louisville, Syracuse and Pittsburgh, as well as the usual suspects – Florida State and Virginia Tech – or Atlantic Division rivals like Clemson or NC State. (Editor's Note: The ACC's football rotating crossover schedule has since been released and Miami will play at Louisville in 2014.)
LET GO OF THE PAST AS THE ENTIRE GAME HAS CHANGED
Some of the more vocal fans stuck in the 'Decade Of Dominance' era have turned it into manhood being tried, a lack of street cred or backing down from a brawl in a manner that would have the ghosts of Hurricanes' past rolling over in their graves.
"What ever happened to, ANYONE, ANYTIME, ANYPLACE??", blasted some vocal folks via social media or UM-themed sites.
For a real answer to that question, look no further than the overall state of college football and how this big money game is played in a calculated manner in this day and age.
In the past, a powerhouse was expected to have a "national championship or bust" mentality when bringing a loaded team into a new season. The playing field was nowhere near as level as it is today, there was less parity in the game and college football itself was dominated by major programs.
Today's game, besides having a flawed route to the championship game, is simply about putting yourself in position to play for it all, which is a multi-year process.
Favorable pre-season rankings are important, as is winning your conference, becoming a perennial BCS player, recruiting strong every February – a byproduct of doing all the above – and then hoping for some lucky breaks along the way.
Crazy that some Miami fans still play down the importance of winning the conference, or playing into the BCS as an at-large. The Hurricanes joined the ACC in 2004 and to date still haven't won regionally.
Sure, a shot at representing the Coastal was surrendered last season due to hovering NCAA sanctions, but Miami was still 5-3 in conference, 7-5 overall and needed to loophole with North Carolina ineligible from any post-season play. UM hardly dominated the ACC the way it smacked up the Big East for the better part of a decade.
TWO DECADES AGO 'THE U' HAD TO MAKE ITS NAME; NO MAS
As an Independent in the 1980s, when trying to make a name for itself and building a program from scratch, Miami absolutely took on all comers. That was the way the game was played when trying to bully one's self into that elite circle.
To be the best you had to beat the best, so you endure years of beatings at the hands of a Notre Dame, Alabama or Penn State, but eventually little brother grew up and gave it back to big brother twice as hard.
UM lived that out and as fans who never experienced that brand of college football, it became addictive, expected and impossible to believe that an end would come.
As much as Miami went through in the nineties with probation and sanctions, the program was able to battle back as the landscape was yet to shift. A quality coach and world-class recruiter was able to build a machine again, proven by those seemingly invincible UM squads between 2000 and 2003, but a few years later the era of the dynasty ended with Southern Cal's 2005 squad representing the last true power, chock full of NFL talent.
Sure, Alabama is doing their thing right now, with the best head coach in the game and an influx of talent, but as solid as those Crimson Tide teams have been, talent-wise they can't touch 2001 Miami or 2005 USC across the board. Not even close.
Look at some other recent champions. Florida in 2006 or 2008. LSU sandwiched between in 2007. Auburn in 2011. These weren't dominant teams. They were simply SEC squads that won games and climbed in the rankings, fueled by a few key players and big moments.
THE 'MYTH' IS TO BLAME FOR LATE SEASON PATSY SCHEDULING
For all this talk about Miami, future out of conference schedules set, in rebuild mode and having ducked no one in recent years – Oklahoma, Florida, Ohio State, Kansas State, Notre Dame – how come there's no outrage regarding the Urban Meyer school of late-season candy-ass scheduling?
Playing patsies early in the season seems to be the modus operandi for major powers, but what about this new November trend of taking on a weak out of conference foe, or two, in order to stay in the hunt, bettering your odds and hoping that others fall in conference play?
Florida started this tradition in 2006. After opening with non-conference games against Southern Miss and Central Florida, the Gators got into the meat of their SEC schedule, but on November 18th welcomed Western Carolina to The Swamp.
An extra bonus for Florida, Meyer sat defensive end Jarvis Moss for this game, instead of a showdown with South Carolina the previous week, which ended 17-16, with Moss blocking a potential game-winning field goal.
The trend worked for Florida and it's something that's been continued ever year since. Check out some of the Gators' late-season foes as of late: Florida Atlantic (11/17/07), Citadel (11/22/08), Florida International (11/21/09), Appalachian State (11/20/10), Furman (11/19/11) and a double-whammy in 2012 with Louisiana-Lafayette (11/10) and Jacksonville State (11/17) back-to-back.
This November, Florida will take on Georgia Southern on November 23rd, while Miami's would-be opponent LSU has Furman coming to Baton Rouge on October 26th.
Even the defending champs are following suit as Alabama gets a tune-up against Chattanooga on November 23rd, a week before their annual showdown with rival Auburn.
While no one would question the powerhouse that Alabama – or the SEC – currently is, scheduling tactics remain suspect.
After opening with No. 8 Michigan last season, two of the next three games were played against Western Kentucky and Florida Atlantic and again, another late-season patsy when Western Carolina visited Tuscaloosa on November 17th.
In previous years it was Georgia Southern (11/19/11), Georgia State (11/18/10), Chattanooga (11/21/09), Louisiana-Monroe (11/17/07) and Florida International (10/28/06).
In a twelve-game season, 25-percent of Alabama's 2012 foes were glorified high schools and while the SEC is bar-none the best conference, on any given week a top power can go down, which happened last season when the Crimson Tide were upset by Texas A&M on November 10th.
The SEC isn't the only one following this calculated, odds betterment pattern. Florida State has gotten on board, as well. After opening the season against new ACC foe Pittsburgh, Nevada and Bethune-Cookman come to Tallahassee back-to-back weeks, and on November 23rd the Noles take on Idaho, a week before their annual showdown with Florida.
Last year FSU faced Maryland, on the road, the week before taking on UF. The year before, Miami and Virginia back-to-back weeks and then a road trip to Gainesville.
TO REBUILD, THE CANES MUST BE SMART SCHEDULE-WISE
Past Miami schedules have been front-heavy and based on where this program has hovered the past half decade, the decision to play some of those games have proved more hurtful than helpful.
Randy Shannon took over the program in 2007, on the heels of a 7-6 season by former national championship coach Larry Coker, which earned his pink slip.
Shannon's squad opened with Marshall, traveled to Oklahoma a week later, welcomed Florida International in game three and then took on Texas A&M out of conference all before entering ACC play. (Ironically, the Canes opened 4-1 before dropping six of their final seven, with the lone win coming at Florida State. Bizarro World, indeed.)
In 2008 Miami opened with Charleston Souther before back-to-back out of conference road games at Florida and Texas A&M, followed by ACC games against North Carolina and Florida State.
Shannon's third year was as brutal a stretch as the program had seen, opening with a road game at Florida State, a Thursday night home showdown against Georgia Tech, a road game at Virginia Tech and a Saturday night home game against Oklahoma.
2010 had a rough four-game stretch after beating Florida A&M in the opener – at Ohio State, at Pittsburgh, at Clemson and then home against Florida State. The Canes fell 45-17 to the Noles – leaving many questioning the logic of those three tough road games – and wound up dropping three of the final five contests, costing Shannon his job.
Al Golden didn't get any breaks his first year. NCAA cloud hovering and opening game suspensions, Miami started at Maryland, welcomed Ohio State week two, Kansas State week three and then after a breather against Bethune-Cookman, had back-to-back road games at Virginia Tech and North Carolina.
Last season it was back-to-back road games at Boston College and Kansas State and then a stretch that include Notre Dame, North Carolina, Florida State and Virginia Tech back-to-back-to-back-to-back.
What we're witnessing regarding Miami declining LSU's "overture" regarding a potential season opener in 2014 isn't running away from any challenge; it's simply smart scheduling in this day and age.
DON'T RELINQUISH THE POWER; HOME-AND-HOME SERIES ONLY
Set up a home-and-home against the Tigers if they really want to take on the Canes. Let it be mutually beneficial, opposed to some bogus "neutral site" showdown in Houston's NFL-ready Reliant Stadium, which is a four hour car ride from Baton Rouge and will be packed with purple and yellow.
LSU fans who live and die with their program will flock to a game like this, while only the most diehard Canes fan is leaving South Florida and the Atlantic Ocean on Labor Day weekend to spend it in Houston, Texas.
In other words, that "neutral" game will take place in front of a stadium were Tigers outnumber Canes, 10-to-1, making it a high risk / low reward game, much like a loss at Kansas State last September, some early morning game relegated to the FX network, in a region that Miami doesn't seek recruits.
Conversely, Miami's match-up against Notre Dame was a high risk / high reward game. The Canes simply weren't ready for the big time and fell flat.
Nationally televised night game on NBC against the big market Fighting Irish? A win in Chicago would've changed the course of Miami's season and done wonders on the national level. Instead, UM limped back to town, fell to North Carolina at home and a went into it's annual showdown with Florida State riding a two-game losing streak.
Losses on the main stage do as much damage as a win would do good and opening with LSU, was Jackson stated, who usually fields a stout defense while the Canes will be breaking in a new quarterback? That's a dumb game for Miami. Period.
A true home or away game and two-game series in late September? Different situation entirely and something beneficial to all parties.
Good as LSU is, they're beatable, having fallen to Clemson, an ACC squad that didn't even reach the conference title game, in the Chick-Fil-A Bowl. This is hardly a program to run from.
When a season goes in the books, all that's remembered is the final record and the bowl game and if Miami wants to succeed regarding both, it needs to play the schedule game just like all the other big boys.
Is that style of play a bit "pussified"? Sure, but again, welcome to college football in 2013.
There are no bonus points for playing the role of "tough guy" and taking on all comers anymore. That made sense twenty years ago, but with conference supremacy, one-loss seasons and BCS berths today's "ultimate prize", you treat this sports like boxers lining up patsies so they can earn a title fight. That's the name of the game.
For the first time in forever, Miami has a somewhat friendly schedule this upcoming season, which is a great way to build momentum, have a better win-loss record, to sell recruits and to take a step closer to ACC Championships and BCS games – and once that is the norm, then you start talking national championship and elite status.
Miami gets Florida week two, but opens with Florida Atlantic. After the Gators, it's Savannah State and Georgia Tech at home, a road game at South Florida, a Thursday night game at North Carolina, Wake Forest and home and Florida State game eight.
At absolute worst, Miami should be 6-2 going into Florida State weekend and with a few lucky breaks, could be 7-1 or even 8-0.
As fans, can you even remember 8-0? Hasn't happened since 2002, when Miami went undefeated in the regular season and made it to the title game. Made it to 8-1 in 2005, but since then, nothing even remotely close.
The Canes need more depth, more talent and more experience, but this program also needs to string together some wins in effort to gain some momentum and to build on something.
Golden's first year never produced more than a two-game win-streak and last year it capped out at three straight. That's not productive for a young team that needs every good moment is can get.
While the "take on all comers" mindset is vintage Miami – the city, as well as the team – it's time fans accept the watered down game college football has become. Perennial powers are working the system and for the Canes to work their way back on top, it's going to take a little less ego and a some submitting to what this sports has become.
This isn't time to play the role of hero or pioneer. It's time to work the system.
Christian Bello has been covering Miami Hurricanes athletics since the mid-1990s. After spending almost a decade as a columnist for CanesTime, he launched allCanesBlog.com. – the official blog for allCanes.com : The #1 Canes Shop Since 1959. Bello has joined up with XOFan.com and will be a guest columnist at CaneInsider.com this fall. Follow him on Twitter @ChristianRBello.
Comments
comments