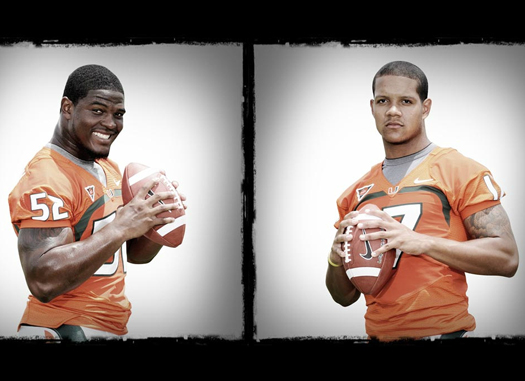 Year two of the Al Golden era gets underway this week and while the distractions aren't what they were last August, question marks still surround the University of Miami football program with kickoff next Saturday.
A handful of starters are gone, almost three dozen true freshman have arrived and while the culture continues to shift towards that of a winning program again, there will be growing pains experienced the second go-around of Golden's "process".
As seen last year, wins and losses are hard to predict. Miami stole a few – North Carolina and South Florida; wins that could've gone the other way – but also left some very winnable games on the table. Maryland. Kansas State. Virginia Tech. Virginia. Florida State. "The U" could've posted double-digit wins last season.
Nobody dominated the Canes in 2011. The closest loss was three points. The worst was eight – the opener against the Terps, with a pick-six ending a late comeback attempt, down two in the final minutes.
A goal line stop by the Wildcats was difference in game three, while inability to get a fourth-down stuff gave the Hokies the win.
A special teams miscue was the key play in a loss to the Noles, despite the Canes winning in the stats column and later in the year, missed opportunities down the stretch in effort to tie Virginia late in an eventual seven-point loss.
Miami is understandably getting no respect nationally this off-season. Ranked anywhere between forty and seventy, depending where you look. Ranked fifth in the ACC … Coastal. No All-Americans. No highlighted, must-watch games, according to outsiders.
Anyone without a thumb on the Canes' pulse or folks who just take a casual interest in this program will judge UM on paper and if that's the case, things are rather straight-forward; a year of struggle appears to be ahead.
Sports Illustrated columnist Stewart Mandel stated his thoughts in a recent column, when hyping Virginia Tech. "Miami, to be blunt, will flat-out stink," barked Mandel, when rattling off reasons the Hokies will win the division.
Miami will lose its share of games this year, but where there's reason to debate Mandel is the notion that the Canes will "stink".
Anyone paying attention to what Golden is doing with this program knows that Miami is turning the culture around and that winning ways will return.
How soon that process starts depends how quickly newbies pick up the speed of the college game, how healthy a depleted roster can stay as the year rolls on, and how many breaks this team gets this season, as opposed to the last go-around, where everything seemingly backfired.
Will this be the year Miami gets third-down conversion, with quarterback hitting running back on a wheel route, setting up a game-winning field goal against the Terps, instead of the near miss and a fourth-down pick-six a play later?
Will the guy with the ball can get the one yard necessary to complete the last-minute comeback against a Kansas State?
Who on defense will get that fourth down stop against a Virginia Tech – steal a bing win that a hurting program and brand new coaching staff needed?
For those solely focused on 6-6, it was hard to gauge the progress last year. Still, for those who paid attention, they noticed that Miami played more like a team as the year rolled on.
The defense better understood the schemes drawn up by coordinator Mark D'Onofrio by year's end and wasn't getting shredded weekly, while offensively, Jedd Fisch got the most out of his side of the ball (sans the Jacory Harris meltdown against Boston College in the finale).
While the pessimist couldn't get past the .500 season, the logical Cane saw something that sadly hasn't been a mark of this program for half a decade now; a team that wouldn't quit.
Where Miami always used to close strong, step up and find a way, the better part of last decade was spent folding late. Leaving wins on the table. Snatching defeat from the jaws of victory. Winded. Heartless. Too many Saturdays ending in a loss.
Think about the last few years. Randy Shannon and his last stand, ending with embarrassing losses to South Florida and Virginia Tech, where Miami hung tough but eventually faded late.
Outworked, out-hustled and flat-out beat. Earlier in the Shannon era, similar losses to N.C. State and Georgia Tech.
Larry Coker and his 2006 swan song was no better. A late four-game losing streak against Virginia, Maryland, Virginia Tech and Georgia Tech. Games all lost in the fourth quarter where Miami used to find an extra gear en route to a win.
When asked the what blindsided him the most year one, beside the Nevin Shapiro scandal, Golden didn't miss a beat; the lack of conditioning. Never at any point did the former Temple coach believe that the Miami program would be in as bad of physical shape as it was.
For Golden, no bigger turning point this off-season than this program's renewed dedication to the weight room, where everyone was pushed.
Conditioning. Conditioning. Conditioning.
Workout hard. Eat right. Train harder. Compete with your teammates. Truly get stronger, faster and better, instead of displaying false bravado because of a "U" on the side of one's helmet and riding the coattails and legacies of previous greats.
"The U" must get back to the belief that the overused term 'swagger' is something that comes as a result of winning, not before. Honestly, there's no true 'swag' when going 41-36 since the end of the 2005 season.
Despite 6-6 last season, Miami truly bottomed out as 2010 came to a close. Hard as it may be for some to admit, the six losses under Golden were 'better' than the previous six under Shannon as there's a difference between fighting back and rolling over.
To that point, Mandel's notion that Miami will "stink" is a half-baked thought and a convenient reply from a national writer refusing to peel anything back regarding the attitude change at UM since Golden took over.
The Canes lost six games last year, but never "stunk". Harris' finale did, but Miami, as a team, has always fought hard since this became Al's squad.
Playing to the final whistle, never giving up, working hard to learn a new system, buying into the way of the new coaching staff, while not letting the pressure of sanctions and scandal break the team's collective back; UM showed character in Golden's first year and there's no reason to believe the Canes won't build on that year two.
One look at the schedule and it's hardly Murderer's Row. Miami's two toughest foes – No. 7 Florida State and No. 16 Virginia Tech – head to South Florida the latter half of the season, in games eight and nine.
Translation; the Canes have time to work out some kinks before the Noles and Hokies roll south. Time will tell whether UM will jell – but better to face those foes late than early September.
This year's road trips are Boston College, Kansas State, Georgia Tech, Notre Dame, Virginia and Duke. No gimmies, but in the same breath, not exactly Tuscaloosa, Baton Rouge, Norman or Eugene.
On paper, there's not one team that Miami couldn't find a way to beat this year. Not a one.
Golden will earn his money as a leader this year. Bring the new kids along proper. Get the most out of the upperclassmen. Win the type of games that slipped away last year. Build some momentum and continue to grow week after week.
Hard as it is to fathom, Miami never won more than two in a row last year.
Loss. Win. Loss. Win. Loss. That's how the season opened before taking down North Carolina and Georgia Tech. From there, the pattern resumed. Loss. Win. Loss. Win. Loss.
Miami opens with Boston College on September 1st and from a motivational standpoint, an easy-as-hell sell for Golden as the Eagles ended the Canes' season with a 24-17 loss last November.
A rematch against the last foe faced – one who won on senior day sent 2011 crashing down with a thud? No bulletin board material necessary.
BC wrapped 2011 with a 4-8 record. All-Everything linebacker – heart and soul of the Eagle's defense – Luke Kuechly is long gone and for UM's sake, so is Harris, the senior quarterback who served up last year's seven-point loss on a platter with four interceptions (and a pick-six thanks to Kuechly).
Miami will also benefit from three untimely Boston College injuries as senior tight end Chris Pantale, sophomore defensive back Albert Louis-Jean and junior wide receiver Bobby Swigert are all out for Saturday's showdown.
Pantale had four receptions for seventy yards and two touchdowns in the Eagles' win over the Canes last year while Swigert was the number two option for quarterback Chase Rettig in last year's showdown, also hauling in four passes for 67 yards. Eight of Rettig's thirteen completions went to this sidelined duo.
Game-by-game breakdowns will come as the year progresses, but with Boston College on the docket week one, it's a winnable game and one that Miami can take en route to starting the season on the right foot.
Get the winnable wins, leave nothing on the table and build momentum. Kansas State and Bethune-Cookman follow. 3-0 would be a dream, but 2-1 should be worst-case heading into Georgia Tech late September. Miami has five manageable games out the gate (NC State comes week five), two of which are at home.
Work out the kinks early because the next four are Notre Dame, North Carolina, Florida State and Virginia Tech. Step up and take a few of those as there will be enough in-game moments to set up a win.
After that, close strong with Virginia, South Florida and Duke, beatable opponents in games ten, eleven and twelve, when the newbies will have found their way into their role as reliable starters.
Best-case scenario – should everything go right – a 9-3 dream season. In a different time or place, 'undefeated' was the dream scenario. In 2012 and year two for Golden Al, a three-loss campaign deserves to be revered like title number six.
That type of finish would be a full-on miracle-type run where all key freshmen hit the ground running and where junior quarterback Stephen Morris made a giant leap forward as a mistake-minimizing, gunslinging leader under center.
Wide receivers Allen Hurns or Phillip Dorsett would have to be this year's Tommy Streeter while a Malcolm Lewis would have to come out of nowhere and a Kendal Thompkins would have to do his best Roscoe Parrish.
Running backs Mike James, Eduardo Clements or Randy 'Duke' Johnson would need to combine for a Lamar Miller-like season. Denzel Perryman would step in at linebacker as the heady playmaker Sean Spence was the past few seasons.
It would also mean a JUCO transfer like Ladarius Gunter, and true freshmen like Tracy Howard and Deon Bush, held down a depleted secondary and balled from the get-go.
Everyone would have to stay perfectly healthy too, as there's no next-man-in mentality until the depth returns.
Miami would have to win all the games it's supposed to win, would have to pull off a few upsets and would need to let nothing slip away, be it late or with a slow start, which was the case often last year.
It's been forever since things seemingly went the Canes' way, so holding out hope for a scenario of this nature is difficult until proven otherwise, but in the same breath, this year's squad has been putting in the work and doesn't deserve to be counted out because of recent teams' performances.
Being young, depth-challenged and lacking both All-American types, leaders and a roster upperclassmen-heavy, the hits are going to come. It's inevitable.
First-year starter Morris will have his struggles. Freshmen will occasionally play like freshmen. Streeter and MIller won't immediately be replaced. Furthermore, the Canes won't get every break. A young team will give a few away. It's the nature of the game.
7-5 is more likely. With a lucky bounce, it's 8-4. With a few bad breaks, another run at 6-6. 5-7 would be worst-case and anything less, a disaster.
Again, all of this is throwing darts at a board. Predicting wins and losses is a roll of the dice. The only certainty entering 2012 is the fact that Miami will be a better-conditioned team than it has been in years. That and the hope that wisdom was gained year one under Golden and staff, opening the door to some growth and a step forward year two.
With certainty the U Family can breathe a sigh of relief that the Canes are finally getting back on the right track.
The million-dollar question remains; when will Golden's team merge into the fast lane? Does that slowly happen this year, or do the Canes spend another season stuck in the right, left turn signal on and jockeying for position hoping to finally make a move? – CB
Comments
comments