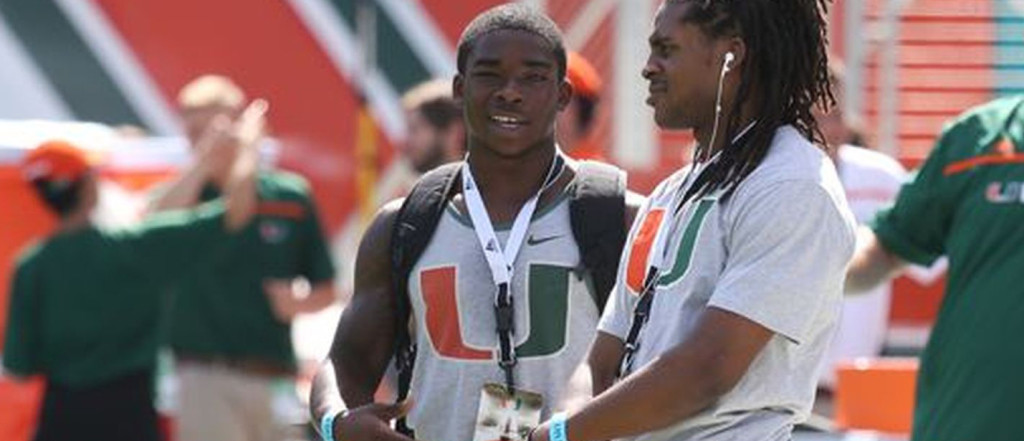 … and just like that, Sam Bruce is gone. Another would-be talent out the door before getting a chance to make his mark at "The U".
The University of Miami severed ties with the freshman wide receiver on Monday morning, stating that the former 4-star out of St. Thomas Aquinas was dismissed "based on multiple violations of team rules and a failure on his part to meet the clear expectations established to be a part of the Miami football program."
Way to f**king go, Sammy.
Bruce was currently serving a three-game suspension for the way-too-common-amongst-today's-athletes social media gaffe; in this case, posing in a photo holding a firearm. The situation got Bruce booted from St. Thomas, where he wound up finishing his high school career at Westlake Prep.
It's believed that the three-game suspension at Miami was related to that event, though Bruce worsened things by not being truthful with coaches regarding a non-football season-ending injury. Bruce was playing basketball—not prohibited, though a hobby football players are suggested to avoid—yet told coaches he was injured riding his bike.
Sources at UM have stated that there have been a long list of disciplinary issues with Bruce in his short time as a member of the program. In hearing that, a swift dismissal is truly the only option as first-year head coach Mark Richt looks to fix a broken culture and rebuild the Canes, proper.
For Miami faithful; that never-ending feeling that the hits just keep on coming. The karmic aspect of losing to Florida State due to a blown kick is lost on no one, but it's bigger than that.
Porous offensive line play, boneheaded, game-changing penalties and a few personnel-related breakdowns all serve as a reminder that the Canes are lacking the type of depth needed to compete nationally, as well as conference-wise.
The Tar Heels head south as Coastal Division champions, having put a 59-21 pasting on Miami in Chapel Hill last fall. Are they as good as last year's squad? A recent home pasting courtesy of Virginia Tech says otherwise, but it came on the heels of North Carolina upsetting Florida State in Tallahassee.
Regardless, a reminder that the Canes next two opponents—the Heels and Hokies over a six-day span—are serious road blocks in Miami's quest for a first-ever division crown.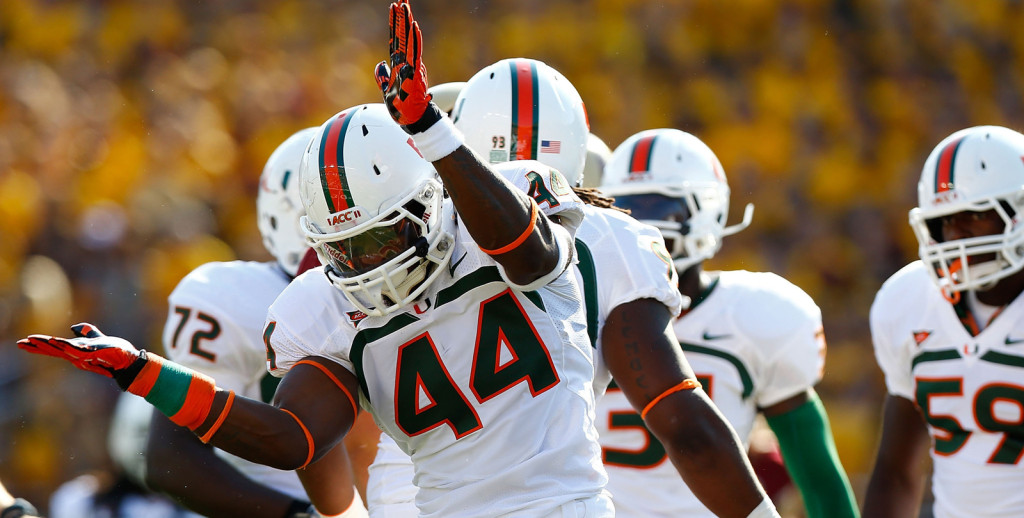 The recently-dismissed Bruce would have zero impact on any of this in 2016; having injured himself outside of football prior-to today's dismissal—but the parting-of-ways is indicative of a bigger problem; too many would-be greats pissing away potential legacies at Miami for moronic reasons.
Manny Navarro of The Miami Herald went in-depth on the player retention topic two Septembers ago and the numbers were staggering as 27 players were lost between 2011 and 2013; be it transfers, dismissals, not qualifying or being forced to quit football all together.
Eddie Johnson. Gionni Paul. Alex Figueroa. Derrick Griffin. Angelo Jean-Louis. The list goes on regarding players who could've helped do something about that 21-15 run over a the three-year span. Instead, more leaks sprung as the Canes' program kept taking on water.
Tack on a few casualties in the 2014 class, as well as the loss of Bruce and it makes Florida State's six-year head start on rebuilding—and seven-game win-streak—that much harder to accept.
All that bullshit these past few years; blame Al. Blame Randy. Blame Shapiro, the NCAA and anything else that fits the narrative of a down cycle. While you're at it, make sure to blame the self-absorbed players who put self, stupidity and immaturity above team, potential and future success.
Bruce blowing a golden opportunity to be the next great Miami speedster—unacceptable in 2016 as the Canes are supposed to be past bullshit like this. That big push to keep local talent home and to rebuild the program; it was to be on guys like Bruce.
Now he's gone—heartbreaking for him as a lifelong fan of "The U" and brutal for the University of Miami as he's yet one more pointless casualty on the road from mediocrity to relevancy.
Comments
comments