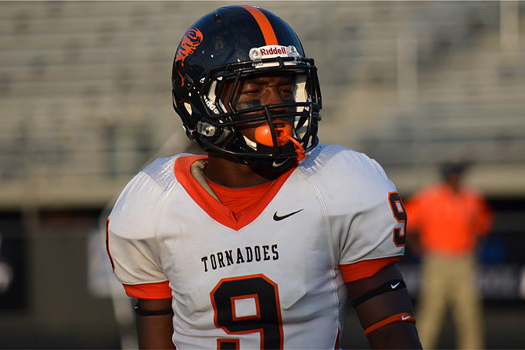 Whether the decommit had anything to do with the defensive scheme, the what-will-he-do-next saga surrounding Al Golden, or the fact that Northwest Texas is more appealing than South Florida, the Miami Hurricanes lost defensive back Nigel Bethel II to Texas Tech this evening.
The Booker T. Washington 4-star prospect committed to Miami last July, appeared solid through December ("Miami is the only place I feel comfortable," Bethel told the Herald at the time ) and appeared fully on board as a lifelong Canes fan, but something obviously changed.
Bethel visited Texas Tech last September, watching the Red Raiders knock off Texas State and referring to Lubbock as, "a nice cool college town".
The highlight for Bethel appeared to be the fact that the Texas Tech plays shorter guys at the cornerback spot and that the Red Raiders would allow him to run track, as the Canes will, though there's no competition between the two programs at that level.
Bethel made some headlines late December via Twitter when he was venting during MIami's bowl loss to Louisville. Since then he's been quiet, until things got unnerving on the Golden front days back.
Bethel tweeted and asked what was up regarding the Miami head coach, retweeted several replies and then wrote on his own, "I can't be mad at Coach Golden if he does decide to leave….This is a business you have to do what you have to do."
Tonight's revelation via social media was on the nose and impossible to take any other way than being Lubbock-bound.
"I just officially committed to the University of Texas Tech Raiders!" Bethel tweeted on Thursday night. "No longer a University of Miami commit."
Miami's 2014 recruiting class reached No. 3 in the nation weeks back (per both ESPN.com and Rivals.com), but has since taken a hit. The Canes' "slip" began as other programs nabbed some big name recruits over the past week, allowing them to rise.
Ohio State picked up Dwyer wide receiver Johnnie Dixon weeks back, as he chose the Buckeyes over both Miami and Alabama. From there, the high school all-star games sent a few quality kids elsewhere, removing them from the Canes' radar.
Miami Central running back Dalvin Cook, a former Florida commit, flipped to Florida State during the UnderArmor All-America game and two days later, Cardinal Newman wide receiver Travis Rudolph also picked the Noles at the U.S. Army All-America Bowl, over the likes of Alabama, Auburn and a distant Miami.
Both were 4-star prospects the Canes were hoping to reel in—especially considering Rudolph was a one-time UM verbal commit.
Defensive tackle Travonte Valentine, a 4-star prospect would would have an immediate impact next season, dropped Miami days back when the Golden rumors started flying. LSU became the new front-runner for the Champagnat Catholic lineman, but the door is still open, barring Golden sets the record straight for his former commit.
Valentine's high school coach Mike Tunsil gave Manny Navarro a candid interview regarding his player's intent to stay at "The U"—albeit confused about Golden's future.
"Travonte just wants security," said Tunsil, who Navarro reported is handling all interviews for Valentine until he makes his final announcement on National Signing Day. "He's been saying UM for a long time. He loves UM. But for Coach Golden to go interview for another job was unsettling.
"A lot of things can change when a coach leaves. Now that Golden is back he wants to find out why Golden [interviewed] and if he really is planning to be there for the long haul."
As the Bethel story was reported Thursday evening, social media sites were buzzing regarding the status of Deerfield Beach running back Brandon Powell, a 4-star prospect expected to be an early enrollee at Miami this week.
Florida has turned up the heat on Powell—in the wake of Cook's change of heart—and some are reporting that the Gators have since flipped the Canes' commit.
Powell has been pro-Canes for month now, admitting days back that had Golden left, he wouldn't have been Coral Gables-bound this week. Another school was on his radar, but with the Miami leader's recommitment to "The U", he was back on board—stating that he wanted to play for Golden.
While a Valentine or Bethel can still be flipped back to the orange and green over the coming weeks, the Powell situation would be a huge setback due to his early enrollee situation and no time to re-convince.
Miami would-be junior Duke Johnson will fight his way back from a broken ankle next spring, but isn't expected to be ready for spring ball—nor will incoming running back Joseph Yearby, a 4-star from Miami Central and former teammate of Cook.
Hurricanes coaches have already seen what Dallas Crawford and Gus Edwards could (or couldn't) do this past season, meaning that as an early enrollee Powell would see some big time snaps this spring, working towards a number-two slot behind "The Duke" come fall.
How much Golden's flirtation with Penn State plays into these recent events is unknown, but should the Penn State position be filled (re: Vanderbilt's James Franklin expected to be in place by the weekend), "The Tie Whisperer" will have to go balls-out and re-close a lot of these kids after the dead period is over.
Whatever the case, as fans—for the love of God—stay classy. These are teenage kids trying to make the biggest decisions of their lives. Let the other schools name-call and act like world class jackasses. The U Family needs to have higher standards.
Show love to the ones who are signing on and for those who go elsewhere, simply wish them well and move along.
#IStandWithTheU
Comments
comments