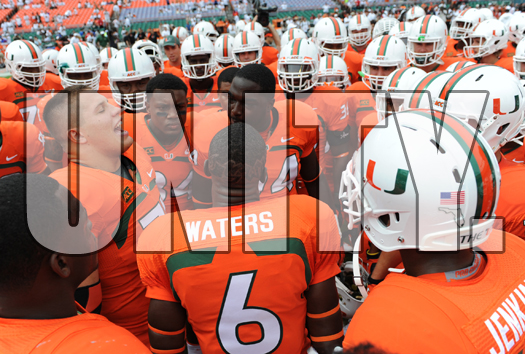 For those trying to do the quick math regarding the span between August 16th, 2011 to October 13th, 2013 let me save you some time—798 days.
That's the amount of hell the University of Miami endured between the nuclear bomb of an expose dropped by Yahoo! Sports and today, when the NCAA's corrupt case finally came to a close. Seven hundred, ninety-eighy, mother-bleepin' days.
For those who stand with The U, there was a lot of tossing and turning last night. Logic stated that Miami would be all right, but who the hell really knew.
Two self-imposed bowl bans, as well as sitting out last year's ACC Championship game. Suspensions of star players, an effort made to repay the bankruptcy trustee, as well as new rules put in place regarding contact between student athletes and outsiders. An unprecedented effort to comply by UM.
NCAA president Mark Emmert stated that Miami was "incredibly cooperative" in the process early on in the investigation, though his underlings were anything but.
As a result, there had to be justice, no? How could there not be? How much more did third-year head coach Al Golden—and a roster full of kids who had zero to do with any of the allegations—have to pay?
After 798 mother-bleepin' days, now that much more, thankfully.
Nine total scholarships lost for the football program—three over each of the next three years—but no more bowl bans. For basketball, three scholarships lost, one over each of the next three seasons.
Regarding former Miami administrators, a stern message sent. Frank Haith, now the head coach at Missouri, earned a five-game suspension, while Louisville assistant football coach Clint Hurtt, former Canes football assistant Aubrey Hill and former Miami basketball assistant have each been hit with a two-year show cause penalty. The University of Miami athletics department has also been placed on three years probation.
For the masses who went knee-jerk mentality and screamed "death penalty" two-and-a-half years ago, there will be the universal belief that Miami got off easy or that the NCAA lightened the punishment due to its botched investigation. Hardly the case.
Outsiders have no clue, while even true supporters of the Hurricanes only have an inkling of what this 26-month dark cloud did to the inner guts of the Miami program. The perception of UM amongst high school players, coaches and the parents of athletes was drastically altered between 2011 and 2013.
Here's the funny thing. People will say "only" nine scholarships. No. The cost football paid over the last three years is crazy big.
Nine scholarships over three years? How about the dozens of top-flight local players who fled the hometown program, falling victim to negative recruiting tactics over the past three seasons?
All those quality kids who wanted to play for Golden, but have lined up for opposing squads the past few seasons to play against him? Countless top-flight athletes who simply couldn't trust the NCAA, this flawed process and didn't want pin their college playing careers and future on the hope and belief that Miami wasn't going to get blasted—something every rival coach was telling would be the case.
Two-and-a-half years of hoping for the best, praying for justice and getting well too accustomed to phrases like; "we don't know" and "hope for the best".
Three scholarships a year over three years was simply an effort to save face by the NCAA—a way for this disastrous organization to attempt to justify the time and money spent on its botched investigation of the University of Miami.
As for the time it took to rule—anything to create more distance between the final judgement and the NCAA corruption that was exposed along the way. Continue letting Miami blow in the breeze as one last lick before punishment was officially handed down; one last kick in the gut before a final ruling.
At the end, the NCAA wanted no part of an ongoing fight with the University of Miami or president Donna Shalala—who deserves the majority of the credit for this colossal victory, despite any role played in how "The U" got here.
The notion of some that Shalala doesn't care about football remains preposterous. The Miami leader knows the value of the football program, the revenue the sport generates, as well as the history and value of the overall brand. Shalala wants to win in all aspects of her presidency and success on the field is second only to the legacy she's building academically.
Shalala remained purposefully silent when the scandal broke, was calculated in every move UM made during the process, chose her harsh words carefully after the NCAA's corruption was acknowledged, always let logic best emotion, set ego aside and was as patient as Andy Dufrane in his escape from Shawshank prison.
One clump of dirt at a time dropped in the yard, with the dream Zihuatanejo and better days ahead fueling the patience and overall fire.
Most of the national media was overly emotional from day one, a were fans on both sides of the equation, but Shalala—with her background in politics and decades of experiences playing the game—always knew it was about the war, not the battle.
As of today that war has been won for Miami. "It's a Canes Thing … You Wouldn't Understand"—this program's mantra for decades, as have phrases like "U Family" and "I Stand With The U". While nothing more than t-shirt slogans and crafty marketing campaigns, all have been tested over the past almost-three years and have come fully to life.
It truly is "us against the world" for Miami. The NCAA, as proven through their corrupt tactics in this case, were ready to bury this Hurricanes program at all costs. Ill informed "professionals" in the media played judge, jury and executioner, immediately sold on the word of a convicted felon, completely ignoring due process.
It has been a gut-wrenching experience, but the Hurricanes can finally exhale—and what better time to do so, than undefeated at 6-0 and ranked No. 7 in the nation. No better double middle finger salute to the critics and anti-Miami contingent—and done the right way, courtesy of Golden and staff.
A cathartic home game against Wake Forest is on deck this weekend, where a win will allow Miami to ride the wave of momentum going into a November 2 showdown at Florida State.
Unlike Southern Cal and some other football factory-type programs, feeling bigger than life, with egotistical athletic directors at the helm, Miami paid early and wisely took its lumps during its darkest hours.
Fall on the sword immediately, apologize, show mercy and start getting the punishment out of the way.
Miami gave up bowl games after 6-6 and 7-5 seasons, as well as an ACC Championship game appearance that at best, would've resulted in an Orange Bowl berth against Northern Illinois last season.
Compare that to Ohio State, who chose to go bowling in 2011 after a 6-6 campaign, went 12-0 last season and was forced to miss the postseason, or Southern Cal, a preseason No. 1 last year that continues to unravel, punished harshly for simply not accepting the inevitable years back.
What's done is done and everything lost can never be returned to Miami. This program will never fully be able to measure how many great players were lost over the last few years, courtesy of the NCAA's foot-dragging—arguably the harshest punishment in this entire saga.
Two-and-a-half years of questions—it was an immeasurable price to pay. What is fully measurable, the fact that Miami is again on the rise and that today's final verdict is merely a speed bump on the road to recovery.
Comments
comments