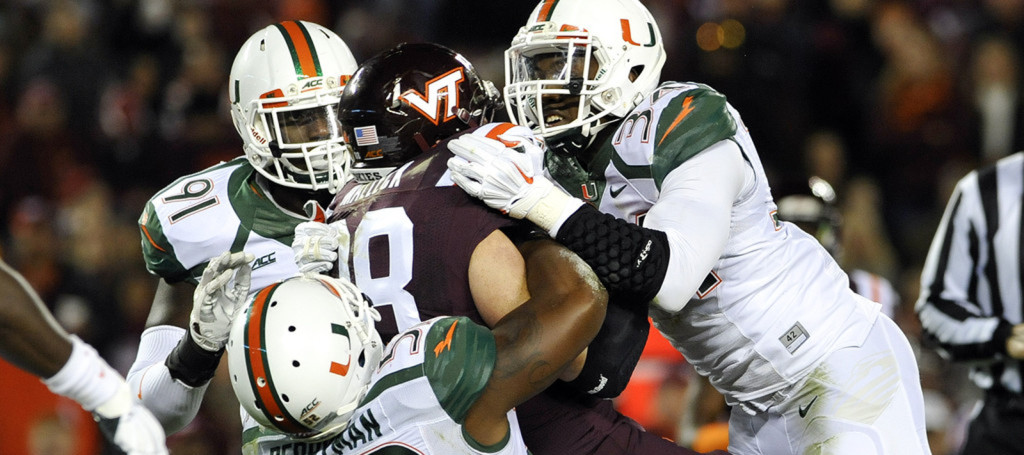 No use in complaining as it's how the game is played. Plus, who would listen, anyways?
The Miami Hurricanes are back in action—on the road five days after a second-consective heartbreaking loss—taking on Virginia Tech in at Lane Stadium. The Canes' offense is struggling and even worse, defensive injuries are piling up. Miami will be without a few key defensive lineman (Gerald Willis, Demetrius Jackson and most-likely Chad Thomas) on Thursday night, while defensive back Sheldrick Redwine didn't make the trek to Blacksburg.
A unit that's been hanging tough halfway through the season—holding both the Seminoles and Tar Heels to 20 points apiece—will now be relying on youth an inexperience everywhere; not just at linebacker. Even scarier; the Canes' will arguably need their offensive performance of the season to top the Hokies and avoid a third-consecutive ACC loss.
Narrative-wise, Coastal Division-related chatter continues—some having already stuck a fork in Miami, while others are again beating the drum about winning out and building cases as to how and why remaining foes are beatable. However it plays out, two conference losses down—the Canes will again be in a position of rooting for upsets and praying rivals fail, while needing some mistake-free, inspired football in the process.
CANES & HOKIES ARE THE SAME, BUT DIFFERENT
October 20th was circled on the calendar when this one was announced; two former Big East rivals who jumped to the Atlantic Coast Conference a dozen years back—having notched some great games in the storied rivalry; many taking place on a Thursday night.
There was also immediate intrigue regarding coaching changes at both programs; Mark Richt taking over at his alma mater, the Canes on their fourth coach in an 11-year span, while Justin Fuente took over a Virginia Tech opening that hadn't been vacant since Frank Beamer arrived back in 1987.
Both teams enter Thursday's showdown with identical 4-2 records, though different paths were taken to get from early September to late October. Like the Canes, the Hokies smacked around their fair share of nobodies early on—Liberty, Boston College and East Carolina. Tennessee got the better of Virginia Tech in Blacksburg, 45-24—but it was Fuente's second game and an out of conference match-up, making it easy enough to dismiss.
Also like Miami's season, the past two weeks proved rather definitive. Where the Canes lost two winnable games to the Seminoles and Tar Heels, Virginia Tech wrecked North Carolina, 34-3 in Chapel Hill, looking tough and somewhat invincible. A week later, an unexpected loss at Syracuse, 31-17.
The Orange racked up 561 total yards—405 through the air—pulling away late with two fourth quarter touchdowns after the Hokies tied things 17-17 with 13:53 remaining. Even more uncharacteristic of the former Beamer-led program; untimely turnovers and some spotty special teams play—a fumble, interception and missed field goal in the loss at 'Cuse.
The "normal" thing to do for the football enthusiast and passionate fan; dissecting an opponent's stats and schedule, in effort to come up with a potentially winning formula. Regarding Miami this Thursday night on the road, it seems pretty cut and dry—the offense needs to wake from its slumber and control this game.
Syracuse proved that Virginia Tech is vulnerable; especially in regards to passing defense—meaning it's time for Canes' quarterback Brad Kaaya to deliver; as well as Miami's offensive coaching staff—namely its first-year head coach.
PRESSURE ON RICHT TO GET PLAYCALLING UP TO PAR
Richt is no longer playing the role of CEO—as he did his final several years in Athens—and has assumed play-calling duties at UM. In time that could turn into something special, but as the past two weeks have proven—the veteran coach needs to shake off some rust and dust, proving conservative at times, while just plain boneheaded at others.
Too many third-and-long runs up the gut with the Canes' smaller running backs proved disastrous the past few weeks. One week, not enough rushing to establish a ground attack. A week later, too much running and no chances taken downfield—despite speedy receivers and a quarterback who can get it there.
Equally as frustrating; an inability to solve inefficiencies with a depth-challenged offensive line. Miami certainly can't do much about that in-season—but the play-calling can be tailored to get the ball out of Kaaya's hands quicker; less reliant on long-developing plays that allow for big hits—like the one that caused a late fumble against North Carolina, ending the comeback and sealing their win.
One could dive into match-ups here and a bunch of nonsense keys-to-victory. Kaaya and his Hokies' counterpart Jarod Evans need to protect the football, a next-man-in mindset has to be in place for both squads, limit the big plays—blah, blah, blah.
For the Canes, it's less about math and more about emotion, followed by execution.
Inexplicably, Miami didn't show up for North Carolina last week. Mental mistakes out the gate. No fire, passion or urgency—the Canes limped through the first half, held in there in the third quarter and attempted to rally late, falling short.
Any hopeful Coastal chatter aside, Miami is in must-win territory simply to turn its season around and to get back on track in regards to the rebuild and making year on in the Richt era a success. Notre Dame looms in South Bend next weekend, while November is chock-full of those pitfall-type games that bite the Canes in the ass; Pittsburgh and Duke at home, as well as Virginia and North Carolina State on the road.
A familiar Thursday night showdown at Blacksburg; it's an opportunity to circle the wagons and potentially turn a season around—while a third loss in as many tries could send this team into a tailspin.
THURSDAY NIGHT IN BLACKSBURG WILL MAKE OR BREAK THESE CANES
Last fall Miami rolled into Durham after a hellish week; their head coach fired after a 58-0 loss to Clemson, the unexpected death of a player's mother (Dana Smith; mother of former cornerback Artie Burns), Kaaya out with an injury and and interim coach handed the keys to the entire shit-show, being told, "Go figure it out."
It came down to a bogus late touchdown for Duke, followed by a lateral-fueled kickoff return for Miami—but it was a turning point-type moment for the Canes. A better North Carolina team still prevailed a few weeks later, but wins against Virginia, Georgia Tech and Pittsburgh propelled the Larry Scott-led squad to a 4-2 finish and 8-4 regular season.
Tonight marks this year's Duke-type moment for Miami. Must-win territory—not in regards to any Coastal Division nonsense; but simply for the sake of the first-year Richt buy-in and setting a tone for this season's remaining games.
Comments
comments