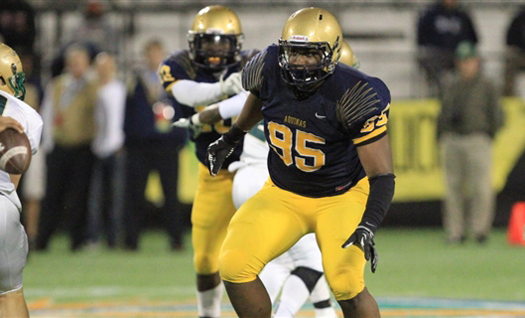 A highly-touted prospect committed to the University of Miami this evening, yet Hurricanes fans didn't take their focus off a two-game losing streak or ongoing defensive woes long enough to appreciate the welcomed news.
While that's technically an exaggeration, a safe bet the statement isn't too far off.
Anthony Moten is a 4-star prospect out of St. Thomas Aquinas in Ft. Lauderdale. Committed to Florida months back, Moten opened things up and narrowed his choices down to Miami and Florida State. Tonight he announced that he'd take his talents to Coral Gables, not Tallahassee.
The 6-foot-5, 280-pounder is the 12th-ranked defensive tackle in the nation, the fifth tackle in Miami's 2014 class and the eighth defensive line commit overall. With Moten alongside fellow commits Travonte Valentine, Dalvon Stuckey and Chad Thomas, the Hurricanes are primed to soon be a force on the defensive line again. Thank God.
Two weeks ago the Hurricanes were undefeated. In an eight-day span, Miami lost two games. Since then, chaos has ensued.
As irrational as some were with predictions of an undefeated season and a January trip to Pasadena, the pendulum has since swung the opposite direction, with too many ready to close the book on the 2013 season.
History Lesson: How "The U" Got Here
It's understandable that emotions are running high. Miami has been down and out for way too long. After such a dominant run in the 1980's and 1990's, no one ever foresaw a decade-long drought. Especially not after UM was "back" at the turn of the millennium.
Four straight BCS berths, two straight title game appearances, a national championship and a 34-game win-streak. For a while everyone believed Larry Coker could've been propped up on the sideline on game day like Bernie Lomax (this guy) and the Canes' dominant run still would've continued.
Instead, a harsh reality quickly set in. Poor recruiting by back-to-back coaches in over their heads put Miami football in a huge lurch.
As for the culture itself, a slew of players wanting the spoils of success without putting in the work or actually winning. Just ask Nevin Shapiro and the majority of players who bought into what he was peddling.
Coker started 35-3 with the talent Butch Davis left behind. From there, 25-12 before he was let go after his sixth season. Randy Shannon went 28-22, interim coach Jeff Stoutland, 0-1 in a bowl gam loss and Al Golden scrapped to 13-11 his first two years at the helm.
All together, that's 66-46 over a nine-year span with two-plus years of negative recruiting and "death penalty" talk courtesy of the NCAA investigation. Toss in the ongoing media smear campaign, and some folks still want to question why Miami isn't "back"?
The argument de jour is that the Hurricanes have talent, which in a sense is correct. This team isn't completely void of future stars, but lack of depth and holes at certain positions remain a glaring problem—as proven by eight defensive linemen targeted in next year's class.
Superior Talent Is The Key To Rebuilding
A graphic popped on the screen during ESPN's broadcast of the Auburn vs. Tennessee game last weekend. The Tigers were starting three true freshmen on the defensive line—Montravius Adams, Elijah Daniel and Carl Lawson.
Recruiting buffs are familiar with these names as all three were some of the most sought after players in the nation last year.
Adams was 5-star prospect and labeled the third-best defensive tackle going into Signing Day. Daniels was a 4-star prospect and the eighth-ranked defensive end, while Lawson was another 5-star and the number one end in the nation.
Auburn underachieved its way to 3-9 last year, two seasons removed from a national championship, fired its coach (Gene Chizik), and turned the reigns over to a virtual unknown (offensive guru Gus Malzahn), and still reeled in three of the best defensive lineman in the nation?
Down south, Miami is coming off 7-5 year two under Golden—a hot commodity mentioned for every job opening in the nation—yet has to settle on a few unheralded upperclassmen transfers for his defensive line in Justin Renfrow (Virginia), David Gilbert (Wisconsin) and Ufomba Kamalu (Butler Community College).
And folks wonder why the Hurricanes' defense isn't getting the job done.
NCAA Ran Off Top Talent, Forced UM To Settle
Fact remains, the NCAA's presence has scared off top talent, forcing Hurricanes coaches to settle on non-Miami-style kids for three recruiting classes in a row, as well as the dumpster fire of a class Shannon put together his final season.
The 2010 recruits represent this year's senior class, which is hardly impressive. Miami reeled in 30 kids that February and to date 16 are no longer with the program.
Players like Stephen Morris, Allen Hurns, Shane McDermott and Clive Walford have become standouts, while the majority never lived up to the hype.
There are some who got away, others who were kicked off the team and a handful more that never panned out.
Golden booted Kevin Nelson, Devont'a Davis and Travis Williams early on, while Storm Johnson chose to hit the road over a lack of playing time.
There were also a handful of Shannon-picked, never-was players like Jeffery Brown, Jeremy Davis, Tavadis Glenn, Darion Hall, Keion Payne, David Perry, Andrew Tallman and Delmar Taylor who sucked up valuable scholarships and did nothing for "The U", one way or another.
In 2011, a class slapped together by Golden after two months on the job. Miami reeled in 19 kids (two of which were kickers). Within that group, again, a lot of third- or fourth-choices after guys like Teddy Bridgewater, Eli Rogers and Devonta Freeman said, "thanks, but no thanks".
Denzel Perryman, Phillip Dorsett, Dallas Crawford, Rashawn Scott and Anthony Chickillo came out of that haul-in, but again, many more misses than hits.
Thomas Finnie, Jalen Grimble, Gionni Paul, Eddie Johnson and Ricardo Williams all left (or were shown the door), while Antonio Kinard and Kevin Grooms never even made it to campus.
19 signees. Seven kids that struck out and are no longer with the program.
Five months before the 2012 class signed with the Hurricanes, that infamous Yahoo! Sports article dropped and the NCAA was on campus sniffing around. That in itself gave arch-rivals all the ammo necessary to trash Miami and poach South Florida's best talent.
Golden and staff brought in 33 kids that year but again, were forced to take chances and settle on second-best.
For one reason or another, 13 of those signees are no longer members of Miami's football team.
Thankfully there were some quality individuals who believed in what was being sold and saw through all the bullshit. Guys similar to those late-nineties-era future stars who wanted to roll up their sleeves, get dirty and lay the foundation for UM's rebuilding process.
When Miami is finally back on track, it will be players like Duke Johnson, Tracy Howard and Deon Bush who will be remembered, much like Edgerrin James, Dan Morgan and Reggie Wayne from generations past, who bought into "The U" when the Canes weren't the safest bet.
Outside of a handful of big names, Golden's first "real" class was still more quantity over quality. Get bodies on campus, hope that guys can compete, ride out the NCAA storm and figure things out on the fly due to unforeseen circumstances.
Doing the simple math regarding 2010, 2011 and 2012, Miami lost 36 players it signed to play football for the Hurricanes. Marinate on that for a minute.
By contrast, NCAA sanctions stripped the program of 31 scholarships between 1996 and 1998—which at the time, absolutely felt like a modern-day "death penalty".
Live In The Now, Not In The Past
History has a crazy way of repeating itself, while revisionist history is the ultimate head trip.
When Davis was leading the Canes for six seasons, he was heralded as a great recruiter, a horrible game day coach and fans actually paid to fly a "From National Champs To National Chumps" banner over the Orange Bowl one Saturday during his tenure.
Davis put Miami back on the map, lied about his intention to stay, snuck off like a thief in the night and was persona non grata for years—until he routinely beat the pants off Shannon, both on the field and on the recruiting trail.
When Miami had Davis, it didn't want him. When he left, it didn't want him back as the winning continued without him. When the Canes sunk to new low, all those banner-flying fools were ready to take out second mortgages to find a way to bring him back.
The lesson here—knee-jerk reactions get us nowhere in long-term rebuilding projects. Trust the process, give things time to come to fruition and take a deep breath, where necessary.
If jackass sports fans had their wishes fulfilled whenever voiced, coaches would be fired weekly and back-up quarterbacks would be starting for countless teams across the nation.
Let the doers do, while the spectators spectate.
Too Many Folks "Took The Cheese"
This season's blazing start caused some wishful thinking and too much delusion regarding where this Miami program truly sits as 2013 unfolds.
As the wins piled up, Golden warned his players, "don't take the cheese" regarding those accolades and openly called the undefeated season, "fools gold".
Anyone who chose to believe otherwise did so by choosing to run ahead of the cloud—not by being misled. Blame your frustration with losing, not these kids or coaches. Miami is what it is and never claimed to be anything more this season.
The Hurricanes could've just as easily have been 4-3 as they were 7-0, or 5-4 instead of 7-2 sitting here today. Miami has been eking by while arch-rival Florida State has been blowing out everyone in their path.
As much as these two squads have mirrored each other over the past few decades, don't confuse where both stand here today. UM isn't FSU right now, nor should it be.
The Noles started their rebuild a few years back and it began from a place nowhere near the depths the Canes were dealing with. Tons of talent was in Tallahassee, it was simply underachieving. There also wasn't a Ponzi-schemer rat, a Mark Emmert or that three-year hell "The U" just lived through.
As revered as Jimbo Fisher is this season, he's still two years removed from losing to the likes of Wake Forest and Virginia with a team that started the season ranked No. 6. The following season, North Carolina State derailed No. 7 Florida State's title dreams.
Year four of the Fisher era, the Noles have turned it around, but not after two "contenders" absolutely face-planted with high expectations.
Miami Is Living Through "The Process"
Miami will get where it belongs, albeit when it should and not guided by the timeline of impatient supporters. The trajectory is what it is. Deal, or bury a head in the sand until it's all good again.
The Canes are learning how to win, are developing character and growing into a good team, based on what it has to work with.
Translation; Miami is a step ahead of teams it rallied to beat, like Georgia Tech, North Carolina and Wake Forest, but not where the elite, perennial stout squads are.
Florida State is a a few steps ahead and Virginia Tech, a fundamentally-sound program, played last weekend's game true to their nature—mistake-free and capitalizing on an opponent's mistakes.
The Hokies always play down to the level of some competition every year—which is why the program remains title-less—but generally brings its best against the Hurricanes.
Disagree in theory, but fact will prove otherwise. Virginia Tech is 6-2 against Miami since joining the ACC and 12-6 since getting that inaugural win over the Hurricanes in 1995. The better team hasn't always won, which is sometimes how this crazy game—and rivalry—plays out.
Three games remain, a double-digit win season is still in the cards and a top-ranked recruiting class is in the works.
Beat Duke. Beat Virginia. Beat Pitt. One at a time and in that order. From there, enjoy the first bowl game this program has seen since 2010.
Fans might not "care" about a lower-tier bowl game, but considering the 2011 recruiting class and beyond haven't sniffed the post-season, safe to say these kids care. Coaches too, as that extra month of bowl practice will set the stage for a step forward in 2014.
Moten was the 27th verbal commitment for 2014. Celebrate it, or miss out on the ride back to the top.
Much like Auburn's addition of Adams, Daniel and Lawson this fall, the Hurricanes and their eight fresh-faced defensive linemen will be ready to raise some hell, immediately improving an undermanned front seven and helping Miami's defense take a necessary leap forward.
That in itself is "The Process" that Golden preaches. Buy in, or opt out. Your choice.
Comments
comments