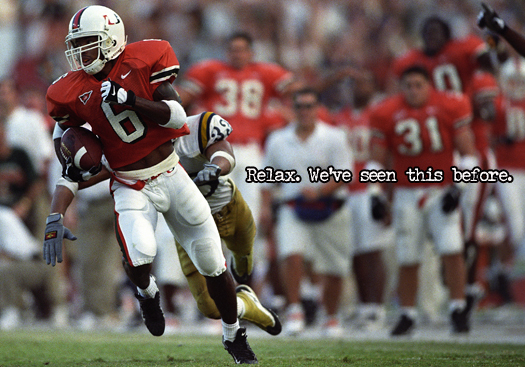 There really is no better equalizer and reset button than Thanksgiving.
Wherever one's head and heart ultimately lie, the gravity of the holiday itself somehow brings a period of reflection and perspective. How fortunate we all are to be here and now, living, experiencing and doing.
Cynicism, judgement and self-importance may dominate the other months, but come late November, the nation hits its "wake zone". The year has a way of coasting to a close. From there hope and promise are abound as the final calendar page turns.
As supporters of the University of Miami, a handful of insider-only mantras have been berthed over the years. It's a Canes thing … you wouldn't understand. U Family. Us against the world. The U invented swagger. I stand with The U.
Slogans that sell t-shirts and garner high-fives from like-minded fans on game day. Right now, when this program needs those phrase to take full action, words are out-speaking actions.
Ten years of failed expectations has unfairly been lumped directly on this current team and coaching staff. Judgment is clouded, words are harsh and support is far from undying.
A forced agenda, rooted in the fact that Miami should be "back", instead of logically accepting and processing why it isn't. Comparisons, unfair timelines and parallels drawn to turnarounds made by past Hurricanes squads, though circumstances are completely unique.
Understandably, the focus as of late has been a porous defense and three-game losing streak. Florida State, who appears title-game-bound, was forgivable, but those yards given up to Virginia Tech and Duke? Blasphemy.
The Hurricanes were "supposed" to win the Coastal Division and reach the ACC title game this year—not because talent, depth and experienced proved so, but simply because folks have grown tired of waiting and the drought has gone on long enough.
For those who continue beating the drum that Miami "should" be back, the question remains, based on what?
"WANTING" VERSUS "DESERVING" ARE NIGHT VERSUS DAY
Larry Coker left Randy Shannon a program that went 25-12 his final three years and was months removed from a 40-3 postseason beat down, courtesy of LSU. From there, Shannon stumbled to 28-23 before Al Golden was brought in and asked to get it right.
Coker was tossed the keys to the hot rod he eventually totaled and Shannon set it on fire it. Golden was then given a can of Bondo and a running clock regarding getting it race-worthy again—and not enough folks see that as unfair.
Golden hustled to save the 2011 recruiting class—which had only four verbal commits when Shannon was let go the previous December. By February, 19 kids joined the Miami program, though the class reeked of last-ditch effort as a new leader had less than two months to sell, close and deliver.
Four months later, a recently-graduated cornerback acknowledged the elephant in the room regarding UM's broken culture.
In my early years at UM, there were guys who were freshmen who acted like adults—Jon Beason, Teraz McCray, Greg Olsen. When I was a senior last year, some sophomores and juniors acted like freshmen. Guys would do silly stuff like pulling their pants down, wearing crazy stuff. Guys would come late to meetings. They would schedule appointments and not show up or listen to iPods in class. I was always told by academic advisors to talk to [teammates]. Some kids got worse after they got here. People were purposely doing stuff to mock Randy Shannon or do their own thing. Coach Shannon tried to make sure guys went to class and presented themselves well. But as soon as he turned his back, they would do what they wanted. There are a lot of guys who didn't produce, and how they act off the field has a lot to do with it. That has to change.
Ryan Hill never lived up to the hype on the field, but soon as his playing days were over, called it like it was in eye-opening fashion.
Hill went on to explain that Golden had "a problem on his hands" regarding a culture of insubordination and a bunch of pot-smokers more interested in a sideline snowball fight, than the fact that Notre Dame was pummeling Miami in a mid-tier bowl game.
Two months after Hill's revelation, Charles Robinson and Yahoo! Sports dropped an atom bomb and began spinning jailhouse tales from a jaded Ponzi-schemer intent on destroying the Hurricanes' football program. Hello NCAA investigation.
Somewhere in those two-plus years that dark cloud hovered over "The U", this fan base forgot how scared-straight it was in back in August 2011 when the news was first delivered.
TWO-PLUS YEARS OF HELL ARE FINALLY OVER
Whether Nevin Shaprio was speaking truth or falsities, perception was reality, the media was screaming "death penalty" and a program damn-near life support looked like it had reached a tipping point.
Forget ultimate success, back then most of us were hoping UM would merely survive.
From begging and pleading two years ago that Miami would live to see another day, to a sense of entitlement that these Hurricanes should again be a contender—just like that, with little attention paid to the past half decade of disaster and mediocrity. How soon we forget.
In all the fan-fueled frustration, where is there regard for the 36 players who left this program between 2010 and 2012, recruited either by a coach who didn't know better, or a new one forced to take chances as he needed bodies and had few options?
This impatience, know-it-all approach and frustration feels a whole lot like fifteen years ago, when Pell Grant fraud rocked this program and frustration was also at an all-time high.
Those throwing barbs at Golden and defensive coordinator Mark D'Onofrio are effectively the same group who tried to run Butch Davis out of town in the late nineties.
"From National Champs to National Chumps—Thanks Butch!", read a banner that flew over the Orange Bowl for a 1997 home game in an eventual 5-6 season.
Another situation where the new guy was paying for the old guy's sins, while frustrated fans showed no regard to the how or why and deemed the losses unacceptable.
Sound familiar? It's like deja "U" all over again.
REBUILDING NEVER HAPPENS OVERNIGHT
These current defense woes falls are solely blamed on coaching and scheme instead of a combination of execution and personnel—yet a decade and a half ago, back-to-back coordinators couldn't solve it, either. Talent eventually did.
Davis fired defensive coordinator Bill Miller after year four. The 1998 season closed with a three-game stretch where 1,068 yards and 111 points were surrendered and the Hurricanes finished 9-3.
Syracuse put up 66 on Miami in the de facto Big East title game, while UCLA racked up 45 points and 689 yards a week later. North Carolina State then dinged the Canes for 498 yards and 23 points in the bowl game, the trifecta having done Miller in.
Greg Schiano entered Davis' fifth year and while there were certainly signs of a change in culture, the problem was far from solved.
Miami started the season No. 12 and rolled to a 9-4 finish, with losses coming to No. 2 Penn State, No. 1 Florida State and No. 2 Virginia Tech, but few recall East Carolina. The ninth-ranked Hurricanes blew a 23-3 third quarter lead and surrendered 450 yards in a 27-23 loss to team no better than this year's Duke squad—on the watch of new defensive up-and-coming coach with an "attack, attack, attack" mentality.
A year later Miami finished 11-1 and No. 2 in the nation. The Hurricanes topped No. 1 Florida State during the regular season and thumped No. 7 Florida in the Sugar Bowl, having been snubbed of a title shot.
Yet months prior, fans still wanted Davis gone after No. 4 Miami fell at No. 15 Washington in September. Those folks got their wish as Davis bailed for the NFL days after that Sugar Bowl rout, lying through his teeth about any intention to stay.
For continuity-sake, Coker took over a championship-ready squad and rolled to a 24-0 start, making a swell guy and perennial assistant an instant fan-favorite.
Five years later, a struggling Coker was the one feeling the heat and the banner-flyers of yesteryear wanted him gone, ready to welcome Benedict Davis back with open arms.
Instead, North Carolina snatched up the former Miami leader in November 2006.
Ten days later, Coker was fired after a 6-6 regular season, Shannon took over and four more years of misery ensued, leaving this program in shambles when Golden took over in December 2010.
"DON'T HAVE TO BUMP THIS, BUT PLEASE RESPECT IT"
All that over-the-top detail was delivered to drive home two bigger points—appreciate what you have when you have it, not after it's gone, and be careful what you wish for.
Defense has always been the backbone of great Miami teams, but whoever predicted greatness three years into this rebuild?
A young secondary, a depleted linebacking corps (due to immature knuckleheads asked to leave) and a defensive line dependent on a few Division-I transfers each, with a remaining year of eligibility—forget the 2001 Hurricanes, this wasn't even the same caliber of the 2005 squad.
Fact remains, this offense took a step back in a year when it needed to take a leap forward. Quarterback play regressed, while the running game missed the one-two punch it had last season with a veteran senior and sensational freshman.
As 2013 rolled on, key injuries occurred and back-ups proved incapable of keeping things humming.
Time of possession battles were lost. Chains weren't moved. Red zone stall-outs left points on the field, effectively costing Miami one, if not two games this season—the difference between 8-3, opposed to 10-1, at best. Hardly worthy of the insanity these losses have caused.
One regular season game remains, followed by a month of postseason practice and a bowl game. From there, Golden and staff look to close strong on the recruiting front. Miami has 28 verbal commitments for 2014 and what ESPN currently ranks as the third-best class in the nation.
The Hurricanes are also meeting needs, not just bringing in top players, as eight defensive linemen appear headed to Coral Gables.
While even a holiday-style step back won't change hardened hearts or strong opinions, here's hoping that a reprieve will be granted over the final weeks of this year.
THE PROCESS CAN'T ONLY BE MEASURED IN WINS AND LOSSES
Perspective is key and while the result hasn't always been optimum, if it really is about this U family and it s "Canes thing", then lets turn our focus towards the overall effort.
This coaching staff and this senior class has been to hell and back the past few years. Day in and day out, all have bled for this beloved program. Whether it's where it should be, or not, this entire bunch deserves recognition today.
An elusive Coastal Division title and ACC Championship game appearance were the goal when the season began, but the win of wins came on October 22 when the NCAA investigation finally came to a close—yet another reason to give serious thanks.
Outsiders will never know what the ramifications of that tainted investigation did to this program, nor can it's effects be measured—but there's no doubt that it was an anvil around this coaching staff's neck and has since been removed. Let's wait and see what happens next.
Miami takes on Pittsburgh at 3:30 p.m. ET on Friday. Get together with your Canes brethren, celebrate one last regular season game with those you love most and win or lose, prove once and for all that it really is "all about The U".
Happy Thanksgiving, U Family. #BeatPitt
Comments
comments