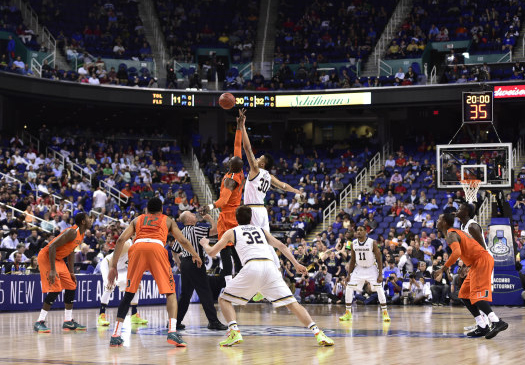 The opportunity was ripe for the taking and despite a slow and ugly start, the Miami Hurricanes almost clawed their way back against the Notre Dame Fighting Irish—who in the end, knocked off the Duke Blue Devils and North Carolina Tar Heels, en route to an ACC Championship their first year in conference.
Down 20 points in the first period and trailing by 18 at the half, everything that could go wrong early for Miami did; yet the Hurricanes stormed back late and even took a brief lead before eventually succumbing, 70-63.
Had the Canes held on it'd have been the biggest comeback in ACC Tournament history since Maryland knocked off North Carolina State in 2004, rallying from 19 down.
Miami went on a 19-2 run in the second period and after two free throws by Sheldon McClellan, the Canes took a short-lived and unthinkable, 51-49 lead. Steve Vasturia hit a go-ahead 3-pointer with 6:13 remaining, sparking a 9-2 run.
From there, the sophomore guard helped seal the win in the final minutes, starting with a long runout of an inbounds pass with 50.4 seconds remaining. A play later, Vasturia stole an inbounds pass from Devon Reed, sealing the Canes' fate.
Angel Rodriguez led Miami with 15 points, going 2-of-2 from beyond-the-arc, as well. The junior guard unfortunately committed an untimely turnover in the final minute as the Canes needed a big play to keep the comeback alive.
Tonye Jekiri scored 11 and pulled down 11 rebounds, but fouled out for Miami with 3:26 remaining in the game, almost drawing a technical, still heated from a mythical fourth foul moments earlier, never getting a hand on the Irish shooter. McClellan and Ivan Cruz-Uceda each scored 10 apiece, as well.
For Miami, a win over Notre Dame was pretty much do-or-die in regards to an NCAA Tournament berth. The Canes slipped to 21-12 on the season with the loss to the Irish, putting their fate in the hands of the selection committee—where several other teams all boast equally-as-strong, if not stronger, cases—despite Miami's second half effort and almost-comeback.
The Canes have officially been on the tournament bubble for weeks, with ESPN "bracketologist" Joe Lunardi continually listing UM among his "First Four Out," along with UCLA, Tulsa and Old Dominion. His "Last Four In" are LSU, Boise State, Mississippi and Indiana.
Conversely, ESPN's Andy Katz used his platform on Sunday to build a case for The U in his "Last Four In"—stating that Miami will get in, with Ole Miss slipping out. His reasoning? Each team's best win—with Miami throttling Duke at Cameron Indoor, while the Rebels took down Arkansas for their season's signature moment.
Katz also cited the Canes coming in a little bit hotter than the Rebels down the stretch.
Other bubble teams like UCLA and Indiana took care of business, knocking off Southern California and Northwestern, respectively, while Illinois lost to Michigan and Texas A&M was dropped by Auburn.
Old Dominion was also on the brink of a berth, but lost to Middle Tennessee in the quarterfinals of the Conference USA Tournament, while Texas fell to Iowa State in Big XII tourney action. Out west, Wyoming stole the Mountain West bid by upsetting San Diego State.
As of Sunday afternoon, 67 spots are locked down, with defending national champs UConn battling for that final spot—needing a win over SMU to earn the AAC's automatic qualifier, but struggling and trailing the Mustangs by double digits early in the second half.
For Miami, a berth appears slim based on a 10-8 conference record and early exit from the conference tournament. Road wins over Florida, Syracuse and Duke certainly bolster the Canes' cause, while head-scratching losses to Green Bay, Eastern Kentucky and Providence all but negate those season-defining take-downs.
There were also way-too-many "almost" moments for Miami; almost upsetting No. 2 Virginia at home or almost taking out Notre Dame and Louisville on the road—any of the three being a difference-maker here on Selection Sunday.
Instead, the wait continues for the Canes—a team with an 11-6 record in road and neutral-site games, with a sub-par RPI of 65 and 77th-ranked strength of schedule. Still, head coach Jim Larrañaga remains hopeful and has given his final pitch.
"I think there are so many quality teams. The NCAA selection committee does a lot of research. If they feel we are qualified and they invite us, if we get an at-large bid, I think we'll prove them right," Larrañaga told the Miami Herald.
"If they choose other teams over us, hopefully we'll get an invite to the NIT and have a chance to win that tournament."
Comments
comments