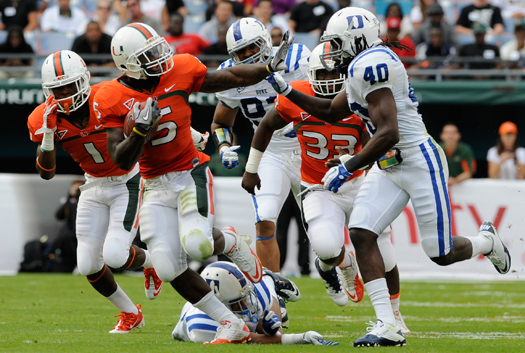 It was supposed to decide the ACC Coastal Champion, strange as that sounds.
Now it's nothing more than the season finale for Duke and a pseudo bowl game for Miami, with UM having self-imposed a bowl ban for the second straight season. Georgia Tech will now take the Coastal, by default, while Miami will spend December 1st in front of the TV, instead of enjoying a deserved rematch against Florida State.
And so the 2012 season will wind to a close, either 7-5 or 6-6, and with the dark cloud of NCAA sanctions looming.
This week's scoop, aside from the self-imposed bowl ban? The NCAA flexing its muscle, demanding former players answer questions. If not, they'll remain guilty until they prove their innocence.
The Canes had some proud moments year two in the Al Golden era. Down early at Boston College, Miami rallied their way to victory. Smacked up a week later at Kansas State, three straight wins and a few impressive down-to-the-wire victories against Georgia Tech and North Carolina State, putting UM undefeated in conference.
Notre Dame, North Carolina and Florida State all upended Miami, but there was again hope after a Thursday night victory over Virginia Tech – the Canes' first since the 2008 season.
Unfortunately a one-point loss at Virginia the following weekend brought things back down to earth, which took some luster off the eventual win over South Florida.
Entering Virginia week, there was optimism. Win out and it'd be an 8-4 regular season and a four-game win-streak. Would that in itself been deserving of a shot at an ACC crown? Possibly.
As it wound up playing out, there was a lot of hemming and hawing as administrators tried to determine Miami's best play regarding the post-season and pending sanctions.
Personal opinion; giving up forty-one points to the Cavaliers due to the loss of three key underclassmen, truly showed how paper-thin this Canes squad is in 2012.
A true freshman safety in Deon Bush, a redshirt-freshman linebacker in Eddie Johnson and Denzel Perryman, a sophomore linebacker, are arguably Miami's three best defenders – and none made the trip to Charlottesville.
The upside? All will be in the fold for UM for the next few years. The down? Being so dependent on such young players and wasting a post-season.
Should any more Canes stumble down the stretch, a conference title game could potentially be a huge waste – and should an expected two-year bowl ban come down, the thought of a potentially much better team in 2013 sidelined?  Seems a disgrace for a 7-5 team to get rewarded when a more-seasoned team might have to sit next year.
And with that, bring on Duke. Once a conference bottom-dweller, the Blue Devils jumped out to a 5-1 start this season. Virginia Tech humbled them a week later, 41-20, but in-state pride was earned when upending North Carolina, 33-30, the week after that.
Duke's bubble eventually popped when the meat of the schedule hit. Florida State rolled, 48-7, Clemson laid down a 56-20 beat down and last week Georgia Tech's triple-option wrecked Duke, 42-24.
Like Miami, Duke is now 6-5, though 3-4 in ACC play, opposed to UM's, 4-3 record
This is now a game for pride – and based on the self-imposed bowl-ban, while the Blue Devils are already bowl-eligible, the Hurricanes have every reason to close strong.
A year ago this week, Miami face-planted. Senior Day at Sun Life and days after earning that sixth win, the Canes implemented a bowl-ban and that set the tone for the season-ending home loss against Boston College.
Miami went up 7-0 early. Boston College tied it. The Canes went back up as Lamar Miller padded his NFL highlight reel with a 79-yard touchdown run. Still, the 14-10 halftime lead ended in a 24-17 loss, thanks to four Jacory Harris interceptions – one for a Luke Kuechly touchdown – and a lopsided time of possession, 38:24 to 21:36.
In the wake of the bowl ban, Miami came out flat – and that in itself is the storyline going into this Saturday's showdown in Durham.
How will these freshmen respond to disappointment and how much have last year's Canes grown? Like it or not, what is, is. Miami's bowl game will take place on November 24th and this team won't see the field again until next September. Welcome to the finale.
Mike James will never take another snap for the Canes after Saturday and all the newbies caught up in the excitement of year one playing the college game – it comes to a screeching halt by Saturday afternoon.
Will Miami make the most of it? Will Golden have his kids ready? Can the Canes find a way to have some real fun out there, despite the letdown news earlier this week?
No time for sulking, Miami. Duke's offense will come to play. Senior quarterback Sean Renfree has completed 224 passes for 2,323 yards and 14 touchdowns this season, while Connor Vernon, Jamison Crowder and Desmond Scott have all proven capable targets, combining for 183 receptions, 2,252 yards and 13 touchdowns.
The Blue Devils have been more effective through the air than on the ground, so Miami's secondary will again be challenged. The Canes' ground game has stepped up, but going back to Virginia, Miami made Michael Rocco look all-world — will Renfree be this week's hero?
Or will it be a James, a Johnson, a Stephen Morris – or even a Miami defender creating a crucial turnover and helping the Canes earn a seventh win?
On paper, this game no longer means anything. 7-5 sounds better than 6-6, but neither warrants celebration. But this game is more than a box score or season record in a media guide.
Saturday is about playing with purpose. It's about showing maturity. Duke was quoted post-bowl ban as saying that he and the other freshmen knew what they were getting into when signing with Miami in February 2012.
These first-year Canes knew a dark cloud lingered, but believed in the coaches and the program enough to swallow a little short-term disappointment for long-term success.
Conversely, a former Cane now in the NFL, suspended six games last season, not including the season finale flop against the Eagles, ranted and raved this week about UM not having the backs of its players, in the wake of a bowl ban.
No debating the attitude, mindset, effort and class of these younger Canes. Golden is loading this program with guys who get 'it', while guys responsible for the recent decline continue moving on.
Can these Baby Canes rise to the challenge one final time this season? The pressure of a conference title game berth is gone. This one is all about closing strong and getting that final win. Play for pride – knowing that an ACC Coastal victory was theirs had the bowl ban not been self-imposed.
Take that, build on it and go into the off-season on the heels of a win for the first time since … 2006. (Let that sink in for a moment.)
Beat Duke, get to 7-5 and then get back to work – players resuming their workouts while coaches hit the road to recruit.
Right now in Coral Gables, it's truly all about the future … but don't miss an opportunity to seize a present moment when it presents itself.
Christian Bello has been covering Miami Hurricanes athletics since the mid-1990s. After spending almost a decade as a columnist for CanesTime, he launched allCanesBlog.com. – the official blog for allCanes.com : The #1 Canes Shop Since 1959. Bello has joined up with XOFan.com and will be a guest columnist at CaneInsider.com this fall. Follow him on Twitter @ChristianRBello.
Comments
comments