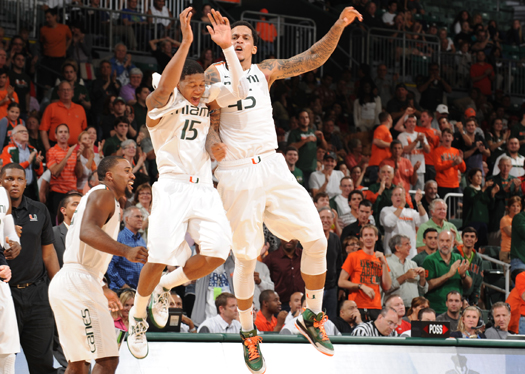 Admittedly there hasn't been much Canes basketball talk here, but with this team sitting atop the ACC rankings, it's time to show Miami some love. UM is riding a five-game win-streak and has a few days off before third-ranked Duke struts into The BUC, making it prime time for a basketball-themed recap.
The perceived slight in the blog has nothing to do with putting Miami basketball on the back-burner and everything to do with time of year. I've always found it hard to focus on the hardwood prior to football Signing Day, as well as NFL Playoff action.
In November things took an immediate hit for second-year head coach Jim Larranaga when Miami fell against Florida Gulf Coast, 63-51. All the preseason talk surrounded this team doing good things and going to new levels and that loss was flat-out embarrassing.
Still, Miami rebounded and rattled off seven straight wins – including a home upset of No. 13 Michigan State, 67-59, as well as a convincing 73-58 win at Hawai'i – impressive in the sense that jet lag didn't set in and that the victory pitted Miami against No. 4 Arizona in the second round of the Diamond Head Classic in Honolulu.
I happened to tune in for this late, Reggie Johnson-less tip off and watched Miami struggle early. Arizona was clearly the better team, up 37-25 at the half and cruising to a 69-50 victory.
Lots of quality teams will fall to the Wildcats this year, who are expected to go deep into the tourney this March, but a lethargic overtime loss to Indiana State in the loser's bracket was right up there with the Florida Gulf Coast flop.
The Canes fell 57-55 to the Sycamores on Christmas Day in a lethargic effort – 33.8% shooting, 0-of-15 from behind the arc, 11-of-21 at the stripe – which was enough to turn off the casual fan, or the diehard, but to Miami's credit, the team has again gone on a tear.
Miami returned from the Hawai'i trip and beat La Salle at home the following week, 76-59, before going on the road and getting impressive wins at Georgia Tech, 62-49, and North Carolina, upending the Tar Heels, 68-59 in Chapel Hill.
A few days back Miami got passed Maryland, 54-47, and last night earned a quality road win at Boston College, getting the 60-59 victory.
The Canes closed strong in Chestnut Hill, with Durand Scott hitting four clutch free throws in the final thirty seconds, and drawing an offensive foul, en route to the one-point victory. It was a game where neither team had more than a two-possession lead and while Johnson missed his eighth-straight game with a broken thumb, Miami again found a way.
UM now sits atop the ACC at 4-0 in conference and is 13-3 overall. Beyond impressive, and worthy of praise – especially with the big man missing over half the season, thus far.
Fourteen games remain, all are in conference and Miami is truly about to get tested in a season-defining manner.
Next up, Duke at The BUC on Wednesday January 23rd. From there, Florida State heads south on Sunday the 27th. Miami then hits the road for back to back games – at Virginia Tech on January and at North Carolina State on February 2nd, before returning home for a two-game home-stand; Boston College on February 5th and North Carolina on Saturday the 9th.
From there, at Florida State, at Clemson, Virginia, at Wake Forest, Virginia Tech, at Duke, Georgia Tech and Clemson for the home finale.
Seven of the remaining games are on ESPN, ESPN2 or ESPN U, with six more on ESPN3 and one on CBS. All eyes will have a chance to see Miami and how this team responds will dictate what type of post-season the Canes might be looking at – as will the NCAA.
Alas, Miami basketball is finally getting something done, but old sins could come to haunt as the NCAA investigation is coming to a close and the Notice Of Allegations is forthcoming.
Miami football has self-imposed two post-season bowl games, as well as an ACC conference title game, but to date basketball has done nothing but suspend a handful of players per the NCAA's request.
In other words, a strong finish in 2013 could turn very weak come Selection Sunday.
Regardless, like the football program, basketball must focus on the prize – attempting to win the conference and overcoming adversity.
There's no doubt that Coach Larranaga has this program on the right track, like Al Golden with football, but the dark cloud hovering over the athletic department before both coaches arrived, is about to bring some rain.
Until then, stay the course, trust the process, heal the big man and Beat Duke!
Comments
comments