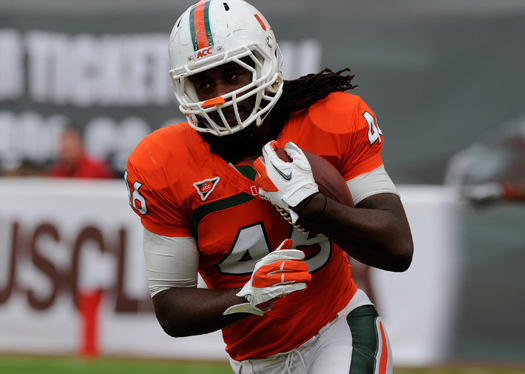 It may not have been a for-all-the-marbles type game, as neither team was vying for an ACC Coastal-defining win — Miami having self-imposed another bowl ban and Duke skidding down the stretch, losing three straight entering today — but it proved to be an offensive shootout, with the Canes outlasting the Blue Devils, 52-45. Some thoughts:

Congrats to Miami for coming out sharp and finding a way to win. After falling to Boston College in last year's season finale, days after a bowl ban was self-imposed, there was fear that the Hurricanes could roll into Durham flat, no longer playing for a division title.
Instead, the offense hit the ground running. Stephen Morris threw for 369 yards and three touchdowns, receivers stepped up and  Duke Johnson was again spectacular, with a career-high 176-yard, three-score performance.
Miami finished with 464 total yards and 52 points and earned a much-needed victory, ending a season with a win for the first time since 2006.

The downside again was the defense, giving up 583 total yards to Duke. Again, the Blue Devils were expected to move the ball and score points. Sean Renfree is a quality passer, finishing with 432 yards and four touchdowns, going 39-for-59 through the air.
Jamison Crowder hauled in eight passes for 203 yards and two touchdowns, while ACC-leading receiver – and Miami native – Connor Vernon again came up big, catching eleven balls for 109 yards and two touchdowns.
Good as these guys are, Miami's defense has a way of making other offenses look great. Crowder had his biggest game of the season (since 7 receptions for 167 yards against Clemson), as did Renfree, by far — while Vernon had his largest day reception-wise and fourth-biggest yardage-wise.
As always, with this Hurricanes defense, there were big moments – and colossal meltdowns. Big-time sticks and bone-jarring hits, followed by breakdowns and penalties on would-be third- and fourth-down, game-defining stops.
Point being, a good time to stick a fork in this season. Bring this thing back in the lab and start tinkering to get ready for next season.
At 7-5 and giving up these kinds of yards defensively, this isn't an ACC Champion-caliber team this year — nor was it expected to be. Not going to win too many football games where the defense is giving up 45 points and 583 yards.
Take the win, head back to Coral Gables on a good note and start working towards 2013.

Another positive these past few weeks; Clive Walford and the use of the tight end. Over the past two weeks, Walford had two touchdowns and a combined seven receptions for 234 yards — including a sixty-five yard score last week and two huge receptions against Duke, one for thirty-five yards and one for thirty-six.
Seems just about every time Walford has caught a pass, he's been wide open or somewhat unaccounted for, as defenses haven't had to prepare much for the tight end when playing Miami, as of late. (Back-up Dyron Dye even had a huge twenty-nine yard reception on Saturday.)
All great Miami offenses have included solid tight end play. When you look at the great teams of this past decade-or-so alone – Bubba Franks, Jeremy Shockey, Kellen Winslow II and Greg Olsen immediately come to mind. Even 'lesser' Miami offenses of the past few years benefitted greatly from guys like Jimmy Graham and Dedrick Epps.
Miami's offense definitely went to a new dimension in 2012, based on the past few years. With the emergence of Walford and Dye (and if Asante Cleveland could ever get it together), things could be even better in 2013.

Watching guys like The Duke or freshman wideout Herb Waters — you can tell that team speed is making its way back to Coral Gables.
Feels like forever since guys literally made one move and then just exploded past defenders, with guys unable to catch up.
As Johnson broke off his sixty-five yard touchdowns run, there were moments where it appeared a Blue Devils defender was going to catch up with him – yet the explosive freshman found a way to keep everyone at bay.
Late in the game, Waters hauled in a pass, turned on the jets and blew past a few defenders en route to a sixty-five yard touchdown.
Overall team speed has been missing for years and player-by-player, position-by-position, it appears to be coming back across the board — bringing UM one step closer to where it wants to be.

Also returning, along with team speed — great instinct, something else that's been missing way too long.
Tracy Howard had a well-timed stick on a 3rd and 7, which seemed like a throwaway play in the grand scheme of things, but it really was a glimpse of the way things used to be — and what they need to get back to.
No disrespect to some of the upperclassmen in this secondary, but there's a handful of guys doing their best to overachieve, lacking optimum size, talent and skills. A lot of mistakes or break downs back there, so when you see a Howard with one of those perfectly-timed hits — jarring a ball loose, without getting dinged for a penalty — it's a beautiful thing.
Aside from Howard, safety Deon Bush has had a slew of those moments this season and again, two true freshmen, two big name kids and two budding superstars that Al Golden and staff were able to reel in late, both choosing Miami over some big-time programs.
The right kids are coming to Coral Gables again and you can feel it every time one of thos vintage-era Cane hits is laid down.

Without harping too much on it, as Miami got the win, there was some bullshit ACC home cooking with today's refereeing. Both teams were dinged three times for twenty-five yards apiece in the first half, but the third and fourth quarters were a much different story.
Duke would be penalized twice, for ten yards, in the second half, while Miami had eight second half penalties for fifty-nine yards — many coming at crucial moments, with some absolutely hogwash — as was a touchdown taken away from Walford, on a pass from The Duke, where the call was a touchdown and inexplicably overturned. (Yes, the ball touched the ground, but Walford had control and even the commentators disagreed.)
No reason to turn this into an, "us against the world" and "the refs hate us" rant, but a reminder that Miami can never let games fall into the hands of the officials. Even if there's no bias, the Canes certainly don't get many breaks.
Jimmy Johnson told his team back in the day to never leave a game in the hands of the referees and hoping that Coach Golden points that out to his kids when they break down Saturday's game film.

Lastly, this season is officially in the books and while on paper it's not what anyone wanted – a 7-5 year – based on what was expected, this year was a success. Young kids learned on the fly, the team as a whole grew and a would-be 4-8 run, when picked fifth in the Coastal Division, wound up a seven-win season and the Canes finished tied for first.
Pre-season I felt AT BEST this would be an 8-4 and at absolute worse, 5-7. A few game could've gone either way, but Miami got it done (in the close ones) more than it didn't.
North Carolina and Virginia certainly got away, but early comebacks against Boston College, Georgia Tech and North Carolina State truly set the stage early. Without that 4-1 start, thing could've gotten uglier than hoped for this year.
In the end, 2012, based on expectations was a success — and with an extra month to recruit, another quality class could come together, with more impact players ready to help the 2013 inch closer to better days.
Christian Bello has been covering Miami Hurricanes athletics since the mid-1990s. After spending almost a decade as a columnist for CanesTime, he launched allCanesBlog.com. – the official blog for allCanes.com : The #1 Canes Shop Since 1959. Bello has joined up with XOFan.com and will be a guest columnist at CaneInsider.com this fall. Follow him on Twitter @ChristianRBello.
Comments
comments