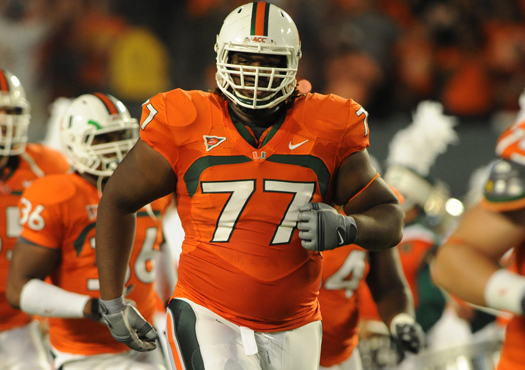 The notion of a press conference had some believing three senior-to-be Canes were hitting the road, causing some backlash within the fan base.
In the end, as expected, it was nothing more than a positive PR grab for a program that needs all the good press in can get.
In the end, offensive linemen Seantrel Henderson and Brandon Linder, as well as defensive lineman Curtis Porter, will all return for their senior seasons, as announced to the media this morning.
None of the three were considered high-round draft picks and Henderson stated that last year's mass exodus of five underclassmen had nothing to do with his decision to return.
Head coach Al Golden is working to change the overall culture, and having three players return when they could've left – that's progress. Henderson and Linder are important pieces on the offense line and Porter, injured most of 2012, showed what kind of impact he could have on a young and undersized defensive line last year.
Good decision, gentlemen, and props to Golden for turning a no-brainer decision into a positive media opp, sending a message to recruits that this program remains in-tact and that these upperclassmen are all-in for next season.
Comments
comments