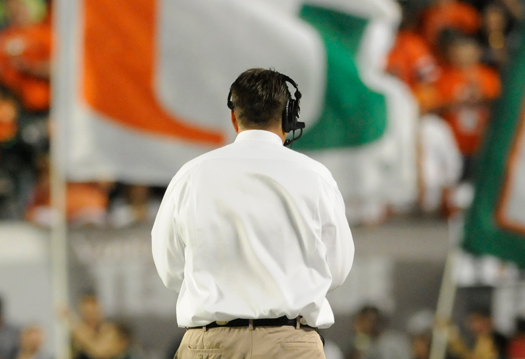 The interview was a few weeks back – the Monday after Thanksgiving, to be exact – but it deserves another listen as all this coaching carousel talk continues.
Miami head coach Al Golden is a constant guest on WQAM, calling in to talk with Joe Rose, where he's always candid and real.
Despite Golden's transparency in interviews like the one conducted with Rose (check the WQAM archives from 11/26/12), the rumor mill keeps churning with him linked to the previous opening at Tennessee, as well as the current vacancy at Wisconsin. Golden repeatedly pledges his allegiance to 'The U', but conspiracy theorist and scorned sports fans refuse to take him as it word. (Butch said he was staying! So did Saban!)
Below are some of Golden's quotes from the recent interview with Rose, as well as some comments on what the second-year head coach had to say:
When Golden was asked by Rose about giving up another post-season game, he replied, "We made a huge sacrifice. Winning that game was huge because it wasn't just a second post-season game – it was a third. We sacrificed a lot. We gave up and opportunity to play against an arch-rival in Charlotte – for not only an ACC title game, but a fifty-percent shot at a BCS game. These young men, this organization, this university, has given up a lot to rectify this situation – which we did not create – and to move forward."
REACTION : Golden always chooses his words carefully and he makes a point here to let it be known that Miami hasn't just sacrificed two bowl games, but also an ACC title game appearance. He also points out the reward for that game – an Orange Bowl berth – implying that the Canes had a 50/50 shot at beating the Noles, which proved possible days later when the Noles struggled against the Yellow Jackets in Charlotte.
Golden is obviously appealing to the court of public opinion here, driving it home that UM has sacrificed a lot in regards to doing its part in cleaning up the mess of those who came before them – another important piece of this puzzle, as all current players and just about every coach had nothing to do with the scandal that hovers.
When asked by Rose if he's a hundred-percent committed to staying, the response, "Yeah Joe, we're just starting out. We played twenty-one freshmen this year and we started ten. Hey look, some of those people asking you now what I'm doing – they're the same ones who said we're gonna finish 2-6 in the ACC and predicted us to finish fifth (in the Coastal).
The kids fought. They grew up together. Our out of conference schedule was ridiculous – we played three teams that were ranked number one – a lot of people had Florida State number one at the beginning of the season and certainly Notre Dame is number one now and Kansas State was number one for a while, so I'm proud of our guys and the direction that we're going."
REACTION : Golden didn't come out and say, "I am absolutely committed to Miami and there is no way in hell I will take another job", which is what has kept some of the speculation going. That said, no coach is going to come out and say that in his position. This is a business and there needs to be an ounce of mystery and that wiggle-room. However he did take a shot at the media predicting his departure from UM, reminding Rose these are the same people who wrongly picked the Canes to finish fifth in the Coastal Division.
That said Golden went on to explain how young last year's team was, by giving numbers, not excuses. That, combined with the brutal out of conference schedule made 2012 what it was, but again he drove home the point that he trusts the direction this program is going, as well as backing the growth of his players this past year.
In regards to the win at Duke and Miami 'showing up' after finding out there'd be no ACC Championship game, Golden explained to Rose, "As I said all week, they're doing all the right things and saying all the right things – the x-factor is the emotion. Do we have anything left?
When they [Duke] hit the long pass after the Clive Walford touchdown was reversed … the emotion … I just went up and down the sideline talking to every coach saying, 'hey, we're going to have to push them through this' because they're just emotionally drained, from 'this game is going to send us to Charlotte' to having that yanked from them.
It was a tough week and I know the game wasn't pretty and it took every ounce of energy and emotion – and even in the locker room after, it was more exhaustion than it was elation. Exhaustion and just a little bit of frustration. A little bit of, 'hey, we should be getting ready to play Florida State in Charlotte next week'."
REACTION : Some good insight as to what coaches had to do to keep kids in the game at Duke. While on paper fans spout cliches about leaving it all on the field or being ready to play, interesting insight here as to Golden explaining the momentum shift he noticed when the Johnson-to-Walford touchdown was reversed and the Blue Devils scored a play later.
After that fourteen-point swing, Golden got on his coaches and made sure they got the kids up for the final twelve minutes of football. Duke narrowed the lead to a touchdown a drive later, but the Miami offense responded when Morris-to-Waters went for a sixty-five yard score. Duke scored again, but Miami earned the seven-point win.
Had the Canes gone into a hole, the game could've miraculously slipped away. Golden and staff made sure it didn't and got this team 'up', which hasn't been an easy thing to do these past few years — and even more difficult when these kids were playing for an ACC title game berth that was a win away, yet yanked less than a week before. How do you motivate when the carrot you've dangled has been been removed? These coaches found a way.
Scary stat? The season-ending win was the first time Miami has ended the year with a 'W' since 2006.
In regards to the tight end position finally doing something, which Rose stated that Golden deemed a must in the past, Golden said, "Needed that. It really changed the dynamic. I think we're over forty points a game the last four game and I think part of that is just having and inside and outside threat. Even though we have some injuries, and don't have Rashawn Scott with us on the perimeter, I think the fact that Clive has to be tended to now, made a big difference.
You got Randy [Duke Johnson] and Dallas [Crawford] and those guys in the backfield and now you have Clive stepping up – that's really what you need to be a good offense and that's what we intend to be next year."
REACTION : The point about both an inside and outside threat is spot-on. Miami's offense has lost a huge dimension without the true presence of a pass-catching tight end the past few seasons and the emergence of Walford is huge. Especially with so many losses at receiver as the year wound down.
Tight end was the lone missing piece to the offensive puzzle. Miami finally has a quality quarterback in Morris, a solid offensive line, a Heisman-candidate at running back, a stable of solid receivers and a coordinator who understands balance, but also mixes in some carefully placed trickery – both to keep defenses on their toes, while keeping his kids interested and excited.
Between Johnson and Crawford, Miami definitely has something unique in the backfield in 2013.
Rose talks about Stephen Morris, his arm, his demeanor and the future, to which Golden responded, "Everybody believes in him [Morris] and everybody expects us to be successful on each drive and obviously if he has the ball at the end of the game, we expect to win. He's really emerged as a leader. Can't wait to see him get an opportunity to work out all winter and spring. He didn't get to do that. Next year there's no reason he isn't a 219-pound quarterback doing all the things he's doing now, just a little bit bigger and stronger. I'm excited about his progress and what he's meant to our team this year."
REACTION : Good job by Golden getting Morris' back and reminding people that he missed spring and the opportunity to both work out, and to perfect his timing with his receivers. A solid winter in the weight room and spring on the practice field should make an already good Morris into a great one next year.
No Miami team has ever been great without a solid signal caller and the fact that Miami has Morris returning for a senior campaign will do wonders for the offense in 2013. Golden backs the kid and sees the leadership traits developing. No doubt that coaches want this to be Morris' team next year, which is precisely how things should play out.
Rose talks about the loss of running back Mike James, but hypes the amount of guys coming back, to which Golden responded, "A lot of guys were lost during the year. Ben Jones was lost. Davon Johnson, who had really grown up, was lost. Mike James is the only starter on offense that we'll lose … and the same is true on defense. We only lose Brandon McGee and of course that [the Duke game] was the first time that [Deon] Bush, [Rayshawn] Jenkins and Tracy Howard were on the field together, and as you know when you put three freshmen out there, there's good news and bad news … but they just bring energy, they listen, they fight and they may not always be perfect and of course that was a very veteran and savvy team that we were playing, especially on offense."
REACTION : Another case where an explanation is offered where some might call it an excuse. Yes, part of college football is losing bodies, but when there is such a tremendous lack of depth and experience, the loss of a Ben Jones or a Davon Johnson hurts. As does the suspension of an Eddie Johnson or Rashawn Scott.
Another valid point regarding Deon Bush, Rayshawn Jenkins and Tracy Howard all taking the field at once as true freshmen. When Golden took over, Brandon McGee was the lone true cornerback on the roster. To have to rely on talented super-freshmen … no top team in the country is in that position.
Sure, there are underclassmen starting everywhere – but no program is as reliant on young talent the way Miami is, which was why the loss of a Bush, E. Johnson or Denzel Perryman was so crucial at Virginia late in the season.
Another telling statement from Golden when talking about the energy and attitude of the young kids, as well as the fact that they l-i-s-t-e-n. There's been a common theme with some on this squad not hearing what coaches are saying, not doing what they've been told and not falling into line regarding their role on this team, be it on or off the field.
There is a true sense that Golden has a connection with the guys he's recruiting. Especially this 2012 class that seems to have some special kids and will arguably serve as the cornerstone for the rebuilding project.
The interview goes on and is truly worth a listen. For those who want to shoot holes in Golden, choosing to play the he-never-won-a-meaningful game at Temple card (or those too busy screaming "Fire D'Onofrio!" to hear anything other than the sound over their own jaded voices), nothing new will be garnered from this clip.
But for those who are looking for reasons to believe in this staff and the future of the program, there's enough good here to keep you excited and coming back for more.
This program has been broken for years. Things started slipping in 2004, but there was enough talent to keep this a three-loss program. A year later the offense was in the tank, but the defense was good enough for another three-loss season.
In 2006, things truly caught up with Miami and Larry Coker lost full control. The beat-down at Louisville and pre-game logo stomp. The FIU brawl. The four-game losing streak. The murder of Bryan Pata. The miracle win over Boston College in order to earn bowl eligibility … the reward being a December trip to Boise to face Nevada.
The downer of a season earned Coker a pink slip and Randy Shannon a promotion, but bad was made worse when his four-year run left the roster in shambles and a culture broken.
The "Stronger. Faster. Better." mantra couldn't have been further from the truth, as conditioning slipped and game were now being lost in the fourth quarter, instead of won.
Rock bottom? Losing 45-17 to a sub par Florida State team at home mid-way through 2010, while ending the season with a 33-17 thud, falling to Notre Dame in the Sun Bowl, with snowball fights on the sidelines and a former player (re: Ryan Hill) talking about guys spending time smoking green trees than busting ass at Greentree.
Two years into Golden's tenure, things are far from perfect – which is fine, as they're not yet supposed to be.
That being the case, the goal right now remains steps forward and consistent improvement. Miami will get better and that starts with the man at the top.
The Canes finally have a good one and for what it's worth, it truly looks like Golden will be here until the job is complete.
Christian Bello has been covering Miami Hurricanes athletics since the mid-1990s. After spending almost a decade as a columnist for CanesTime, he launched allCanesBlog.com. – the official blog for allCanes.com : The #1 Canes Shop Since 1959. Bello has joined up with XOFan.com and will be a guest columnist at CaneInsider.com this fall. Follow him on Twitter @ChristianRBello.
Comments
comments