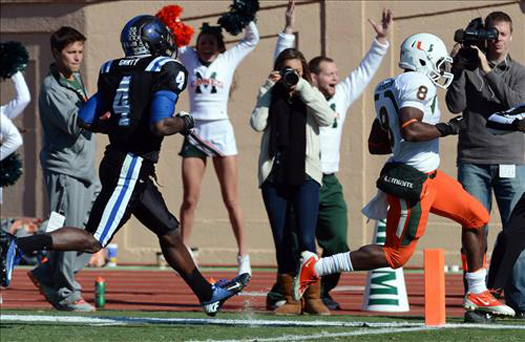 Miami rolled into Wallace Wade Stadium on Saturday, choking on the disappointment of another self-imposed bowl ban, but mustering up the heart to take on Duke with a pseudo ACC Championship Game on the line.
1,229 yards and 97 points later, the Hurricanes emerged victorious – seven points better than the Blue Devils, officially ending the 2012 with a 7-5 record and headed back to Coral Gables to begin preparations for what is hopefully a big step forward in 2013.
Miami opened strong and several Hurricanes had superstar performances in the season finale.
Stephen Morris was 15-of-25 for 369 yards, three touchdowns and no interceptions. Morris finished the season with 421 completions, 3,345 yards and 21 touchdowns to seven total interceptions. In his final eight quarters of play, Morris had eleven touchdowns and zero picks.
Impressive as Morris was, true freshman Duke Johnson again invented another way to steal the show. Johnson carried sixteen times for 176 yards and three touchdowns. He also appeared to have thrown a touchdown pass to tight end Clive Walford on a crucial fourth down, though it was inexplicably reversed, though complete on the field.
Johnson ended the season with 947 yards on 139 attempts. He rushed for ten touchdowns and caught one, finishing with 221 receiving yards and 27 receptions. Johnson also threw one touchdown and returned two kickoffs for scores.
Miami actually found the tight end the past few weeks, with Walford, who hauled in four receptions for 99 yards against Duke – one for a touchdown. Even more impressive, the fact that neither Duke, or South Florida, were ready for the explosion at the tight end position, as Miami has had little production there the past few years.
Running back Mike James rushed for 67 yards and a score, while hauling in three passes for 97 yards – including a 72-yard touchdown run.
Phillip Dorsett was effective with four huge grabs totaling 83 yards, while freshman Herb Waters had his second long touchdown in two games. After hauling in an 87-yard score against South Florida last week, he responded with a 65-yard touchdown at Duke.
The Canes led 14-0 early and looked primed to blow things open, but the Blue Devils made some adjustment and narrowed things to 14-10. Miami responded immediately, though, going 75 yards in nine plays – highlighted by a 36-yard Walford receptions and punctuated with a six-yard Johnson touchdown on 3rd-and-6.
Miami pushed ahead 28-10 by halftime and let 31-10 after the opened drive of the third quarter resulted in a Jake Wieclaw twenty-three yard field goal.
From that point, a shootout was officially on.
Duke drove the field and scored, while Miami responded with a three-and-out after a big sack and the Blue Devils used the short field for another quick score.
Three plays later, Johnson broke off a sixty-five yard touchdown and it was now a 38-24 ballgame. Duke – the team – had their three-and-out moment and a few plays later, James went for 72 yards, giving Miami the 45-24 lead entering the fourth quarter.
In the span of two plays – and one awful call – a fourteen-point swing that made for a more exciting final fifteen minutes than originally expected.
Johnson's jump-pass to Walford in the back of the end zone was bobbled, secured and called a touchdown. The nose of the ball did touch the ground, but in no way aided the receptions. Walford secured it and Johnson looked like he had one more for the highlight reel.
The call wound up reversed and a play later quarterback Sean Renfree capitalized on Miami's blitz, finding Jameson Crowder streaking down the sideline, wide open for the 99-yard score.
45-31 instead of 52-24, in a matter two plays and a few seconds.
Duke pulled it to 45-38 after an eight-play, 64-yard drive, but Miami came back with the big time Morris-to-Waters hook up and from that point, a matter of holding off the Blue Devils and bleeding the clock.
More shoddy refereeing capped an eleven-play, 70-yard drive that brought Duke to within seven, but a failed onside kick gave the Canes the ball with 2:32 remaining and Miami ran out the clock for the win.
A few different ways to look at this win – the pessimist, the optimist or the realist that can borrow a little from both.
In the end, the victory here was the win itself. Look at Miami's face plant against Boston College last year in the season finale, falling 24-17 to a very bad football team days after the bowl ban was self-imposed.
The 2011 Hurricanes couldn't get riled up for Senior Day or what season finale. Instead they came out flat, unraveled and gave the game away on a platter – namely quarterback Jacory Harris, who threw four interceptions in the loss.
Miami had every reason to go into the toilet this past Saturday. Head coach Al Golden used the ACC Championship and winning the Coastal Division as a motivational tool all season – and these kids were one game away from locking it up when the bowl ban came down.
At that point, in a sense they were playing for nothing but pride and a seventh win – and in year past, while that wouldn't have been enough, it was this year. Miami came to play and while the defense was lit up by a good Duke offense, the Canes did enough to win – and in rebuilding year and down season, that's the criteria on which to judge this most recent performance.
While some are tired of hearing about 'rebuilding' and 'the process', unfortunately that's where things currently sit. Golden and staff inherited a seven-year mess that will take more than two years to clean up.
Knowing that, 2012 was never about just wins, losses, points or yards. There was always an intangible in what was predicted to be a 4-8 season, with Miami rolling in second-to-last in the Coastal Division.
Instead, 7-5 and tied for first, having surrendered a shot to take on Florida State for the ACC crown and Orange Bowl berth.
What would or wouldn't have happened in that would-be rematch is moot. The victory is in Miami achieving that when it was never in the cards this season.
There's also victory in the heart shown all year. Epic comebacks and playing smart football – two things that haven't been synonymous with Hurricanes football in a few years.
The Canes took some lumps when facing some big boys in 2012, but they never quit.
In the past, hardly something one would consider a victory with a program this proud and accomplished, but again, where things stand today – those are the little things that go into the make-up and DNA of future champions.
Christian Bello has been covering Miami Hurricanes athletics since the mid-1990s. After spending almost a decade as a columnist for CanesTime, he launched allCanesBlog.com. – the official blog for allCanes.com : The #1 Canes Shop Since 1959. Bello has joined up with XOFan.com and will be a guest columnist at CaneInsider.com this fall. Follow him on Twitter @ChristianRBello.
Comments
comments