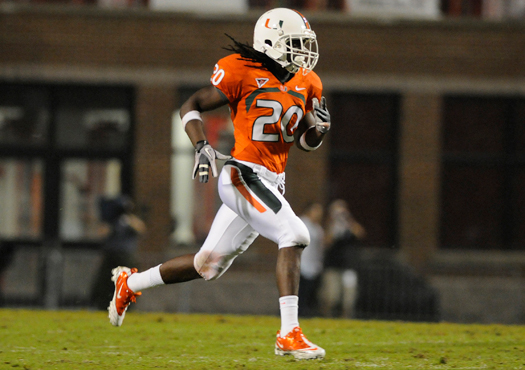 And down goes another.
As reported by Manny Navarro at the Miami Herald earlier today, cornerback Thomas Finnie, suspended indefinitely a months ago, is no longer a Hurricane.
On Friday Miami parted ways with linebacker Gionni Paul and two days later, a UM official confirmed to Navarro that Finnie is also gone, freeing up another scholarship for what was expected to be a small class.
Miami has a dozen verbal commits expected to sign in February – as well as JUCO tight end Beau Sandland, who signed weeks back. With the loss of Paul, Finnie and a few others over the past few months, it gives Al Golden and staff a few extra scholarships to work with.
UM was originally expected to sign somewhere around fifteen to eighteen kids next month, but now has a few more spots open.
Finnie originally verballed to South Carolina and Steve Spurrier in late 2010, but was swayed by Golden in January 2011.
A product of Central High in Miami, Finnie was one that got away during the Randy Shannon era, and with UM in dire need of cornerbacks (Brandon McGee was the lone corner on the roster when Golden took over), Golden worked hard to close Finnie and was an early feather in the coach's cap – keeping a good local kid home, and snatching one away from another program who seemed to have him locked up.
Finnie was actually slated to drive up to South Carolina when Golden closed him, prompting him to say, "Everybody likes to dream about UM and everything," Finnie told the Herald two years back. "Now, it's real."
And now it's over, due to a boneheaded decision that never needed to happen.
There are parts of "the process" that outsiders will never comprehend, nor will the 'real story' ever come out.
When looking at the Finnie case – and Paul, who is rumored to have been involved – one has to wonder what the whole story.
Risk versus reward. It seems much easier to cut losses with a Finnie and Paul now, than later. Scholarships reductions are coming and when you do the simple math, severing ties with a few good-not-great players, making room for guys that can give you three to four years? It seems in the best interest of the program, even if not the case for those particular players.
One could build a case that Golden was trying to run some guys off – but that argument quickly goes out the window when bringing up The Curious Case Of Kelvin Cain.
Suspended last year for immaturity and bad decision-making, it appeared Cain was off the team for good – but Golden allowed him to work his way back into the fold, giving a good kid a second chance.
If the lone goal was to cut 'lesser' players in favor of signing new ones, Cain would be gone as he's been less productive than both Paul and Finnie. Instead, he stays while the other two weren't welcomed back.
Rebuilding a program – it's a bitch — and it's a very complicated, calculated process. When you're a program on a roll, you can take chances. You can make some mistakes. There's more leeway and some breathing room.
The complete opposite is true at 'The U' in early 2013, year three of The Golden Era.
Look back at the Miami Hurricanes' 2010 recruiting class – Shannon's finale.
Upwards of eleven kids are no longer with the program and of those who stayed, outside of quarterback Stephen Morris, there are very few big-time players.
Truth be told, a class that flawed can have an impact as bad as lost scholarships due to sanctions, if not worse.
It's no mystery Miami was so reliant on true freshmen the past two seasons – because last year's junior class simply didn't get the job done.
Right now, more than ever, every single body counts. There is zero margin for error. This recruiting class needs to grade out well (in four years). Every JUCO that comes in needs to worth their weight (i.e. – Sandland needs to be more Jeremy Shockey and less Chase Ford).
It also means every current kid on this roster, taking a scholarship spot, has to earn it every year, or prepare to lose it.
Finnie and Paul will land on their feet and Miami will get back where it needs to be. In the short-term you hate stories like this, but it's time to look long-term and if coaches felt it was time to cut and move on, outsiders who only know part of the story simply have to trust that these decisions were made for all the right reasons.
Christian Bello has been covering Miami Hurricanes athletics since the mid-1990s. After spending almost a decade as a columnist for CanesTime, he launched allCanesBlog.com. – the official blog for allCanes.com : The #1 Canes Shop Since 1959. Bello has joined up with XOFan.com and will be a guest columnist at CaneInsider.com this fall. Follow him on Twitter @ChristianRBello.
Comments
comments