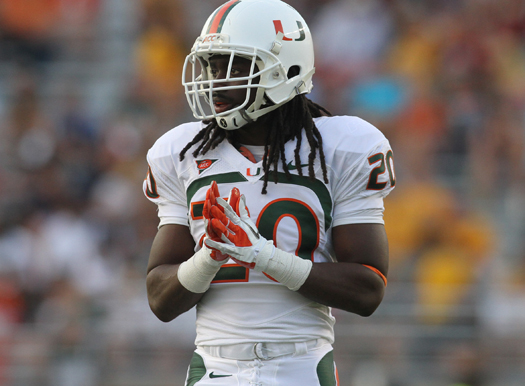 Sounds like a page straight out of the playbook of Cam Newton when he was still a Florida Gator.
Miami Hurricanes cornerback Thomas Finnie has been arrested for stealing the laptop of another University of Miami student.
Finnie was arrested Tuesday and faces charges of occupied burglary and grand theft (laptops aren't cheap!) and he's been suspended indefinitely from the football program.
Coupled with a summertime arrest for possession of a small amount of marijuana, time will tell what this means regarding Finnie's future at 'The U'.
Finnie appeared in twenty-three game over the past two seasons and started half of Miami's twelve games this season, racking up thirty tackles and one interception – a crucial haul-in late against North Carolina State that set up the game-winning pass from Stephen Morris to Phillip Dorsett in the 44-37 victory.
Another young man who made a big-time mistake and now his future lies in the hands of head coach Al Golden. Two years into rebuilding the program, another bump in the road here, leaving many to wonder what Golden will do.
The past few weeks alone linebacker Eddie Johnson missed a few games due to not following the rules, while wide receiver Rashawn Scott was suspended indefinitely for an off-the-field incident.
At some point, coaches have to determine the risk versus reward. Can a Finnie turn it around (and can a Johnson or Scott, for that matter?) or is it time to cut bait?
With sanctions and scholarship reductions on deck, every body on this rosters needs to be accounted for. Everyone needs to pull their weight, to have their head on straight and must be an asset, too. There's no room for selfishness or stupidity. As UM looks to right the ship, the margin for error is nil.
Here's hoping Finnie gets it together and that Golden makes the right choice regarding the future of a young man at a crucial fork-in-the-road life moment.
Comments
comments