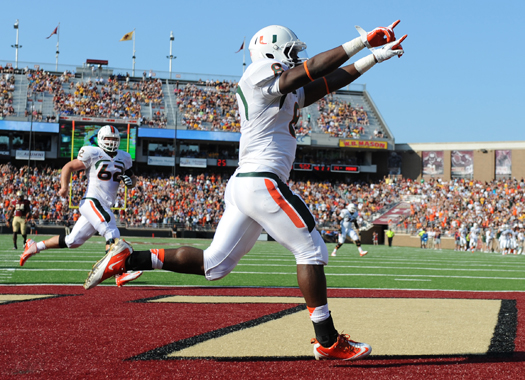 Weeks back the freshman running back wore a custom-made sweatshirt on game day, sporting the image of the late, great Sean Taylor. Today, on the five-year anniversary of Taylor's passing, Miami Hurricanes freshman Duke Johnson has been named ACC Rookie Of The Year.
Johnson received thirty-four of the overall forty-six possible votes, while safety Deon Bush was narrowly beaten out for Defensive Rookie Of The Year, falling to Florida State cornerback Ronald Darby. Johnson obviously took the Offensive honors.
Johnson became the first Miami player to ever win the rookie award, a year when he broke the thirteen-year old rushing record of running back Clinton Portis in 1999.
Johnson finished the year with 947 yards and led the ACC with thirty-three yards per kickoff return and 2,070 all-purpose yards, second in UM history only to running back Willis McGahee, who totaled 2,108 in 2002.
"It means a lot being the first in Miami history to win this award," Johnson said. "And it means so much to me and the team because I couldn't do it without my teammates. And this is just another way to make my mom proud and show how I really appreciate the sacrifices she made for me when I was younger."
Comments
comments