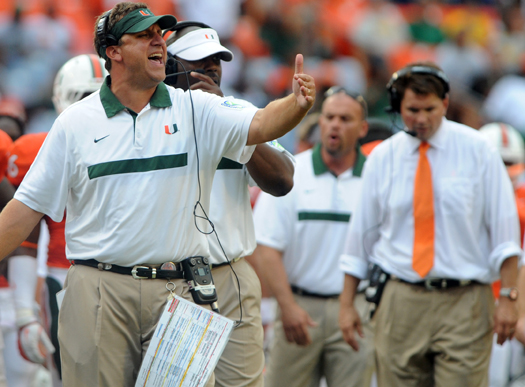 Another interesting little twist as 2012 winds to a close. While most programs prepare for upcoming bowl games, Miami coaches continue grinding and recruiting, while players hit the weights, working towards 2013.
Another post-season, pre-bowl sub-plot in the coaching world as hirings and firings began taking place before this recent regular season even drew to a close – one which could impact things at UM.
Days back Boston College hired Temple coach Steve Addazio to replace defensive-coordinator-turned-head-coach Frank Spazani. Addazio spent six seasons under Urban Meyer at Florida before replacing Al Golden, who left Temple for Miami two Decembers ago.
Now Addazio is on the move and Temple needs a replacement and Michael Casagrande of the Sun-Sentinel is reporting (via OwlScoop.com) that former Owls / current Canes defensive signal caller Mark D'Onofrio is a top the list.
Temple is also looking at former FIU head coach, Miami assistant and former Canes offensive lineman, Mario Cristobal, as well as Ohio State running backs coach Stan Drayton and Philadelphia Eagles defensive coordinator Todd Bowles, who could be interviewing as early today, as might D'Onofrio, per reports.
Golden is endorsing his former teammate, roommate, coaching compadre, long-time bud and best man. D'Onofrio was offered the opp two years ago when Golden left the post to take over at Miami, choosing instead the role of defensive coordinator for the Canes – two years later, what will the decision be?
It's no mystery that D'Onofrio has struggled two years into his run at 'The U', though in all fairness, he's had little to work with. A mass exodus of defensive veterans after the 2011 season, as well as some early departees, left him with a gutted unit when 2012 kicked off.
Year one also saw a slew of injuries and suspensions, causing different line ups – and more of the same year two, albeit with lesser personnel. Miami entered game ten at Virginia with a few heavily-relied upon freshmen sidelined – due to injury or suspension – only rotating in twenty-one defenders, as opposed to twenty-seven or so, used earlier in the year.
D'Onofrio has essentially coached Miami's defense with one arm tied behind his back, and the result was a beat down as the Canes' defense proved statistically to be one of the worst in the nation this past season.
Year three should've provided a measurable step forward, with the defensive returning every starter but cornerback Brandon McGee. Combined with guys getting healthy, working out another off-season, getting bigger, stronger and more experienced, as well as another influx of ready-to-start freshmen (who's the next Deon Bush?), the defensive side should be improved.
Offense was the name of the game in 2012. Golden has been quoted this off-season as explaining that he knew defensively that Miami would struggle, which is why the team went into games know it'd have to outscore opponents. Hard-nose defense, due to the lack of personnel, was never expected this season — but going into 2013, with an explosive offense returning, a safe bet that Golden and D'Onofrio plan to dive in headfirst coaching up the defense for year three.
Now that might happen without D'Onofrio, giving some what they hoped for – but possibly leaving them in a be-careful-what-you-wish-for situation.
A lack of coaching stability has been an issue at Miami for years. Golden brought everyone back for year two, but prior to that there was a slew of turnover.
Under Randy Shannon, a coaching carousel with John Lovett, Bill Young and Tim Walton running the defense over Shannon's four-year run, while offensively it was Patrick Nix for a few years before Mark Whipple took over.
Prior to that, Larry Coker saw huge turnover on the offensive side of the ball with Rob Chudzinski bolting after a few years, replaced by the short-lived Dan Werner, which turned into a co-offensive coordinator type situation as Rich Olson and Todd Berry were butting heads, one being Coker's guy, while the other was administration-forced.
A safe bet that if Golden has to replace D'Onofrio, it will be with a like-minded coordinator, as opposed to scrapping the current system and implementing something new. Miami needs stability and consistency, not more change.
Alas, losing coaches is part of 'the process' and Golden knows that, which is why he's endorsed D'Onofrio and will replace him with someone suitable, should it come to that.
There's also a politically correct 'gimmie' here, which Golden most-likely isn't concerned with, though it's too obvious not to even mention.
What if for some reason this defense struggles again under D'Onofrio? Three rough years and the natives will be more restless than they are now. Butch Davis didn't fire his defensive coordinator Bill Miller until year four, on the heels of giving up 66 points at Syracuse and 45 to UCLA, back-to-back weekends.
This past year alone, D'Onofrio's unit gave up 52 at Kansas State, 41 at Notre Dame, 40 at Virginia ad 45 at Duke. There were even a handful games where thirty-plus were surrendered; Boston College (32), Georgia Tech (36), NC State (37) and Florida State (33).
Another rough year defensively, and Golden will be faced with a brutal fork-in-the-road coaching decision, whereas now, D'Onofrio-to-Temple is an opportunity served on a silver platter, eliminating any potential turmoil, frustration or disappointment a year from now, should the struggles continue.
While Golden probably isn't thinking that way (honestly, no coach sits around 'worried' about where a defense will be a year from now and what that means regarding coaching personnel), it's beyond obvious that D'Onofrio earning a head coaching gig would buy this defense another year to grow and get it together.
Of course the flip side; if D'Onofrio is good enough to earn a head coaching gig at Temple, how could he not be good enough to coach Miami's defense?
Regardless, Miami will be fine. D'Onofrio more than deserves another year to right this ship and to get some more depth and quality players on his side of the ball … but the opportunity to earn a head coaching gig might be too much to pass up.
Two years ago, Miami was an unknown to D'Onofrio and heading south with Golden Al seemed much more lucrative than staying put. After two years running a depleted Canes' defense – and dealing with an ornery fan base – could the lure of being the top dog in Philly be something that piques his interest more than a UM rebuild as Golden's number two? We're about to find out.
And so the coaching carousel goes.
UPDATE : According to OwlScoop.com, D'Onofrio officially interviewed with Temple on Tuesday December 11th regarding the head coaching vacancy. More to come.
Christian Bello has been covering Miami Hurricanes athletics since the mid-1990s. After spending almost a decade as a columnist for CanesTime, he launched allCanesBlog.com. – the official blog for allCanes.com : The #1 Canes Shop Since 1959. Bello has joined up with XOFan.com and will be a guest columnist at CaneInsider.com this fall. Follow him on Twitter @ChristianRBello.
Comments
comments