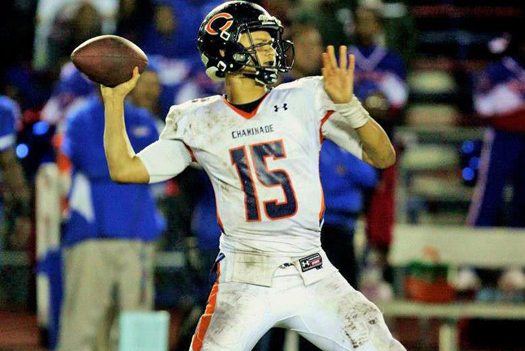 The quarterback position at the University of Miami hasn't lived up to the hype this past decade, but head coach Al Golden and offensive coordinator James Coley are looking to buck that trend moving forward. The Canes will start senior Stephen Morris in 2013, who is primed for a stellar season with a slew of targets and behind a veteran offensive line but entering 2014, the position is as wide open as ever, with capable candidates lining up for a shot to be 'the guy' at Quarterback U.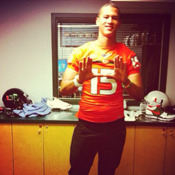 The latest to join the party; three-star prospect Brad Kaaya out of West Hills Chaminade High, northwest of Los Angeles. Kaaya is a 6-foot-4, 213-pound prospect who was interested in a slew of programs and had an offer from San Diego State, but chose Miami now because the Canes were on his early, offering first. The Sun-Sentinel's Michael Casagrande weighed in on Kaaya in his column earlier today:
"The pro-style quarterback has a powerful arm that is perfectly suited for Miami's single-back, four-wide formation. For a high school player, he has an exceptional repertoire of throws. If you need a comparable, you won't find a better one than current UM QB Stephen Morris.
His footwork is a bit suspect, but there's little doubt that it can be refined, as he shows excellent form on throwing while rolling out of the pocket, especially to his left.
It must be a great year for quarterbacks in Southern California if Kaaya only earned a three stars rating. He'd be the ranked No. 1 quarterback in South Florida."
Kaaya made the decision on Sunday and called Coley to commit on Monday morning.
Miami already has a verbal commit from dual-threat quarterback Alin Edouard, a three-star prospect out of Hialeah, but the commitment isn't thought to be rock solid, which is why the Canes have reeled in Kaaya and might not be done quarterback-shopping for next season's class.
Morris will depart after this season, which opens the door for commit Kevin Olsen , a four-star prospect out of New Jersey, and brother of former Hurricanes' tight end Greg Olsen, who signed with Miami months back. Olsen is expected to redshirt this season to learn the system, but that could change.
Memphis-transfer Ryan Williams will return for his redshirt senior season next year, as will Gray Crow, who will be a redshirt sophomore in 2014, as will Preston Dewey, who flirted with transferring this off-season.
The University of Miami was built on competition and no more important a position to have some energy than under center. A lot of talent lining up and next spring should be as rowdy a quarterbacks battle as this program has seen in decades.
Welcome to The U, @TrinidadBrad!
Comments
comments