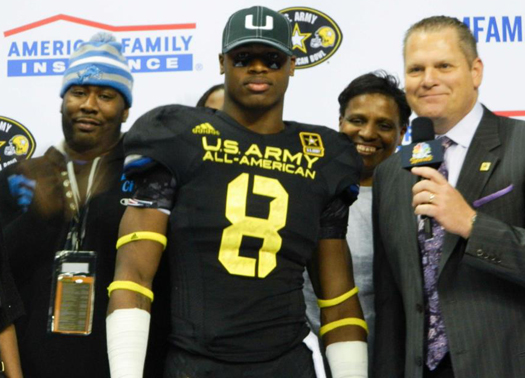 The highly-coveted four-star defensive end made it official at today's US Army All-American and Alquadin Muhammad is officially headed to 'The U', choosing Miami over both Alabama and Notre Dame, in a third quarter hat game at the Alamodome on Saturday.
The 6-foot-4, 225-pound defender chose the Canes hat from the pile and announced live on NBC, "I'm going to take my talents to the University of Miami."
Muhammad was a surprise visitor on December 8th, where he was wowed by the experience and obviously had a decision-defining trip. He also liked the fact that Miami head coach Al Golden is a New Jersey guy who did some great things at Temple, leading Muhammad to believe that UM's turnaround isn't far behind.
Muhammad also stated that the in-home visit from Golden and staff, the day after his official visit, helped close him. He stated that it did.
Muhammad had a strip of the quarterback and a fumble recovery in today's game, as well as a fourth-quarter sack, after his third-quarter commitment to The U.
Comments
comments