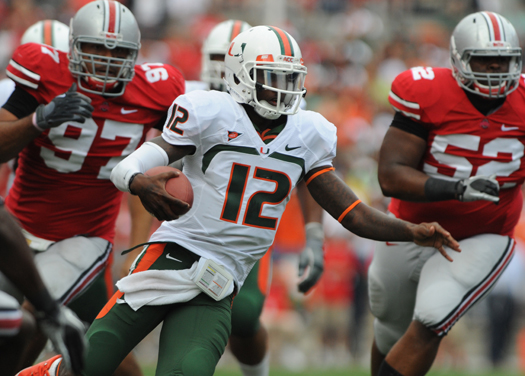 We received a request from the folks at TheBuckeyeBattleCry.com earlier this week regarding a Miami / Ohio State-themed Q&A. Below is a back and forth between Christian Bello of allCanesBlog.com and the folks at tBBC — with the sole focus on this year's match up and no reference to that questionable January evening back in 2003. (How mature of us.)
Here's Part II of our Q&A with the folks at tBBC where we ask them some Buckeye-themed questions regarding this weekend's big match up and click here if you missed Part I – the question / answer session they had regarding 'The U'.

"Ohio State circa 2010 and Ohio State this season. Lots of off-the-field stuff went down and the program lost a decorated and accomplished head coach. Where do things go with Luke Fickell at the helm this year and where do things go in the future?" ………. ………………… ………………………………… ……………..

"This year has been quite a mystery, in many ways… the unknowns of a new coach, the unknowns of a new QB, and the unknowns of dealing with suspensions of people who were expected to contribute. And those are only the known unknowns …
That being said, there's a lot of leadership on the team, and it feels as if the players have embraced the challenges that are being thrown at them in almost an "us against the world" mentality. I'd say that Florida native and captain Mike Brewster would be a great example of someone who has prepared for a tremendous year and is providing a focus and spark for them overall.
In terms of 'what happens', a lot of that is still to be discovered. There's a possibility that this team manages to hold on until the suspended offensive starters return for the Nebraska game, win out their division, and still get the opportunity to play in a BCS or major bowl. There's also the chance that injuries and off field distractions overwhelm some of the younger players, and Ohio State ends up with four or five losses throughout the season.
I personally believe that Coach Fickell deserves a longer shot at this – we'd certainly give it to a 'new' coach who inherited the team under similar circumstances. That being said, whenever there's a coach who's won a couple of championships, has Ohio State ties, and is available *cough*Urban*cough*, it's easy to start looking past the excellence that you have in hopes for something more attractive."

"Quarterbacks were the name of the game in Columbus last season. While Jacory Harris did all he could to throw the game away (four interceptions), Terrelle Pryor was a one-man wrecking crew. 113 yards on the ground and 233 through the air with two touchdowns on the day. How do the Buckeyes replace that with a more one-dimensional Joe Bauserman?"

"Well, many in Buckeye Nation are hopeful that the one dimensional nature of Joe Bauserman isn't the only thing that Miami will have to prepare for- there was a lot of surprise that freshman phenom Braxton Miller didn't see more time against Toledo after coming in and having significant success in the Ohio State opener with Akron. While he is still learning the offense and transitioning to the college game, his mobility can add yet another wrinkle to the offense, particularly in terms of moving the chains on third down. While not anywhere near the ability or level of Pryor on the ground (Miller is 'smaller' at 6'2"), what has impressed the coaches is that his passing skill set is beyond what Terrelle's was at the same point in his career – and perhaps even a year or two into his time at Ohio State. It's easy to see why Ohio State fans are excited to see this Ohio native get a chance behind center.
That being said, the one dimension that Bauserman brings is "stability". Bauserman, in the eyes of many, is like Trent Dilfer during the Ravens' Super Bowl season… solid, but not spectacular, may not win a game for you but definitely won't lose one. Buckeye fans point back to Craig Krenzel and Todd Boeckman as being cut from the same cloth that produced Joe. For instance, among the frustrations that we experienced last week were that Joe often chose to toss a ball away rather than thread it into a situation that could have been spectacular … or catastrophic. I believe that this is his personality, in part, but also because he's been entrusted by the coaching staff to lead without "pressing"- they scheme and he plays within his abilities. Against the Hurricanes defense, though, it's very unlikely that a cautious game-plan will be enough to win the day … time will tell."

"The lone bright spot for Miami in last year's loss was special teams returns, with Lamar Miller taking a kickoff back and Travis Benjamin returning a punt. Both players will be on the field for the Canes this Saturday. Has Ohio State fixed its special teams holes or will this again be a problem?"

"Well, if the Akron and Toledo games are any indication, it's almost certainly a big problem. While Akron's punt return unit didn't have a whole lot of success, both teams found easy running in the Kick Return unit. Eric Page of Toledo was so good, in fact, that he picked up 65 yards on 2 straight kick returns – significant enough that the Buckeyes started pooch kicking the ball to the Rockets the rest of the game.
I wouldn't be surprised if the team is working extra hard on special teams considering what Miami succeeded in doing last year, but I very much doubt a week will solve them. Miller and Benjamin could be in for a big day."

"A close call against Toledo last week means two trains of though – Ohio State isn't as good as expected, or it was a fluke and will cause more focus and discipline this week. A game that should've been a tune-up became a dogfight and caused the Buckeyes to open up the playbook a little more than expected. Thoughts?"

"As much as it sounds like trying to dodge reality, Toledo is a very good football team. This is a squad that returned an all-american receiver who is one of the most dangerous players in the country in Eric Page, and brought back all but one starter from a defense that at times dominated the MAC last year. Coach Beckman has some really good things going in Toledo, and credit is due where credit is due. Add in some other talent at the skill positions emerging (Reedy, Scott) and an all-conference running back (Thomas) with some of the best receiving hands in the country out of the backfield and you are destined for some troubled. They did one hell of a job of sticking with the game plan and running with it. This is a team that has beat a BCS conference opponent at least once the last five seasons and could very well give Boise State a scare this week.
That's not saying that Ohio State didn't make it's share of mistakes.
After scoring on the first drive of the ballgame, I honestly think the Buckeye offense lost focus and let a little too loose. 15 points later, Ohio State was staring at a deficit and in a position where they decided that despite being down, they should stick to their offensive gameplan and scramble to find a way back into the game.
Finally in the second quarter, the Buckeyes settled in but some timely turnovers kept this game close. With a grain of salt, last week's game was a learning experience that will only make this team better. With Jordan Hall back too, it opens up the playbook a bit against a stingier defense. A lot will be taken from last weeks win, most importantly it gives Luke Fickell a chance to re-evaluate, learn and teach his younger players what it's like in crunch time. We still have no idea how good this Ohio State team is going to be — but the sky is still the limit for this squad."

"Who wins the following battles this Saturday at Sun Life — Miami's defense versus Ohio State's offense and Miami's offense versus Ohio State's defense — and when it's all said and done, who wins the game?" …………………………. ………………………………… …………….. ………. ……… ……

"The biggest strength for Ohio State in this game will be defense. The Buckeyes should be able to bring plenty of pressure on the QB with the front four, creating turnover oppurtunities for the young but skilled secondary.
Last week, the defense struggled defending the bubble screens and in space on the perimeter, but in general the defense will be very strong and should at the very least be able to win this battle by keeping Miami's offense in check.
Ohio State's offense is a different story. With Joe Bauserman at QB, the offense struggled at times against Toledo attacking downfield, allowing the Rockets to stack the box and limit the Buckeye ground game. It is not hard to see Miami accomplishing a similar feet defensively.
The return of Jordan Hall and the incorporation of Braxton Miller into the offense (we hope) should allow the Buckeyes to get a bit more creative on offense, but either way, this battle will be a much closer affair.
A battle not mentioned in the initial question is the turnover battle. With an advantage on defense for the Buckeyes and Hurricanes, the winner of the turnover battle will likely determine the winner of this contest."
Comments
comments